REPORT SCOPE & OVERVIEW:
AI in Pathology Market size was valued at USD 974.2 million in 2022 and is expected to grow to USD 1724.58 million by 2030 and grow at a CAGR Of 7.4% over the forecast period of 2023-2030.
With the help of the combination of artificial intelligence pathology, pathologists may now adopt image analytics by analyzing more slides in a shorter amount of time. This can assist pathologists in narrowing their focus and enhancing the effectiveness of their results. With devices and applications having access to electronic health records, radiology pictures, and other data, the use of artificial intelligence in pathology will change the whole patient experience and encourage greater patient engagement.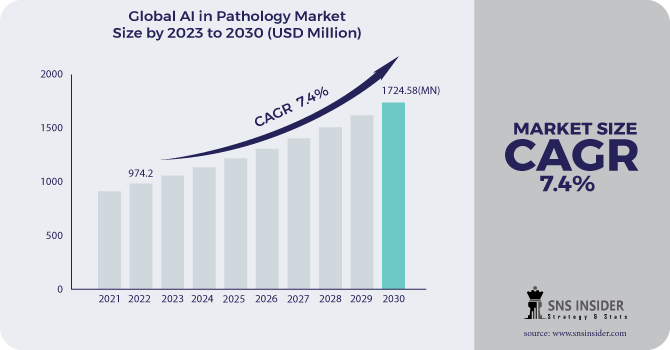 MARKET DYNAMICS
KEY DRIVERS:
Deep learning algorithms and computer vision techniques have significantly improved in recent years, making it possible for AI models to analyze and interpret medical images with ever-increasing accuracy. There are now more applications for AI in pathology because of the creation of complex AI algorithms that can spot patterns and anomalies in pathology images.
RESTRAIN:
The creation or procurement of AI software, hardware infrastructure, and continuous maintenance can all be quite expensive when using AI systems in pathology. To justify their adoption, AI systems must carefully consider their return on investment and cost-effectiveness.
OPPORTUNITY:
Workflow Automation

Data mining and research
AI systems can examine massive databases, including genomic data and electronic medical records, to find patterns, biomarkers, and new relationships. This promotes pathology research efforts and aids in the creation of innovative diagnostic and therapy strategies.
CHALLENGES:
Transparency and comprehensibility

Limited data availability for rare diseases
For AI algorithms to perform at their best, they normally need a lot of labeled data. Nevertheless, it can be difficult to get enough labeled data for rare diseases or conditions. Collaborations across healthcare organizations, data-sharing programs, and the creation of transfer learning methodologies to draw on information from related disease fields are all part of the solution to this problem.
IMPACT ANALYSIS
IMPACT OF COVID-19
The rapid adoption of AI-based techniques in pathology has been spurred by the need to effectively diagnose and manage COVID-19 cases. To help with the detection and categorization of COVID-19-related pathology findings, such as lung abnormalities on chest radiographs or CT scans, AI algorithms have been created and put to use. The creation of AI models has been employed extensively in COVID-19 research to analyze a sizable amount of histopathology and medical imaging data. Understanding the pathology of the disease and prospective treatments has been made possible thanks to AI algorithms' assistance in recognizing patterns and features in pathology images linked to COVID-19 infection. The pandemic has interfered with research and development in the market for AI in pathology. several clinical trials
IMPACT OF RUSSIAN UKRAINE WAR
The war and its aftermath may cause the international supply chains that support the AI in pathology sector to be disrupted. The development of software and the manufacturing of electrical components both heavily involve Ukraine. Any regional disturbances could cause delays or a lack of essential parts needed for AI pathology systems. Political unrest and hostilities frequently result in economic turbulence, which has an impact on stock market behavior and investment choices. In such a setting, businesses could be reluctant to spend money on AI pathology solutions, which would hinder market expansion or cause it to migrate to more secure geographical areas. The war's effects on the AI pathology market.
IMPACT OF ONGOING RECESSION
During a downturn, money for research and development including AI in pathology may be in short supply. Spending priorities may cause businesses and organizations to cut back on investments in developing technology. This might slow down the creation and uptake of AI applications in pathology. Budget reductions in many industries, including healthcare, are common during recessions. Financial limitations might affect the willingness and capacity of pathology departments to invest in AI technologies. The market for AI in pathology may grow more slowly due to decreased demand.
MARKET SEGMENTATION
KEY MARKET SEGMENTS
By Neural Network Type
Convolutional Neural Networks

Recurrent Neural Networks

Generative Adversarial Networks

MVPNet

Reinforced Auto Zoom Net
By Product Type
Scanners

Software

Communication Systems

Storage Systems
By Type
Human Pathology

Veterinary Pathology
By End User
Pharmaceutical and Biotechnology Companies

Hospitals and Reference Laboratories

Academic and Research Institutes
By Application
Teleconsultation

Disease Diagnosis

Drug Discovery

Training and Education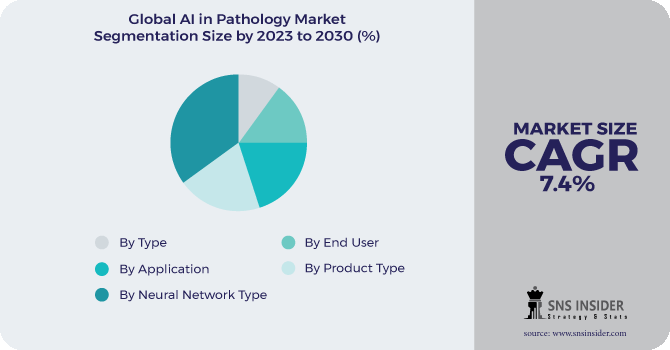 REGIONAL COVERAGE:
North America
Europe
Germany

UK

France

Italy

Spain

The Netherlands

Rest of Europe
Asia-Pacific
Japan

South Korea

China

India

Australia

Rest of Asia-Pacific
The Middle East & Africa
Latin America
Brazil

Argentina

Rest of Latin American
Key player: Roche, Leica Biosystems, Hamamatsu Photonics, Koninklijke Philips, 3D Hsitech, Apollo Enterprises Imaging, Xifin, Huron Digital Pathology, Visionpharm, Corista, Indica Labs, Objective Pathology Services, and other players listed in the final report.
Hamamatsu Photonics-Company Financial Analysis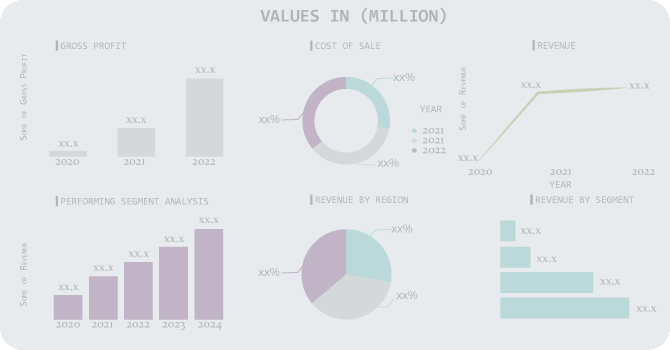 AI in Pathology Market Report Scope:
Report Attributes
Details
Market Size in 2022
US$ 974.2 Mn
Market Size by 2030
US$ 1724.58 Mn
CAGR
CAGR of 7.4% From 2023 to 2030
Base Year
2022
Forecast Period
2023-2030
Historical Data
2020-2021
Report Scope & Coverage
Market Size, Segments Analysis, Competitive Landscape, Regional Analysis, DROC & SWOT Analysis, Forecast Outlook
Key Segments
• By Neutral Network Type (Convolutional Neural Networks, Recurrent Neural Networks, Generative Adversarial Networks, MVPNet, Reinforced Auto Zoom Net)
• By Product Type (Scanners, Software, Communication Systems, Storage Systems)
• By Type (Human Pathology, Veterinary Pathology)
• By End User (Pharmaceutical and Biotechnology Companies, Hospitals and Reference Laboratories, Academic and Research Institutes)
• By Application (Teleconsultation, Disease Diagnosis, Drug Discovery, Training, and Education)
Regional Analysis/Coverage
North America (USA, Canada, Mexico), Europe
(Germany, UK, France, Italy, Spain, Netherlands,
Rest of Europe), Asia-Pacific (Japan, South Korea,
China, India, Australia, Rest of Asia-Pacific), The
Middle East & Africa (Israel, UAE, South Africa,
Rest of Middle East & Africa), Latin America (Brazil, Argentina, Rest of Latin America)
Company Profiles
Roche, Leica Biosystems, Hamamatsu Photonics, Koninklijke Philips, 3D Hsitech, Apollo Enterprises Imaging, Xifin, Huron Digital Pathology, Visionpharm, Corista, Indica Labs, Objective Pathology Services
Key Drivers
• Enhancements in computer Power and Cloud Infrastructure
• Deep learning algorithms
Market Opportunities
• Workflow Automation
• Data mining and research