REPORT SCOPE & OVERVIEW
The Anesthesia Equipment Market size was estimated USD 8.9 billion in 2022 and is expected to reach USD 15.05 billion by 2030 at a CAGR of 6.8% during the forecast period of 2023-2030.
The new research report consists of a market and industry trend analysis. The new research study includes industry trends, pricing analysis, patent analysis, conference and webinar materials, important stakeholders, and market purchasing behavior. This market's expansion can be traced mostly to the world's expanding senior population. Arthritis, osteoporosis, lumbar spinal stenosis (LSS), gastroesophageal reflux disease (GERD), and benign prostatic hypertrophy are all common age-related diseases and ailments. LSS is particularly frequent in adults over the age of 50, with the majority of patients in this age group requiring surgical operations to address it. According to the American Academy of Orthopaedic Surgeons (AAOS), around 2.4 million Americans will be impacted by this illness by 2021. As the senior population grows, the overall number of procedures performed in the United States is likely to rise.
As a result, the demand for respiratory equipment is increasing, promoting industry growth. Cigarette smoking is responsible for about 480,000 fatalities in the United States each year, according to CDC data published in June 2021. Secondhand smoke exposure was responsible for 41,000 of these deaths. The rising cost of building healthcare facilities in developing countries is likely to drive up demand for anesthetic and respiratory equipment. Because of the growing number of respiratory ailments and traffic accidents, the industry value of anesthesia and respiratory equipment will continue to rise. Long-term market expansion will also be encouraged by the growing attention of major firms to technological advancements. A lack of technological resources in low- and middle-income countries will stymie the industry's expansion.
MARKET DYNAMICS
DRIVERS
RESTRAIN
Currently, developing countries' healthcare systems face numerous issues as a result of rising healthcare expenses, an increase in the frequency of chronic diseases, and an aging population (combined with an increase in age-related disorders). To address these difficulties, governments in several nations are overhauling their healthcare reimbursement systems. Except in Japan, reimbursement is extremely restricted or nonexistent in Asian countries. As a result, low or decreasing reimbursement rates in developed nations and unclear payment regulations in emerging countries hinder the global adoption of surgical operations. As a result, demand for anesthetic equipment will be constrained during the predicted period.
OPPORTUNITY
CHALLENGES
Changes in regulatory rules in large markets such as the United States have had a substantial impact on hospital finances in recent years. The Affordable Care Act (ACA), which went into effect in the United States in 2010, brought stiffer federal rules, requiring many hospitals to reduce their capital spending budgets. Similar budgetary cuts are being noticed in hospitals throughout Europe, owing mostly to the recent economic recession. As a result of such budget cuts, many hospitals are unable to acquire expensive medical gadgets and instead choose lower-cost alternatives (such as used devices) or upgrade existing medical equipment and devices. Hospital funding in the United States has been severely slashed. According to an American Hospital Association analysis, government funding cuts to hospitals will total USD 218 billion by 2028, causing institutions to allocate fewer resources on an annual basis.
IMPACT OF RUSSIAN UKRAINE WAR
Emphasis on Emergency Medicine During times of conflict, healthcare resources may be diverted to emergency medical care, trauma treatment, and other pressing needs. This could move the focus away from elective operations that require anesthetic equipment. Global Collaborations and Partnerships Collaborations and partnerships in the healthcare sector may be impacted based on the stance of various countries and international organizations. This could have an influence on the flow of anesthetic equipment-related information, expertise, and resources. Remote Consultations and Telemedicine If conflict-related causes restrict physical access to healthcare institutions, telemedicine and online consultations may become more important. This could affect how anesthetic consultations are conducted as well as the demand for specific types of anesthesia equipment.
GSMSG first assembled a 10-person combat surgery team, which reached Ukraine nine days after Russia invaded. Their mission was to train any interested and capable Ukrainian citizen in combat casualty care, to provide combat trauma care training and surgical support to the civilian Ukrainian medical system, and to provide combat care training to Ukrainian military personnel and military physicians. GSMSG rotated additional teams of surgeons with experience in trauma, surgical critical care, burn, plastics, orthopaedics, vascular, and neurosurgery. GSMSG rotated additional teams of surgeons with experience in trauma, surgical critical care, burn, plastics, orthopaedics, vascular, and neurosurgery. GSMSG also created a collaboration with the Ukrainian Armed Forces, Ukrainian Special Operations Forces (UKRSOF), and Ukrainian Special Surgical Groups, with the support of the Ukrainian Ministry of Defense and Ministry of Health, to offer damage control surgery as close to the scene as possible. as 0.5 kilometers from active action with Russian forces. Since their arrival in Ukraine, GSMSG team members have trained over 20,000 Ukrainian civilians and military personnel. They have also provided surgical support to over 300 patients, some of whom are within 10 kilometers of the battle lines.
IMPACT OF ONGOING RECESSION
Market for Used Equipment In times of economic instability, healthcare facilities may consider purchasing used or refurbished equipment instead of investing in new equipment as a cost-cutting option. This could have an effect on the sales of new anesthetic equipment. Disruptions in the Supply Chain Disruptions in global supply chains caused by the recession might have an impact on the manufacture and distribution of anesthetic equipment. Equipment availability may be impacted by component shortages or production delays. Anesthesia equipment manufacturers may encounter issues due to decreased demand, affecting their revenues. This could result in adjustments to their pricing strategy, customer assistance, or even the possible consolidation of market companies.Cancer is the biggest cause of mortality worldwide, with an anticipated 10 million deaths in 2020, according to the WHO.According to Cancer Research UK, 27.5 million new cancer cases will be reported in 2040, a 61.7% rise from 2018. In 2020, Africa, Asia, Latin America, and the Caribbean accounted for 62.6% of new cancer diagnoses, while the same regions also accounted for 72.6% of global cancer fatalities. The rising cancer burden can be attributable to a variety of variables, including population increase and aging, as well as changes in the prevalence of certain cancer causes associated with social and economic development. Based on these figures, basic and translational cancer research remains critical.
KEY SEGMENTS
By Type
Anesthesia Devices

Anesthesia Workstation

Anesthesia Delivery Machines

Anesthesia Ventilators

Anesthesia Monitors

Other Devices

Anesthesia Disposables

Anesthesia Circuits (Breathing Circuits)

Anesthesia Masks

Endotracheal Tubes (ETTS)

Laryngeal Mask Airways (LMAS)

Other Accessories
By Application
Orthopedics

Neurology

Respiratory Care

Urology

Cardiology

Others
By End User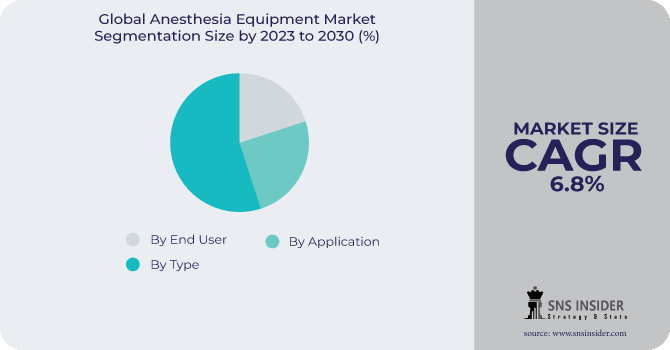 REGIONAL COVERAGE
North America
Europe
Eastern Europe

Poland

Romania

Hungary

Turkey

Rest of Eastern Europe

Western Europe

Germany

France

UK

Italy

Spain

Netherlands

Switzerland

Austria

Rest of Western Europe
Asia Pacific
China

India

Japan

South Korea

Vietnam

Singapore

Australia

Rest of Asia Pacific
Middle East & Africa
Middle East

UAE

Egypt

Saudi Arabia

Qatar

Rest of Middle East

Africa

Nigeria

South Africa

Rest of Africa
Latin America
Brazil

Argentina

Colombia

Rest of Latin America
REGIONAL ANALYSES
Throughout the forecast period, North America is expected to outperform the rest of the world. The United States has the largest share of the pie in North America, owing to the rapid increase in the number of illnesses, such as obesity, cardiovascular issues, and various types of malignant growths, which has contributed to the rise in the number of medical procedures, both open and minimally intrusive. The increase in the number of minimally invasive medical methods for persistent infections has aided the US industry. In the United States, the number of ailments such as cancer and cardiovascular disease is rapidly increasing.
Key Players
The major key players are GE Healthcare, Spacelabs Healthcare., Septodont Inc, Draegerwerk AG & Co. KGaA, Beijing Aeonmed Co., Ltd. HEYER Medical AG, ORICARE, Inc,Philips Healthcare, Becton Dickinson and Company, Getinge AB, 3M, General Electric, SunMed, Teleflex Incorporated, Ambu A/S and others.
RECENT DEVELOPMENT
Fisher & Paykel Healthcare Corporation: In 2022, Fisher & Paykel Healthcare Corporation Limited introduced two new devices designed exclusively for anesthetic applications. Following several years of research and development, the company launched the Optiflow Switch and Optiflow Trace nasal high-flow interface devices in select countries.
Mindray: In 2022, The A8 and A9 anesthetic workstations were introduced by Mindray. They are innovative platforms that raise the bar for classical anesthesia in the perioperative setting.
Anesthesia Equipment Market Report Scope:
Report Attributes
Details
Market Size in 2022
US$ 8.9 Bn
Market Size by 2030
US$ 15.05 Bn
CAGR
CAGR of 6.8 % From 2023 to 2030
Base Year
2022
Forecast Period
2023-2030
Historical Data
2020-2021
Report Scope & Coverage
Market Size, Segments Analysis, Competitive Landscape, Regional Analysis, DROC & SWOT Analysis, Forecast Outlook
Key Segments
• By Type (Anesthesia Devices, Anesthesia Workstation, Anesthesia Delivery Machines, Anesthesia Ventilators, Anesthesia Monitors, Other Devices, Anesthesia Disposables, Anesthesia Circuits (Breathing Circuits), Anesthesia Masks, Endotracheal Tubes (ETTS), Laryngeal Mask Airways (LMAS), Other Accessories)
• By Application (Orthopedics, Neurology, Respiratory Care, Urology, Cardiology, Others)
• By End User (Hospitals, Clinics, Ambulatory Surgical Centers, Other End Users)
Regional Analysis/Coverage
North America (US, Canada, Mexico), Europe (Eastern Europe [Poland, Romania, Hungary, Turkey, Rest of Eastern Europe] Western Europe] Germany, France, UK, Italy, Spain, Netherlands, Switzerland, Austria, Rest of Western Europe]). Asia Pacific (China, India, Japan, South Korea, Vietnam, Singapore, Australia, Rest of Asia Pacific), Middle East & Africa (Middle East [UAE, Egypt, Saudi Arabia, Qatar, Rest of Middle East], Africa [Nigeria, South Africa, Rest of Africa], Latin America (Brazil, Argentina, Colombia Rest of Latin America)
Company Profiles
GE Healthcare, Spacelabs Healthcare., Septodont Inc, Draegerwerk AG & Co. KGaA, Beijing Aeonmed Co., Ltd. HEYER Medical AG, ORICARE, Inc,Philips Healthcare, Becton Dickinson and Company, Getinge AB, 3M, General Electric, SunMed, Teleflex Incorporated, Ambu A/S
Key Drivers
• Chronic disease prevalence is increasing.
Market Restraints
• Terrible reimbursement scenario