Report Scope & Overview:
The Benzoic Acid Market size was valued at USD 1102 million in 2022. It is estimated to hit USD 1653.13 million by 2030 and grow at a CAGR of 5.2% over the forecast period of 2023-2030.
The benzoic acid market has experienced substantial growth due to its versatile applications and increasing demand across multiple industries. The food and beverage sector, in particular, has emerged as a major consumer of benzoic acid, owing to its role as a preservative in various food products. Additionally, the pharmaceutical industry has also witnessed a surge in the use of benzoic acid as an active ingredient in medications. The personal care industry has also contributed to the market's growth, utilizing benzoic acid in cosmetics and skincare products.
One notable trend in the benzoic acid market is the increasing preference for natural and organic products, driven by growing consumer awareness regarding health and environmental concerns. As a result, manufacturers are exploring alternative sources of benzoic acid, such as plant-based derivatives, to cater to this demand. Additionally, the market is also witnessing a rise in the adoption of benzoic acid as a raw material for the production of benzyl alcohol, a compound widely used in the fragrance industry.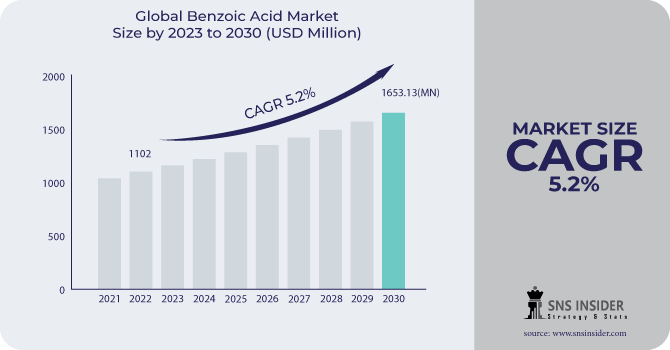 In 2022 Benzoate Plasticizers held the largest revenue share of about 29.8% in the benzoic acid market. One key factor contributing to its dominance is its ability to enhance the flexibility and durability of materials. Benzoate Plasticizers are commonly used in the production of polymers, resins, and other materials, where they act as additives to improve their performance. This unique characteristic has made them indispensable in industries such as automotive, construction, and packaging. Furthermore, Benzoate Plasticizers offer excellent solubility, making them easily blendable with different substances. Another advantage of Benzoate Plasticizers is their low volatility. As the world becomes increasingly conscious of sustainability, these plasticizers offer an eco-friendlier alternative to traditional additives. Their low toxicity and minimal impact on the environment make them a preferred choice for manufacturers aiming to reduce their carbon footprint.
The food and Beverage segment dominated the benzoic acid market and is expected to grow with a CAGR of about 5.3% during the forecast period of 2023-2030. The utilization of benzoic acid in the food and beverage industry has witnessed a remarkable surge in recent years. This organic compound serves as a crucial preservative, effectively inhibiting the growth of bacteria, yeast, and mold in various food products. By extending the shelf life of perishable items, benzoic acid ensures that consumers can enjoy safe and fresh food for longer periods.
Market Dynamics
Drivers
The benzoic acid market is experiencing a surge in demand due to its wide range of applications in industries such as food and beverages, pharmaceuticals, and personal care. The growing population and changing consumer preferences are major contributors to this increased demand.
Restrain
Despite its widespread use, there are concerns regarding the potential health risks associated with benzoic acid. Studies have suggested a link between high levels of benzoic acid consumption and adverse health effects. These concerns pose a significant restraint on the market's growth.
The market faces competition from alternative preservatives that offer similar functionalities to benzoic acid. This availability of substitutes limits the market's potential growth, as consumers have the option to choose alternatives that may be perceived as safer or more environmentally friendly.
Opportunities
With increasing consumer awareness and demand for natural and organic products, there is an opportunity for the benzoic acid market to tap into the growing market for natural preservatives.
Challenges
Impact of Russia-Ukraine War:
The Russia-Ukraine war has disrupted the supply chain of benzoic acid, leading to a decrease in its availability in the market. The instability caused by the war has led to significant price volatility in the benzoic acid market. Fluctuations in supply and disruptions in transportation have contributed to price hikes, making it challenging for businesses to plan and budget effectively. The Russia-Ukraine war resulted in the temporary shutdown of operations at Black Sea ports, causing a decline in prices for upstream crude and feedstock toluene. Consequently, this had a significant impact on the benzoic acid market. The Russia-Ukraine war has also prompted a shift in the market dynamics of benzoic acid. With Ukraine facing difficulties in maintaining its production levels, other countries have stepped in to fill the gap. China, for instance, has increased its production and export of benzoic acid to meet the rising demand. This shift has not only altered the global supply chain but has also created new opportunities for market expansion and diversification.
Impact of Recession:
The prices of Benzoic Acid in the US region experienced a significant decline during December 2022. Production orders for various active pharmaceutical components, including Benzoic Acid, from China to the US decreased by 41% in the same month. Additionally, the reduced demand for Benzoic Acid from the downstream industry, coupled with lower freight costs, has had a negative impact on business confidence, which remained low throughout December 2022. The US market has witnessed a decline in consumer confidence towards Benzoic Acid. One of the main factors contributing to this persistent negative sentiment is the looming threat of a recession. This threat continues to exert its influence and maintain a pessimistic outlook for the trade of Benzoic Acid in the US market. During a recession, consumer spending tends to decline, leading to a decrease in demand for non-essential goods and services. As a result, industries reliant on discretionary spending, such as the food and beverages sector, experience a downturn. Consequently, the Benzoic Acid Market, which heavily relies on these industries, faces a decrease in demand.
Market segmentation
By Form
By Application
Sodium Benzoate

Benzyl Benzoate

Potassium Benzoate

Benzoate Plasticizers

Benzoyl Chloride

Alkyd Resin

Feed Additives

Others
By End-use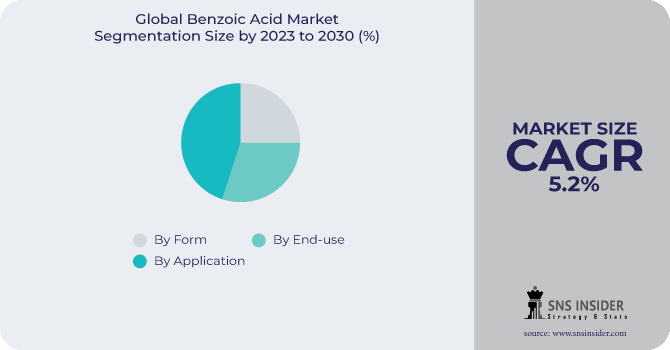 Regional Analysis
The Asia Pacific region dominated the Benzoic Acid Market. The market size of the Asia Pacific region accounts for USD 464.5 million in 2022. The crucial factor contributing to the Asia Pacific region's dominance is its expanding consumer base. With a rapidly growing population and rising disposable incomes, the demand for Benzoic Acid and its derivatives has witnessed a significant surge. The region's large consumer market provides a lucrative opportunity for manufacturers, encouraging them to expand their operations and cater to the increasing demand. Increasing demand for benzoic acid from the food and beverage industry further propelled the demand for benzoic acid in the Asia Pacific region.
North America is the second largest market with a revenue share of about 27.4% in 2022. North America's strategic geographical location plays a pivotal role in its market dominance. The region serves as a crucial hub for international trade, allowing for efficient distribution and transportation of Benzoic Acid products. This advantageous position enables North American companies to cater to a vast customer base, both domestically and globally. Moreover, the region's strong emphasis on research and development has propelled innovation within the Benzoic Acid Market. Additionally, North America's well-established network of suppliers, distributors, and manufacturers contributes to its market share. Increasing demands for benzoic acid from various industries such as food and beverages, pharmaceuticals, and personal care boosts the growth of this market significantly.
REGIONAL COVERAGE:
North America
Europe
Eastern Europe

Poland

Romania

Hungary

Turkey

Rest of Eastern Europe

Western Europe

Germany

France

UK

Italy

Spain

Netherlands

Switzerland

Austria

Rest of Western Europe
Asia Pacific
China

India

Japan

South Korea

Vietnam

Singapore

Australia

Rest of Asia Pacific
Middle East & Africa
Middle East

UAE

Egypt

Saudi Arabia

Qatar

Rest of Middle East

Africa

Nigeria

South Africa

Rest of Africa
Latin America
Brazil

Argentina

Colombia

Rest of Latin America
Key Players
The major key players are Chemcrux Enterprises Ltd, Merck KGaA, LANXESS, Thermo Fisher Scientific Inc., Ganesh Benzoplast Limited, Fushimi, I G Petrochemicals Ltd., Hemadri Chemicals, Eastman Chemical Company, GFS Chemicals Inc., Spectrum Chemical, and other key players mentioned in the final report.
Recent Development:
In 2021, the global specialty materials company, Eastman, embarked on a groundbreaking collaboration with Adven to transform the by-products of benzoic acid production into a sustainable source of energy. This pioneering solution not only enhances the environmental friendliness of energy production but also proves to be a cost-effective approach.

In August 2021, the specialty chemicals company, LANXESS successfully finalized the acquisition of Emerald Kalama Chemical, a renowned manufacturer of specialty chemicals based in the United States. The purchase agreement between LANXESS and Emerald Kalama Chemical was signed on February 14, 2021, and all necessary regulatory approvals have been obtained, ensuring a smooth transition. To finance this significant acquisition, LANXESS utilized its liquid funds, amounting to approximately USD 1.04 billion.
Benzoic Acid Market Report Scope
Report Attributes
Details
Market Size in 2022
US$ 1102 Mn
Market Size by 2030
US$ 1653.13 Mn
CAGR
CAGR of 5.2% From 2023 to 2030
Base Year
2022
Forecast Period
2023-2030
Historical Data
2019-2021
Report Scope & Coverage
Market Size, Segments Analysis, Competitive Landscape, Regional Analysis, DROC & SWOT Analysis, Forecast Outlook
Key Segments
• By Form (Liquid and Anhydrous)
• By Application (Sodium Benzoate, Benzyl Benzoate, Potassium Benzoate, Benzoate Plasticizers, Benzoyl Chloride, Alkyd Resin, Feed Additives, and Others)
• By End-use (Food & Beverage, Chemical, Cosmetics and Personal Care, Pharmaceuticals, and Others)
Regional Analysis/Coverage
North America (US, Canada, Mexico), Europe (Eastern Europe [Poland, Romania, Hungary, Turkey, Rest of Eastern Europe] Western Europe] Germany, France, UK, Italy, Spain, Netherlands, Switzerland, Austria, Rest of Western Europe]), Asia Pacific (China, India, Japan, South Korea, Vietnam, Singapore, Australia, Rest of Asia Pacific), Middle East & Africa (Middle East [UAE, Egypt, Saudi Arabia, Qatar, Rest of Middle East], Africa [Nigeria, South Africa, Rest of Africa], Latin America (Brazil, Argentina, Colombia Rest of Latin America)
Company Profiles
Chemcrux Enterprises Ltd, Merck KGaA, LANXESS, Thermo Fisher Scientific Inc., Ganesh Benzoplast Limited, Fushimi, I G Petrochemicals Ltd., Hemadri Chemicals, Eastman Chemical Company, GFS Chemicals Inc., Spectrum Chemical
Key Drivers
• Increasing demand for benzoic acid from various industries
• Regulatory support regarding the use of benzoic acid
Market Restraints
• Health concerns associated with the benzoic acid
• Availability of alternatives