REPORT SCOPE & OVERVIEW
Beverage Packaging Market size was USD 155.8 Bn in 2022 and is expected to Reach USD 233.7 Bn by 2030 and grow at a CAGR of 5.2 % over the forecast period of 2023-2030.
The market for beverage packaging is a vibrant and constantly changing sector of the economy that is dedicated to developing, producing, and distributing packaging products that are especially made for beverages. It includes many different types of packaging, such as pouches, cartons, bottles, cans, and more.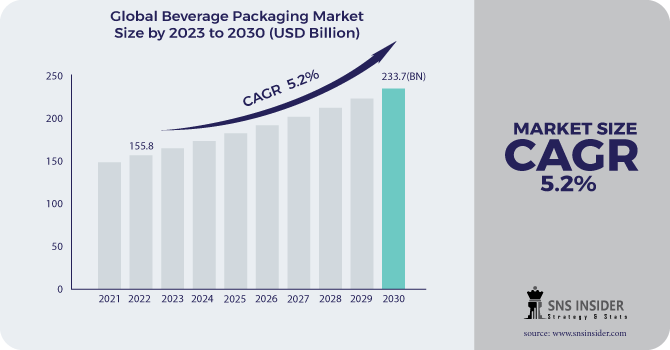 To Get More Information on Beverage Packaging Market - Request Sample Report
Sustainability is one of the main factors influencing the beverage packaging market. Due to growing environmental concerns, there is a rise in demand for packaging materials that are environmentally friendly and have a minimal negative impact on the environment. Companies are actively looking for alternatives to single-use plastic packaging, such as Sustainable Plastic Packaging materials, recycled content, and cutting-edge packaging designs that produce the least amount of waste.
The ease of the consumer is another important market factor. Consumers are given convenience and functionality through beverage packaging. Resealable closures, ergonomic shapes for simple handling, and packaging that preserves the beverage's freshness and quality are some examples of these features.
In the market for beverage packaging, branding, and shelf appeal are equally important. In order to build brand recognition and draw customers to store shelves, packaging is essential. To set their products apart from the competition and create a distinctive brand identity, businesses invest in eye-catching designs, unusual shapes, and efficient labelling methods.
The market for beverage packaging has also been impacted by the growth of e-commerce. Because of the rising popularity of online shopping and direct-to-consumer sales, packaging must be durable enough to safeguard the item during shipping while also ensuring that customers have a fun unboxing experience.
The market has also been impacted by technological advancements. Companies can now improve product safety, increase shelf life, and engage customers through interactive packaging experiences thanks to advancements in printing techniques, smart packaging options, and active packaging technologies.
The market for beverage packaging is heavily influenced by governmental regulations. Packaging materials and practices are impacted by laws governing food safety, labelling requirements, and environmental standards, necessitating compliance with these laws as well as adaptation by businesses.
MARKET DYNAMICS
KEY DRIVERS:
Increase in e-commerce and D2C

High beverage consumption in developing countries
The per capita income in developing countries has seen growth. This has given a market for the beverage consumption and beverage packaging market. The total value of the beer market was $95 Bn in 2020. The changing lifestyle and increased youth population increased beverage consumption, also giving rise to the beverage packaging market.
RESTRAIN:
Materials used for packaging are harming the environment. Governments have imposed strict laws regarding beverage packaging.
OPPORTUNITY:
Market Expansion in emerging economies.

Green Packaging, use of biodegradable raw materials
Consumers are concerned about the environment and are moving towards, sustainable substitutes over traditionally packaged products. According to a survey in the US, 70% of people are ready to pay increased prices for recycled products. The use of biopolymers can be increased in production which is obtained from corn-starch, and vegetables.
CHALLENGES:
Sustainable packaging requires technology and high-quality research and development which increase the price of the final product. This affects the overall profitability of the industry and the growth of the beverage packaging market.
IMPACT OF RUSSIAN UKRAINE WAR
The Russian economy has gotten worse since the start of the war in Ukraine and the imposition of significant economic sanctions at the end of February and the beginning of March 2022. In 2022, it is anticipated that Russia's consumer spending, which accounts for 47% of the nation's GDP, drastically declined. Consumers are being compelled to alter their buying habits and choose more affordable options as a result of declining incomes. Freedom restrictions, severe penalties, rising inflation, declining disposable incomes, and rising unemployment are all contributing to an increase in emigration. Decreased Consumer spending has affected less production of beverage packaging. Less import and export of raw materials due to trade disruptions.
Beer must be packaged in regular and mini bottles, both of which need glasses. The main suppliers of this material were forced to increase their prices for their clients as a result of the energy surcharges brought on by the interruption of the Russian supply. This increase is also being applied by other glass suppliers like Algeria and the United States. Prices of raw material increased such as aluminium, due to the prohibition on trade of aluminium by Russia.
Paper is the key material for packaging of beverages, it consumes a total 4% of world energy.
IMPACT OF COVID-19
Covid-19 has boosted the metal beverage packaging market, due to the rise in the growth of the population for beverage consumption. However, there covid-19 affected the overall beverage packaging market. The global beverage packaging market reached, $110.2 Bn in 2020, which was $ 4.5 Bn less as compared to the previous year. Due to the pandemic, people were forced to stay at home, which increased demand for food and beverages as people were stocking the food and beverages, which boosted the beverage packaging market.
Also, due to covid-19, people have adopted a healthy lifestyle, which has given rise to the non-alcoholic beverage market.
Online sales of alcohol increased by 234% in the US in March 2020 when compared to the same month the year before. Australia reports that online sales have increased by more than 450 % since the start of COVID-19 compared to the same time last year.
During the first week following the lockdown, online sales in the UK increased by more than 40% from the corresponding week in 2019. Overall, due to covid-19 there has been growth in the beverage consumptions giving rise to beverage packaging market.
KEY MARKET SEGMENTS
By Raw Material
By Product Type
Liquid Cartons

Plastic Bottles

Glass Bottles

Cans

Pouches

Others
By Application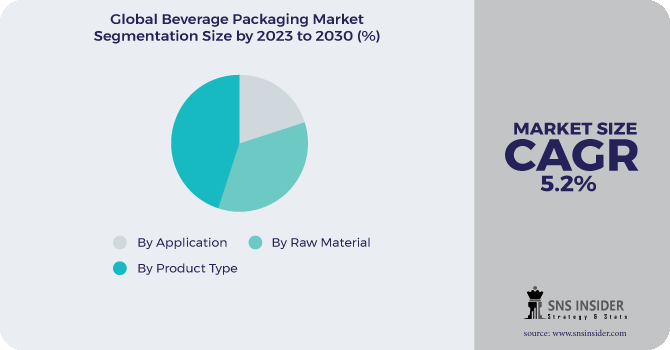 Get Customised Report as per Your Business Requirement - Enquiry Now
REGIONAL ANALYSIS
The Asia-Pacific region will hold the largest market share in the beverage packaging market, due to an increase in demand for beverages such as cooldrinks, beers, and others. The rising per capita income in developing countries is generating more demand for beverages, contributing to the growth of the beverage packaging market.
REGIONAL COVERAGE:
North America
Europe
Germany

UK

France

Italy

Spain

The Netherlands

Rest of Europe
Asia-Pacific
Japan

South Korea

China

India

Australia

Rest of Asia-Pacific
The Middle East & Africa
Latin America
Brazil

Argentina

Rest of Latin American
Key players List-
Some major key players in the beverage packaging market are Saint-Gobain S.A, Reynolds Group Holdings Limited, Crown Holdings Inc, Ball Corporation, Orora Packaging Australia Pty Ltd, Berry Global Inc, Intrapac International Corporation, Amcor Limited, Owens-Illinois Inc, BA Glass Germany GmbH, and other players.
Reynolds Group Holdings Limited-Company Financial Analysis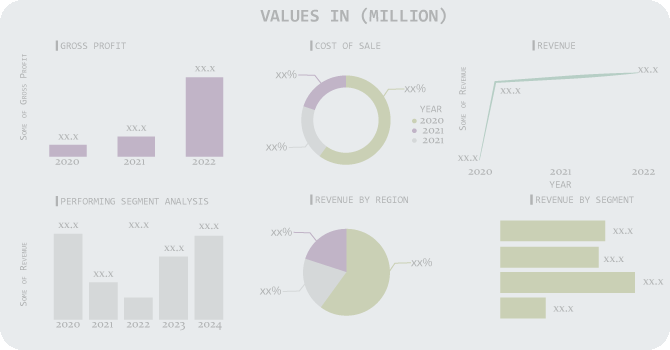 RECENT DEVELOPMENT
According to the news on 15 February 2023, the Indian beverage industry moving towards green packaging stating that it is a need of today's industry.

Tethered caps for SIG's beverage cartons will be introduced in Europe in the second half of 2021, far ahead of the July 2024 deadline imposed by EU regulations.
Beverage Packaging Market Report Scope:
Report Attributes
Details
Market Size in 2022
US$ 155.8 Bn
Market Size by 2030
US$ 233.7 Bn
CAGR
CAGR of 5.2 % From 2023 to 2030
Base Year
2022
Forecast Period
2023-2030
Historical Data
2020-2021
Report Scope & Coverage
Market Size, Segments Analysis, Competitive Landscape, Regional Analysis, DROC & SWOT Analysis, Forecast Outlook
Key Segments
• By Raw Material (Plastic, Metal, Glass, Paper & Paperboard)
• By Product Type (Liquid Cartons, Plastic Bottles, Glass Bottles, Cans, Pouches, Others)
• By Application (Alcoholic, Non-Alcoholic)
Regional Analysis/Coverage
North America (USA, Canada, Mexico), Europe
(Germany, UK, France, Italy, Spain, Netherlands,
Rest of Europe), Asia-Pacific (Japan, South Korea,
China, India, Australia, Rest of Asia-Pacific), The
Middle East & Africa (Israel, UAE, South Africa,
Rest of Middle East & Africa), Latin America (Brazil, Argentina, Rest of Latin America)
Company Profiles
Saint-Gobain S.A, Reynolds Group Holdings Limited, Crown Holdings Inc, Ball Corporation, Orora Packaging Australia Pty Ltd, Berry Global Inc, Intrapac International Corporation, Amcor Limited, Owens-Illinois Inc, BA Glass Germany GmbH, and other players
Key Drivers
• Increase in e-commerce and D2C
• High beverage consumption in developing countries
Market Opportunities
• Market Expansion in emerging economies.
• Green Packaging, use of biodegradable raw materials