REPORT SCOPE & OVERVIEW
The Glass Packaging Market size was USD 60.95 billion in 2022 and is expected to Reach USD 86.67 billion by 2030 and grow at a CAGR of 4.85 % over the forecast period of 2023-2030.
Glass packaging is a rigid packaging technique that helps to safeguard the contents by encasing it in various densities, sizes, and shapes of glass packaging products. The various types of glass packaging materials that are offered in the market include containers and bottles, among others. These components have no impact on the taste, texture, or composition of the material already in the jar. This kind of packaging is widely used for alcoholic and non-alcoholic beverages, food, pharmaceuticals, personal care, cosmetics, and other products.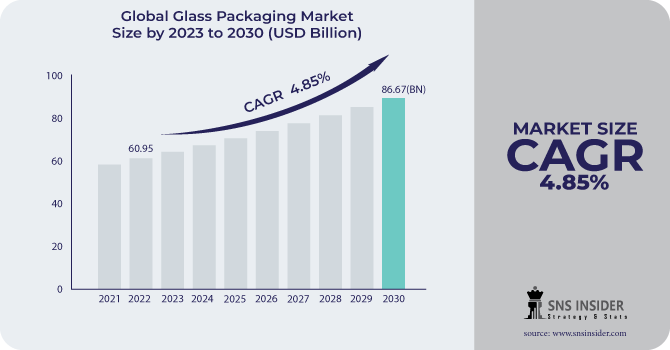 Get Sample Copy of Glass Packaging Market - Request Sample Report
One of the key factors fueling the growth of the glass packaging market is the rising consumer demand for safe and healthier packaging. The development of new techniques for shaping, embossing, and applying artistic finishes to glass, as well as the rising acceptance of glass packaging among consumers as one of the most reliable forms of packaging for environmental, health, and gastronomic safety, are driving the growth of the glass packaging market. Increased demand for environmentally friendly goods, a rise in food and beverage demand, and a preference for lightweight glass due to its higher stability and lower volume of CO2 emissions are all factors that are influencing the glass packaging market. The market for glass packaging is also benefited by the recyclable nature of glass, the high demand for beer, soft drinks, and cider, evolving lifestyles, urbanization, and the rising disposable income of consumers.
On the other hand, the expansion of the glass packaging market is anticipated to be hampered by the increase in operational costs. The glass packaging market is expected to face challenges due to the rising use of substitute products like plastic and tin.
MARKET DYNAMICS
KEY DRIVERS:
Glass ensures the purity and integrity of the packaged goods because it is an inert substance that does not react with the contents it holds. Due to its capacity to preserve flavors and stop chemical leaching, it is frequently used for food and beverage packaging. The preference for glass packaging among consumers, particularly for goods like organic baby food, medications, and beverages, is a result of their concerns about health and safety.
RESTRAIN:
Despite the fact that glass can be recycled, the manufacturing process itself can have an effect on the environment, even though glass packaging is thought to be environmentally friendly. High levels of energy are consumed during the production of glass, which also produces greenhouse gas emissions. Environmental damage can also result from the extraction and processing of the raw materials used to make glass.
OPPORTUNITY:
Innovative packaging solutions and shared expertise can result from collaborations with beverage companies, pharmaceutical companies, or cosmetic brands. Through these partnerships, manufacturers can learn about particular industry requirements and develop custom packaging to satisfy a range of customer demands.
CHALLENGES:
Due to its inherent fragility, glass packaging is prone to breaking while being handled, transported, and stored. Breakage not only leads to product losses but also increases costs for replacement and causes unhappy customers. To reduce breakage risks, manufacturers must make investments in sturdy packaging designs, safe handling practices, and efficient transportation strategies.
IMPACT OF RUSSIAN UKRAINE WAR
The entire glass industry is being impacted by the rising energy supply uncertainties because melting sand, soda ash, and limestone requires energy, and in Europe, the energy to generate the necessary temperatures has primarily come from Russian gas. Duralex International, a French glass producer, has joined the growing list of European businesses that are cutting back on or stopping production as a result of the skyrocketing energy prices brought on by Russia's conflict in Ukraine.
European companies are already preparing for a potential glass shortage, including automakers, bottlers, and skyscraper builders. The German automaker Volkswagen AG, whose brands include Audi and Porsche, has expanded its supplier network outside of Europe and increased its stock of glass-using parts like windows and windshields.
It is difficult for Ukraine to restore glass manufacturing volumes to the level they were before the war because of ongoing Russian shelling, rising energy prices, and severed trade ties. Glass suppliers estimate that because of the increased demand and higher production costs, the price of glass has increased by a factor of two to three over what it once was.
On the Ukrainian market, there are between 50 and 65 manufacturers of double-glazed windows and between 300 and 400 manufacturers of windows. Production has already resumed in more than 70% of these plants. Nearly all window manufacturing components are produced in Ukrainian factories: 60–75 percent of the market's needs are met by window profile manufacturers, and 40 percent of the market's needs are met by window fitting manufacturers.
IMPACT OF ONGOING RECESSION
In an effort to combat rising prices, many consumers are altering their spending patterns.
One of the tactics is to switch meals outside for meals inside. According to the survey, 40% of respondents said they planned to spend less money eating out while 45% said they planned to spend more money on groceries.
Consumers around the world intend to keep up their newly acquired habits, particularly increasing their home cooking and cocktail syrups making. These habits were accelerated by the 2020 pandemic. Consumers still want meals that are similar to those at restaurants for these at-home experiences, and they want to drink less of better-quality alcohol. They desire ingredients like spreads, seasonings, and sauces. With wine and spirits, they're making cocktails. Brands heavily rely on glass packaging because of its inert and protective qualities as well as its power to build brands in the categories that cautious consumers gravitate toward in uncertain times.
Brands search for areas where they can cut costs during economic uncertainty. Large players in the spirits industry, however, assert that they are doubling down on their strategies because they understand the importance of premiumization in trying times.
When it comes to spirits packaging, glass is the undisputed market leader; the category's volumes increased by 5% globally. Premium-priced brands are expected to continue growing faster than the overall category over the next five years as consumer demand for "better drinking" persists.
KEY MARKET SEGMENTS
By Raw Material
Cullet

Cobalt Oxide

Limestone

Others
By Product Type
Bottle & Jars

Container

Vials

Others
By Application
Alcoholic Beverages

Cosmetics

Others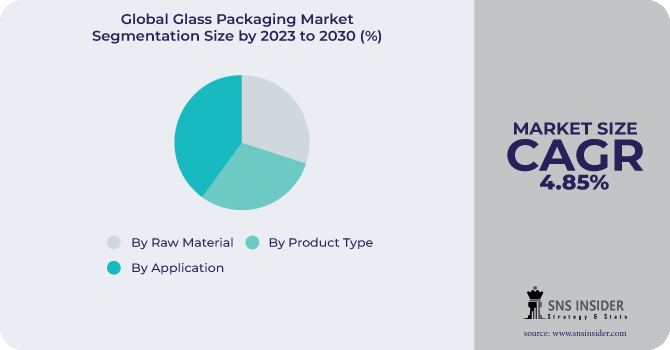 Get Customized Report as per Your Business Requirement - Enquiry Now
REGIONAL ANALYSIS
Asia Pacific has become dominant in the glass packaging market. The expanding use of glass across a range of end-use industries, such as food and beverage, pharmaceuticals, and alcoholic beverages in China and India, is expected to drive regional market growth. It is also anticipated that the high availability of raw materials, such as silica, will spur industry growth.
India and China are the two countries with the largest consumer bases in the Asia Pacific region, and as a result, they dominate the glass packaging industry. The rising urban population and increased demand for beverages are both factors in this region's industry growth. China is a significant consumer of products with glass packaging on a global scale.
Based on revenue, Europe was the second-largest region. The expansion of the beer industry in Germany and France is one factor responsible for the high market growth. Furthermore, it is anticipated that the high consumption of glass packaging in Russia and Turkey will spur growth.
Due to technological advancements and the region's significant manufacturing base, North America is predicted to experience rapid growth in the pharmaceutical packaging industry. On account of the expanding pharmaceutical industry over the forecast period, Saudi Arabia is anticipated to experience tremendous growth potential.
REGIONAL COVERAGE:
North America
Europe
Germany

UK

France

Italy

Spain

The Netherlands

Rest of Europe
Asia-Pacific
Japan

South Korea

China

India

Australia

Rest of Asia-Pacific
The Middle East & Africa
Latin America
Brazil

Argentina

Rest of Latin American
Key players List-
Some major key players in the Glass packaging market are Borosil Glass Works Ltd, Allied Glass Containers Ltd, Owen Illinois Inc, Gallo Glass Company, Amcor Plc, Consol, Gerresheimer AG, Saint Gobain SA, Hindustan National Glass & Industries Limited, Orora Packaging Australia Pty Ltd, and other players.
RECENT DEVELOPMENT
SGD Pharma, Due to "explosive" domestic demand and an aggressive expansion strategy in the America, glass packaging supplier SGD Pharma intends to increase the capacity of its Zhanjiang plant in China by 15%.

Baralan, A new line of glass bottles called the Lilibet Series has been unveiled by Baralan, a consolidated player in primary packaging for the cosmetics and beauty industries.
Glass Packaging Market Report Scope:
Report Attributes
Details
Market Size in 2022
US$ 60.95 Bn
Market Size by 2030
US$ 86.67 Bn
CAGR
CAGR of 4.85% From 2023 to 2030
Base Year
2022
Forecast Period
2023-2030
Historical Data
2020-2021
Report Scope & Coverage
Market Size, Segments Analysis, Competitive Landscape, Regional Analysis, DROC & SWOT Analysis, Forecast Outlook
Key Segments
• By Raw Material (Cullet, Cobalt Oxide, Limestone, Others)
• By Product Type (Bottle & Jars, Container, Vials, Others)
• By Application (Alcoholic Beverages, Non-Alcoholic Beverages, Cosmetics, Others)
Regional Analysis/Coverage
North America (USA, Canada, Mexico), Europe
(Germany, UK, France, Italy, Spain, Netherlands,
Rest of Europe), Asia-Pacific (Japan, South Korea,
China, India, Australia, Rest of Asia-Pacific), The
Middle East & Africa (Israel, UAE, South Africa,
Rest of Middle East & Africa), Latin America (Brazil, Argentina, Rest of Latin America)
Company Profiles
Borosil Glass Works Ltd, Allied Glass Containers Ltd, Owen Illinois Inc, Gallo Glass Company, Amcor Plc, Consol, Gerresheimer AG, Saint Gobain SA, Hindustan National Glass & Industries Limited, Orora Packaging Australia Pty Ltd
Key Drivers
• Glass has no risk factor in food packaging and is widely accepted in food and beverage industry
Market Opportunities
• To increase their market share, glass packaging producers can look into working with other sectors.