Report Scope & Overview:
Construction Sealants Market is assessed to USD 9.09 billion by 2022, at a CAGR of 5.8% during the figure time frame. The base year considered for this study is 2022 and the gauge period is from 2023 to 2030 assessed to reach 14.28 billion by 2030.
Sealants are used to prevent dust, heat, sound, and fluid from entering building structures through apertures. These are well-known for their effectiveness in waterproofing operations because they act as a moisture barrier in built buildings. Acoustic and thermal insulation, as well as fire barriers, are all provided by these materials. Commercial and residential infrastructure benefit from additional waterproofing, reliability, and flexibility provided by construction sealants. Roof sealant, window sealant, fireproofing and waterproofing, and bathroom sealant are just a few of the applications for these.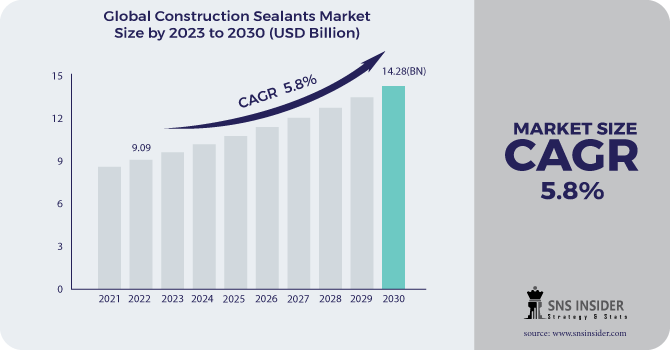 Market Dynamics :
Key Drivers :
Growing demand for glazing panels in high rise buildings, environment complaint products like low VOC, green & sustainable sealants.
Increasing spending for infrastructural development
Adoption for modern construction methodology
Restraints :
Diverse countries are using eco-friendly products in various applications as a result of rising environmental concerns and regulatory restrictions. Construction sealant makers throughout the world are concentrating on assuring product safety and avoiding health risks linked with VOC emissions from chemical goods. This has an impact on manufacturers' manufacturing capacities in Europe and North America.
Environmental rules govern the manufacture of chemical and petroleum-based products in Europe and North America. In Europe and North America, regulatory authorities such as the Epoxy Resin Committee (ERC), the European Commission (EC), and others regulate the manufacture of solvent-based goods. Construction sealant's expansion is being stifled by these regulations.
Challenges :
Regulations governing the use of construction sealants are constantly changing, posing issues for sealant manufacturers. Manufacturers of construction sealants, for example, are concerned about changes in norms and standards set by the Construction Materials Regulation (CPR), which determine the minimum (or maximum) performance levels of construction products. The current building sealants on the market are not very technologically advanced, and the new products would necessitate more labelling and paperwork to establish compliance, as well as additional external testing expenditures.
Impact of covid 19 :
Johnson & Johnson and Prisma Health teamed up in March 2020 to create and commercialise the VESper, a ventilator expansion splitter. This ventilator splitter is only approved for emergency usage, allowing a single ventilator to be installed with the ventilator splitter and utilised for two rescuable patients for ventilatory support until individual ventilators are available during the COVID-19 pandemic.
Huntsman announced intentions in March 2019 to make around 50 tonnes of hand sanitizers to offer free of charge to hospitals and pharmacies, which are now experiencing significant shortages of such items due to the COVID-19 epidemic and limited supplies.Huntsman has recently provided its chemical goods to China's fight against the new coronavirus COVID-19. Methylene diphenyl diisocyanate (MDI) was also contributed to enable the production of prefabricated polyurethane insulation panels for hospital construction, as well as other supplies for the production of personal protective equipment (PPE) for medical professionals fighting the coronavirus.
Key players:
Bostik (France), Sika (Switzerland), H.B. Fuller (U.S.), Henkel (Germany), BASF (Germany), Dow (U.S.), Wacker (Germany), General Electric (U.S.),, ITW (U.S.), Soudal (Belgium), Konishi (Japan), DAP Products (U.S.), Pidilite (India), KCC (Korea), Yokohama Rubber (Japan), Franklin (U.S.), Selena (Poland), Kömmerling (Germany), PCI (Germany), Hodgson Sealants (U.K.), Pecora (U.S.), Euclid (U.S.), 3M (U.S.), MAPEI (Italy), Asian Paints (India), Yokohama Rubber (Japan)
Market Segmentation:
By Resin Type
Silicone

One-Component

Two-Component

Polyurethane

One-Component

Two-Component

Polysulfide

One-Component

Two-Component

Plastisol

Emulsion

Butyl-based

Others
By Application
Glazing

Flooring & Joining

Sanitary & Kitchen

Others
By End-Use Industry
Residential

Industrial

Commercial
By Function
Bonding

Protection

Insulation

Soundproofing

Cable Management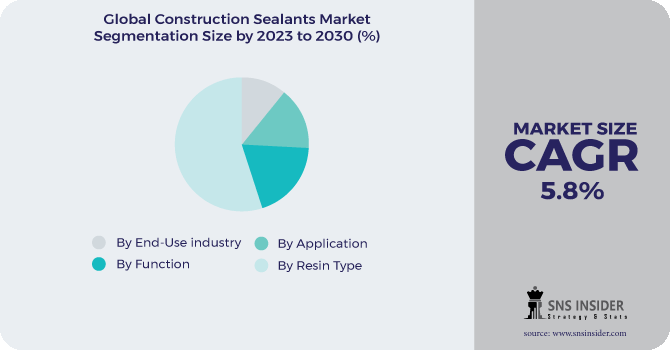 Regional analysis:
Asia-Pacific, North America, Latin America, Europe, and the Middle East and Africa make up the worldwide construction adhesive and sealant market. Due to the rapid growth of the construction industry combined with the development of sophisticated modern infrastructure across the region, Asia-Pacific is predicted to hold more than one-third of the worldwide market share and is expected to maintain its dominance during the forecast period. During the projected period, the increasing growth of the construction sector in Asia-Pacific developing economies such as India and other Southeast Asian countries is expected to boost the construction adhesives and sealants market.
REGIONAL COVERAGE:
North America

Europe

Germany

UK

France

Italy

Spain

The Netherlands

Rest of Europe

Asia-Pacific

Japan

south Korea

China

India

Australia

Rest of Asia-Pacific

The Middle East & Africa

Latin America

Brazil

Argentina

Rest of Latin America
Construction Sealants Market Report Scope:
Report Attributes
Details
Market Size in 2022
US$ 9.09 Billion
Market Size by 2030
US$ 14.28 Billion
CAGR
CAGR of 5.8% From 2023 to 2030
Base Year
2022
Forecast Period
2023-2030
Historical Data
2020-2021
Report Scope & Coverage
Market Size, Segments Analysis, Competitive Landscape, Regional Analysis, DROC & SWOT Analysis, Forecast Outlook
Key Segments
• By resin type (Silicone, One-Component, Two-Component, Polyurethane, One-Component, Two-Component, Polysulfide, One-Component, Two-Component, Plastisol, Emulsion, Butyl-based, Others)
• By application (Glazing, Flooring & Joining, Sanitary & Kitchen, Others)
• By end-use industry (Residential, Industrial, Commercial)
• By function (Bonding, Protection, Insulation, Soundproofing, Cable Management)
Regional Analysis/Coverage
North America (USA, Canada, Mexico), Europe
(Germany, UK, France, Italy, Spain, Netherlands,
Rest of Europe), Asia-Pacific (Japan, South Korea,
China, India, Australia, Rest of Asia-Pacific), The
Middle East & Africa (Israel, UAE, South Africa,
Rest of Middle East & Africa), Latin America (Brazil, Argentina, Rest of Latin America)
Company Profiles
Bostik (France), Sika (Switzerland), H.B. Fuller (U.S.), Henkel (Germany), BASF (Germany), Dow (U.S.), Wacker (Germany), General Electric (U.S.),, ITW (U.S.), Soudal (Belgium), Konishi (Japan), DAP Products (U.S.), Pidilite (India), KCC (Korea), Yokohama Rubber (Japan), Franklin (U.S.), Selena (Poland), Kömmerling (Germany), PCI (Germany), Hodgson Sealants (U.K.), Pecora (U.S.), Euclid (U.S.), 3M (U.S.), MAPEI (Italy), Asian Paints (India), Yokohama Rubber (Japan)