Report Scope & Overview:
Consumer Battery Market size was valued at USD 24.32 billion in 2022 and is expected to grow to USD 40.25 billion by 2030 and grow at a CAGR of 6.5% over the forecast period of 2023-2030.
A consumer-grade battery is a type of battery that is designed for use in everyday consumer electronics such as remote controls, flashlights, and toys. These batteries are typically made of alkaline or lithium-ion and are available in various sizes, including AA, AAA, C, D, and 9V. Consumer-grade batteries are widely available and can be purchased at most retail stores. They are also relatively inexpensive and have a long shelf life, making them a popular choice for consumers. In contrast, industrial-grade batteries are designed for use in more demanding applications such as medical devices, military equipment, and aerospace technology. These batteries are typically more expensive and have a shorter shelf life than consumer-grade batteries.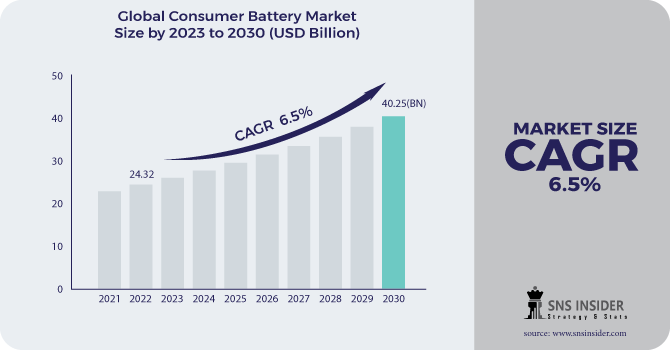 The consumer battery market refers to the industry that produces and sells batteries for personal use. This market includes a wide range of products, from small button batteries used in watches and calculators to larger batteries used in electronic devices such as smartphones and laptops. The demand for consumer batteries has increased significantly in recent years due to the growing use of portable electronic devices. As a result, the market has become highly competitive, with many companies vying for a share of the lucrative market.
Market Dynamics:
Drivers
Increasing demand for portable electronic devices

Growing trend towards renewable energy sources
The increasing shift towards renewable energy sources has significantly impacted the demand for consumer batteries. This is because batteries are a crucial component of many solar-powered systems. As the world becomes more conscious of the need to reduce carbon emissions and adopt sustainable practices, the demand for renewable energy sources has increased. This has led to a surge in the production and use of solar-powered systems, which rely heavily on batteries to store energy for later use. Consumer batteries are essential for solar-powered systems as they provide a reliable and efficient means of storing energy. They allow homeowners and businesses to harness the power of the sun during the day and use it at night or during periods of low sunlight. This not only reduces reliance on traditional energy sources but also helps to lower energy costs and reduce carbon emissions.
Restraint
As consumers become increasingly conscious of the environmental impact of their purchasing decisions, there is a growing demand for sustainable and eco-friendly products. This factor may hinder the growth of the consumer battery market. However, this has led to increased inspection of the manufacturing processes and materials used in battery production. In response to this demand, manufacturers are exploring alternative materials and production methods that minimize the environmental impact of batteries. For example, some companies are using recycled materials in their battery production, while others are developing batteries that can be easily recycled at the end of their lifespan. Furthermore, the push for sustainable batteries is not just driven by consumer demand, but also by government regulations and initiatives. Many countries have implemented policies to encourage the use of eco-friendly batteries, such as tax incentives for companies that produce sustainable batteries or mandates for the use of such batteries in certain industries.
Opportunities
Increasing demand for electric vehicles has created a significant market for high-capacity batteries

Development of new battery technologies, such as solid-state batteries
Challenges
Impact of the Russia-Ukraine War
One of the most noticeable effects of the conflict is the increase in battery prices. The cost of raw materials used in battery production, such as lithium, nickel, and cobalt, has risen due to the disruption of supply chains and the imposition of sanctions. Russia is a major manufacturer of primary nickel products, such as the refined nickel used in electric vehicle batteries. In fact, about 11% of global nickel production in 2021 is done by Russia, but due to this war, has made it difficult to source it from Russia. An average electric-car battery contains about 81 pounds of nickel. This has led to a surge in prices, with the cost of nickel for an average electric-car battery more than doubling to $1,749 per car in March 2022. Another impact of the war is the shift in consumer preferences towards locally produced batteries. Many consumers are now opting for batteries made in their own country or region, as they perceive them to be more reliable and secure. This has led to a decline in the market share of foreign battery brands.
Impact of Recession:
It is anticipated that raw material prices will continue to increase in 2023, primarily due to the absence of significant mining ventures. Additionally, the demand for batteries has decreased, resulting in a decline in sales and revenue for battery manufacturers. Furthermore, the recession has also affected the production and supply chain of batteries. However, the recession has also presented opportunities for battery manufacturers to innovate and adapt to the changing market. Many companies have focused on developing more efficient and cost-effective batteries to meet the needs of budget-conscious consumers. In addition, the rise of renewable energy sources has also created new opportunities for battery manufacturers. As more households and businesses invest in solar panels and wind turbines, the demand for batteries to store excess energy has increased.
Market segmentation
By Battery Type
Lithium-Ion Battery

Zinc-Carbon Battery

Nickel-Cadmium Battery

Alkaline Battery

Nickel Metal Hydride

Others
By Application
Flashlight

Portable Power Banks

Power Tools

Hearing Aids

Personal Care Devices

Radios

Remote Controls

Mobile Phones

Toys

Camera

Tablets

Security Devices

Hearing Aids

Smoke Detectors

Laptops

Smart Watches

Calculators

Others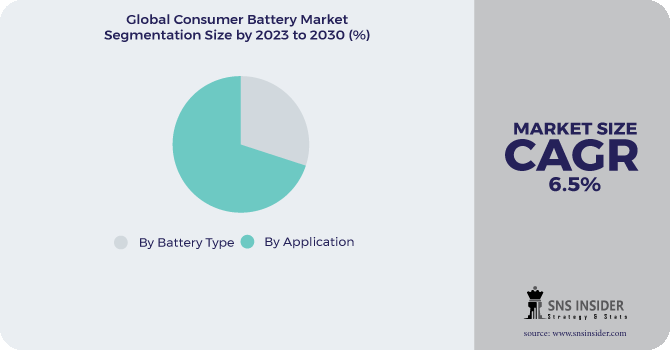 Regional Analysis
Asia Pacific is the leading region in the consumer battery market. With a rapidly growing population and increasing demand for portable electronic devices, the region dominated battery production and innovation. One of the key factors driving the Asia Pacific's dominance in the consumer battery market is its robust manufacturing infrastructure. The region has some of the world's largest battery manufacturers, including Panasonic, Samsung, and LG Chem. These companies have invested heavily in research and development, allowing them to produce high-quality batteries that meet the demands of today's tech-savvy consumers. Another factor contributing to the Asia Pacific's success in the consumer battery market is its favorable regulatory environment. Many countries in the region have implemented policies and regulations to encourage the adoption of renewable energy and energy-efficient technologies. This has created a strong market for batteries that can store and distribute energy from renewable sources, such as solar and wind power. Furthermore, the Asia Pacific region has a large and growing middle class, which has led to an increase in consumer spending on electronic devices. This trend is expected to continue, driving further growth in the consumer battery market. For instance, The Consumer Electronics sector in Asia-Pacific generated a value of $62.3 billion in 2021, marking a 2% upsurge from the preceding year.
Europe holds the second-largest position in the consumer battery market due to the region's strong economic growth, increasing demand for portable electronic devices, and a growing awareness of the importance of sustainable energy solutions. Due to the increase in disposable income and consumer spending, more people are purchasing portable electronic devices such as smartphones, tablets, and laptops, which require reliable and long-lasting batteries. In addition, Consumers are becoming increasingly aware of the environmental impact of traditional energy sources and are seeking out more eco-friendly alternatives. This has led to a surge in demand for rechargeable batteries, which are more sustainable and cost-effective in the long run.
REGIONAL COVERAGE:
North America

Europe

Germany

UK

France

Italy

Spain

The Netherlands

Rest of Europe

Asia-Pacific

Japan

south Korea

China

India

Australia

Rest of Asia-Pacific

The Middle East & Africa

Latin America

Brazil

Argentina

Rest of Latin America
Key Players
The major key players are Samsung SDI, Panasonic Holdings Corporation, Duracell, Eve Systems, TianJin Lishen Battery Joint-Stock CO., LTD., Suzhou South Large Battery Co., Ltd., Eveready, PolyPlus Battery Company, Maxell, Ltd., VARTA AG, GP Industrial, LG Energy Solution, FDK Corporation, Murata Manufacturing Co., Ltd., Energizer Holdings, Inc., and other key players mentioned in the final report.
Samsung SDI-Company Financial Analysis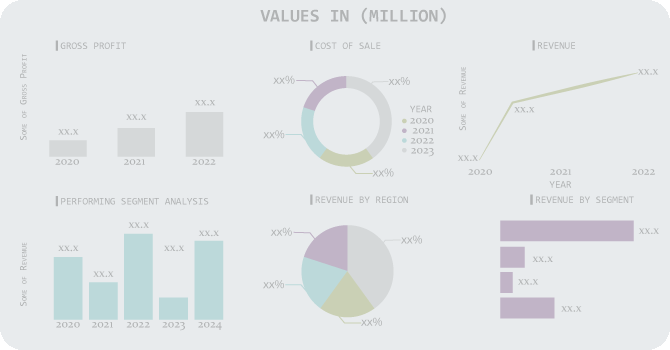 Recent Development:
In April 2023, General Motors Co. and Samsung SDI made a joint announcement regarding their plans to invest over $3 billion in the construction of a new battery cell manufacturing plant in the United States. This plant is expected to commence operations in 2026, and will undoubtedly have a significant impact on the future of the automotive industry.

In Dec 2022, Panasonic Energy and Lucid Group announced a partnership to supply lithium-ion batteries for Lucid Air Luxury EVs. This collaboration is a major step forward in the development of sustainable transportation and will contribute to the growth of the electric vehicle market.

In October 2020, Duracell introduced a child safety feature for their lithium coin batteries (sizes 2032, 2025, and 2016). This innovative safety standard is designed to reduce the number of accidental ingestions, providing medical professionals and caregivers with a new tool to help keep children safe. Additionally, this feature empowers consumers to "power safely," ensuring that their devices are not only functional but also safe for use in any environment.
Consumer Battery Market Report Scope:
Report Attributes
Details
Market Size in 2022
US$ 24.32 Bn
Market Size by 2030
US$ 40.25 Bn
CAGR
CAGR of 6.5% From 2023 to 2030
Base Year
2022
Forecast Period
2023-2030
Historical Data
2020-2021
Report Scope & Coverage
Market Size, Segments Analysis, Competitive Landscape, Regional Analysis, DROC & SWOT Analysis, Forecast Outlook
Key Segments
• By Battery Type (Lithium-Ion Battery, Zinc-Carbon Battery, Nickel-Cadmium Battery, Alkaline Battery, Nickel Metal Hydride, and Others)
• By Application (Flashlight, Portable Power Banks, Power Tools, Hearing Aids, Personal Care Devices, Radios, Remote Controls, Mobile Phones, Toys, Camera, Tablets, Security Devices, Hearing Aids, Smoke Detectors, Laptops, Smart Watches, Calculators, and Others)
Regional Analysis/Coverage
North America (USA, Canada, Mexico), Europe
(Germany, UK, France, Italy, Spain, Netherlands,
Rest of Europe), Asia-Pacific (Japan, South Korea,
China, India, Australia, Rest of Asia-Pacific), The
Middle East & Africa (Israel, UAE, South Africa,
Rest of Middle East & Africa), Latin America (Brazil, Argentina, Rest of Latin America)
Company Profiles
Samsung SDI, Panasonic Holdings Corporation, Duracell, Eve Systems, TianJin Lishen Battery Joint-Stock CO., LTD., Suzhou South Large Battery Co., Ltd., Eveready, PolyPlus Battery Company, Maxell, Ltd., VARTA AG, GP Industrial, LG Energy Solution, FDK Corporation, Murata Manufacturing Co., Ltd., Energizer Holdings, Inc.
Key Drivers
• Increasing demand for portable electronic devices
• Growing trend towards renewable energy sources
Market Opportunities
• Increasing demand for electric vehicles has created a significant market for high-capacity batteries
• Development of new battery technologies, such as solid-state batteries