Report Scope & Overview:
The Context-Aware Computing Market size was valued at USD 41.12 billion in 2022 and is expected to grow to USD 184.6 billion by 2030 and grow at a CAGR of 20.65% over the forecast period of 2023-2030.
Context-aware computing (CAC) refers to a computing system's ability to gather, track, and monitor environmental and situational context related to individuals, groups, and other entities. This technology enables a context-aware system to adjust an application's behavior based on the gathered data, which is converted from low-level and raw contextual data into high-level interpreted context. As the adoption of connected devices such as tablets, PCs, adaptive phones, smart wearables, and shopping assistant tools continues to increase, the demand for context-aware computing is projected to grow. This technology has the potential to revolutionize the way businesses operate by providing them with valuable insights into their customers' behavior and preferences. By leveraging context-aware computing, businesses can tailor their products and services to meet the specific needs of their customers, resulting in increased customer satisfaction and loyalty. Additionally, context-aware computing can help businesses optimize their operations by providing them with real-time data on their customers' behavior, enabling them to make informed decisions and improve their overall efficiency. context-aware computing is a powerful technology that has the potential to transform the way businesses operate. As the demand for connected devices continues to grow, businesses that adopt context-aware computing will be better positioned to succeed in an increasingly competitive marketplace.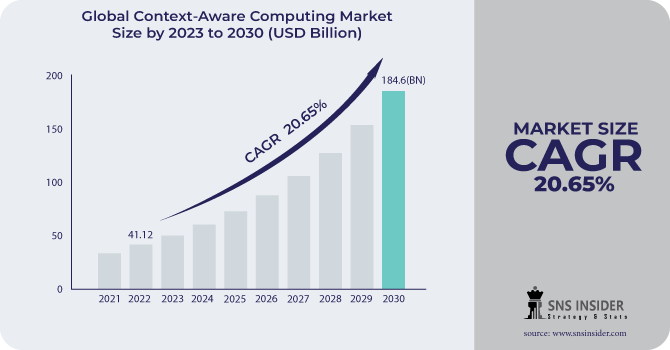 To get more information on Context-Aware Computing Market - Request Free Sample Report
Market Dynamics
Drivers
Due to the growth and integration of sophisticated sensors in connected products including laptops, smart wearables, smartphones, and other smart products, the demand for CAC solutions is fast rising. Numerous connected gadgets come with a variety of high-tech sensors, such as GPS, accelerometers, magnetometers, light sensors, and microphones, which enhance user experience and offer context-aware features. Contextual data can now be gathered by solution developers using mobile-based sensors. The demand for these computing services is anticipated to increase as the number of connected devices with sensors increases. As electronics device manufacturers use this kind of computing solutions for emergency warnings, location tracking, and other uses, the demand for advanced sensors will increase across several industries.
Restrains
Enterprises that quickly deploy CAC technology are likely to encounter security issues and constraints. Industries all over the world now prioritize data security and privacy. The threat of data exploitation is constant as networks are used to move and store large amounts of data and information.
Opportunities
Challenges
Impact of Russia Ukraine War
The war leads to Armed conflicts that can cause economic instability in the countries involved, as well as in the surrounding regions. Instability may lead to reduced consumer spending, decreased business investments, and a general slowdown in economic activity. As a result, the demand for Context-Aware Computing solutions may decline or experience slower growth. The Russia-Ukraine war can create geopolitical uncertainties, which may affect international trade and investments. Companies operating in the Context-Aware Computing market may become more cautious about expanding into new markets or making significant investments due to the unpredictability of the situation. This could potentially slow down-market expansion and innovation. In response to the conflict, governments may implement new policies and regulations that could impact the Context-Aware Computing market. These policies could include trade restrictions, import/export regulations, or changes in data privacy and security requirements. Adapting to new regulatory environments may require additional efforts and resources from companies operating in the market.
During times of conflict, governments and businesses may shift their priorities and focus more on immediate security concerns rather than investing in advanced technologies like Context-Aware Computing. This could result in reduced funding for research and development, as well as slower adoption of new technologies.
Impact of the Ongoing Recession
During a recession, businesses and consumers often reduce their spending on non-essential items, including new technologies and software solutions. This can lead to a decline in the demand for Context-Aware Computing products and services, as organizations prioritize cost-cutting measures and focus on maintaining their core operations. Recessionary periods may cause companies to delay or postpone their plans to adopt new technologies. Context-Aware Computing solutions often involve upfront investments, integration efforts, and training expenses. In uncertain economic times, businesses may choose to defer such projects and prioritize more immediate needs. Organizations typically face tighter budgets during a recession, leading to reduced IT spending. This can result in limited resources available for implementing or upgrading Context-Aware Computing systems. Companies may opt to allocate their funds to other critical areas or opt for lower-cost alternatives, delaying or minimizing investments in context-aware technologies. Recessions can lead to a slowdown in overall innovation and research and development (R&D) activities across industries. Companies may scale back their R&D budgets, affecting the development of new context-aware technologies and limiting the introduction of advanced features and functionalities.
Key Market Segmentation
By Vendor
By Component
By End-Use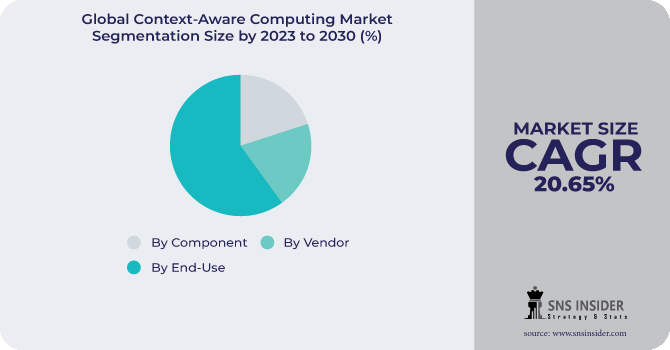 Need any customization research on Context-Aware Computing Market - Enquiry Now
Regional Analysis
During the projection period, North America is anticipated to hold a dominant market share in context-aware computing. The market in this region is expected to increase as a result of rising smartphone penetration, customer desire for BYOD, and consumer demand. Furthermore, it is expected that the presence of major market participants like Google LLC, Cisco Systems, Inc., Intel Corporation, Microsoft Corporation, Port Shift Ltd., Amazon.Com, Inc., AT&T, and others would increase product demand. These players frequently use CAC technology to improve their product line and customer support.
During the projected forecast period, the market in Asia Pacific is expected to grow at the fastest rate. The regional market growth is projected to be influenced by the growing usage of connected devices, IoT-based gadgets, AR-VR smart devices, and sensors designed to give an enhanced customer experience. Context-aware computing solutions are increasingly in demand among organizations as a result of technological developments and digitalization trends. To improve their product range and consumer experience, major players in this sector are concentrating on product launching and development strategies. In the regional analysis study of the regions of North America, Europe, Asia Pacific middle east, and Africa.
REGIONAL COVERAGE:
North America
Europe
Germany

UK

France

Italy

Spain

The Netherlands

Rest of Europe
Asia-Pacific
Japan

South Korea

China

India

Australia

Rest of Asia-Pacific
The Middle East & Africa
Latin America
Brazil

Argentina

Rest of Latin America
Key Players:
The major players are Infosys Limited, Cisco Systems, Inc., IBM Corporation, Oracle Corporation, Microsoft Corporation, Amazon.com, Inc., Samsung Electronics Co. Ltd, Nokia Corporation, Onapsis Inc., Apple Inc., TeliaSonera, Verizon Communications Inc., Google LLC., and others in the final report.
Cisco Systems Inc-Company Financial Analysis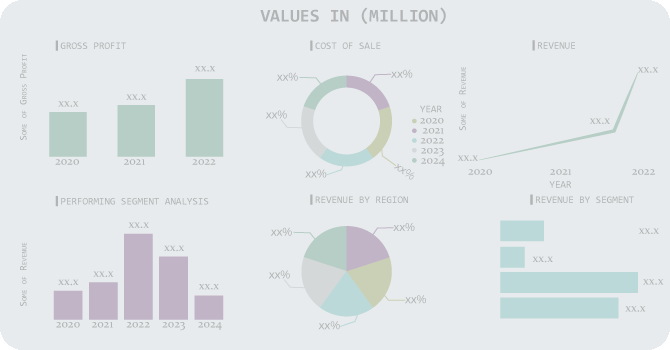 Recent Developments
The IBM z16, the company's next-generation system with an integrated on-chip artificial intelligence (AI) accelerator that allows latency-optimized inference, was launched in April 2022. This invention aims to enable clients to analyze real-time transactions such as credit cards, healthcare, and financial activities at scale. The IBM z16, which builds on IBM's security leadership, is also deliberately designed to help guard against near-future threats that may be exploited to crack today's encryption solutions.
Oracle Cloud Infrastructure (OCI) released new services and capabilities in March 2022 to provide clients with additional flexibility. OCI has grown to include 11 new computing, networking, and storage services and capabilities, allowing clients to execute workloads more quickly and securely at a lesser cost. Customers may now get flexible core infrastructure services that automatically optimize resources to fit application requirements, decreasing costs dramatically.
Context-Aware Computing Market Report Scope:
Report Attributes
Details
Market Size in 2022
US$ 41.12 Bn
Market Size by 2030
US$ 184.6 Bn
CAGR
CAGR of 20.65 % From 2023 to 2030
Base Year
2022
Forecast Period
2023-2030
Historical Data
2020-2021
Report Scope & Coverage
Market Size, Segments Analysis, Competitive Landscape, Regional Analysis, DROC & SWOT Analysis, Forecast Outlook
Key Segments
• By Vendor (Mobile Network Operator, Device Manufacturer, Online, Web, and Social Networking Vendors)
• By Component (Solution, Services)
• By End-Use (BFSI, Consumer Electronics, Media and Entertainment, Automotive, Healthcare, Telecommunication, Logistics and Transportation, Others)
Regional Analysis/Coverage
North America (USA, Canada, Mexico), Europe
(Germany, UK, France, Italy, Spain, Netherlands,
Rest of Europe), Asia-Pacific (Japan, South Korea,
China, India, Australia, Rest of Asia-Pacific), The
Middle East & Africa (Israel, UAE, South Africa,
Rest of Middle East & Africa), Latin America (Brazil, Argentina, Rest of Latin America)
Company Profiles
Infosys Limited, Cisco Systems, Inc., IBM Corporation, Oracle Corporation Microsoft, Corporation, Amazon.com, Inc., Samsung Electronics Co. Ltd, Nokia Corporation, Onapsis Inc., Apple Inc., TeliaSonera, Verizon Communications Inc., Google LLC.
Key Drivers
• Rising Advanced Sensor Deployment to Increase the Adoption of CAC Solutions
Market Opportunities
• The advent of mobile computing will open up novel opportunities for the CAC industry.