Report Scope & Overview:
The Copper Fungicides Market size was valued at USD 320 million in 2022. It is expected to grow to USD 476.4 million by 2030 and grow at a CAGR of 5.1% over the forecast period of 2023-2030.
Copper fungicides are widely used to control fungal diseases in various crops, ensuring healthy and abundant yields. This market is driven by the increasing demand for high-quality crops and the need to combat plant diseases effectively. Copper fungicides, with their exceptional properties, have become a preferred choice for farmers and growers worldwide. These fungicides are known for their broad-spectrum activity, effectively targeting a wide range of fungal pathogens. They provide excellent protection against diseases such as downy mildew, powdery mildew, and leaf spots, among others. One of the key advantages of copper fungicides is their long-lasting effect. They form a protective barrier on the plant surface, preventing the entry and spread of fungal pathogens. This durability ensures prolonged disease control, reducing the need for frequent applications and minimizing the overall cost for farmers.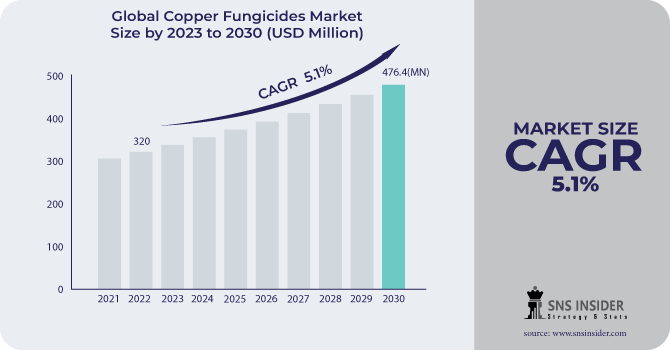 The copper fungicides market is witnessing a surge in demand due to the increasing awareness among farmers about the importance of disease control and crop protection. With the rising global population and the need to meet the growing food demand, farmers are increasingly relying on copper fungicides to safeguard their crops and maximize yields. In addition, the market is driven by technological advancements in fungicide formulations. Manufacturers are constantly innovating to develop more efficient and user-friendly products. This includes the development of copper fungicides with enhanced adhesion properties, improved rain fastness, and reduced phytotoxicity. These advancements not only enhance the efficacy of the fungicides but also make them easier to handle and apply.
Market Dynamics
Drivers
Increasing demand for food production

Advancements in farming techniques
The adoption of modern farming techniques, such as precision agriculture and integrated pest management, has increased the use of copper fungicides. These techniques require effective disease control measures, driving the demand for copper fungicides.
Restrain
The market for copper fungicides faces competition from alternative solutions, such as biological fungicides and genetically modified crops with enhanced disease resistance. These alternatives offer effective disease control while reducing the reliance on chemical fungicides, posing a challenge to the growth of the copper fungicides market.
Opportunities
There is a growing emphasis on sustainable farming practices to minimize the environmental impact of agricultural activities. Copper fungicides, being less harmful to the environment compared to other chemical fungicides, are gaining popularity among farmers. This increased awareness and preference for sustainable farming practices contribute to the growth of the copper fungicides market.
Challenges
The copper fungicides market faces challenges due to stringent regulations imposed by various regulatory bodies. These regulations aim to ensure the safe use of copper fungicides and minimize their potential adverse effects on human health and the environment. Compliance with these regulations can be costly and time-consuming, acting as a restraint for market growth.
Impact of Russia-Ukraine War:
The Russia-Ukraine war has disrupted the supply chain of copper fungicides, leading to a decrease in the availability of these essential agricultural products. Both Russia and Ukraine are major producers of copper fungicides, and the conflict has resulted in a decline in production and exports from these countries. This scarcity has subsequently caused an increase in prices, making it more challenging for farmers to access these vital crop protection solutions. The war has created an atmosphere of uncertainty and instability in the copper fungicides market. With ongoing military operations and geopolitical tensions, investors and industry stakeholders are hesitant to make long-term commitments.
Impact of Recession:
Manufacturers of copper fungicides have been severely impacted by the recession. The decline in consumer spending power has led to a decrease in demand for these products. As a result, manufacturers have faced reduced sales and profitability. To mitigate these challenges, manufacturers have been forced to implement cost-cutting measures, such as reducing production capacity and workforce. Additionally, the recession has hindered research and development efforts, limiting innovation and product diversification. Distributors of copper fungicides have also faced significant challenges during the recession. With reduced demand from consumers, distributors have experienced a decline in sales volume. This has led to excess inventory and increased carrying costs. To adapt to the changing market conditions, distributors have had to reassess their supply chain strategies and explore alternative distribution channels. The recession has had a direct impact on consumers of copper fungicides. As disposable income decreases, consumers have become more price-sensitive and are seeking cost-effective alternatives. This has led to a shift in consumer preferences towards cheaper fungicide options, such as synthetic alternatives. Additionally, the recession has prompted consumers to reduce their overall usage of fungicides, further dampening demand in the market.
Market segmentation
By Chemistry
Copper Hydroxide

Copper Oxychloride

Copper Sulphate

Cuprous Oxide

Others
By Application
Fruits & Vegetables

Oilseeds & Pulses

Cereals & Grains

Others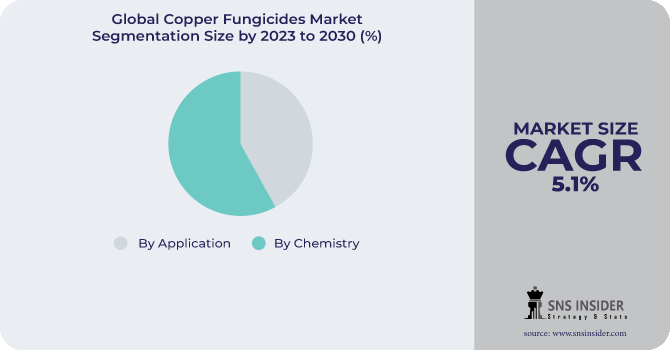 Regional Analysis
Europe dominated the Copper Fungicides Market with a revenue share of about 59.2% in 2022. Europe boasts a robust agricultural sector, characterized by advanced farming techniques and a strong emphasis on crop protection. Furthermore, Europe's favorable regulatory environment has played a pivotal role in propelling the growth of the Copper Fungicides Market. Stringent regulations governing the use of chemical pesticides have prompted farmers to adopt safer and more environmentally friendly alternatives, such as copper fungicides. The European Union's commitment to sustainable agriculture and its stringent standards for pesticide residues have further bolstered the demand for copper fungicides in the region.
Asia-Pacific is expected to grow with the highest CAGR of about 6.9% during the forecast period of 2023-2030 in the Copper Fungicides Market. The increasing demand for copper fungicides in the agriculture and horticulture sectors is a significant driver. Moreover, the Asia-Pacific region is witnessing a rise in population, leading to a greater need for food production. As a result, farmers are increasingly adopting copper fungicides to safeguard their crops and meet the growing demand for agricultural products. Furthermore, the region's favorable climatic conditions for crop cultivation contribute to the higher adoption of copper fungicides. The warm and humid climate prevalent in many countries within the Asia-Pacific region creates an ideal environment for fungal diseases to thrive. Consequently, farmers rely on copper fungicides to combat these diseases effectively.
REGIONAL COVERAGE:
North America
Europe
Eastern Europe

Poland

Romania

Hungary

Turkey

Rest of Eastern Europe

Western Europe

Germany

France

UK

Italy

Spain

Netherlands

Switzerland

Austria

Rest of Western Europe
Asia Pacific
China

India

Japan

South Korea

Vietnam

Singapore

Australia

Rest of Asia Pacific
Middle East & Africa
Middle East

UAE

Egypt

Saudi Arabia

Qatar

Rest of the Middle East

Africa

Nigeria

South Africa

Rest of Africa
Latin America
Brazil

Argentina

Colombia

Rest of Latin America
Key Players
The major key players are Corteva, UPL Ltd. India, Nufarm, Certis USA LLC, Albaugh LLC, Bayer AG, Isagro S.p.A., ADAMA, Quimetal, Cosaco, Cinkarna Celje dd, Nordox AS, and other key players mentioned in the final report.
UPL Ltd - Company Analysis: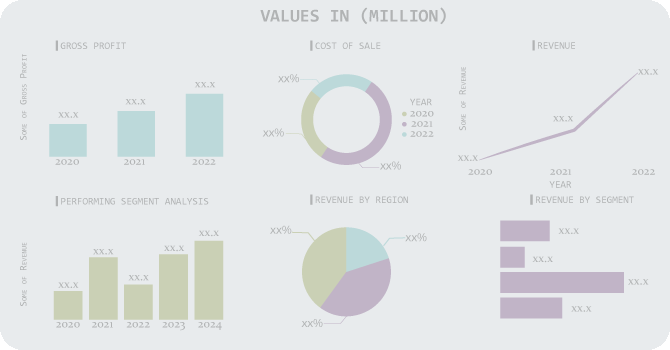 Recent Development:
In March 2023, Corteva Agriscience made an exciting announcement regarding the commercial launch of Adavelt™ active. This innovative fungicide has recently received product registrations in three countries: Australia, Canada, and South Korea. Adavelt Active stands out due to its unique mode of action, providing protection against a diverse array of diseases that can significantly affect crop yields.
Copper Fungicides Market Report Scope:
Report Attributes
Details
Market Size in 2022
US$ 320 Mn
Market Size by 2030
US$ 476.4 Mn
CAGR
CAGR of 5.1% From 2023 to 2030
Base Year
2022
Forecast Period
2023-2030
Historical Data
2020-2021
Report Scope & Coverage
Market Size, Segments Analysis, Competitive Landscape, Regional Analysis, DROC & SWOT Analysis, Forecast Outlook
Key Segments
• By Chemistry (Copper Hydroxide, Copper Oxychloride, Copper Sulphate, Cuprous Oxide, and Others)
• By Application (Fruits & Vegetables, Oilseeds & Pulses, Cereals & Grains, and Others)
Regional Analysis/Coverage
North America (US, Canada, Mexico), Europe (Eastern Europe [Poland, Romania, Hungary, Turkey, Rest of Eastern Europe] Western Europe] Germany, France, UK, Italy, Spain, Netherlands, Switzerland, Austria, Rest of Western Europe]). Asia Pacific (China, India, Japan, South Korea, Vietnam, Singapore, Australia, Rest of Asia Pacific), Middle East & Africa (Middle East [UAE, Egypt, Saudi Arabia, Qatar, Rest of Middle East], Africa [Nigeria, South Africa, Rest of Africa], Latin America (Brazil, Argentina, Colombia Rest of Latin America)
Company Profiles
Corteva, UPL Ltd. India, Nufarm, Certis USA LLC, Albaugh LLC, Bayer AG, Isagro S.p.A., ADAMA, Quimetal, Cosaco, Cinkarna Celje dd, Nordox AS
Key Drivers
• Increasing demand for food production
• Advancements in farming techniques
Market Restraints
• Development of alternative solutions