REPORT SCOPE & OVERVIEW
The Customer Intelligence Platform Market size was USD 1.9 billion in 2022 and is expected to Reach USD 15.4 billion by 2030 and grow at a CAGR of 30% over the forecast period of 2023-2030
A technology solution known as a customer intelligence platform gathers, examines, and deciphers information on customer behaviour and interactions across numerous touchpoints. collecting information from various sources, such as websites, mobile apps, social media, email marketing, customer support interactions, and more. A customer intelligence platform's objective is to give companies actionable insights and a thorough understanding of their consumers so they can improve customer experiences, make wise decisions, and spur corporate growth. Platforms for customer intelligence offer sophisticated analytics capabilities, such as data mining, machine learning, and predictive modeling, to obtain useful information from the gathered data. The consumer intelligence platform market is segmented into on-premises and cloud-based. The cloud-based segment is the largest segment, accounting for 70% of the market in 2022. This is due to the flexibility and scalability of cloud-based solutions, which make them ideal for businesses of all sizes. And The consumer intelligence platform market is segmented into retail, healthcare, manufacturing, and others. The retail segment is the largest segment, accounting for 35% of the market in 2022. Businesses in a variety of sectors, such as retail, e-commerce, finance, telecommunications, and others, employ customer intelligence platforms. By providing more individualized and pertinent experiences, these platforms assist businesses in enhancing consumer engagement, growing customer loyalty, and boosting revenue. Customer intelligence solutions enable personalization of the customer experience, online sales, and business strategy optimization. Platforms for customer intelligence help businesses understand these trends and adjust their strategies as needed. Businesses use data on consumer mood, preferences, and purchase history to change their products and marketing messages to meet changing customer expectations. Customer intelligence platforms are being used for a wider range of use cases, such as fraud detection, churn prevention, and marketing optimization. This is creating new opportunities for businesses to use these platforms to improve their operations.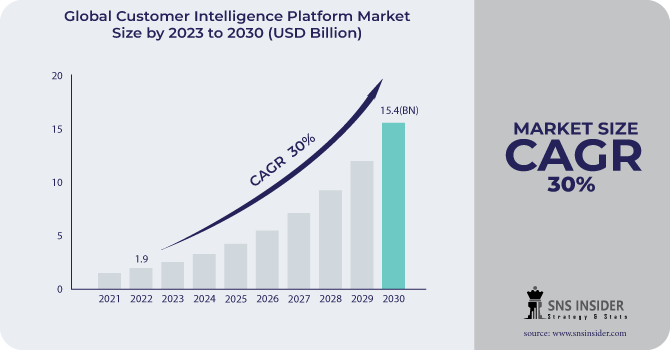 MARKET DYNAMICS
KEY DRIVERS
Increased demand for personalized customer experiences

Advances in artificial intelligence and machine learning

Growing volume of customer data
Businesses are increasingly looking for ways to personalize the customer experience. Customer intelligence platforms can help businesses to collect and analyse data about their customers in order to create more personalized experiences.
RESTRAIN
There are concerns about the privacy and security of customer data. Customer intelligence platforms need to be carefully designed and implemented to address these concerns.
OPPORTUNITY
Growing adoption of cloud computing

The customer intelligence platform market is becoming more competitive. This is driving innovation and leading to the development of new and better platforms
The growing adoption of cloud computing is creating opportunities for customer intelligence platforms. Cloud-based customer intelligence platforms are more scalable and reliable than on-premises platforms, making them a good fit for businesses that need to be able to quickly adapt to changing market conditions.
CHALLENGES
Integration with existing systems

The quality of the data that is used by customer intelligence platforms is critical. If the data is inaccurate or incomplete, the insights that are generated will be unreliable.
Customer intelligence platforms need to be integrated with existing systems, such as CRM and marketing automation platforms. This can be a challenge, especially for businesses with complex IT environments.
IMPACT OF RUSSIAN UKRAINE WAR
The market for customer intelligence platforms has been significantly impacted by the Russian-Ukrainian conflict. Economic sanctions against Russia as a result of the conflict have made it challenging for Russian businesses to obtain CIPs. For Russian CIP enterprises, this has resulted in a fall in sales growth and revenue. These businesses have suffered from the war's direct effects because they are unable to access CIPs or run their operations in Russia or Ukraine. Companies in this area include IBM, Salesforce, and Oracle, to name a few. IBM has stopped doing business in Ukraine and Russia. The business expressed its serious worry about the conflict and stated that it was taking action to support the Ukrainian people. Russian revenue for IBM and in 2022, Ukraine was predicted to be worth $1 billion. Oracle has stopped doing business in Russia. The war between Russia and Ukraine is still going to have an effect on the CIP market for some time. The global economy is currently experiencing significant uncertainty as a result of the war, and it is unclear when this uncertainty will end. As a result, it is expected that the CIP market will continue to grow slowly in the near future.
IMPACT OF ONGOING RECESSION
The recession is expected to have a negative impact on the CIP market in three key ways Businesses are likely to reduce their spending on non-essential items during a recession, including CIP platforms. This is because CIP platforms are not seen as a necessity for businesses, but rather as a way to improve efficiency and profitability., Changed Customer Behaviour, and Increased Competition. The market is expected to be most affected in regions that are most heavily impacted by the recession, such as North America and Europe. The market is also expected to be most affected in industries that are most sensitive to economic downturns, such as retail and consumer discretionary. A study by the National Retail Federation found that retail sales fell by 8.7% in February 2023, the largest decline since the Great Recession., A survey by the Conference Board found that consumer confidence fell to its lowest level in 10 years in March 2023. The ongoing recession is a significant challenge for the CIP market. However, CIP providers that can adapt to the changing market conditions and offer solutions that meet the needs of businesses and consumers during a recession are likely to emerge stronger from the downturn.
KEY MARKET SEGMENTS
By Component
By Functionality-based
Data Collection and Integration Solutions

Customer Analytics

Segmentation

Real-time Engagement

Customer Experience Management
By Enterprise Size
By Industry Vertical
IT

Telecom

Healthcare

Utilities

BFSI

Others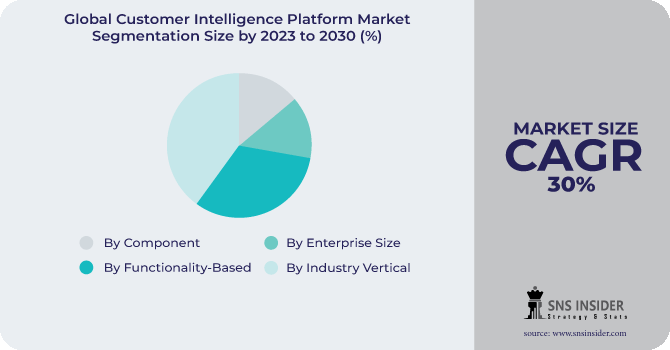 Region Coverage:
North America
Europe
Eastern Europe

Poland

Romania

Hungary

Turkey

Rest of Eastern Europe

Western Europe

Germany

France

UK

Italy

Spain

Netherlands

Switzerland

Austria

Rest of Western Europe
Asia Pacific
China

India

Japan

South Korea

Vietnam

Singapore

Australia

Rest of Asia Pacific
Middle East & Africa
Middle East

UAE

Egypt

Saudi Arabia

Qatar

Rest of the Middle East

Africa

Nigeria

South Africa

Rest of Africa
Latin America
Brazil

Argentina

Colombia

Rest of Latin America
REGIONAL ANALYSIS
North America dominated the customer intelligence platform market size in 2022. As a result of the region's large and diverse market, which includes a wide range of industries, including retail, e-commerce, healthcare, finance, and more, this region is also anticipated to experience rapid market revenue growth. Consequently, expected to fuel market expansion. This is due to the region's large and mature economy, as well as the presence of a large number of businesses that are using CIPs to improve their customer experience and marketing campaigns. The United States is the largest market for CIPs in North America, followed by Canada.
Asia Pacific region, which is the second-largest market. Over 30% of the global market for CIPs is distributed. It has the highest growth rate during the projection period. It is projected that the region's expanding market revenue growth will be fuelled by The Asia Pacific CIP market is expanding as a result of the region's quick economic development, growing company adoption of digital technology, and rising consumer desire for individualized service. India and Japan are the next-largest markets for CIPs in the Asia Pacific region, after China. an increase in the need for customer intelligence platform services and products across a range of industries to improve productivity and business continuity across a range of business processes. Market growth prospects in this area are likewise expected to be profitable.
KEY PLAYERS
The major key players in the Customer Intelligence Platform Market are Microsoft Corporation, International Business Machines Corporation, Oracle Corporation., SAP SE. Adobe Inc., SaS Institute Inc., Salesforce, Inc., Google LLC, Accenture, Informatica Inc., and other players.
IBM - Company Financial Analysis: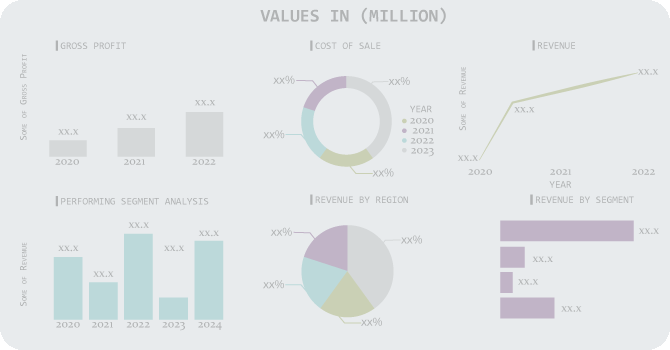 RECENT DEVELOPMENTS
IBM:
In June 22, 2023 IBM announced that it has acquired Databand.ai, a provider of data observability software. Databand.ai's software helps businesses to identify and fix data quality issues in their CIPs. This acquisition will help IBM to strengthen its CIP offering and provide businesses with a more comprehensive solution for managing their data.
Oracle:
In July 13, 2023, Oracle announced that it has launched Oracle Customer Data Cloud, a new CIP platform. Oracle Customer Data Cloud brings together data from a variety of sources, including CRM systems, marketing automation platforms, and social media platforms. This allows businesses to create a single view of their customers and use this data to improve their marketing campaigns and customer service.
Customer Intelligence Platform Market Report Scope:
Report Attributes
Details
Market Size in 2022
US$ 1.9 Bn
Market Size by 2030
US$ 15.4 Bn
CAGR
CAGR of 30 % From 2023 to 2030
Base Year
2022
Forecast Period
2023-2030
Historical Data
2020-2021
Report Scope & Coverage
Market Size, Segments Analysis, Competitive Landscape, Regional Analysis, DROC & SWOT Analysis, Forecast Outlook
Key Segments
• By Component (Solution, Services)
• By Functionality-based (Data Collection and Integration Solutions, Customer Analytics, Segmentation, Real-time Engagement, Customer Experience Management)
• By Enterprise Size (Large Enterprise, Small and Medium Size Enterprise)
• By Industry Vertical (IT, Telecom, Healthcare, Utilities, BFSI, Others)
Regional Analysis/Coverage
North America (US, Canada, Mexico), Europe (Eastern Europe [Poland, Romania, Hungary, Turkey, Rest of Eastern Europe] Western Europe] Germany, France, UK, Italy, Spain, Netherlands, Switzerland, Austria, Rest of Western Europe]). Asia Pacific (China, India, Japan, South Korea, Vietnam, Singapore, Australia, Rest of Asia Pacific), Middle East & Africa (Middle East [UAE, Egypt, Saudi Arabia, Qatar, Rest of Middle East], Africa [Nigeria, South Africa, Rest of Africa], Latin America (Brazil, Argentina, Colombia Rest of Latin America)
Company Profiles
Microsoft Corporation, International Business Machines Corporation, Oracle Corporation., SAP SE. Adobe Inc., SaS Institute Inc., Salesforce, Inc., Google LLC, Accenture, Informatica Inc.
Key Drivers
• Increased demand for personalized customer experiences
• Advances in artificial intelligence and machine learning
• Growing volume of customer data
Market Restraints
• Data privacy and security concerns