REPORT SCOPE & OVERVIEW
The Customized Packaging Market size was USD 34.71 billion in 2022 and is expected to Reach USD 56.17 billion by 2030 and grow at a CAGR of 6.2 % over the forecast period of 2023-2030.
A large part of the demand is due to the increasing need to change the packaging to ensure product safety, which is further supported by increasing global imports and exports. The need to keep products safe during transit has grown significantly, contributing to the growth of the Customized packaging market. Customized packaging manufacturers are primarily focused on expanding their business areas through smart mergers and acquisitions that enhance the range and quality of the products they offer. Due to the need to build a brand identity in the face of intense competition in the market, more and more brand owners are opting for Customized packaging over traditional options.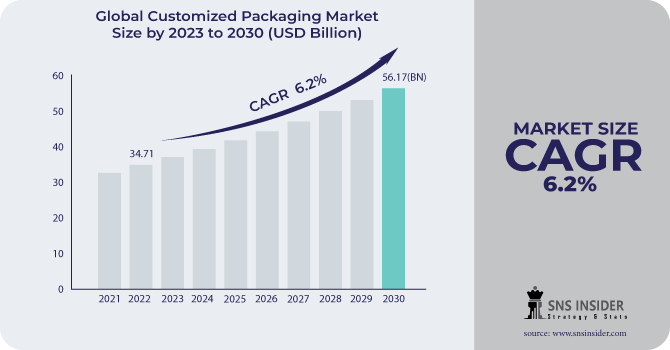 Get PDF Sample Copy of Customized Packaging Market - Request Sample Report
Increasing consumer disposable income, especially in the Asia-Pacific region, is driving the demand for luxury packaging, which drives the market. Manufacturers in this sector are increasing their skills and production capacities to increase their presence in the growing market. The growth seen from previous eras is also fueled by the increasing use of e-retail around the world. Customized packaging helps businesses connect with customers and increase brand awareness. However, new designs require companies to spend more time and effort, which can lead to higher production costs. Additionally, you need to spend a lot of marketing resources to determine your ideal packaging design and marketing strategy. Customized package campaigns that customers don't like can waste a lot of time and money and hurt your business profits. To avoid printing outdated or obsolete packaging, businesses also need to stay on top of the latest trends.
From FMCG brands to high-end luxury leaders, consumer brands are embracing personalization. Custom packaging will grow as brands move one step closer to consumer awareness through branding efforts. This personalization trend is most evident in beverage and food companies. Many companies in various industries have jumped on the Customized packaging trend to profit. One of the main drivers behind the development of Customized packaging for industry insiders is the insatiable desire for personal brand interactions.
MARKET DYNAMICS
KEY DRIVERS:
Increasing consumer demand for customized packaging
The need for Customized packaging is rising as consumers seek out more distinctive and Customized experiences. The market responds to this demand by providing a wide range of customization options, from Customized messages and names to custom designs and packaging materials. The industry thrives and expands to meet consumers' changing preferences as more consumers accept customized packaging.
Brands can stand out from the competition and develop a distinctive identity in the marketplace with the help of customized packaging.
The rise of e-commerce has transformed the packaging landscape giving boost to the e-commerce packaging market.
RESTRAIN:
Customized packaging must adhere to a number of legal requirements which can affect the growth of the market
Customized packaging must adhere to a number of legal requirements, including those relating to labeling, safety, and material limitations. It can be difficult to adhere to these compliance standards when customizing products with distinctive materials, inks, or finishes. The customization process may become more complicated and subject to potential limitations as manufacturers and brands must ensure that customized packaging remains compliant with applicable laws.
When it comes to increasing production, customization inherently adds complexity and constraints.
OPPORTUNITY:
Customized packaging can support sustainability initiatives by utilizing eco-friendly components, minimizing waste through effective design, and providing reusable or recyclable options. Customized sustainable packaging gives brands a competitive edge by aligning with consumer values and preferences.
CHALLENGES:
Protecting customer data privacy and ensuring data security is the challenge of this industry
When it comes to increasing production, customization inherently introduces complexity and constraints. Considerations such as preserving customer data security and privacy are crucial. Brands and producers must implement effective data protection measures, adhere to pertinent laws, and build consumer confidence in how they handle personal data.
It can be difficult to guarantee consistent quality when ordering different customized packaging options.
IMPACT OF RUSSIAN UKRAINE WAR
Russia and Ukraine both are the major suppliers of raw materials for the packaging industry. For the customized packaging market, glass, paper, metal, and plastic are the major raw materials required. Russia alone produces nearly about 6% of the total aluminium production globally and is also the major exporter of aluminium. Turkiye almost imports about 40 % of aluminium from Russia and Japan. China imports nearly about 8-10% of aluminium from Russia.
Due to the war prices of aluminium increased severely. Imports of raw materials from Russia were minimized which affected the packaging sector. This also affected the supply of raw materials used in customized packaging, such as paper, cardboard, plastics, and inks Transportation of these raw materials was also costly due to supply chain disruptions due to the war. The raw material required to make glass were also expensive impacting the overall customized packaging market.
European region highly relies on Russia and Ukraine war its energy supply, the prices of energy also went high which affected the production cost and high inflation in the packaging industry across the European region.
IMPACT OF ONGOING RECESSION
Marketing and promotion are a major part of any industry to create demand for products across the globe. The overall economic uncertainty during a recession can create hesitancy among businesses to invest in marketing and promotional activities. This, in turn, can reduce the demand for customized packaging that is often used to enhance brand recognition and product appeal. According to market surveys at times of recession, there might be 45 % downfall in marketing expenditure by industries. This will highly impact the customized packaging market, where the marketing of products plays a crucial role in generating customer demands.
Demand and supply of cardboard boxes, as well as other packaging materials, fell in year 2022. This is because of less consumer spending, due to the coming recession and rising interest rates.
KEY MARKET SEGMENTS
By Raw Material
Glass
Metal
Plastic
Others
By Packaging Type
Cartons
Bottles
Jars & Containers
Boxes
Others
By End User
Pharmaceutical
Food & Beverage
Personal Care
Others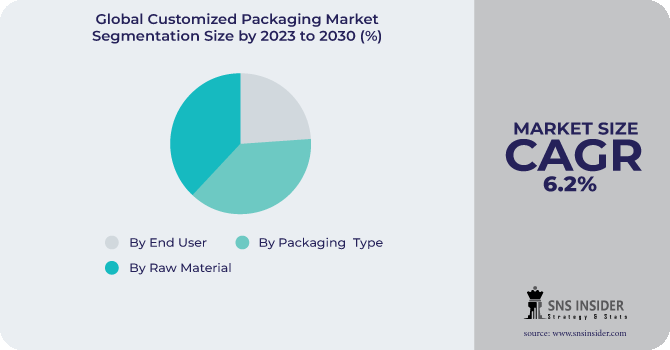 Get Customized Report as per Your Business Requiremrnt - Enquiry Now
REGIONAL ANALYSIS
North America overtook other regional markets as the largest market for Customized packaging, with the highest revenue share. The region's expanding use of customized packaging to differentiate goods and improve transportable packaging is primarily to blame for the market's revenue growth. The presence of technological innovation and the cost of raw resources are additional factors.
The market for Customized packaging is predicted to grow in Asia Pacific. The main factors influencing the growth of the APAC market are changing consumer lifestyles and rising disposable income, which have increased demand for goods like carbonated beverages, Cocktail Syrups, and others throughout the region. The expansion of small and medium-sized bespoke packaging businesses also contributes to the industry's growth in APAC.
REGIONAL COVERAGE:
North America
Europe
Eastern Europe

Poland
Romania
Hungary
Turkey
Rest of Eastern Europe

Western Europe

Germany
France
UK
Italy
Spain
Netherlands
Switzerland
Austria
Rest of Western Europe
Asia Pacific
China
India
Japan
South Korea
Vietnam
Singapore
Australia
Rest of Asia Pacific
Middle East & Africa
Middle East

UAE
Egypt
Saudi Arabia
Qatar
Rest of Middle East

Africa

Nigeria
South Africa
Rest of Africa
Latin America
Brazil
Argentina
Colombia
Rest of Latin America
Key players
Some major key players in the Customized Packaging Market market are International Packaging Inc, ACG Ecopak, ProAmpac LLC, CB Group, SoOPAK Company, Huhtamaki Oyj, Salazar Packaging Inc, Prime Line Packaging, Elegant Packaging, Glenroy Inc, and other players.
SoOPAK Company-Company Financial Analysis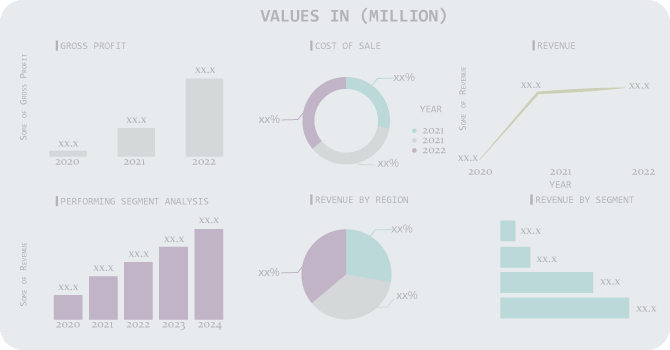 RECENT DEVELOPMENT
Wynnchurch Capital, acquired FCA. For specialized industrial protective packaging solutions, FCA is a market leader.
Flexpak LLC, 2023, An announcement regarding the completion of the acquisition of Preferred Packaging Products Inc was made by Flexpak LLC, a value-added distributor and provider of packaging supplies.