Report Scope & Overview:
The Data Annotation Tools Market size was valued at USD 814.2 billion in 2022 and is expected to grow to USD 5332.19 billion By 2030 and grow at a CAGR of 26.48 % over the forecast period of 2023-2030.
The process of labeling data for utilization in machine learning is referred to as Data annotation. Data scientists make use of data annotation tools as tagged data is employed alongside machine learning algorithms. The data encompasses various forms such as images (captured from automobiles, phones, or medical devices), text (in English, Spanish, Chinese, and other languages), audio, and video.
Various methodologies are employed in the field, including polygon annotation, semantic segmentation, bounding box annotation, landmark annotation, polylines annotation, and 3D point cloud annotation.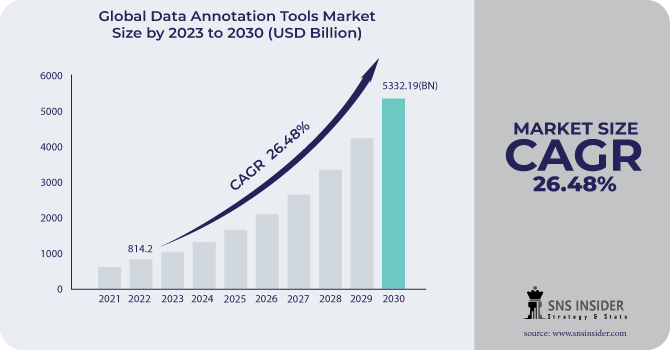 To get more information on Data Annotation Tools Market - Request Free Sample Report
Market Dynamics
Drivers
Labeled data is becoming increasingly prevalent in medical imaging

Massive Data Generation Using Advanced Technologies
The implementation of Al-enabled systems for better patient care, better diagnostics, and faster drug development has transformed the healthcare industry. Using precisely tagged medical photos, algorithms have been built that may detect abnormalities and diseases in patients without the intervention of a person. Medical staff also engage with expert annotation service providers to establish a database of correctly tagged surgery footage. The dataset would serve as a foundation for the development of self-driving surgical robots. Labelbox, for example, provides dynamic large-scale tiled image formats for medical practitioners to annotate abnormal data.
Drug development is another key application area where data annotation is vital. Data annotation and labeling can enable automated systems to scan through a large number of research articles, patents, clinical trial paperwork, and patient information to aid researchers in detecting patterns important to drug discovery. Annotated datasets of this type can be used to make new linkages between diseases, symptoms, and potential therapies.
Restrains
Problems related to low training data quality

Data Annotation Tools Inaccuracy
The shortage of high-quality input data is a key constraint to the market expansion of data annotation and labeling solutions. Any effort to train Al models with low-quality data results in anticipated output errors, with certain techniques deteriorating to the point where complete optimization is never achieved. This is due to the fact that Al's performance is closely associated with the quality of data fed into the algorithm. Missing, irrelevant, or corrupted datasets can potentially have severe financial consequences if there is a large difference between the ground reality and the Al algorithm forecasts.
Opportunities
Increasing the popularity of crowdsourced data annotation for increased ROI

Increase the use of machine learning
Challenges
A scarcity of highly skilled manual data labelers

Less availability of subject matter experts
Impact of the Russia-Ukraine War
The geopolitical tensions between Russia and Ukraine may lead to changes in the global market dynamics. Companies in this sector might reassess their relationships with suppliers and partners based in these regions. They might also explore alternative suppliers or shift their operations to more stable locations. Such shifts can alter the competitive landscape of the market, creating opportunities for new players or causing existing players to exit. In times of geopolitical conflicts, governments often impose new regulations or change existing ones. These regulations can affect cross-border data transfers, privacy laws, and data protection requirements. Data annotation tools often involve processing and analyzing large amounts of data, which may include personal or sensitive information. Changes in regulations could impact the way data annotation tools handle and store data, potentially requiring companies to invest in additional compliance measures or adapt their processes. Geopolitical tensions and conflicts can create an uncertain business environment. This uncertainty may lead to cautious spending decisions by companies, affecting their investment in data annotation tools. Companies might delay or reduce their adoption of new technologies or scale back their data annotation projects until the geopolitical situation stabilizes. This could result in a temporary slowdown in the growth of the market.
Impact of the Recession
During a recession, businesses and organizations often tighten their budgets and reduce discretionary spending. This can lead to a decrease in the adoption and investment in Data Annotation Tools as companies prioritize essential expenses over non-essential ones. Recessions can cause companies to delay or scale back on projects that require data annotation. This can result in a decrease in demand for Data Annotation Tools as organizations postpone or reduce the scope of their data annotation initiatives. In a recession, businesses become more cost-conscious and seek ways to optimize their operations. This can lead to increased competition in the Data Annotation Tools market as companies look for more affordable or efficient alternatives. Data annotation tool providers may face pressure to lower prices or offer more competitive pricing plans to attract customers. The impact of a recession on the Data Annotation Tools market can vary across different industries. Some industries, such as finance or retail, may experience more significant downturns during a recession, leading to reduced investments in data annotation tools. On the other hand, industries like healthcare or cybersecurity may continue to invest in data annotation tools as they are essential for their operations or compliance requirements.
Key Market Segmentation
By Type
By Component
By Annotation Type
Manual

Semi-supervised

Automatic
By Vertical
IT

Automotive

Government

Healthcare

Financial Services

Retail

Others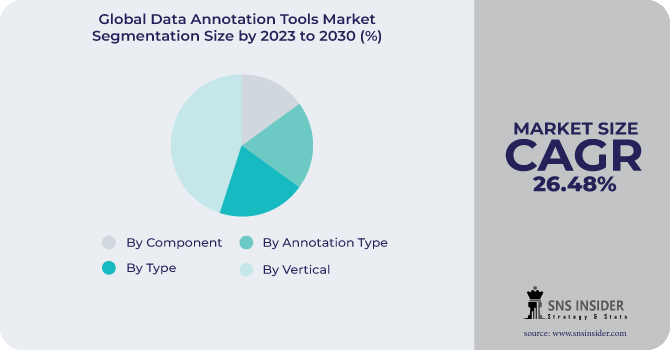 Need any customization research on Data Annotation Tools Market - Enquiry Now
Regional Analysis
North America led the market, accounting for more than 35% of worldwide sales. This is due to market vendors' aggressive product and geographical growth strategies in order to achieve a competitive advantage. Over the projection period, the European market is predicted to increase steadily. Furthermore, the increased emphasis on picture annotation is expected to improve the operations of the retail and automotive sectors in the European area.
Asia Pacific is likely to increase at the quickest rate throughout the forecast period. Data annotation tools have a strong potential for widespread application in the Asia Pacific region, notably in the healthcare and financial services industries. The healthcare business in the region is thriving, mainly due to a greater embrace of technology and innovative ideas. These factors are assisting in propelling the Data Annotation Tool Market in this area.
REGIONAL COVERAGE:
North America
Europe
Eastern Europe

Poland

Romania

Hungary

Turkey

Rest of Eastern Europe

Western Europe

Germany

France

UK

Italy

Spain

Netherlands

Switzerland

Austria

Rest of Western Europe
Asia Pacific
China

India

Japan

South Korea

Vietnam

Singapore

Australia

Rest of Asia Pacific
Middle East & Africa
Middle East

UAE

Egypt

Saudi Arabia

Qatar

Rest of Middle East

Africa

Nigeria

South Africa

Rest of Africa
Latin America
Brazil

Argentina

Colombia

Rest of Latin America
Key Players
The major players are Amazon Mechanical Turk, Inc., ClickWorker GmbH, Appen Limited, Labelbox Inc, CloudApp, Cogito Tech LLC, Annotate.com, Deep Systems, Trilldata Technologies Pvt. Ltd., Lotus Quality Assurance, Google LLC., Playment Inc, Tagtog Sp. z o.o, CloudFactory Limited, LightTag, Alegion, Figure Eight Inc, Explosion AI, Mighty AI Inc, Scale, Inc, and others in the final report.
Recent development
TechSee teamed with TELUS International in November 2022 to promote real-time computer vision in interaction centers. TELUS International will have access to TechSee's portfolio of AI-powered service automation and visual engagement tools as a result of this collaboration.
Accenture and Google Cloud today announced a renewed commitment to growing their respective talent, increasing their joint capabilities, developing new solutions using data and AI, and providing enhanced support to help clients build a strong digital core and reinvent their enterprises on the cloud in October 2022.
Innotescus will launch its image and video annotation platform for machine learning in June 2021. The platform provides a user-friendly annotation workspace, comprehensive analytics, and a collaborative environment for teams to build high-quality information.
Data Annotation Tools Market Report Scope:
Report Attributes
Details
Market Size in 2022
US$ 814.2 Bn
Market Size by 2030
US$ 5332.19 Bn
CAGR
CAGR of 26.48% From 2023 to 2030
Base Year
2022
Forecast Period
2023-2030
Historical Data
2020-2021
Report Scope & Coverage
Market Size, Segments Analysis, Competitive Landscape, Regional Analysis, DROC & SWOT Analysis, Forecast Outlook
Key Segments
• By Type (Text, Image/Video, Audio)
• By Component (Solution, Services)
• By Annotation Type (Manual, Semi-supervised, Automatic)
• By Vertical (IT, Automotive, Government, Healthcare, Financial Services, Retail, Others)
Regional Analysis/Coverage
North America (US, Canada, Mexico), Europe (Eastern Europe [Poland, Romania, Hungary, Turkey, Rest of Eastern Europe] Western Europe] Germany, France, UK, Italy, Spain, Netherlands, Switzerland, Austria, Rest of Western Europe]). Asia Pacific (China, India, Japan, South Korea, Vietnam, Singapore, Australia, Rest of Asia Pacific), Middle East & Africa (Middle East [UAE, Egypt, Saudi Arabia, Qatar, Rest of Middle East], Africa [Nigeria, South Africa, Rest of Africa], Latin America (Brazil, Argentina, Colombia Rest of Latin America)
Company Profiles
Amazon Mechanical Turk, Inc., ClickWorker GmbH, Appen Limited, Labelbox Inc, CloudApp, Cogito Tech LLC, Annotate.com, Deep Systems, Trilldata Technologies Pvt. Ltd., Lotus Quality Assurance, Google LLC., Playment Inc, Tagtog Sp. z o.o, CloudFactory Limited, LightTag, Alegion, Figure Eight Inc, Explosion AI, Mighty AI Inc, Scale, Inc
Key Drivers
• Labeled data is becoming increasingly prevalent in medical imaging.
• Massive Data Generation Using Advanced Technologies
Market Restraints
• Problems related to low training data quality
• Data Annotation Tools' Inaccuracy