Report Scope & Overview:
The Epilepsy Surgery Market Size was valued at USD 980 million in 2022 and is expected to reach USD 1483.5 million by 2030 and grow at a CAGR of 5.32% over the forecast period 2023-2030.
Epilepsy surgery is a neurosurgical operation that involves treating the brain areas involved in seizures. The technique is performed to lessen or eliminate the risk of seizures.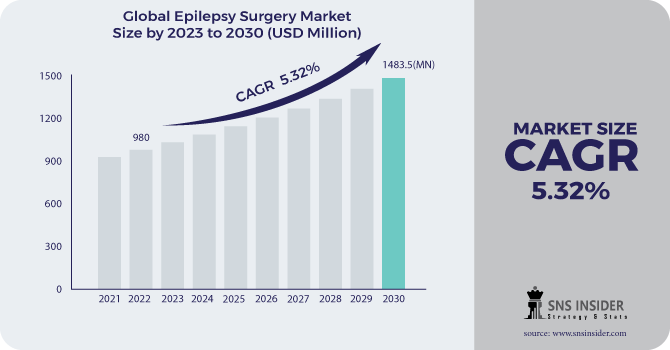 To get more information on Epilepsy Surgery Market - Request Sample Report
The growing frequency of neurological illnesses, which has resulted in substantial R&D on epilepsy treatment devices, as well as an increase in cases of brain injuries due to car accidents, are driving the expansion of the epilepsy surgery market. Furthermore, advancements in robot-assisted surgery and an increase in the geriatric population are expected to boost market growth. However, the dangers involved with epilepsy surgery may stifle market expansion.
MARKET DYNAMICS:
KEY DRIVERS:
The development of the product involves significant R&D spending, which enhances R&D costs.

Any industry is significantly reliant on distribution. In this market, intermediaries, direct selling, and other methods of distribution are used.
RESTRAINTS:
The risks associated with epilepsy surgery, on the other hand, may hinder market growth.

The selection of a control or comparison condition, as well as patient heterogeneity, are critical and challenging aspects of neurosurgical equipment clinical studies.
OPPORTUNITY:
Collaboration with research institutes to enable market entrants to gain access to global marketplaces

The expanding senior population prone to seizure diseases, and government attempts to conduct epilepsy surgery research projects
IMPACT OF COVID-19:
The COVID-19 epidemic has disrupted the whole value chain in the epilepsy surgery sector, from raw material sourcing through manufacturing, packaging, and distribution. For the time being, the impact appears to be minor because several manufacturers have sufficient raw materials and end-product stock. If the pandemic continues and trade restrictions are tightened, the damage is expected to worsen.
Except in life-threatening situations, most regular surgical procedures were advised to be postponed. One such category was patients with drug-resistant epilepsy. According to a study conducted by three tertiary care epileptic centres in Spain and Italy, only 14 persons with epilepsy tested positive for the COVID-19 in August 2020.
The COVID-19 pandemic has had a number of consequences for people with epilepsy (PWE), including restrictions on in-person contact and neurophysiological tests. Members of the American Epilepsy Society were polled between April 30 and June 14, 2020, to better understand the epidemic's impact on PWE. In PWE with COVID-19, approximately 17% of respondents reported a rise in seizure frequency, whereas none reported an improvement. In this poll, the most important constraints experienced by PWE were a lack of access to healthcare facilities due to closure and limits on elective care. Approximately 44 percent of respondents noted epilepsy medication shortages.
A little piece of the brain is removed during resective surgery. The surgeon removes brain tissues from the area of the brain where seizures occur, which is frequently the location of a tumour, brain damage, or abnormality. It is the most commonly performed epilepsy surgery. Around 70% of persons who have temporal lobe surgery say that the procedure prevents their seizures; additionally, 20% report a reduction in the frequency of seizures. Despite receiving an acceptable dose of antiepileptic medication for one year, epilepsy surgery is recommended in 30% to 40% of individuals with refractory seizure disorders.
LITT is a minimally invasive treatment for drug-resistant epilepsy or seizures that do not respond to medication. LITT may help certain people who have focal seizures that originate in a single area of the brain. LITT surgery typically takes three to four hours. The development of MRI-guided LITT systems for the ablation of neurological soft tissue.
For surgical therapy of epilepsy, lesinectomy, repeated subpial transections, hemispherectomy and hemispherectomy, corpus callosotomy, stereotactic radiosurgery, and other treatments are available. Another therapeutic option for epilepsy is the use of medical equipment such as neurostimulation device implantations.
End-user hospitals and clinics dominate the epilepsy surgery market. This share is mostly due to an increase in the number of people being diagnosed with epilepsy and having epilepsy surgical treatments. Patients frequently choose to be treated in a hospital because advanced and comprehensive therapies are accessible. Clinics are also medical care centres that treat people with epilepsy.. Europe, the Americas, and developing countries such as India, China, and Russia have the most hospitals giving treatment for this disease.
Specialized epilepsy centres provide normal care to those who have seizures or epilepsy, as well as thorough diagnosis and treatment services to people who have uncontrolled seizures. Patients of various ages can receive thorough therapy at the epilepsy facility. Medication, vagus nerve stimulation, and the ketogenic diet are among the treatment options available at speciality clinics to eliminate or lessen the frequency and intensity of seizures in children and adults.
Electroencephalograms, a medical test used to monitor the electrical activity of the brain, are performed in diagnostic and neurology centres to determine the severity of seizures. Patients are assisted with surgical operations by neurologists, neurosurgeons, radiologists, neuropsychologists, and other healthcare specialists.
VALUE CHAIN ANALYSIS:
The epilepsy surgery market is expected to develop significantly over the forecast period, owing to factors such as rapid technical advancements in device technology, improved medical facilities, and a rising patient pool in need of surgical treatment. The value chain analysis for the epilepsy surgery market includes four primary components, beginning with research and product development and progressing to product manufacturing, distribution, and marketing and sales.
High R&D investments are required for product development, which raises R&D spending. Furthermore, the product designs are complete, and the manufacturing process has begun. Some of the product development procedures used in component production are sometimes outsourced. Distribution is an essential component of any industry. Distribution in this sector includes intermediaries, direct selling, and others. Hospitals, clinics, ambulatory surgical center, and specialized centre are the primary purchasers of the products.
KEY MARKET SEGMENTS:
By Procedure Type
By End User
Hospitals & Clinics

Specialty Centers

Others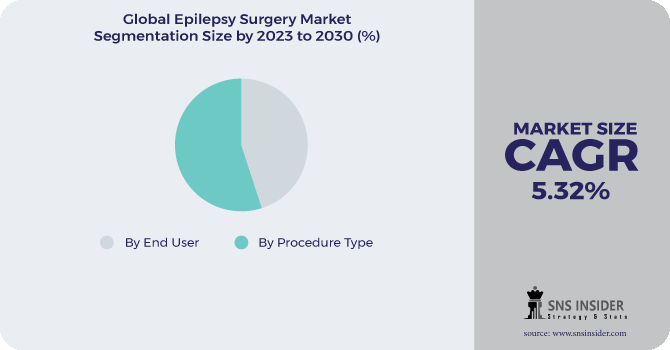 Need any customization research on Epilepsy Surgery Market - Enquiry Now
REGIONAL ANALYSIS:
The Americas dominated the epilepsy surgery market due to a number of factors, including the availability of well-established healthcare facilities, the high prevalence of neurological disorders, and the rising frequency of epilepsy. Europe has evolved as a major epilepsy surgical market due to increased investment in research and development, the launch of successful epileptic medications, and a high prevalence of epilepsy. The region has significant growth potential, which will aid the epilepsy surgery market in the approaching years.
The Asia-Pacific area offers lucrative potential for epilepsy surgery companies due to the existence of a large senior population, governmental measures to improve the healthcare sector, an increase in research and development activities, and an increase in epilepsy prevalence in the region.
Epilepsy affects a significant proportion of the elderly population.
The Middle East and Africa epilepsy surgery market is divided into three major regions: the Middle East, Africa, and Latin America. The epilepsy surgery market is being pushed by factors such as increased epilepsy incidence, an increase in the older population, and rising disposable income in the region.
REGIONAL COVERAGE:
North America

Europe

Germany

UK

France

Italy

Spain

The Netherlands

Rest of Europe

Asia-Pacific

Japan

south Korea

China

India

Australia

Rest of Asia-Pacific

The Middle East & Africa

Latin America

Brazil

Argentina

Rest of Latin America
KEY PLAYERS:
Major players are The key players are Auris Health, Inc., Intuitive Surgical, Livanova Plc, Monteris Medical, CMR Surgical, Natus Medical Incorporated, Stryker, Zimmer Biomet Holdings Inc., Medtronic Plc, Cephalon, Inc. & Other Players
Epilepsy Surgery Market Report Scope:

Report Attributes
Details
Market Size in 2022
US$ 980 Million
Market Size by 2030
US$ 1483.5 Million
CAGR
CAGR of 5.35% From 2023 to 2030
Base Year
2022
Forecast Period
2023-2030
Historical Data
2020-2021
Report Scope & Coverage
Market Size, Segments Analysis, Competitive Landscape, Regional Analysis, DROC & SWOT Analysis, Forecast Outlook
Key Segments
• By End User (Hospitals & Clinics, Specialty Centers)
• By Procedure Type (Resective Surgery, Laser Interstitial Thermal Therapy)
Regional Analysis/Coverage
North America (USA, Canada, Mexico), Europe
(Germany, UK, France, Italy, Spain, Netherlands,
Rest of Europe), Asia-Pacific (Japan, South Korea,
China, India, Australia, Rest of Asia-Pacific), The
Middle East & Africa (Israel, UAE, South Africa,
Rest of Middle East & Africa), Latin America (Brazil, Argentina, Rest of Latin America)
Company Profiles
Auris Health, Inc., Intuitive Surgical, Livanova Plc, Monteris Medical, CMR Surgical, Natus Medical Incorporated, Stryker, Zimmer Biomet Holdings Inc., Medtronic Plc, Cephalon, Inc.
Key Drivers
• The development of the product involves significant R&D spending, which enhances R&D costs.
Market Opportunities
• Collaboration with research institutes to enable market entrants to gain access to global marketplaces