REPORT SCOPE & OVERVIEW:
Flow Cytometry Market was estimated at USD 4,561.79 million in 2022, and from 2023 to 2030, it is anticipated to increase at a CAGR of 7.19% by 2023-30 and predicted to reach USD 7950 million by 2030.
One cell or particle at a time is passed via a laser beam as part of the flow cytometry process. Fluorescently labelled antibodies or dyes linked to the cells emit fluorescence when they travel past the laser and scatter light. The flow cytometer's detectors analyse fluorescence and scattered light to collect data on the physical and chemical characteristics of each individual cell. Cell sorting, cell counting, cell cycle analysis, immunophenotyping, apoptosis analysis, and intracellular protein detection are among the main uses of flow cytometry. Based on their surface markers or intracellular markers, it enables the identification and characterisation of several cell Technology, including immune cells, stem cells, and cancer cells. The market for flow cytometry has grown significantly over the years as a result of the increased frequency of chronic illnesses, the rising need for sophisticated cell analysis methods, and technical developments in flow cytometers. Various elements of the market are included, including instruments, reagents and consumables, software, and services. There are several flow cytometry system configurations available, from entry-level analysers for common applications to high-end sorters with cutting-edge features for intricate investigations. Fluorochromes, antibodies, and other reagents tailored to different applications are widely available on the market, enabling researchers to adapt their studies to meet particular needs. A wide range of customers, including academic and research institutions, pharmaceutical and bioby Product and Services firms, healthcare facilities and clinical labs, and contract research organisations, are served by the flow cytometry industry. It is essential to the development of new drugs, clinical diagnostics, and personalised medicine. With continuous developments in technologies like image flow cytometry, mass cytometry (CyTOF), and spectral flow cytometry, the future of the flow cytometry industry is bright. By permitting the simultaneous study of more parameters and by offering higher resolution and sensitivity, these developments seek to improve the capabilities of flow cytometry.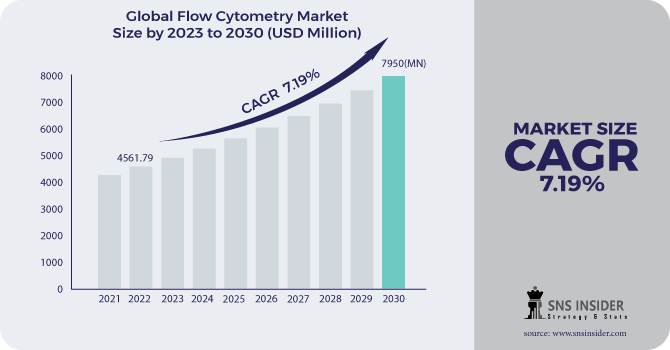 IMPACT OF COVID-19
Many disorders, including COVID-19, have been diagnosed and monitored using flow cytometry. It has been used in cytokine profiling, immune response analysis, and disease severity evaluation. SARS-CoV-2-specific immune responses have also been detected and measured using flow cytometry-based methods, for example, by measuring antigen-specific T cells. In clinical diagnostics, this has increased demand for flow cytometry by Product and Services. Similar to many other industries, the flow cytometry industry had difficulties as a result of pandemic-related interruptions in the supply chain. Instrument, reagent, and consumable supply was disrupted by manufacturing and shipping delays, resulting in shortages and higher costs. This made it harder to supply flow cytometry goods to customers on time. Due of the COVID-19 pandemic, funds and resources for research have been redirected to the virus's eradication. This change in objectives may have decreased funding for research not connected to COVID-19, including initiatives that would ordinarily make use of flow cytometry. As a result, several flow cytometry-based research projects may have run into financial difficulties or scheduling issues.
KEY DRIVERS
Drivers:
Research and Development are expanding.

Chronic disease prevalence is increasing, while by Product and Services is advancing.
The rising amount of research being done in areas like immunology, cancer biology, stem cell research, and drug development is what is driving the need for flow cytometry. In order to analyses and quantify cell populations, examine biological processes, and look into disease causes, researchers use flow cytometry. The need for flow cytometry is being driven by the increase in chronic diseases including cancer, autoimmune conditions, and infectious diseases. It makes it possible to identify and characterize particular cell populations linked to various illnesses, which helps with diagnosis, prognosis, and therapy decision-making. Market expansion is fueled by ongoing technical developments in flow cytometry systems, including high-parameter, imaging, and spectral flow cytometry. Researchers are drawn to and encouraged to use these developments because they improve sensitivity, resolution, multiplexing capabilities, and data processing.
RESTRAIN:
For the instrument setup, panel design, data processing, and result interpretation processes involved in flow cytometry, specialized knowledge and experience are needed. The intricacy of the by Product and Services might be a hurdle for consumers lacking the necessary education or expertise, which would slow the expansion of the industry. Instruments and supplies for flow cytometry can be expensive, particularly for high-end systems and sophisticated applications. Smaller research organizations and laboratories may find it difficult to afford the initial investment and continuing operational costs, which would restrict market adoption.
OPPORTUNITY:
Demand for Personalized Medicine is Growing

Clinical Diagnostics Expansion
Opportunities for flow cytometry are presented by the rising emphasis on targeted medicines and personalized medicine. It makes it possible to identify certain biological biomarkers, immunological profiles, and disease signatures, which supports personalized therapy and precision medicine methods. For the diagnosis of minimum residual illness, tracking therapy response, and identification of disease-specific cell Technology, flow cytometry is being used in clinical diagnostics more often. There are enormous potential prospects as flow cytometry applications are expanded in clinical settings.
CHALLENGES:
Alternative technologies including mass spectrometry, single-cell RNA sequencing, and imaging methods compete with flow cytometry. These new technologies pose a threat to the market expansion of flow cytometry by providing supplemental or substitute options for cellular investigation. It can be difficult to ensure standardization and reproducibility across various flow cytometry systems, tools, and labs. The necessity for effective quality control procedures is highlighted by the potential influence of variations in instrument settings, panel design, and data interpretation on result consistency.
IMPACT ANALYSIS
IMPACT OF RUSSIAN UKRAINE WAR
Economic instability may result from the conflict and continued geopolitical tensions not just in Russia and Ukraine but also in surrounding nations, as well as on the market. Financial support for research, consumer confidence, and investment choices can all be impacted by economic unpredictability in the life sciences industry, including the flow cytometry business. Uncertain economic situations may cause research institutes to invest cautiously and postpone the purchase of flow cytometry equipment and consumables. The war may interrupt or strain international research relationships between scientists from Russia and Ukraine as well as with experts from other nations. Political conflicts can have an impact on collaborative research efforts since they frequently include the pooling of resources, skills, and data. This could have an effect on information exchange and impede the advancement of research via use of flow cytometry.
IMPACT OF ONGOING RECESSION
During a recession, funding for research may be cut by institutions, governments, and private businesses. This may have an impact on the financing options for studies using flow cytometry. Budget cuts and funding restrictions may make it more difficult for labs and research centres to invest in new flow cytometry equipment, reagents, and consumables, which would have an effect on the market's expansion. During a recession, cautious spending and delayed purchases are common results of the uncertain economy. Research facilities and labs may put priority on necessary costs while postponing or cancelling expenditures in new or upgraded flow cytometry hardware. This may slow down the uptake of flow cytometry technologies and have an impact on the market's expansion. Funding Restrictions: During a recession, funding for research may be cut by institutions, governments, and private businesses. This may have an impact on the financing options for studies using flow cytometry. Budget cuts and funding restrictions may make it more difficult for labs and research centres to invest in new flow cytometry equipment, reagents, and consumables, which would have an effect on the market's expansion.
MARKET SEGMENTATION
KEY MARKET SEGMENTS
By Technology
By Product and Services
Regards and consumables

Instruments

Cell Analyzers

High-range

Mid-range

Low-range

Cell Sorters

High-range

Mid-range

Low-range

Services

Software

Accessories
By Application
Research Application

Pharmaceuticals and Biotechnology

Immunology

Cell sorting

Apoptosis

Cell Cycle analysis

Cell viability

Cell counting

Other research application

Clinical Application

Industrial Application
By End-User
Academic & Research institutes

Hospitals & clinical Testing Laboratories

Pharmaceutical & Biotechnology Companies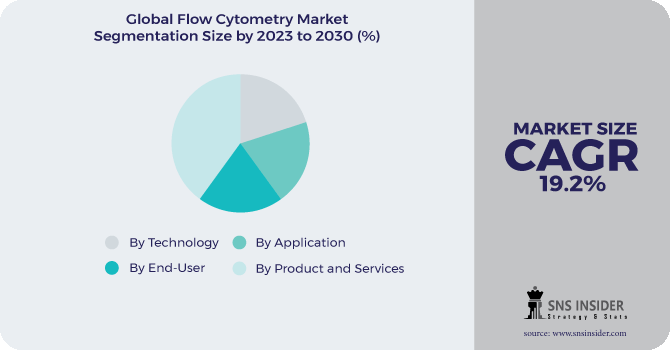 REGIONAL COVERAGE
North America
Europe
Germany

UK

France

Italy

Spain

The Netherlands

Rest of Europe
Asia-Pacific
Japan

South Korea

China

India

Australia

Rest of Asia-Pacific
The Middle East & Africa
Latin America
Brazil

Argentina

Rest of Latin American
RECENT DEVELOPMENT
Thermo Fisher Scientific, Inc:
Thermo Fisher Scientific Inc. announced its acquisition of PPD, Inc, leading provider of clinical research services to the biopharma and biotech industry.
Key Players
Key players are Beckman coulter, Inc., Danaher Corporation, Becton, Dickinson and Company, DiaSorin S.p.A., Agilent Technologies, Inc., Bio-Rad Laboratories, Inc., Miltenyi Biotec, Sysmex Corporation, Stratedigm, Inc., Apogee Flow Systems Ltd., Sony Biotechnology, Inc., and Thermo Fisher Scientific, Inc. and others.
Flow Cytometry Market Report Scope:
Report Attributes
Details
Market Size in 2022
US$ 4,561.79 Mn
Market Size by 2030
US$ 7950 Mn
CAGR
CAGR of 7.19% From 2023 to 2030
Base Year
2022
Forecast Period
2023-2030
Historical Data
2020-2021
Report Scope & Coverage
Market Size, Segments Analysis, Competitive Landscape, Regional Analysis, DROC & SWOT Analysis, Forecast Outlook
Key Segments
• By Technology (Cell-Based, Bead-Based)
• By Product & Services (Regards and consumables, Instruments, Software, Accessories)
• By Application (Research Application, Clinical Application, Industrial Application)
• By End-User (Academic & Research institutes, Hospitals & clinical Testing Laboratories, Pharmaceutical & Biotechnology)
Regional Analysis/Coverage
North America (USA, Canada, Mexico), Europe
(Germany, UK, France, Italy, Spain, Netherlands,
Rest of Europe), Asia-Pacific (Japan, South Korea,
China, India, Australia, Rest of Asia-Pacific), The
Middle East & Africa (Israel, UAE, South Africa,
Rest of Middle East & Africa), Latin America (Brazil, Argentina, Rest of Latin America)
Company Profiles
Beckman coulter, Inc., Danaher Corporation, Becton, Dickinson and Company, DiaSorin S.p.A., Agilent Technologies, Inc., Bio-Rad Laboratories, Inc., Miltenyi Biotec, Sysmex Corporation, Stratedigm, Inc., Apogee Flow Systems Ltd., Sony Biotechnology, Inc., and Thermo Fisher Scientific, Inc.
Key Drivers
• Research and Development are expanding.
• Chronic disease prevalence is increasing, while by Product and Services is advancing.
Market Opportunities
• Demand for Personalized Medicine is Growing
• Clinical Diagnostics Expansion