Report Scope & Overview:
The Geospatial Imagery Analytics Market is anticipated to develop at a CAGR of 32.95% from 2023 to 2030, from a value of USD 11.98 billion in 2022 to USD 116.94 billion in 2030.
The geospatial imagery analytics market is experiencing significant growth due to the utilization of big data and artificial intelligence (AI) to enhance geospatial imagery analytics solutions, as well as intense competition among market players. Additionally, the market is being propelled by increasing income levels and advancements in analytics technologies. Furthermore, the demand for geospatial imagery analytics for national security and safety, along with the rising need for small satellites, will contribute to the market's growth rate.
Moreover, the expansion of 5G networks and the proliferation of Internet of Things (IoT) devices will create favorable opportunities for the growth of the geospatial imagery analytics market.
Numerous technological advancements are being introduced in the field of image and video analytics, greatly facilitating the daily operations of companies. As a result, there is a growing anticipation for an increased demand in geospatial imagery analytics. This particular branch of analytics utilizes time and location data obtained from satellites, Unmanned Aerial Vehicles (UAVs), and Geographic Information Systems (GIS) to enhance traditional data processes. In light of this, logistics and transportation companies are embracing location-based technologies on a significant scale to optimize their fleet operations, thereby propelling the industry forward.
Market Dynamics
Drivers
Technological developments in geospatial imagery analytics

Using artificial intelligence (Al) and big data to enhance geospatial imaging analytics

Demand for location-based services is rising.
The frequency and volume of data collection are increasing exponentially due to the advancements in geospatial technologies. The adoption of surveillance cameras and drones by businesses to analyze and utilize video footage to support daily operations is a major contributor to the predicted rise in this market. Additionally, organizations offer video recording and analysis tools that are perfect for filming videos for mobile mapping surveys, real-time reporting, and post-mission mapping. The effective management of colossal data volumes presents a formidable obstacle for countless enterprises across the globe. Leveraging the power of artificial intelligence (AI) and deep learning, machines can process gigabytes of geographical data, yielding profound insights. Furthermore, the fusion of cutting-edge technologies with geospatial imaging offers governments and researchers invaluable information to tackle pandemics, such as satellite photos. By harnessing the capabilities of AI, systems can swiftly detect disease outbreaks in various locations.
Restrains
Government regulations governing geographical data are strict.

Integration of data with a business solution

Legal and regulatory issues
Opportunities
Geospatial information and conventional technologies are combined.

In the mining and construction industries, there is an increasing need for geospatial imaging analytics.

The implementation of 5G networks is rapidly increasing.
Challenges
The problem of integrating geospatial imagery analytics technologies with various enterprise systems, such as Enterprise Resource Planning (ERP), Customer Relationship Management (CRM), and Business Process Management (BPM), is being faced by numerous organizations throughout the world. Large geographic data sets provide a number of issues when working with them. Many organizations therefore struggle to make full use of geographical data. For operations like data layer geospatial alignment, working with raw geospatial data requires specialized knowledge and the application of sophisticated mathematics. Analysts who lack expertise and experience in this field will not be able to effectively use data or progress toward the objectives of their firm. Due to the combined content of picture and video-based data, the data acquired through the geospatial collection medium is heterogonous/unstructured, which makes it challenging to integrate with existing databases.
Impact of the Russia-Ukraine
During a conflict, there is a heightened need for accurate and up-to-date geospatial intelligence to monitor military movements, infrastructure changes, and other developments on the ground. This increased demand could boost the geospatial imagery analytics market as governments, defense agencies, and intelligence organizations seek to enhance their situational awareness. Geospatial imagery analytics are crucial for assessing the damage to infrastructure caused by the conflict. This includes analyzing satellite imagery to identify destroyed buildings, roads, and bridges. Companies specializing in infrastructure assessment using geospatial data could see increased business opportunities. Countries neighboring Ukraine may invest more in border security and surveillance using geospatial imagery analytics to monitor potential threats and illegal activities. This could stimulate the market for companies offering border surveillance solutions.
Geospatial imagery analytics are also essential for humanitarian organizations involved in relief efforts. They use satellite imagery to identify areas in need of assistance, plan logistics, and track the movement of displaced populations. The ongoing humanitarian crisis in Ukraine could lead to greater reliance on geospatial analytics in these efforts. Governments and international organizations may introduce new regulations or policies related to the use of geospatial imagery in conflict zones. This could impact the market by either restricting or expanding opportunities for companies operating in this space. The need for more accurate and real-time geospatial intelligence in conflict zones may drive technological advancements in the field of geospatial imagery analytics. This could lead to innovations in data collection, processing, and analysis methods.
Impact of Recession
During a recession, businesses and government agencies may cut back on capital expenditures, including investments in geospatial imagery analytics technology. This can lead to a slowdown in the growth of the market as potential customers delay or cancel projects. Organizations may shift their priorities during a recession, focusing on cost reduction and efficiency improvements. Geospatial imagery analytics can still play a role in helping them achieve these goals, but there may be a greater emphasis on cost-effective solutions and quick ROI.
The geospatial imagery analytics market is significantly influenced by government spending, as government agencies use this technology for various purposes, such as defense, disaster management, and urban planning. During a recession, governments may cut spending in certain areas, which can impact the adoption and growth of geospatial analytics solutions.
Recessions often drive innovation as companies seek more efficient and cost-effective solutions. This could lead to the development of new technologies or approaches within the geospatial imagery analytics market. While overall market growth may slow, there may still be strong demand for specific applications of geospatial imagery analytics. For example, during a recession, there might be increased interest in using geospatial data for risk assessment, resource optimization, or disaster response. The geospatial imagery analytics market is not isolated from global economic trends. Factors like international trade, currency fluctuations, and geopolitical events can also influence the market during a recession.
Key Market Segmentation
By Type
Imagery Analytics

Video Analytics
By Organization Size
By Collection Mediums
By Deployment Mode
By Vertical
Insurance

Defense and Security

Government

Environmental Monitoring

Energy, Utility, and Natural Resources

Engineering and Construction

Mining and Manufacturing

Agriculture

Healthcare and Life Sciences

Other Verticals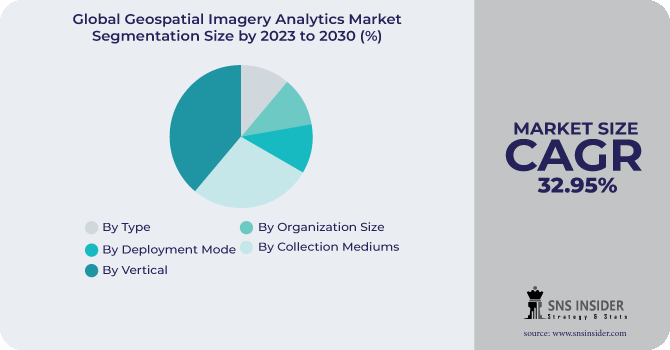 The geospatial imaging analytics industry is divided into two types based on type video analytics and imagery analytics. In 2022, the geospatial imagery analytics market's imagery analytics segments accounted for the greatest revenue share 72%. This is a result of the strong demand for imagery analytics, particularly from the mining, manufacturing, and oil and refinery sectors. An enormous refinery or oil rig poses a serious and unforeseen risk. These businesses must therefore create a balance between safety and exploration, and visuals can help them with this challenging task. These images can be captured using drones or nano-bots that have been put inside of equipment and pipes. In a method that is safe for people, robotics, mapping based on Light Detection and Ranging (LiDAR), and unmanned aerial vehicles (UAVs) add to this visual data. Furthermore, image analytics offer the advantage of providing real-time alerts and proactive maintenance, thereby contributing to accident prevention.
Regional Analysis
North America is poised to dominate the Geospatial Imagery Analytics market, boasting the largest market size. The region's unparalleled adoption of geospatial imagery analytics solutions outshines other regions. This can be attributed to the presence of highly developed economies like Canada and the US, which prioritize innovation derived from extensive research and cutting-edge technologies. Several key factors contribute to the thriving geospatial imagery analytics market in North America. Firstly, the exponential growth in data volumes, coupled with advancements in AI and big data technologies, has created a fertile ground for this industry. Moreover, the escalating concerns surrounding data integrity and the mounting demand for valuable insights have further propelled the market's expansion across the region.
North America, renowned as a hub for generating vast amounts of data, stands as the unrivaled leader in the market for geospatial imagery analytics solutions.
The Asia-Pacific (APAC) region is projected to experience the highest Compound Annual Growth Rate (CAGR) of 29.6% in the Geospatial Imagery Analytics market. APAC region holds a 23% share of the market. This can be attributed to the increasing adoption of geospatial data and its integration with statistical and demographic information for real-time geographical analysis and modeling of intricate and dynamic scenarios. APAC countries are swiftly embracing these digitally-driven advancements, which have significantly influenced the development of geospatial data services in the region.
REGIONAL COVERAGE:
North America
Europe
Eastern Europe

Poland

Romania

Hungary

Turkey

Rest of Eastern Europe

Western Europe

Germany

France

UK

Italy

Spain

Netherlands

Switzerland

Austria

Rest of Western Europe
Asia Pacific
China

India

Japan

South Korea

Vietnam

Singapore

Australia

Rest of Asia Pacific
Middle East & Africa
Middle East

UAE

Egypt

Saudi Arabia

Qatar

Rest of Middle East

Africa

Nigeria

South Africa

Rest of Africa
Latin America
Brazil

Argentina

Colombia
Rest of Latin America
Key Players:
The major players in market are Microsoft, Maxar Technologies, Ola, Oracle, L3Harris Corporation, Google, Hexagon AB, ESRI, Trimble, RMSI, Orbital Insight, TomTom, UrtheCast, Geocento, GeoVerra, Sparkgeo, Mapidea, OneView, ZillionInfo, Geospin, Boston Geospatial, Alteryx, SafeGraph, Hydrosat, Planet Labs, and others in final report.
Recent development
In November 2021, Planet Labs made a significant move by acquiring VanderSat, a move aimed at delivering advanced agriculture data products to its customers. This strategic acquisition will undoubtedly strengthen Planet Labs' position in the market and allow them to provide even more valuable insights to their clients.
In October 2021, Ola, a prominent player in the transportation industry, made headlines with its acquisition of GeoSpoc, a geospatial startup. This acquisition is expected to fuel the development and enhancement of Ola's next-generation location intelligence technology. By integrating GeoSpoc's expertise and technology, Ola aims to revolutionize the way people navigate and interact with their surroundings.
In September 2021, RMSI, a renowned geospatial and engineering solutions provider, joined forces with NDMA, the Home Ministry, and various state disaster management authorities. This collaboration aims to design cutting-edge disaster modeling solutions, enabling better preparedness and response strategies. By leveraging the collective expertise and resources of these organizations, they hope to mitigate the impact of natural disasters and protect lives and infrastructure.
August 2021 witnessed a groundbreaking partnership between Google Cloud and Planet, a leading provider of daily data and insights about Earth. This collaboration aims to create joint solutions that combine Planet's high-frequency earth observation data with Google Cloud's robust cloud-based infrastructure. By harnessing the power of these technologies, organizations can make more informed and data-driven decisions, ultimately leading to better outcomes.
Geospatial Imagery Analytics Market Report Scope:
Report Attributes
Details
Market Size in 2022
US$ 11.98 Billion
Market Size by 2030
US$ 116.94 Billion
CAGR
CAGR of 32.95% From 2023 to 2030
Base Year
2022
Forecast Period
2023-2030
Historical Data
2019-2021
Report Scope & Coverage
Market Size, Segments Analysis, Competitive Landscape, Regional Analysis, DROC & SWOT Analysis, Forecast Outlook
Key Segments
• By Type (Imagery Analytics, Video Analytics)
• By Organization Size (Large enterprises, Small and medium-sized enterprises (SMEs))
• By Collection Mediums (Satellites, UAVs, GIS)
• By Deployment Mode (Cloud, On-premises)
• By Vertical (Insurance, Defense and Security, Government, Environmental Monitoring, Energy, Utility, and Natural Resources, Engineering and Construction, Mining and Manufacturing, Agriculture, Healthcare and Life Sciences, Other Verticals)
Regional Analysis/Coverage
North America (US, Canada, Mexico), Europe (Eastern Europe [Poland, Romania, Hungary, Turkey, Rest of Eastern Europe] Western Europe] Germany, France, UK, Italy, Spain, Netherlands, Switzerland, Austria, Rest of Western Europe]), Asia Pacific (China, India, Japan, South Korea, Vietnam, Singapore, Australia, Rest of Asia Pacific), Middle East & Africa (Middle East [UAE, Egypt, Saudi Arabia, Qatar, Rest of Middle East], Africa [Nigeria, South Africa, Rest of Africa], Latin America (Brazil, Argentina, Colombia Rest of Latin America)
Company Profiles
Microsoft, Maxar Technologies, Ola, Oracle, L3Harris Corporation, Google, Hexagon AB, ESRI, Trimble, RMSI, Orbital Insight, TomTom, UrtheCast, Geocento, GeoVerra, Sparkgeo, Mapidea, OneView, ZillionInfo, Geospin, Boston Geospatial, Alteryx, SafeGraph, Hydrosat, Planet Labs
Key Drivers
• Technological developments in geospatial imagery analytics
• Using artificial intelligence (Al) and big data to enhance geospatial imaging analytics
• Demand for location-based services is rising.
Market Challenges
• Geospatial imagery analytics data integration with business solutions