REPORT SCOPE & OVERVIEW:
The Global Packaging Market size was USD 1059 billion in 2022 and is expected to Reach USD 1438.20 billion by 2030 and grow at a CAGR of 3.9% over the forecast period of 2023-2030.
In 2023, approximately $1110 billion of the world's total packaging market out of which paperboard packaging, which accounts for around 33%. In coming years, the growth of paperboard is expected to be more than double that of the overall packaging market. In the packaging of consumer products, such as food and hygiene products, more than half of the world's packaging is used. With regard to packaging, the consumption of convenience goods is quite independent from economic cycles.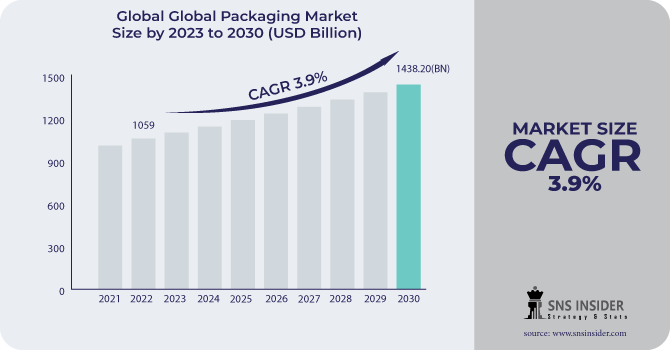 Get PDF Sample Report on Global Packaging Market - Request Sample Report
The Flexible Packaging Market size was USD 260.40 billion in 2022 and is expected to Reach USD 370.31 billion by 2030 and grow at a CAGR of 4.85% over the forecast period of 2023-2030.
Flexible packaging is more environmentally friendly because it requires less resources, energy, and water to produce and takes up less room in landfills after disposal. Additionally, the demand for flexible packaging is anticipated to increase during the forecast period as more application industries choose sustainable packaging solutions in response to regulatory pressures.
The Glass Packaging Market size was USD 60.95 billion in 2022 and is expected to Reach USD 86.67 billion by 2030 and grow at a CAGR of 4.85% over the forecast period of 2023-2030.
Glass packaging is a rigid packaging technique that helps to safeguard the contents by encasing it in various densities, sizes, and shapes of glass packaging products. The various types of glass packaging materials that are offered in the market include containers and bottles, among others. These components have no impact on the taste, texture, or composition of the material already in the jar. This kind of packaging is widely used for alcoholic and non-alcoholic drinks, food, pharmaceuticals, personal care, cosmetics, and other products.
The global packaging sector has grown consistently over the last decade, as a result of substrate choice changes, new markets and changing ownership dynamics. Several flexible plastic packaging providers are offering packages to suit this demand, which is also a major driver of their sales and profits, due to increasing consumption of sweets and confectionery.
Paper & Paperboard Packaging Market size was USD 159.38 billion in 2022 and is expected to Reach USD 216.45 billion by 2030 and grow at a CAGR of 4.8 % over the forecast period of 2023-2030.
Paper & Paperboard packaging material is made of pulp, pulp is obtained from wood as well as non-wood sources. Wood pulp is a widely used raw material for packaging as it is obtained from wood and also generated from the recycling of paper. This material is widely used because it is cost-efficient and easily obtained hence largely preferred by industries. The use of paper board is widely used in packaging in the food industry and pharmaceuticals. Paper boards can also be recycled resulting in less deforestation.
The Green Packaging Market size is expected to grow at a CAGR of 6.2% over the forecast period.
Flexible packaging is mostly used for food, which accounts for around 60% of the total market, according to the Flexible Packaging Association. The Flexible Packaging Industry is experiencing significant growth, given that it has the possibility of incorporating new solutions for various packaging issues.
MARKET DYNAMICS
Increased use of green packaging materials is driving the market
With a low environmental impact, eco-friendly packaging is recyclable packaging, biodegradable, reused and nontoxic. The fastest rising sustainability packaging material is paper packing materials, such as bags, pouches and cartons. The demand for environmentally friendly paper packaging solutions is growing as online retail and environmental regulations continue to emerge on biodegradable and nonrecyclable packaging.
Moreover, various manufacturers have rethought and developed new material for packaging made from paper to reduce the environmental impact of packaging and set up a series of recycling initiatives. For example, in February 2021, TetraPAK announced a new initiative with the District Model Center of Muhammadiyah in Jeddah. In support of sustainable consumption practices, it will collect and recycle the used carton packaging.
The main concerns are with regard to the environment and sustainability
Traditional packaging materials and designs have been recasted by the industry, due to growing awareness and regulatory pressure on reducing plastics usage and improving recyclability. To achieve sustainable alternatives in line with consumer expectations and regulatory standards, this transition calls for significant R&D investments.
In addition, significant challenges exist as a result of rising raw material costs. In the packaging sector, volatility in oil prices directly affecting plastics and resins has a ripple effect. This variation of costs could have a negative impact on profitability for packaging producers and downstream companies, which would prompt the need to improve strategic cost management and efficiency.
IMPACT OF RUSSIAN UKRAINE WAR:
By 24 February, Ukraine had become a major player in the global packaging supply chain, producing more than 90,000 tonnes of PET beverage bottles, more than 700,000 tonnes of transport packaging and more than 900,000 tonnes of glass bottles per year. It was Europe's leader in timber and metal supplies thanks to its abundance of forests, as well as substantial nickel, copper or iron reserves.
The war is unlikely to lead to significant disruption or shortages for companies that supply Ukraine with packaging products, given the country's relatively small share of global production. Irish corrugated packaging company Smurfit Kappa has announced its decision to withdraw from the Russian market, while Mondi also said it is "assessing all options for its interest in Russia", which has a 12% revenue from leading packaging manufacturer.
The rising cost of commodities is also proving a challenge for firms, in addition to reputational problems. The war had a significant impact on oil and gas prices, given that Russia provides 14% of the world's total supply. In March, as a result of rising concern that sanctions would restrict exports from the world's second biggest aluminium producer, Russian company Rusal, alumina prices skyrocketed.
Impact on Raw Materials:
Although starch is a small component in paper packaging production, it has the potential to have significant impacts on prices and availability. For European wheat and corn starch, Europe's paper and board industries account for 30% of consumption. There is a risk that the supply of wheat and corn in Russia and Ukraine, which represent 30% and 20% respectively for world cereals sales, will be influenced. Moreover, there is an increase in price pressure on global wheat and corn prices as well as availability of starch. Disruptions in supply can also affect Russian aluminum production, since Rusal has been reduced from 68% of its alumina imports. The highest share of these imports was accounted for by Ukraine in 2021, amounting to 36%. The main result of this conflict was the closure of Ukraine's alumina refinery. The second biggest source of alumina imports from Russia was Australia, which amounted to 32% for the year 2021. The duty on imported unprocessed aluminium from Russia increased to between 10% and 25.0%, having been between 0 and 2.6%.
Europe's large companies such as auto manufacturers, bottlers and skyscraper producers are being prepared for possible shortages of glass. In addition, Volkswagen AG, whose brands include Audi and Porsche, has expanded its supply network around the world as well as increased stock of glass parts such as windows and windshields.
There are around 50 to 65 double glazing manufacturers on the Ukrainian market, with 300 or 400 producers of windows. In over 70 % of the plants, production has been resumed. The production of almost all components in the manufacture of windows is done at Ukrainian factories: window profiles make up 60% to 75% of market demand, and window fittings account for 40%.
Impact on Supply Chain:
The global packaging sector, like other sectors, has been hit by new disruptions in the transport and logistics chain of European goods which will lead to postponements, delays or higher costs. The shortage of drivers, as well as all the disruptions, may lead to further deterioration. Many of the drivers in Eastern Europe's transport fleets, which serve not only local markets but also Germany itself, come from Ukraine.
Impact on Trade:
Europe does not depend on the exports of paperboard packaging from Russia, Ukraine or Belarus. Russia exports to Europe around 200,000 tonnes of new containerboard, but a rise in capacity in Europe and beyond could make up for these volumes. In addition, significant quantities of cardboard account for approximately 15% of EU production and are exported in particular through Russia, Ukraine as well as Belarus. Some relief from the current scarcity of carton packaging in Europe might be provided by the suspension of shipments to Russia by several cardboard producers, which include (Stora Enso, Mayr Melnhof and Pankaboard).
KEY MARKET SEGMENTS
Flexible Packaging By Product Type

Pouches

Bags & Sacks

Labels

Films & Wraps

Rigid Packaging, By Product Type

Bottles & Jars

Boxes

Rigid Bulk Products

Trays

Tubs, Cups, & Pots

Pallets

Others

Glass Packaging, By Product Type

Bottle & Jars

Container

Vials

Others

Paper & Paperboard Packaging, By Product Type

Folding Boxboard

Solid Bleached Sulfate

Label Paper

White Lined Chipboard

Glassline & Grease Paper

Others

By Others

Green Packaging

Recyclable Packaging

Bioplastic Packaging

Customized Packaging

E-commerce Packaging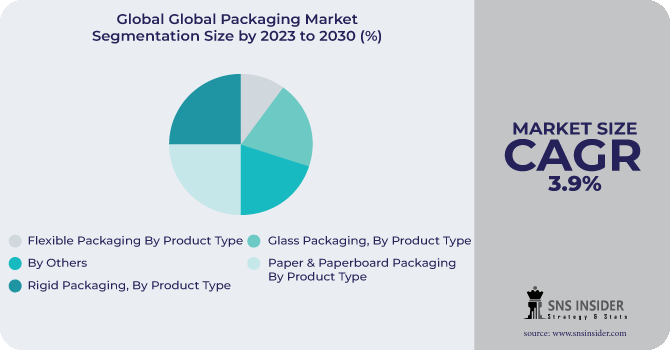 Get Customized Report as per your Business Requirement - Request For Customized Report
REGIONAL ANALYSIS
In Asia, plastic packaging has proven to be widely used and countries like India and China make significant contributions on the market for food and beverages. The factors which have a strong influence on China's packaging sector, including higher per capita income, changes in societal conditions and demographics, as well as the banning of plastic products to reduce their environmental footprint include ban enforcement. This will have a significant impact on the packaging sector.
The packaging sector is one of the fastest growth sectors in India, and it's fifth biggest industry. In the last few years, packaging has been a major driver for technology and innovation in this country, helping to generate value across industry sectors such as agriculture and rapidly emerging segments of consumer goods. Japan is a large consumer of paper-based products in various sectors including newspapers, packaging, publishing and communications, sanitary products and other ancillary uses. In addition, a recent movement has taken place in the packaging sector with regard to paper usage given consumer awareness of sustainability and concern over deforestation and availability of materials.
The European Community is leading the way on sustainability in packaging. The market has been influenced by stringent legislation on packaging materials, waste reduction and recycled content initiatives. The sector has been shaped by the circular economy Action Plan and Single Use of Recycled Products Directives, which are supporting recycled material use and encouraging innovation in sustainability packaging solutions. The principles of circular economics, which encourage the reuse and recycling of packaging materials, have gained traction.
REGIONAL COVERAGE:
North America
Europe
Eastern Europe

Poland

Romania

Hungary

Turkey

Rest of Eastern Europe

Western Europe

Germany

France

UK

Italy

Spain

Netherlands

Switzerland

Austria

Rest of Western Europe
Asia Pacific
China

India

Japan

South Korea

Vietnam

Singapore

Australia

Rest of Asia Pacific
Middle East & Africa
Middle East

UAE

Egypt

Saudi Arabia

Qatar

Rest of Middle East

Africa

Nigeria

South Africa

Rest of Africa
Latin America
Brazil

Argentina

Colombia

Rest of Latin America
Key players
Some major key players in the Flexible Packaging market are Sealed Air Corporation, Amcor Ltd, Constantia Flexibles International GmbH, Mondi plc, Sonoco Products Company, Wipak Group, Ukrplastic, Huhtamaki Oyj, Bemis Company Inc, Ampac Holding and other players.
Some major key players in the Rigid Packaging market ALPLA, Amcor Limited, DS Smith Plc, Berry Plastics Corporation, Klöckner Pentaplast, Plastipak Holdings, Inc., Pactiv Evergreen Inc, Sealed Air Corporation, Silgan Holdings, Inc.,Sonoco Products Company and other players.
Some major key players in the Glass Packaging market Borosil Glass Works Ltd, Allied Glass Containers Ltd, Owen Illinois Inc, Gallo Glass Company, Amcor Plc, Consol, Gerresheimer AG, Saint Gobain SA, Hindustan National Glass & Industries Limited, Orora Packaging Australia Pty Ltd and other players.
Some major key players in the Paper & Paperboard Packaging market are DS Smith plc, Packaging Corporation of America, International Paper Company, Nippon Paper Industries Company Ltd, ITC Ltd, Sappi Limited, Metsa Group, Stora Enso Oyj, Svenska Cellulosa Aktiebolget and other players.
Sealed Air Corporation-Company Financial Analysis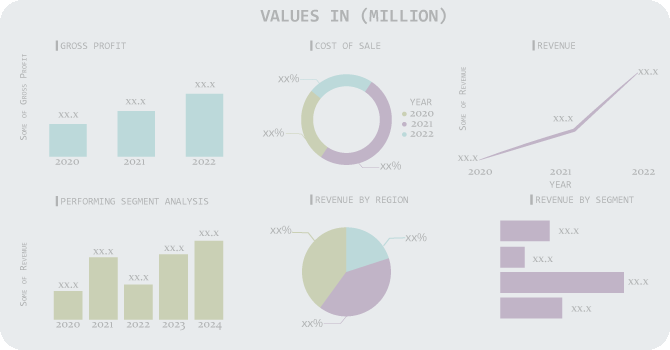 RECENT DEVELOPMENT
Berry Global Inc. is opening a new manufacturing plant in Bangalore, India, which has been successfully launched in 2022.

Ball Corporation has announced that it is expanding its new aluminum beverage packaging plants in UK & Russia.
Use Cases and Best Practices
Unilever's Sustainable Packaging Initiatives
Unilever, a consumer goods company, has taken significant strides towards sustainable packaging, demonstrating a commitment to reducing its plastic footprint and promoting a circular economy. Unilever has set ambitious targets to make all of its plastic packaging recyclable, reusable, or compostable by 2025. They aim to halve their use of virgin plastic and collect and process more plastic packaging than they sell.
Unilever's Strategies and Initiatives:
Reducing Plastic Usage:
Unilever is actively working to reduce the amount of plastic used in packaging by exploring innovative materials and optimizing packaging designs. They have lightweighted their packaging, reducing the amount of plastic in each product.
Promoting Recycling and Collection:
Unilever is collaborating with industry stakeholders, governments, and non-profit organizations to improve recycling infrastructure and increase recycling rates globally. They are investing in initiatives to boost collection and recycling in various regions.
Investing in Sustainable Packaging Alternatives:
Unilever is investing in research and development to explore and implement sustainable packaging materials such as plant-based plastics and other recyclable alternatives. They have committed to making 100% of their plastic packaging recyclable, compostable, or reusable by 2025.
Consumer Engagement and Education:
Unilever is actively engaging with consumers to raise awareness about plastic pollution and the importance of recycling. They have campaigns encouraging responsible consumption and disposal of plastic packaging.
Collaborations and Partnerships:
Unilever collaborates with industry organizations, NGOs, and governments to drive collective action for sustainable packaging. They participate in initiatives like the Ellen MacArthur Foundation's New Plastics Economy Global Commitment, emphasizing collaboration and innovation.
By implementing these strategies and initiatives, Unilever is playing a significant role in addressing the plastic pollution problem and advancing the global packaging market towards a more sustainable and circular future.
Conclusion
The plastic pollution crisis demands urgent and concerted efforts from all stakeholders in the global packaging market. Transitioning to a circular economy with sustainable packaging alternatives, efficient recycling systems, consumer education, and industry collaboration is crucial to mitigate environmental degradation. By adopting responsible practices, innovating in materials, and working collectively, the packaging industry can minimize its impact on the planet while meeting consumer needs and expectations.
Global Packaging Market Report Scope
Report Attributes
Details
Market Size in 2022
US$ 1059 Bn
Market Size by 2030
US$ 1438.20 Bn
CAGR
CAGR of 3.9% From 2023 to 2030
Base Year
2022
Forecast Period
2023-2030
Historical Data
2019-2021
Report Scope & Coverage
Market Size, Segments Analysis, Competitive Landscape, Regional Analysis, DROC & SWOT Analysis, Forecast Outlook
Key Segments
• By Flexible Packaging
• By Rigid Packaging
• By Glass Packaging
• By Paper & Paperboard Packaging
Regional Analysis/Coverage
North America (US, Canada, Mexico), Europe (Eastern Europe [Poland, Romania, Hungary, Turkey, Rest of Eastern Europe] Western Europe] Germany, France, UK, Italy, Spain, Netherlands, Switzerland, Austria, Rest of Western Europe]), Asia Pacific (China, India, Japan, South Korea, Vietnam, Singapore, Australia, Rest of Asia Pacific), Middle East & Africa (Middle East [UAE, Egypt, Saudi Arabia, Qatar, Rest of Middle East], Africa [Nigeria, South Africa, Rest of Africa], Latin America (Brazil, Argentina, Colombia Rest of Latin America)
Key Drivers
• Increased use of green packaging materials is driving the market
Market Restraints
• The main concerns are with regard to the environment and sustainability