REPORT SCOPE & OVERVIEW
The Plastic Waste Management Market size was USD 36.17 billion in 2022 and is expected to Reach USD 46.53 billion by 2030 and grow at a CAGR of 3.2 % over the forecast period of 2023-2030.
A large portion of the global economy is being driven by the plastic market, which is expanding due to its special qualities and diverse uses. Plastic waste, which is non-biodegradable and contributes significantly to greenhouse gas emissions that could trigger major ecological crises, is being produced as a result of increased plastic use. Therefore, it is anticipated that over the course of the forecast period, the market will be driven by the growing need for proper management of plastic waste disposal.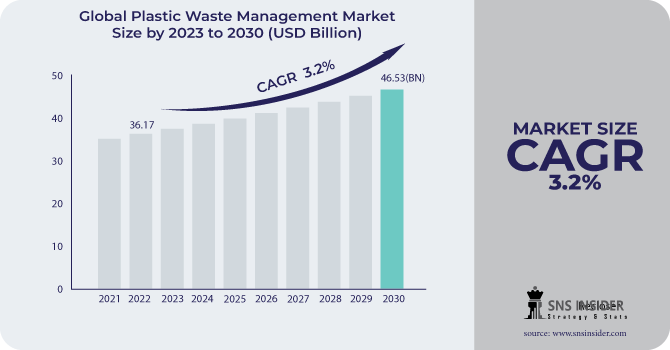 To Get more Information on Plastic Waste Management Market - Request Sample Report
The US is one of the nations that produces the most plastic waste. In contrast to the nation's overall production of plastic waste, the country's rate of plastic recycling is very low. Most of the plastic waste that the US exports is recycled, processed for energy production, or dumped in landfills in nations like China, Hong Kong, Indonesia, and Thailand.
In order to prevent plastic waste from polluting the environment, it is reprocessed rather than dumped into landfills, waterways, or another open area. This practice is known as plastic waste management. Reduced use of virgin plastic in product manufacturing is the main factor supporting plastic waste management.
New opportunities in the market for plastic waste management are being created by sophisticated technologies and frameworks used for the reprocessing, organizing, and collection of recyclable plastics. Moreover, over the course of the forecast period, the market is expected to be driven by laws and regulations that are enforced by governments and related agencies worldwide for the management of plastic waste disposal.
The cost of producing recycled plastic is typically stable, whereas the price of producing virgin plastic varies according to the performance of the oil and gas industry and the demand for products made from crude oil across all end-use industries. The price swings encourage long-term investments in recycling infrastructure and technology.
MARKET DYNAMICS
KEY DRIVERS:
The overall production of plastic waste is influenced by both industrialization and urbanization. They consequently increase the demand for effective plastic waste management strategies, including infrastructure for waste collection, recycling, and cutting-edge treatment technologies.
RESTRAIN:
If not properly regulated, this practice may lead to environmental pollution and health risks in the recipient countries. Restrictive trade laws or import bans by receiving nations on plastic waste can have an impact on waste management procedures and add to the difficulties of managing plastic waste internationally.
OPPORTUNITY:
The problems caused by plastic waste can be addressed with the aid of technologies like chemical recycling, which can turn plastic waste back into raw materials, and mechanical recycling innovations, which enhance the quality and output of recycled plastics. Such technologies can open up new market opportunities if research and development are funded.
CHALLENGES:
It can be difficult to ensure thorough and effective collection systems, particularly in densely populated urban areas. The ongoing challenges of establishing an effective infrastructure for waste collection and promoting waste segregation at the source is challenging.
IMPACT OF RUSSIAN UKRAINE WAR
The paper industry, and the West to Energy(WtE) -plants that use wood chips as fuel have long relied on Russia as a major supplier of timber and bio-chips.
These exports stop more or less immediately after new sanctions are put in place. Even before the war started, the European waste market was deficient in waste wood, which raised prices. This is a problem for WtE (waste to energy) facilities as well, which rely on burning wood to make up for the lack of household and commercial waste.
There will be a shortage of biomass, which will affect a number of industries. This will present difficulties for energy recovery plants that must adhere to stringent sustainability standards. The war has an impact on the continent's transportation capacity, as if the transport sector in Europe didn't face enough obstacles already.
The waste industry, like others, experiences this problem. Transport capacity is severely limited by a lack of drivers, and these problems become more difficult as many Ukrainian drivers now return home to defend their nation.
The cost of ship fuel has quickly doubled, while diesel for road transportation has never been more expensive. The price-sensitive waste industry is significantly impacted by the addition of this additional cost to transport costs.
Russian bulk carriers are also leaving the supply chain at the same time, which reduces maritime transport capacity. The current lack of other transportation options cannot be made up for by rail transportation.
The cost of electricity and fossil fuels are closely correlated, and while gas still travels from Russia to Europe, the war has significantly raised operating costs for many industry participants. Numerous recyclers are forced to temporarily halt production due to the current, highly unusual electricity prices. This is true for a number of cardboard and paper recycling (RCP) mills in Europe.
IMPACT OF ONGOING RECESSION
Like other industries, the waste and recycling sector has been plagued by a lack of qualified workers, rising fuel prices, and protracted equipment delays. Technological advancements in the field of recycling will help fight the recession as there will be less need for labor and cost will be minimized.
The ongoing recession can have mixed impacts on the plastic waste management market. Reduced consumer spending may decrease plastic waste generation, benefiting the demand for waste management services. However, decreased investment in recycling infrastructure and a shift in priorities toward economic concerns may hinder the market's growth. There could be increased reliance on cheaper disposal methods like landfilling or incineration, potentially hampering recycling efforts. On the other hand, the recession can also drive innovation and cost-saving measures within the industry, leading to the development of new technologies and processes. The overall impact depends on various factors such as government policies, consumer behaviour, and industry response.
KEY MARKET SEGMENTS
By Polymer
By Service
Collection

Incineration

Landfills

Recycling
By Source
Industrial

Residential

Commercial
By Application
Building & Construction

Consumer Product

Packaging

Electrical & Electronics

Others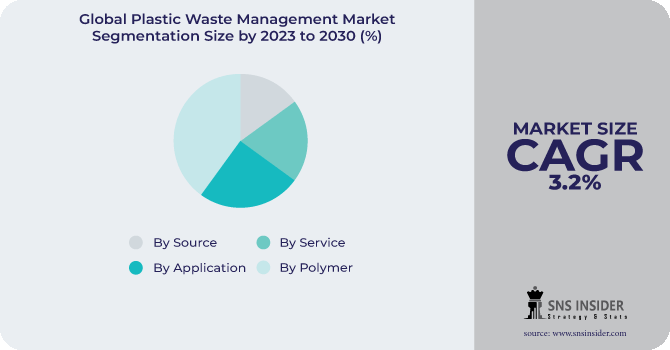 Get Customized Report as per Your Business Requirement - Enquiry Now
REGIONAL ANALYSIS
Due to its rapid industrialization and the implementation of strict laws governing the management and disposal of plastic waste, Asia Pacific is anticipated to dominate the market during the forecast period. The market in the region is being driven by the rise in disposable income and the rising significance of waste management in China, Japan, and India.
Due to growing awareness of the need to reduce the carbon footprint brought on by rising plastic waste, North America is expected to experience significant growth. The US is one of the biggest contributors in the area because it exports the majority of its trash to other nations for recycling or disposal.
Due to numerous initiatives and strict government regulations regarding the management of plastic waste, Europe is predicted to be the second-largest market for plastic waste management over the forecast period.
Due to inadequate infrastructure, poor planning, and a lack of adequate training and awareness, Central and South America, the Middle East, and Africa do not contribute a sizable market share when compared to other regions. However, the major governments in the regions are concentrating on programs for the proper management of plastic waste, which is anticipated to drive the market in these regions over the course of the forecast period.
REGIONAL COVERAGE:
North America
Europe
Germany

UK

France

Italy

Spain

The Netherlands

Rest of Europe
Asia-Pacific
Japan

South Korea

China

India

Australia

Rest of Asia-Pacific
The Middle East & Africa
Latin America
Brazil

Argentina

Rest of Latin American
Key players List:
Some major key players in the Plastic Waste Management market are Clean Harbors Inc, Veolia Environment S.A, Waste Management Inc, Republic Services Inc, PLASgran Ltd, Suez Environment Company, Luxus Limited, Stericycle Inc, Covanta Holding Corporation, ADS Waste Holdings Inc, and other players.
Republic Services Inc-Company Financial Analysis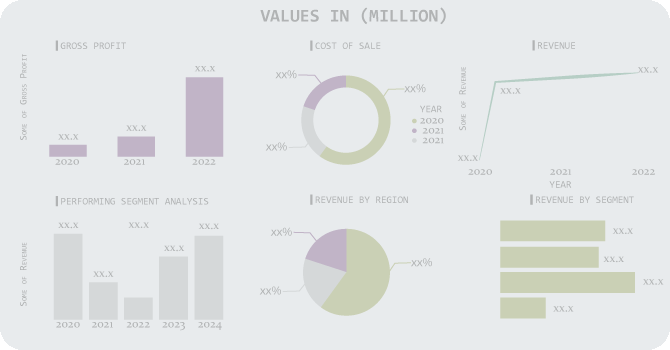 RECENT DEVELOPMENT
Cyclyx International, ExxonMobil, and LyondellBasell announced that they had reached an agreement to advance the construction of a ground-breaking facility for sorting and processing plastic waste in the Houston region.

Plastonix, the world and the environment both benefited from the invention of recycling technologies by Plastonix (Canada) and Elemental Recycling (Texas, USA).
Plastic Waste Management Market Report Scope:
Report Attributes
Details
Market Size in 2022
US$ 36.17 Bn
Market Size by 2030
US$ 46.53 Bn
CAGR
CAGR of 3.2 % From 2023 to 2030
Base Year
2022
Forecast Period
2023-2030
Historical Data
2020-2021
Report Scope & Coverage
Market Size, Segments Analysis, Competitive Landscape, Regional Analysis, DROC & SWOT Analysis, Forecast Outlook
Key Segments
• By Polymer (PET, Polyvinyl Chloride, Polypropylene, High-density Polyethylene, Low-density Polyethylene, Polyurethane, Others)
• By Service (Collection, Incineration, Landfills, Recycling)
• By Source (Industrial, Residential, Commercial)
• By Application (Building & Construction, Consumer Product, Packaging, Electrical & Electronics, Others)
Regional Analysis/Coverage
North America (USA, Canada, Mexico), Europe
(Germany, UK, France, Italy, Spain, Netherlands,
Rest of Europe), Asia-Pacific (Japan, South Korea,
China, India, Australia, Rest of Asia-Pacific), The
Middle East & Africa (Israel, UAE, South Africa,
Rest of Middle East & Africa), Latin America (Brazil, Argentina, Rest of Latin America)
Company Profiles
Clean Harbors Inc, Veolia Environment S.A, Waste Management Inc, Republic Services Inc, PLASgran Ltd, Suez Environment Company, Luxus Limited, Stericycle Inc, Covanta Holding Corporation, ADS Waste Holdings Inc
Key Drivers
• Plastic production is rising globally as urbanization and industrialization both expand.
Market Opportunities
• The development of advanced recycling technologies