Report Scope & Overview:
The Guaiacol Market size was valued at USD 316.5 million in 2022. It is estimated to hit USD 356.53 million by 2030 and grow at a CAGR of 1.5% over the forecast period of 2023-2030.
With an increasing demand for guaiacol in pharmaceutical formulations, particularly as an essential ingredient in cough syrups and expectorants, the market has witnessed a steady rise in revenue. Additionally, the cosmetic industry has recognized the benefits of guaiacol in skincare products, leading to its widespread adoption. Moreover, the food and beverage sector has also embraced guaiacol as a flavoring agent, further driving market growth.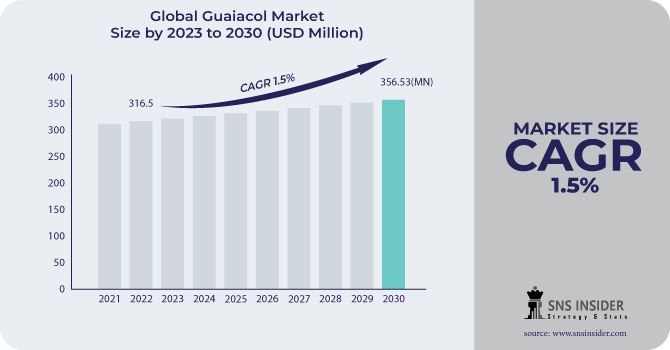 Get E-PDF Sample Report on Guaiacol Market - Request Sample Report
The guaiacol market is witnessing several notable trends. One such trend is the increasing preference for natural and organic ingredients in various industries. Guaiacol, being a naturally occurring compound, aligns perfectly with this growing consumer demand. Additionally, the market is experiencing a surge in research and development activities to explore new applications and enhance the existing ones. This focus on innovation is expected to drive further growth in the guaiacol market.
Market Dynamics
Drivers
Increasing demand for guaiacol in various industries such as pharmaceuticals, cosmetics, and food additives

Growing awareness about the health benefits of guaiacol
Guaiacol, a compound derived from wood smoke, possesses numerous health advantages that have gained significant attention in recent years. This increased awareness has led to a surge in demand for guaiacol-based products, thereby propelling the growth of the Guaiacol Market. One of the key health benefits associated with guaiacol is its potent antioxidant properties. By incorporating guaiacol into their daily routines, individuals can potentially reduce the risk of various chronic diseases, including cardiovascular ailments, cancer, and neurodegenerative disorders.
Furthermore, guaiacol has demonstrated anti-inflammatory properties, making it a valuable component in the treatment of inflammatory conditions such as arthritis and asthma. Its ability to alleviate inflammation and associated symptoms has garnered attention from both medical professionals and consumers alike. Moreover, guaiacol exhibits antimicrobial properties, making it an effective agent against certain bacteria and fungi. This characteristic has led to its utilization in the development of antimicrobial products, including disinfectants and sanitizers, which have become increasingly important in the wake of the global pandemic. The growing awareness of these health benefits has resulted in a surge in consumer demand for guaiacol-based products across various industries.
Restraint
Fluctuating prices of raw materials used in guaiacol production

Limited availability of guaiacol in some regions
Opportunities
Technological advancements in guaiacol production processes

Expanding applications of guaiacol in the fragrance industry

Growing demand for guaiacol as a flavoring agent in the food and beverage industry
The rising consumer preference for natural and authentic flavors has propelled the demand for guaiacol. Unlike artificial additives, guaiacol offers a natural and rich taste that enhances the overall sensory experience of food and beverages. This has led to its widespread adoption by food manufacturers and beverage companies. Furthermore, guaiacol's versatility allows it to be used in a wide range of applications. It can be utilized as a primary flavoring agent or as a component in complex flavor formulations. Its ability to complement and enhance the taste of other ingredients makes it a valuable addition to many recipes. In addition to its flavor-enhancing properties, guaiacol also possesses antioxidant and antimicrobial characteristics. These attributes contribute to the preservation and shelf-life extension of food and beverage products, further driving their demand in the industry.
Challenges
Stringent regulations and policies regarding the use of guaiacol in certain applications

Ensuring consistent quality and purity of guaiacol products to meet regulatory standards and customer expectations
Impact of Russia-Ukraine War:
The Russia-Ukraine war has disrupted the supply chains of guaiacol, leading to a shortage in the market. Both countries play a crucial role in the production and distribution of guaiacol, with Ukraine being a major exporter and Russia being a significant consumer. The conflict has resulted in transportation difficulties, border closures, and trade restrictions, hampering the smooth flow of guaiacol across the region. The instability caused by the war has led to price volatility in the guaiacol market. Uncertainty surrounding supply and demand, coupled with geopolitical tensions, has created an unpredictable pricing environment. Market players are forced to constantly monitor and adjust their pricing strategies to mitigate risks and maintain profitability.
Impact of Recession:
The economic downturn has resulted in reduced consumer spending, affecting industries that heavily rely on Guaiacol. As a consequence, manufacturers have faced challenges in maintaining profitability and sustaining their operations. One of the primary factors contributing to the market's decline is the decrease in demand from the pharmaceutical industry. With the recession causing a decline in healthcare spending, pharmaceutical companies have been compelled to cut costs, including reducing their purchases of Guaiacol. This has directly affected the market's growth and profitability. Furthermore, the fragrance industry has also experienced a significant downturn during the recession. As consumers prioritize essential goods over luxury items, the demand for fragrances has decreased. Since Guaiacol is a key ingredient in many perfumes and colognes, its market has been adversely affected.
Market segmentation
By Grade
Food

Industrial

Pharmaceutical
By End-user
Cosmetics

Chemicals

Pharmaceuticals

Food & Beverages

Agriculture
By Application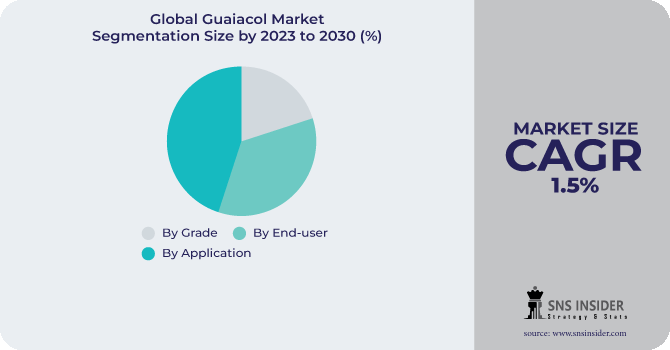 Get Customized Report as Per Your Business Requirement - Request For Customized Report
Regional Analysis
Asia Pacific is the dominant region in the Guaiacol market and is expected to grow with a CAGR of about 1.7% during the forecast period. China and India are the major contributing countries in the revenue share of the Guaiacol Market in the Asia Pacific region. One key driving factor is the region's expanding manufacturing sector, which drives the demand for Guaiacol as a vital raw material in various industries such as pharmaceuticals, flavors and fragrances, and agrochemicals. Additionally, the region's expanding population and rising disposable income levels contribute to the increased consumption of products that utilize Guaiacol.
North America is expected to grow with a significant CAGR of about 1.47% in Guaiacol Market from 2023-2030. This growth is owing to the region's expanding industrial sector, increasing awareness about the benefits of guaiacol, and its diverse applications in different fields. The industrial sector in North America is poised for significant expansion, driven by advancements in technology, infrastructure development, and a favorable business environment. As a result, the demand for guaiacol, which finds extensive usage in the production of pharmaceuticals, fragrances, and flavors, is expected to witness a steady rise. Guaiacol is known for its antioxidant properties, making it a valuable ingredient in the pharmaceutical industry for manufacturing drugs that combat oxidative stress-related diseases. Additionally, its application in the fragrance and flavor industry enhances the sensory experience of various products, further driving its demand.
REGIONAL COVERAGE:
North America
Europe
Eastern Europe

Poland

Romania

Hungary

Turkey

Rest of Eastern Europe

Western Europe

Germany

France

UK

Italy

Spain

Netherlands

Switzerland

Austria

Rest of Western Europe
Asia Pacific
China

India

Japan

South Korea

Vietnam

Singapore

Australia

Rest of Asia Pacific
Middle East & Africa
Middle East

UAE

Egypt

Saudi Arabia

Qatar

Rest of Middle East

Africa

Nigeria

South Africa

Rest of Africa
Latin America
Brazil

Argentina

Colombia

Rest of Latin America
Key Players
The major key players are Anhui Bayi Chemical Industry Co., Ltd, Solvay, Merck KgaA, TCI America, Alfa Aesar, Jiaxing Zhonghua Chemical C0., LTD, Central Drug House, Derek Clarke, Vandana Chemicals, and other key players are mentioned in the final report.
Solvay-Company Financial Analysis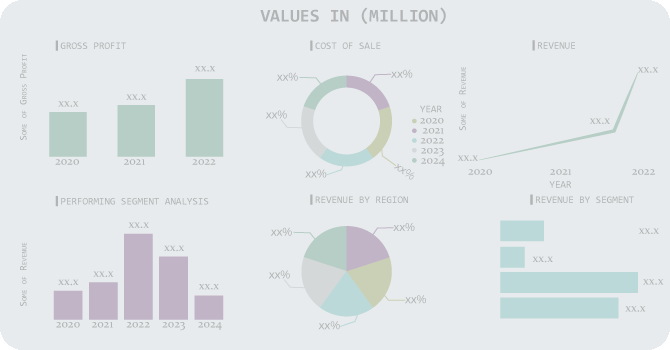 Guaiacol Market Report Scope:
Report Attributes
Details
Market Size in 2022
US$ 316.5 Mn
Market Size by 2030
US$ 356.53 Mn
CAGR
CAGR of 1.5% From 2023 to 2030
Base Year
2022
Forecast Period
2023-2030
Historical Data
2019-2021
Report Scope & Coverage
Market Size, Segments Analysis, Competitive Landscape, Regional Analysis, DROC & SWOT Analysis, Forecast Outlook
Key Segments
By Grade (Food, Industrial, Pharmaceutical)
By End-user (Cosmetics, Chemicals, Pharmaceuticals, Food & Beverages, Agriculture, and Flavors & Fragrance)
By Application (Precursor, Raw material for API synthesis, Chemical Intermediate, Spice, Pharmaceuticals, and Others)
Regional Analysis/Coverage
North America (US, Canada, Mexico), Europe (Eastern Europe [Poland, Romania, Hungary, Turkey, Rest of Eastern Europe] Western Europe] Germany, France, UK, Italy, Spain, Netherlands, Switzerland, Austria, Rest of Western Europe]), Asia Pacific (China, India, Japan, South Korea, Vietnam, Singapore, Australia, Rest of Asia Pacific), Middle East & Africa (Middle East [UAE, Egypt, Saudi Arabia, Qatar, Rest of Middle East], Africa [Nigeria, South Africa, Rest of Africa], Latin America (Brazil, Argentina, Colombia Rest of Latin America)
Company Profiles
Anhui Bayi Chemical Industry Co., Ltd, Solvay, Merck KgaA, TCI America, Alfa Aesar, Jiaxing Zhonghua Chemical C0., LTD, Central Drug House, Derek Clarke, Vandana Chemicals
Key Drivers
Increasing demand for guaiacol in various industries such as pharmaceuticals, cosmetics, and food additives
Growing awareness about the health benefits of guaiacol
Market Restraints
Fluctuating prices of raw materials used in guaiacol production
Limited availability of guaiacol in some regions