Report Scope & Overview:
The Conformal Coatings Market size was valued at USD 950.5 million in 2022. It is expected to grow to USD 1480.99 million by 2030 and grow at a CAGR of 5.7% over the forecast period of 2023-2030.
The demand for conformal coatings is increasing due to the increasing complexity and miniaturization of electronic devices. As technology advances, electronic components become more susceptible to damage caused by external elements. Conformal coatings act as a shield, safeguarding these components and extending their lifespan. One of the key drivers of the conformal coatings market is the growing adoption of electronic devices in various sectors, including automotive, aerospace, healthcare, and consumer electronics. The automotive industry, in particular, relies heavily on conformal coatings to protect sensitive electronic systems from harsh operating conditions. With the rise of electric vehicles and autonomous driving technology, the demand for conformal coatings is expected to soar even higher.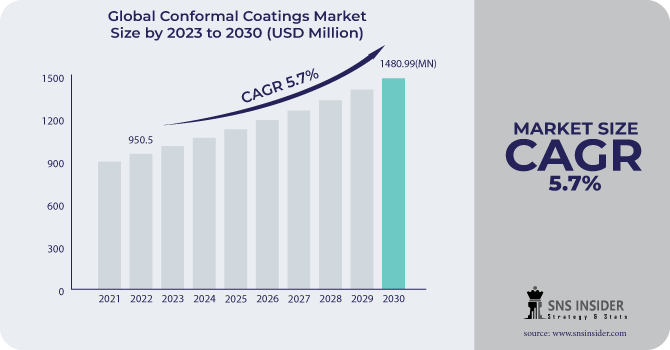 Get E-PDF Sample Report on Conformal Coatings Market - Request Sample Report
Moreover, the increasing awareness regarding the importance of sustainability and environmental protection has led to the development of eco-friendly conformal coatings. These coatings not only provide excellent protection but also adhere to stringent environmental regulations. This trend has further fueled the growth of the conformal coatings market, as companies strive to meet the demands of environmentally conscious consumers. In terms of regional analysis, Asia Pacific dominates the conformal coatings market, owing to the presence of major electronics manufacturing hubs in countries like China, Japan, and South Korea. The region's robust electronics industry, coupled with the rising disposable income of consumers, has contributed to the high demand for conformal coatings.
The consumer electronic segment dominated the conformal coatings market with the highest revenue share of about 46% in 2022 due to the increased adoption of consumer electronics following the COVID-19 pandemic, which has witnessed a surge in demand for miniaturized electronic circuit boards. These compact circuit boards are particularly vulnerable to dust, high temperatures, humidity, and other airborne contaminants, thus driving the need for effective conformal coatings. The escalating demand for consumer electronics has encouraged manufacturers of conformal coatings to introduce innovative products that cater to this evolving market. As a result, industry leaders such as Dow and Electrolube have recently launched new offerings in response to the post-pandemic landscape.
Market Dynamics
Drivers
Rising demand for electronic devices

Growing automotive industry
The growing automotive industry plays a significant role in driving the market. With the rise in the production of electric vehicles and the integration of advanced electronics in automobiles, the demand for conformal coatings is expected to surge. These coatings safeguard the sensitive electronic components from harsh automotive environments, enhancing their performance and durability.
Restraint
Opportunities
Emergence of new technologies, such as nano-coatings and self-healing coatings

Development of smart cities
Challenges
Volatile Organic Compounds released from conformal coatings pose a significant threat to the environment as they are categorized as Greenhouse Gases. Unfortunately, many coating facilities lack the necessary infrastructure to capture the solvent vapors emitted during the manufacturing process, leading to their release into the atmosphere. When these VOCs come into contact with nitrogen oxides, which are emitted through incomplete combustion of fuels in vehicles and other industrial activities, a chemical reaction occurs, resulting in the formation of tropospheric ozone. This process also contributes to the creation of fine particulate matter, leading to the formation of ground-level smog. The formation of ozone at ground level can have devastating effects, as it gives rise to harmful chemicals that hinder plant growth. This poses a serious threat to our ecosystem and the delicate balance of nature.
Governments worldwide are increasingly addressing increasing concerns regarding the environment and public health by implementing more stringent standards to restrict the emission of toxic Volatile Organic Compounds. Consequently, the adoption of these stricter regulations is anticipated to impede market growth.
Impact of Russia-Ukraine War:
The conformal coatings market, which plays a crucial role in protecting electronic components from environmental factors, has not been immune to the consequences of this war. The conflict has disrupted supply chains, leading to shortages of raw materials and increased prices. This has created challenges for manufacturers, who are struggling to meet the demand for conformal coatings. Furthermore, the geopolitical tensions between Russia and Ukraine have also affected the market dynamics. The uncertainty surrounding the conflict has made investors cautious, leading to a decline in foreign direct investment in the region. This has hindered the growth of the conformal coatings market.
Impact of Recession:
During the recession, businesses across different sectors face financial constraints, leading to reduced investments and cost-cutting measures. As a result, the demand for conformal coatings, which are primarily used in the electronics industry, tends to decline. This decline is attributed to the decrease in consumer spending and the postponement of new product launches by manufacturers. Furthermore, the recession often prompts companies to prioritize essential expenses, such as raw materials and labor costs, over non-essential items like conformal coatings. This shift in priorities further contributes to the decline in demand for these coatings. The impact of the recession on conformal coating manufacturers is twofold. Firstly, the decrease in demand directly affects their revenue and profitability. With fewer orders coming in, manufacturers may struggle to maintain their production levels and may even face the possibility of downsizing or shutting down operations. Secondly, the recession also affects the competitive landscape of the conformal coatings market. As demand decreases, manufacturers face increased competition for the market share. This intensification of competition often leads to price wars, further squeezing profit margins for manufacturers.
Market segmentation
By Product
Epoxy

Acrylic

Silicone

Urethane

Parylene

Others
By End-use Industry
Aerospace & Defense

Consumer Electronics

Industrial

Automotive

Medical

Telecommunication

Others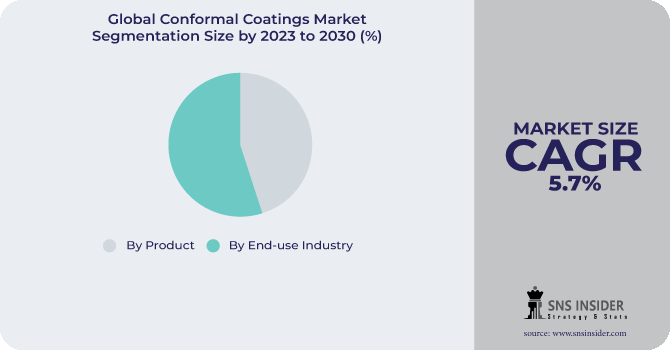 Get Customized Report as Per Your Business Requirement - Request For Customized Report
Regional Analysis
Asia Pacific dominated the Conformal Coatings Market with the highest revenue share of about 52.5% in 2022. This dominance is mainly attributed to the high demand for conformal coatings in key industries such as aerospace, automotive, consumer electronics, and manufacturing. A press release by Airbus in February 2022 highlighted the significant growth expected in the Asia-Pacific region. It is projected that the area will require 17,720 new passenger and freighter aircraft, driven by the expanding population. Additionally, cargo traffic in Asia-Pacific is predicted to increase at a rate of 3.7% per year, resulting in a doubling of air freight in the region by 2040. This growth is expected to have a positive impact on the market for conformal coatings in the area.
North America held a significant revenue share of the Conformal Coatings Market and is expected to grow with a CAGR of about 6.1% during the forecast period. North America has experienced a rising demand for advanced electronics, particularly GPS systems and related products in the automotive industry. The e-commerce industry in the region has also witnessed an upward trend, leading to increased sales of commercial vehicles to meet the demands of this sector. The demand for electric vehicles in North America has been steadily increasing in recent years. The amount of electronics present in new conventional cars has multiplied several times over the past decade. In comparison, electric and hybrid vehicles have an even higher reliance on electronics. The reliability of these electronic components greatly influences consumer decisions. As a result, automakers are implementing innovative methods to protect delicate electronic components and pathways on a PCB (Printed Circuit Board) without adding excessive weight to the vehicles. Conformal coatings provide a solution by safeguarding sensitive electronic systems from harsh environmental conditions, all while minimizing the increase in weight compared to space-consuming alternatives like enclosures. Consequently, the growing demand from the automotive industry is expected to drive the market forward.
REGIONAL COVERAGE:
North America
Europe
Eastern Europe

Poland

Romania

Hungary

Turkey

Rest of Eastern Europe

Western Europe

Germany

France

UK

Italy

Spain

Netherlands

Switzerland

Austria

Rest of Western Europe
Asia Pacific
China

India

Japan

South Korea

Vietnam

Singapore

Australia

Rest of Asia Pacific
Middle East & Africa
Middle East

UAE

Egypt

Saudi Arabia

Qatar

Rest of the Middle East

Africa

Nigeria

South Africa

Rest of Africa
Latin America
Brazil

Argentina

Colombia

Rest of Latin America
Key Players
The major key players are Chemtronics, Henkel AG & Co. KGaA, H.B. Fuller Company, Electrolube, MG Chemicals, Dow, Chase Corp., Shin-Etsu Chemical Co. Ltd., KISCO LTD, Dymax Corporation, ALTANA, Europlasma NV, and other key players mentioned in the final report.
Chemtronics-Company Financial Analysis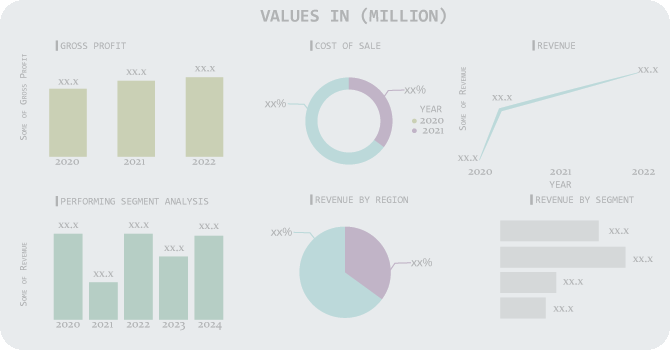 Recent Development:
In April 2022, Shin-Etsu Silicones of America, Inc. (SESA), a subsidiary of the Japan-based Shin-Etsu Chemical Co. Ltd., introduced the MR-COAT-01F and 02F conformal coating series. These products boast exceptional hardness and remarkable elongation, offering superior resistance against abrasion and reducing stress on printed circuit board (PCB) components.

In Oct 2021, Electrolube has recently unveiled its latest innovation, the UV Cure Coating Xtra (UVCLX), a bio-based conformal coating. This revolutionary bio-coating is predominantly derived from organic content sourced from renewable materials. What sets this product apart is its utilization of solvent-free technology, ensuring a more sustainable and environmentally friendly solution. Electrolube proudly asserts that its new creation is unparalleled in the industry, offering exceptional protection without compromising on processing time.

In Oct 2021, Dow launched the innovative DOWSIL™ CC-2588 Conformal Coating, a robust silicone-based material designed to safeguard printed circuit boards (PCBs) and electronic components from the damaging effects of high humidity and corrosion.
Conformal Coatings Market Report Scope
Report Attributes
Details
Market Size in 2022
US$ 950.5 Mn
Market Size by 2030
US$ 1480.99 Mn
CAGR
CAGR of 5.7% From 2023 to 2030
Base Year
2022
Forecast Period
2023-2030
Historical Data
2019-2021
Report Scope & Coverage
Market Size, Segments Analysis, Competitive Landscape, Regional Analysis, DROC & SWOT Analysis, Forecast Outlook
Key Segments
• By Product (Epoxy, Acrylic, Silicone, Urethane, Parylene, and Others)
• By End-use Industry (Aerospace & Defense, Consumer Electronics, Industrial, Automotive, Medical, Telecommunication, and Others)
Regional Analysis/Coverage
North America (US, Canada, Mexico), Europe (Eastern Europe [Poland, Romania, Hungary, Turkey, Rest of Eastern Europe] Western Europe] Germany, France, UK, Italy, Spain, Netherlands, Switzerland, Austria, Rest of Western Europe]), Asia Pacific (China, India, Japan, South Korea, Vietnam, Singapore, Australia, Rest of Asia Pacific), Middle East & Africa (Middle East [UAE, Egypt, Saudi Arabia, Qatar, Rest of Middle East], Africa [Nigeria, South Africa, Rest of Africa], Latin America (Brazil, Argentina, Colombia Rest of Latin America)
Company Profiles
Chemtronics, Henkel AG & Co. KGaA, H.B. Fuller Company, Electrolube, MG Chemicals, Dow, Chase Corp., Shin-Etsu Chemical Co. Ltd., KISCO LTD, Dymax Corporation, ALTANA, Europlasma NV
Key Drivers
• Rising demand for electronic devices
• Growing automotive industry
Market Restraints
• High cost associated with maintenance and repairing of conformal coatings