REPORT SCOPE & OVERVIEW
The In-Memory Computing Market size was USD 15.2 billion in 2022 and is expected to Reach USD 52.6 billion by 2030 and grow at a CAGR of 16.8 % over the forecast period of 2023-2030
The practice of keeping data in the computer's random-access memory rather than on slow disk drives is known as in-memory computing. Users can more quickly review large data volumes thanks to in-memory computing, which also reduces storage latency in general. Data integration, the ability to make decisions more quickly, and cost savings are just a few of the operations that are impacted by in-memory computing. As a result, massive data analysis is made possible. In-memory computing is essentially the process of moving data that was previously stored on hard disks into main memory. For corporate clients including retailers, banks, and service providers, in-memory computing makes it simpler for them to swiftly find patterns, analyse large amounts of data at once, and carry out their business activities. Cloud computing is making in-memory computing more accessible to organizations of all sizes. the in-memory computing market is segmented by Hardware, Software, application, and industry, the real-time analytics segment dominated the in-memory computing market in 2022, accounting for the largest market share. This is due to the increasing demand for real-time insights from large volumes of data. The machine learning segment is expected to grow at the fastest CAGR during the forecast period, due to the increasing adoption of machine learning technologies in a variety of industries. In-memory processes work faster than disk-to-memory systems, which allows businesses to speed up the decision-making process using the data. In-memory technologies allow decision-makers to reach the information they are looking for rapidly and easily. In-memory technology has been in the market for several years and the demand for smart, interactive experiences involves back-end systems and programs to operate at high performance and deliver the data faster. For Eg. SAP announced on May 8, 2023, that it was adding new in-memory computing features to its SAP HANA platform. The features are designed to help organizations improve the performance of their applications.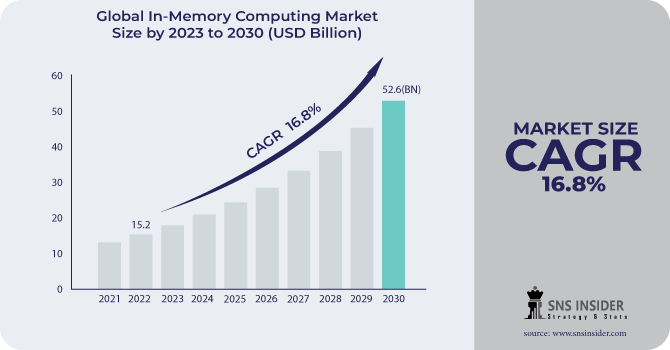 MARKET DYNAMICS
KEY DRIVERS
The exponential growth of big data to improve machine-driven decision-making

Increased adoption of in-memory computing and databases in corporate enterprises
The growing demand for faster processing and analytics on big data is driving the adoption of In-Memory Computing. As the volume and complexity of data continue to increase, traditional disk-based systems struggle to deliver the required performance and speed. In-Memory Computing addresses this need by leveraging the speed and efficiency of RAM, enabling organizations to analyse and process data in real-time
RESTRAIN
The demand of In-Memory Computing may be hampered by rising system costs brought on by the increased use of RAM and DRAM.

Lack of awareness about the benefits of in-memory computing
As the amount of data that needs to be processed in real-time increases, the need for more RAM and DRAM also increases, which can lead to higher system costs. This can be a major restraint for companies that are considering adopting In-Memory Computing solutions, especially for small and medium-sized businesses that may not have the budget to invest in expensive hardware
OPPORTUNITY
The growth of the IoT will generate a massive amount of data that can be processed in real time using in-memory computing.

The development of new applications that require real-time processing and analysis will create new opportunities for in-memory computing.
The need for huge data processing to handle the rise in internet and mobile banking usage will likely open up new opportunities for business expansion.
CHALLENGES
The lack of standards to migrate from traditional systems to new IMC compliant systems may lead to compatibility issues, which is also expected to be a key challenge faced by the industry.
IMPACT OF RUSSIAN UKRAINE WAR
The Russia-Ukraine war has had a significant impact on the in-memory computing market, with many companies reporting decreased revenue, sales, and profits. SAP, a leading provider of in-memory computing solutions, reported a 10% decrease in revenue in the first quarter of 2023. Oracle, another leading provider of in-memory computing solutions, reported a 5% decrease in revenue in the first quarter of 2023. The company said that the war in Ukraine has had a "negative impact" on its business. The company attributed the decline to the war in Ukraine, which has disrupted supply chains and caused economic uncertainty. The war has caused a decrease in investment in in-memory computing solutions. Microsoft announced on March 15, 2023, that it was suspending sales of new products and services in Russia. The company said that it was taking this step in response to the war in Ukraine.
IMPACT OF ONGOING RECESSION
The in-memory computing market is still in its early stages of development, and it is likely to be disrupted by the recession. Cloud computing is a major driver of the in-memory computing market. A recession could lead to slower adoption of cloud computing, which could hurt the in-memory computing market. The semiconductor industry is a major supplier of in-memory computing components, such as DRAM and NAND flash. A recession could lead to lower demand for semiconductors, which could in turn hurt the in-memory computing market. Intel is a major supplier of semiconductor chips. The company could see lower demand for its chips in a recession. Companies may delay the launch of new in-memory computing products due to the uncertainty caused by the recession. However, the long-term prospects for the market remain positive. The increasing demand for data processing and the growing popularity of cloud computing are driving the growth of the market. The recession is likely to slow this growth, but it is not likely to derail the market.
KEY MARKET SEGMENTS
By Component
By Deployment
By Enterprise Size
By Application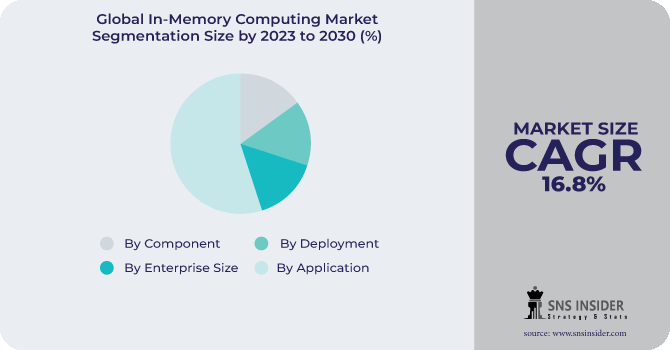 Region Coverage:
North America
Europe
Eastern Europe

Poland

Romania

Hungary

Turkey

Rest of Eastern Europe

Western Europe

Germany

France

UK

Italy

Spain

Netherlands

Switzerland

Austria

Rest of Western Europe
Asia Pacific
China

India

Japan

South Korea

Vietnam

Singapore

Australia

Rest of Asia Pacific
Middle East & Africa
Middle East

UAE

Egypt

Saudi Arabia

Qatar

Rest of the Middle East

Africa

Nigeria

South Africa

Rest of Africa
Latin America
Brazil

Argentina

Colombia

Rest of Latin America
REGIONAL ANALYSIS
North America is the largest market for in-memory computing, accounting for 35% of the global market in 2022. The United States is the largest market for in-memory computing in North America. The market is driven by the increasing demand for real-time analytics, big data processing, and artificial intelligence in the country. The increasing demand for real-time analytics are the key factors driving the growth of the in-memory computing market in North America. SAP HANA gained significant attention in North America for its ability to process large volumes of data in real time, enabling businesses to gain valuable insights for decision-making. The financial sector in North America has shown interest in IMC for high-frequency trading, risk assessment, fraud detection, and portfolio management.
The Asia-Pacific region is anticipated to have significant growth throughout the projection period. Due to the existence of several developing nations like China and India, Services like business process outsourcing and knowledge process outsourcing are well-known in these nations. A manufacturing base can be found in these nations. In order to make decisions, every business process that is carried out generates a significant amount of data that must be stored, processed, and analysed. The in-memory computing industry is expanding in the Asia-Pacific region as a result of rising investments from a number of technology companies.
KEY PLAYERS
The major key players in the In-Memory Computing Market are TIBCO Software Inc., Microsoft Corporation, SAP SE, Intel Corporation, Oracle Corporation, Software AG, Fujitsu Limited, Salesforce.com Inc., International Business Machines Corporation, SAS Institute Inc. and other players.
RECENT DEVELOPMENTS
Intel:
In January 12, 2023, Intel announced that it was introducing Optane Persistent Memory, a new type of memory that combines the speed of DRAM with the capacity of flash memory. Optane Persistent Memory is designed to be used in in-memory computing applications, such as real-time analytics and machine learning.
Microsoft:
In March 8, 2023, Microsoft released an in-memory analytics platform called Azure Synapse Analytics. Azure Synapse Analytics is designed to help organizations analyse large volumes of data in real-time. The platform is a combination of Azure SQL Data Warehouse and Azure Data Lake Storage.
In-Memory Computing Market Report Scope:
Report Attributes
Details
Market Size in 2022
US$ 15.2 Bn
Market Size by 2030
US$ 52.6 Bn
CAGR
CAGR of 16.8 % From 2023 to 2030
Base Year
2022
Forecast Period
2023-2030
Historical Data
2019-2021
Report Scope & Coverage
Market Size, Segments Analysis, Competitive Landscape, Regional Analysis, DROC & SWOT Analysis, Forecast Outlook
Key Segments
• By Component (Solution, Services)
• By Deployment (On-Premises, Cloud)
• By Enterprise Size (Large Enterprises, Small Medium Enterprises)
• By Application (Risk Management, Fraud Detection, Sentiment Analysis, Sales Marketing Optimization, Predictive Analysis, Supply Chain Management, Others)
Regional Analysis/Coverage
North America (US, Canada, Mexico), Europe (Eastern Europe [Poland, Romania, Hungary, Turkey, Rest of Eastern Europe] Western Europe] Germany, France, UK, Italy, Spain, Netherlands, Switzerland, Austria, Rest of Western Europe]), Asia Pacific (China, India, Japan, South Korea, Vietnam, Singapore, Australia, Rest of Asia Pacific), Middle East & Africa (Middle East [UAE, Egypt, Saudi Arabia, Qatar, Rest of Middle East], Africa [Nigeria, South Africa, Rest of Africa], Latin America (Brazil, Argentina, Colombia Rest of Latin America)
Company Profiles
TIBCO Software Inc., Microsoft Corporation, SAP SE, Intel Corporation, Oracle Corporation, Software AG, Fujitsu Limited, Salesforce.com Inc., International Business Machines Corporation, SAS Institute Inc.
Key Drivers
• The exponential growth of big data to improve machine-driven decision-making
• Increased adoption of in-memory computing and databases in corporate enterprises
Market Restraints
• The demand of In-Memory Computing may be hampered by rising system costs brought on by the increased use of RAM and DRAM.
• Lack of awareness about the benefits of in-memory computing