REPORT SCOPE & OVERVIEW
The Life Science Tools Market size was estimated USD 145.01 billion in 2022 and is expected to reach USD 331.7 billion by 2030 at a CAGR of 10.9% during the forecast period of 2023-2030.
Life science studies include molecular biology, cell biology, genetics, and biochemistry. Instruments, reagents, and consumables are examples of life science tools. They all play an important role in diagnosing and monitoring the progression of a disease in the body. Life sciences tool discoveries assist to improve the quality and standard of living by being applied to the health, medicine, agriculture, pharmaceutical, and food science industries.
MARKET DYNAMICS
DRIVERS
The pharmaceutical players focusing on and investing in research to develop protein-related products. Analytical equipment of various types are used in drug discovery and manufacture. Analytical tools assess drug compounds, protein analysis and purification, and quality control. Protein identification and separation is a critical step in medication production. Technologically improved equipment aids in the understanding of a molecule's characterisation and ensures its safety and purity. Foreign direct investment and government funding in pharmaceutical R&D have increased significantly in emerging economies in recent years. As a result, increased R&D spending in the life sciences, pharmaceutical, and biotechnology sectors will almost certainly boost the use of life science equipment.
RESTRAIN
The cost of life science tools has increased due to recent technical developments and newly added functionalities. The advent of automation with the assistance of Al has resulted in a steady increase in the cost of these systems. The new cutting-edge equipment saves time and offers reliable findings, but it is typically expensive. Furthermore, there are ongoing charges in the form of maintenance costs, which raise the entire cost of ownership. Due to limited resources, small-scale customers such as academic and research institutes, diagnostic laboratories, and small and medium-sized pharma-biopharma enterprises find it difficult to buy such equipment. Because of the high cost, customers are reliant on government and commercial research funding, which limits market expansion to some extent.
OPPORTUNITY
In technical improvements, the adoption rate of tools such as next sequencers, PCR and qPCR, flow cytometers, spectrometers, microscopes, chromatography columns, nucleic acid processing equipment, and cell biology instruments is expanding. Improvements in molecular diagnostic tools such as digital droplet PCR, Next-Generation Sequencing (NGS), and genome-wide sequencing have influenced the introduction of DNA assays in clinical settings in terms of accuracy, timeframe, and reproducibility. An effective extraction procedure is required for the optimal use of circulating nucleic acids in medicinal applications.
CHALLENGES
Adequate infrastructure is critical for conducting research and development. To use life science instruments for study, adequate financial backing, appropriate research laboratories, and trained experts are required. Emerging Asian countries (such as India, Indonesia, and the Philippines), Middle Eastern countries (such as Oman, Iraq, and the UAE), and African countries lack the essential infrastructure. This ultimately poses a hindrance to the market's expansion in emerging countries.
IMPACT OF RUSSIAN UKRAINE WAR
Growth in the Imaging area in EMEA has slowed and is now at a flat growth level. While EU government investment initiatives aided growth, the conflict in Ukraine had a detrimental influence on the region. The Diagnostics business in EMEA showed moderate growth in fiscal 2022 (excluding molecular diagnostics), led by an increase in patient volumes in routine care. The increase did not compensate for the substantial fall in SARS-CoV PCR testing in molecular diagnostics, resulting in a modest decline in the overall diagnostics market (including molecular laboratory diagnostics) excluding the COVID-19 antigen fast test market. Consolidation of networked healthcare providers is developing, leading in EMEA-wide laboratory chains focusing on expanding their reach in an already crowded field.
IMPACT OF ONGOING RECESSION
The COVID-19 pandemic has impacted regulatory environments and practices, presenting governments and healthcare providers with unprecedented challenges. Regulatory authorities have utilized targeted methods to get diagnostic products to market faster. These include changes to existing reimbursement structures as well as the introduction of accelerated regulatory processes and emergency approvals. Governments have also been quick to create a legal framework conducive to the deployment of telehealth technology. This has had a positive influence on the availability of diagnostic tests and access to reimbursement.
KEY SEGMENTS
By Technology
Genomic Technology

Proteomics Technology

Cell Biology Technology

Other Analytical & Sample Preparation Technology

Lab Supplies & Technologies
In 2022, Cell Biology Technology segment is expected to held the highest market share of 34.3% during the forecast period due to the importance of cell biology technology in drug development, as well as an increase in NIH funding for cell biology, are driving segment expansion. Furthermore, advancements in flow cytometry and liquid handling have resulted in an increase in the use of cell-based assays for drug discovery. In addition, prominent market participants have collaborated on research to reprogram newborn stem cells from umbilical cord tissue and blood into Induced Pluripotent Stem Cells (iPSCs). EdiGene and Haihe Laboratory, for example, formed a strategic agreement in January 2022 to develop platform technologies and stem cell regenerative medicines. The cooperation will look for new biomarkers to improve quality control in stem cell production. Over the projected period, these collaborations are expected to drive the market.
By Type
Cell Culture Systems & 3D Cell Culture

Liquid Chromatography

Instruments

Consumables

Services

Mass Spectrometry

Instruments

Consumables

Services

Flow Cytometry

Instruments

Consumables

Services

Cloning & Genome Engineering

Microscopy & Electron Microscopy

Instruments

Consumables

Services

Next Generation Sequencing

Instruments

Consumables

Services

PCR & qPCR

Instruments

Consumables

Services

Nucleic Acid Preparation

Instruments

Consumables

Services

Nucleic Acid Microarray

Instruments

Consumables

Services

Sanger Sequencing

Instruments

Consumables

Services

Transfection Devices & Gene Delivery Technologies

NMR

Instruments

Consumables

Services

Other Separation Technologies

Instruments

Consumables

Services

Other Products & Services

Antibodies

General Supplies

Others

Instruments

Consumables

Services
In 2022, the Cell Culture Systems & 3D Cell Culture segment is expected to dominate the market growth of 21.3% during the forecast period. Research into the potential of cell biology has resulted in significant advances, which have contributed to revenue generating. An in-depth grasp of cell biology has become a valuable tool throughout laboratory workflows, offering up new commercial opportunities. Furthermore, professionals in the life science area are eager to adopt new and advanced instruments, which is projected to boost the market even further. This business trend has also prompted several major instrument manufacturers to broaden their product offerings.
By End User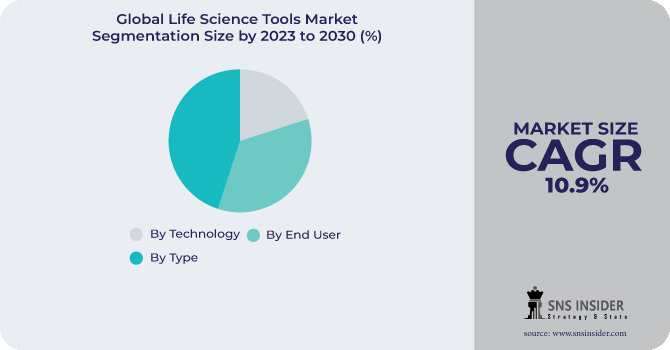 In 2022, Healthcare segment is expected to dominate the market growth of 32.2% during the forecast period to due to the increased use of proteomic and genomic processes in hospitals to detect and treat a variety of diseases is likely to drive growth. Furthermore, the market is likely to be driven by the increasing adoption of tissue diagnostic and NGS services in hospitals. Several hospitals and clinics are currently offering patients with sequencing services and assessing the use of modern tools and technology in regular medical practice. Stanford Medicine is one such hospital that offers sequencing services to patients with uncommon or undiscovered genetic conditions.
REGIONAL ANALYSES
North America held a significant market share of around 38.8% in 2022 owing to the region's rapid adoption of genomics, proteomics, oncology, and diagnostic screening. The increased use of genetic medicine, biopharmaceuticals, diagnostic methods, and novel technologies for the diagnosis and treatment of clinical illnesses in the United States and Canada is driving market expansion in the area. The region also benefits from the existence of a significant number of market participants who are always working to develop better tools for life science research.
Asia-Pacific is witness to expand fastest CAGR rate during the forecast period due to the global companies investments and efforts in this region to capitalize on undiscovered opportunities and expand their presence will fuel growth. For example, in January 2022, FUJIFILM Corporation announced the USD 100 million acquisition of Atara Biotherapeutics T-Cell Operations and Manufacturing (ATOM) facility to create commercial and clinical treatments, including CAR-T and T-cell immunotherapies. Furthermore, this region provides a low-cost production and operating unit for performing research. These variables are predicted to have a significant impact on the growth of life science instruments and technology in this region.
REGIONAL COVERAGE
North America
Europe
Eastern Europe

Poland

Romania

Hungary

Turkey

Rest of Eastern Europe

Western Europe

Germany

France

UK

Italy

Spain

Netherlands

Switzerland

Austria

Rest of Western Europe
Asia Pacific
China

India

Japan

South Korea

Vietnam

Singapore

Australia

Rest of Asia Pacific
Middle East & Africa
Middle East

UAE

Egypt

Saudi Arabia

Qatar

Rest of Middle East

Africa

Nigeria

South Africa

Rest of Africa
Latin America
Brazil

Argentina

Colombia

Rest of Latin America
Key Players
The major key players are Agilent Technologies, Inc., Becton, Dickinson and Company, F. Hoffmann-La Roche Ltd., Bio-Rad Laboratories, Inc., Danaher Corporation, Illumina, Inc., Thermo Fisher Scientific, Inc., QIAGEN N.V., Merck KGaA, Siemens Healthineers, Hitachi, Ltd., Bruker Corporation, Oxford Instruments plc, Zeiss International, EdiGene, and Others.
RECENT DEVELOPMENT
in January 2022, Tebentafusp-tebn is a monoclonal antibody approved by the FDA to treat metastatic uveal melanoma.
Siemens Healthineers, in December 2021, Siemens Healthineers got Emergency Use Authorization from the US Food and Drug Administration for its COVID-19 quick test, CLINITEST quick COVID-19 Antigen Self-Test, which can be used for self-testing by people aged 14 and above age group.
in January 2022, EdiGene and Haihe Laboratory launched a strategic partnership to create platform technologies and stem cell regenerative medicines. The cooperation will look for new biomarkers to improve quality control in stem cell production.
Life Science Tools Market Report Scope:
Report Attributes
Details
Market Size in 2022
US$ 145.01 Billion
Market Size by 2030
US$ 331.7 Billion
CAGR
CAGR of 10.9% From 2023 to 2030
Base Year
2022
Forecast Period
2023-2030
Historical Data
2019-2021
Report Scope & Coverage
Market Size, Segments Analysis, Competitive Landscape, Regional Analysis, DROC & SWOT Analysis, Forecast Outlook
Key Segments
• By Technology (Genomic Technology, Proteomics Technology, Cell Biology Technology, Other Analytical & Sample Preparation Technology, Lab Supplies & Technologies)
• By Product (Cell Culture Systems & 3D Cell Culture, Liquid Chromatography, Mass Spectrometry, Flow Cytometry, Cloning & Genome Engineering, Microscopy & Electron Microscopy, Next Generation Sequencing, PCR & qPCR, Nucleic Acid Preparation, Nucleic Acid Microarray, Sanger Sequencing, Transfection Devices & Gene Delivery Technologies, NMR, Other Separation Technologies, Other Products & Services)
• By End User (Government & Academic, Biopharmaceutical Company, Healthcare, Industrial Applications, Others)
Regional Analysis/Coverage
North America (US, Canada, Mexico), Europe (Eastern Europe [Poland, Romania, Hungary, Turkey, Rest of Eastern Europe] Western Europe] Germany, France, UK, Italy, Spain, Netherlands, Switzerland, Austria, Rest of Western Europe]), Asia Pacific (China, India, Japan, South Korea, Vietnam, Singapore, Australia, Rest of Asia Pacific), Middle East & Africa (Middle East [UAE, Egypt, Saudi Arabia, Qatar, Rest of Middle East], Africa [Nigeria, South Africa, Rest of Africa], Latin America (Brazil, Argentina, Colombia Rest of Latin America)
Company Profiles
Agilent Technologies, Inc., Becton, Dickinson and Company, F. Hoffmann-La Roche Ltd., Bio-Rad Laboratories, Inc., Danaher Corporation, Illumina, Inc., Thermo Fisher Scientific, Inc., QIAGEN N.V., Merck KGaA, Siemens Healthineers, Hitachi, Ltd., Bruker Corporation, Oxford Instruments plc, Zeiss International, EdiGene
Key Drivers
• Rising investments in pharmaceutical R&D
Market Challenges
• Inadequate research infrastructure in developing nations