REPORT SCOPE & OVERVIEW
The Next Generation Sequencing Market size was estimated USD 6.8 billion in 2022 and is expected to reach USD 32.7 billion by 2030 at a CAGR of 21.7% during the forecast period of 2023-2030.
Next Generation Sequencing (NGS), a high-throughput DNA sequencing method, which isolates billions or millions of DNA strands and simultaneously reads them, generating more data and eliminating the need for fragment-cloning methods (Sanger sequencing of genomes). NGS read duration are shorter than Sanger read times, but, because the signal to noise ratio increases with read length. NGS makes it possible to simultaneously check for changes in a wide range of genes.
MARKET DYNAMICS
DRIVERS
The recent introduction of new technology by major market players gives competitors an immediate competitive advantage. Players in the market are now concentrating on stepping up their R&D efforts in the creation of new Products & Services. The leading cutting-edge systems on the market are PromethlON (Oxford Nanopore Technologies), lon Torrent Genexus Dx Integrated Sequencer (Thermo Fisher), iSeq 100 (Illumina), and lon GeneStudio $5 System (Thermo Fisher).
RESTRAIN
In underdeveloped countries, financing for academic R&D is primarily provided by outside sources. Various research and academic institutions are struggling with budget restrictions when it comes to the purchase and usage of cutting-edge and expensive equipment and technologies, despite continued efforts by governmental and commercial organizations to finance research globally. As a result, the construction and expansion of cutting-edge research facilities in academic and research institutions in poor countries is hindered. The implementation of technologies like NGS in poor countries in Asia and Africa is significantly hampered by this.
OPPORTUNITY
The effectiveness of biomarkers in illness identification has risen as a result of ongoing advancements in sequencing technologies and a deeper understanding of genetics. Governments around the world are anticipated to make sizeable investments in genome sciences, which will ensure a positive future demand for NGS in such applications. Precise diagnosis and personalized medicine increase survival rates and reduce the financial burden on national health insurance programs.
CHALLENGES
The storage, processing, and interpretation of the massive amounts of data produced by next-generation sequencing
NGS still presents great obstacles in terms of data storage, application, quality control administration, and interpretation, which slows the transition from the bench to the bedside in spite of enormous breakthroughs to widen NGS applications from research to clinic.
IMPACT OF RUSSIAN UKRAINE WAR
The Russian-Ukrainian conflict has had a substantial impact on the linkages within the global supply chain and the system of raw material prices. In Ukraine, which has roughly 2,530 facilities with the capacity to conduct international trials, about 510 clinical studies are carried out each year. According to the FDA clinical trials database in the US, 253 drugs and devices were undergoing clinical trials with at least one location in Ukraine prior to Russia's invasion of that country. The drugs and devices being tested in clinical trials during this battle have a substantial impact on the market for next-generation sequencing.
IMPACT OF ONGOING RECESSION
The company mission-driven culture and the Practical Process Improvement (PPI) Business System were key contributors to our success. In a year marked by supply-chain disruptions on a global scale, the conflict in the Ukraine, COVID-19 lockdowns in China, and inflationary headwinds, PPI allowed us to engage and empower our global colleagues to continually find new and improved ways to overcome obstacles, enhance workflows, and work more productively and effectively. This significantly impacted our capacity to satisfy customer demands, increase return on investments, spur growth, and carry out our mission, allowing us to provide differentiating performance for our stakeholders.
KEY SEGMENTS
By Product
Consumables

Sample Preparation

Target Enrichment

Others

Platforms
In 2022, consumables segment is expected to held the highest market share of 74.7% in during the forecast period due to the consumables are used often and in high demand in both commercial and research applications of NGS, this segment has a bigger share and is growing at an exponential rate. These consumables include kits for target enrichment as well as kits for sample preparation. Since the majority of pharmaceutical businesses and research institutions are using NGS for a variety of diagnostic applications and cancer research, the usage of NGS consumables has expanded.
By Technology
In 2022, targeted sequencing & resequencing segment is expected to dominate the market share of 73.1% during the forecast period. Due to the need to examine a significant amount of whole genome data at specific gene sites and separated genetic expressions, this market is predicted to experience increased demand as whole genome sequencing becomes more popular. The NGS market is flooded with businesses that provide targeted sequencing services. As a result, during the projected period, this segment is anticipated to increase with WGS.
By Workflow
Pre-Sequencing

NGS Library Preparation Kits

Semi-automated Library Preparation

Automated Library Preparation

Sequencing

NGS Data Analysis

NGS Primary Data Analysis

NGS Secondary Data Analysis

NGS Tertiary Data Analysis
By Application
Oncology

Clinical Investigation

ReProduct & Serviceive Health

NIPT

Aneuploidy

Microdeletions

PGT

HLA Typing/Immune System Monitoring

Metagenomics

Epidemiology & Drug Development

Agrigenomics & Forensics

Consumer Genomics
In 2022, oncology segment is expected to dominate the market share of 27.8% during the forecast period owing to the use of NGS for DNA & RNA sequencing, epigenetics, and analyzing chromosomal abnormalities accounts for over three-fourths of the global sequencing data, and these applications are what account for the high market share. A steadily rising prevalence of cancer necessitates the use of the most recent technology to help oncologists better understand the mechanics of cancer and tumor cells. Companies like Myriad offer genetic testing to help patients learn if they are more likely than others to acquire particular cancers in the future.
By End User
Academic Research

Clinical Research, Hospitals & Clinics

Pharma & Biotech Entities

Other Users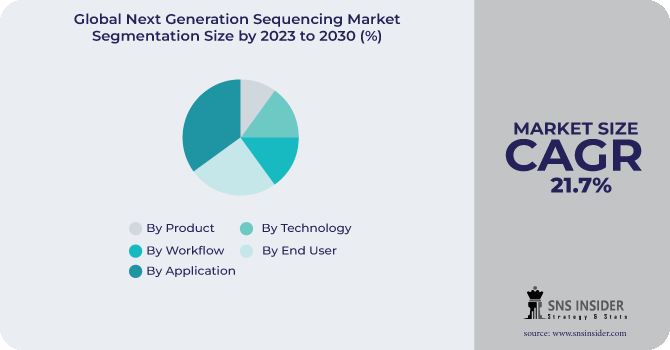 In 2022, the academic research segment is expected to dominate the market growth of 53.7% during the forecast period due to the use of NGS technologies in research initiatives conducted in universities and research facilities. Furthermore, it is projected that the availability of scholarships for PhD research in NGS would increase demand for NGS products and services, leading to profitable growth during the forecast period. In the upcoming years, it is also anticipated that offering on-site bioinformatics training would increase revenue from the academic research sector. These courses will include workshops on the actual implementation of NGS sequencing and data processing.
REGIONAL COVERAGE
North America
Europe
Eastern Europe

Poland

Romania

Hungary

Turkey

Rest of Eastern Europe

Western Europe

Germany

France

UK

Italy

Spain

Netherlands

Switzerland

Austria

Rest of Western Europe
Asia Pacific
China

India

Japan

South Korea

Vietnam

Singapore

Australia

Rest of Asia Pacific
Middle East & Africa
Middle East

UAE

Egypt

Saudi Arabia

Qatar

Rest of Middle East

Africa

Nigeria

South Africa

Rest of Africa
Latin America
Brazil

Argentina

Colombia

Rest of Latin America
REGIONAL ANALYSES
North America held a significant market share growing with a CAGR of 49.4% in 2022. Due to the numerous clinical laboratories that use NGS to deliver genetic testing services are what are driving the North America market. Furthermore, the region's development of WGS is anticipated to play a crucial role in the expansion the market. Also, due to the presence of significant R&D investment and the availability of a technologically cutting-edge healthcare research framework.
Asia-Pacific is witness to expand fastest CAGR rate during the forecast period due to the presence of significant developments by China and Japan for the technological integration of NGS methodologies and the development of healthcare, R&D, and clinical development frameworks in emerging economies like India and Australia.
Key Players
The major key players are Illumina, F. Hoffman-La Roche Ltd., QIAGEN, Thermo Fisher Scientific, Inc., Bio-Rad Laboratories, Inc., Oxford Nanopore Technologies, PierianDx, Genomatix GmbH, DNASTAR, Inc., Perkin Elmer, Inc., Eurofins GATC Biotech GmbH, BGI, and Others.
RECENT DEVELOPMENT
Oxford Nanopore Technologies Plc, in June 2023, A scalable software solution for enhancing next-generation nanopore sequencing technology was unveiled by Oxford Nanopore Technologies Plc, a firm that develops nanopore sequencing technology, in collaboration with Geneyx, an AI platform. As a result, hospitals and other health facilities, such as genetic laboratories, will have access to analytical information about genome sequencing.
QIAGEN N.V, in March 2023, the development of a companion diagnostic trial for the isocitrate dehydrogenase-1 (IDH 1) inhibitor TIBSOVO® will be supported by a strategic cooperation between Servier, a major pharmaceutical firm, and QIAGEN N.V., a global provider of molecular sample insights. QIAGEN will validate these for identifying IDH 1 gene mutations among AML patients, including next-generation sequencing and a polymerase chain reaction.
Illumina (US) and GenoScreen (France), in October 2022, Illumina and GenoScreen partnered to increase access to genomic testing for multi-drug resistant tuberculosis in the tuberculosis-endemic nations.
Next Generation Sequencing Market Report Scope:
Report Attributes
Details
Market Size in 2022
US$ 6.8 Billion
Market Size by 2030
US$ 32.7 Billion
CAGR
CAGR of 21.7% From 2023 to 2030
Base Year
2022
Forecast Period
2023-2030
Historical Data
2019-2021
Report Scope & Coverage
Market Size, Segments Analysis, Competitive Landscape, Regional Analysis, DROC & SWOT Analysis, Forecast Outlook
Key Segments
• By Product & Service (Consumables, Platforms, & Services)
• By Technology (WGS, Whole Exome Sequencing, Targeted Sequencing & Resequencing)
• By Application (Oncology, Clinical Investigation, ReProduct & Serviceive Health, HLA Typing/Immune System Monitoring, Metagenomics, Epidemiology & Drug Development, Agrigenomics & Forensics, Consumer Genomics)
• By End User (Academic Research, Clinical Research, Hospitals & Clinics, Pharma & Biotech Entities, Other Users)
Regional Analysis/Coverage
North America (US, Canada, Mexico), Europe (Eastern Europe [Poland, Romania, Hungary, Turkey, Rest of Eastern Europe] Western Europe] Germany, France, UK, Italy, Spain, Netherlands, Switzerland, Austria, Rest of Western Europe]), Asia Pacific (China, India, Japan, South Korea, Vietnam, Singapore, Australia, Rest of Asia Pacific), Middle East & Africa (Middle East [UAE, Egypt, Saudi Arabia, Qatar, Rest of Middle East], Africa [Nigeria, South Africa, Rest of Africa], Latin America (Brazil, Argentina, Colombia Rest of Latin America)
Company Profiles
Illumina, F. Hoffman-La Roche Ltd., QIAGEN, Thermo Fisher Scientific, Inc., Bio-Rad Laboratories, Inc., Oxford Nanopore Technologies, PierianDx, Genomatix GmbH, DNASTAR, Inc., Perkin Elmer, Inc., Eurofins GATC Biotech GmbH, BGI
Key Drivers
• Advancements in NGS platforms
Market Challenges
• The storage, processing, and interpretation of the massive amounts of data produced by next-generation sequencing