REPORT SCOPE & OVERVIEW
The Magnesium Oxide Board Market size was USD 19.06 billion in 2022 and is expected to Reach USD 26.08 billion by 2030 and grow at a CAGR of 4.0 % over the forecast period of 2023-2030.
Magnesium Oxide Board (MgO board), additionally known as magnesium cement board or magnesia board, is a popular alternative to traditional gypsum plasterboard and cement-based boards. It is well-known in the building and interior design industries for its resilience to fire, strength, and adaptability.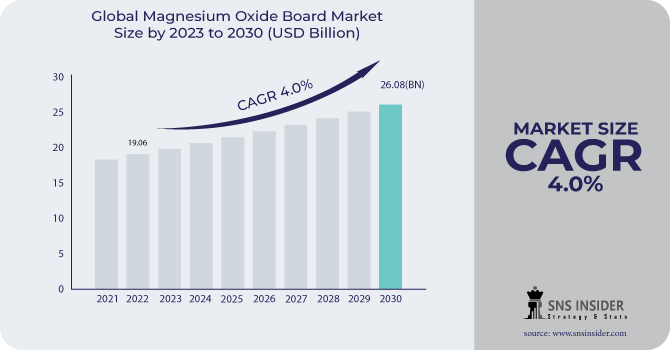 Get E-PDF Sample Report on Magnesium Oxide Board Market - Request Sample Report
MgO boards are typically composed of magnesium oxide, magnesium chloride (MgCl2), and a variety of fillers and reinforcing chemicals. Under tremendous pressure, these components are combined together and shaped into sheets.
These boards can be used for wall cladding, ceiling coverings, flooring, architectural panels, partitioning, and even as a substrate for tile and stone installations. MgO boards offer high strength and load capacity, allowing them to be employed as structural elements in a variety of building applications.
MgO boards are well-known for their toughness and resistance to moisture, mould, and dampness. They remain intact when exposed to water, therefore they are appropriate for usage in places with high humidity or probable water exposure.
MARKET DYNAMICS
KEY DRIVERS
Increasing use in the advertising industry as an alternative to materials such as vinyl banners and foam board signs

Increased investment in environmentally friendly materials will fuel expansion
MgO boards are derived from natural minerals and have a lower carbon footprint than other standard building materials, which aligns with sustainability objectives. These are free of hazardous chemicals and volatile organic compounds (VOCs), making them suitable for indoor use and improving indoor air quality. This product is recyclable and repurposed, reducing waste and fostering a circular economy. Because of its eco-friendliness, MgO boards are compatible with sustainable building practices and green building certifications. As a result, government and regulatory authorities all around the world advocate this product.
RESTRAIN
Fluctuations in the pricing of raw materials used in the production of MgO boards, such as magnesium oxide and magnesium chloride, can have an impact on overall manufacturing costs and, as a result, the price of the product. Pricing for MgO boards can be influenced by changes in market demand. Also, disruptions in the supply chain, such as transportation issues, raw material shortages, or manufacturing pauses, can have an impact on production costs and potentially lead to price changes. Changes in environmental rules, safety standards, or other regulatory requirements might cause changes in manufacturing processes.
OPPORTUNITY
Increasingly popular among DIY enthusiasts and home builders due to their ease of installation and low cost

Rising demand for MgO boards in the construction and infrastructure sectors.
MgO boards are highly fire-resistant and can withstand high temperatures, making them suitable for fireproofing applications and also, resistant to moisture and mould growth, making them suitable for areas prone to dampness. MgO boards have specifications like durable, thermal insulation properties, non-toxic, and safe for indoor use. They are often considered environmentally friendly as they are made from natural materials. MgO boards can be used in Roofing Underlayment, Interior Wall Panels, Subflooring, Decorative Elements, Prefabricated Panels, and many others. Rising construction activity in developing countries is anticipated to drive market growth.
CHALLENGES
Excessive moisture absorption can cause MgO boards to swell, warp, or distort, which can lead to structural instability and aesthetic problems. Moisture also caused the bonding agents to deteriorate, diminishing their strength and integrity. While MgO boards are mould-resistant, extended exposure to high moisture levels can still stimulate mould and mildew growth, particularly if the surface is not properly maintained.
IMPACT OF RUSSIAN UKRAINE WAR
Russia Ukraine war had a negative impact on nearly every industry. The impact of the Russia-Ukraine war on construction was most visible in the building materials sector. The war, as well as the ensuing sanctions imposed on Russia, disrupted the supply chains between countries the indirect supply networks to Asia via Russia were also affected. This disruption led to a surge in prices of materials used in the construction sector in the final days of February 2022, reaching all-time highs in the weeks after the start of the conflict. As the construction sector suffered indirectly affected the MgO board market. With shortages and high costs of raw materials like magnesium oxide, the energy crisis is clearly having a significant influence on an already stressed construction sector.
IMPACT OF ONGOING RECESSION
During a recession, demand for new construction projects has dropped, and prices of raw material including cement, bricks, magnesium oxide boards, and other materials is high due to inflation. However, during a recession, home renovations are usually more economical. Despite increased material costs, contractors frequently charge less for your home renovation during an economic downturn. This is mostly due to increased competition and fewer accessible projects for bidding. Builders and developers may use cost-cutting techniques, which may reduce the use of premium materials such as MgO boards. During a recession, builders and developers may choose more cost-effective or standard materials, perhaps leading to a shift away from speciality items like MgO boards.
MARKET SEGMENTATION
By Product Type
Thin (8 mm)

Medium (8-15 mm)

Thick (>15 mm)
By Application
Commercial

Residential

Industrial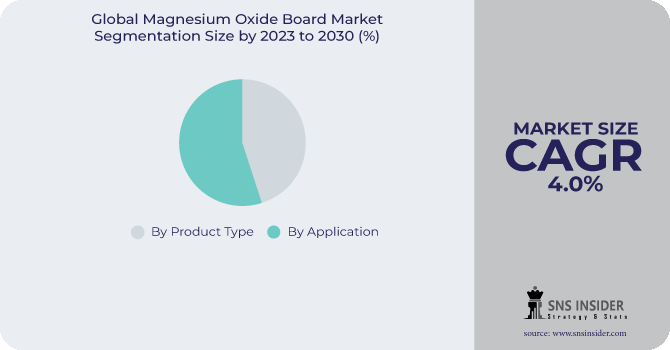 Get Customized Report as Per Your Business Requirement - Request For Customized Report
REGIONAL ANALYSIS
Asia Pacific is expected to be the fastest-growing market, owing to rising demand from end-use industries such as building and construction and automotive. Rapid urbanization and new construction projects in emerging countries such as India, Japan, China, and others are expected to drive product demand.
North America is seeing consistent expansion due to the rising construction industry, technological innovation, and urbanization. Rising living standards drive more demand for home improvement initiatives. Market growth is driven by rising real estate investments, more consumer expenditure, and increased industrial activity.
Europe is important in the building sector because increased demand for homes in the United Kingdom has boosted the adoption of products as a result of newly constructed home sales at low tax rates. Growing demand for a rising population, green buildings, and increased construction activity will drive market expansion in Europe.
Latin America is expected to rise modestly during the forecast period, owing to an increase in the demand for new eco-friendly goods such as magnesium oxide board, which provides thermal insulation, toxin-free. As a result of shifting patterns and increasing urbanization in Latin America, increased construction of commercial structures like multiplexes and retail malls have contributed to the region's market growth.
Rising residential applications are a major driver in the Middle East and Africa. The increasing development of luxury or innovative structures, as well as the widespread availability of ornamental materials such as MgO Board in a variety of sizes, textures, thicknesses, and colours, can broaden the range of applications.
REGIONAL COVERAGE
North America
Europe
Eastern Europe

Poland

Romania

Hungary

Turkey

Rest of Eastern Europe

Western Europe

Germany

France

UK

Italy

Spain

Netherlands

Switzerland

Austria

Rest of Western Europe
Asia Pacific
China

India

Japan

South Korea

Vietnam

Singapore

Australia

Rest of Asia Pacific
Middle East & Africa
Middle East

UAE

Egypt

Saudi Arabia

Qatar

Rest of Middle East

Africa

Nigeria

South Africa

Rest of Africa
Latin America
Brazil

Argentina

Colombia

Rest of Latin America
KEY PLAYERS
Magnum Board Products, LLC., Ambient Bamboo Products Inc., GemtreeBoard, KUNSHAN ROCKMAX BUILDING MATERIAL CO, Ukrmagnesit, Suparna Building Materials, RPV Industries, Ambient Bamboo Products Inc., North American MgO LLC, Foreverboard California, Inc, and other key players are mentioned in the final report.
GemtreeBoard-Company Financial Analysis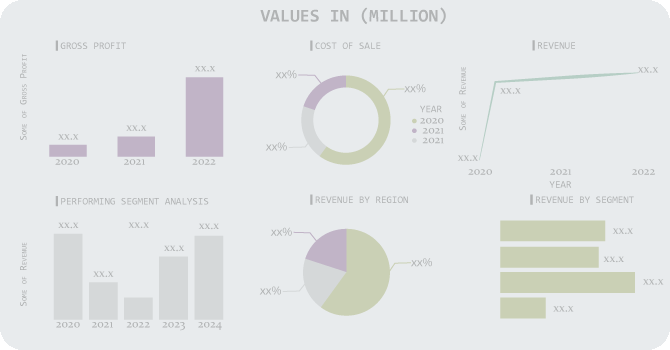 RECENT DEVELOPMENTS
Huber Engineered Woods- In 2021 Huber Engineered Woods Introduces new MgO Panels for Multifamily and Light Commercial Flooring, a new branding to complement AdvanTechTM subfloor assembly and ZIP SystemTM building products with EXACORTM MgO Panels
Magnesium Oxide Board Market Report Scope:
Report Attributes
Details
Market Size in 2022
US$ 19.06 Bn
Market Size by 2030
US$ 26.08 Bn
CAGR
CAGR of 4.0% From 2023 to 2030
Base Year
2022
Forecast Period
2023-2030
Historical Data
2020-2021
Report Scope & Coverage
Market Size, Segments Analysis, Competitive Landscape, Regional Analysis, DROC & SWOT Analysis, Forecast Outlook
Key Segments
• By Product Type (Thin (8 mm), Medium (8-15 mm), and Thick (>15 mm))
• By Application (Commercial, Residential, and Industrial)
Regional Analysis/Coverage
North America (US, Canada, Mexico), Europe (Eastern Europe [Poland, Romania, Hungary, Turkey, Rest of Eastern Europe] Western Europe] Germany, France, UK, Italy, Spain, Netherlands, Switzerland, Austria, Rest of Western Europe]). Asia Pacific (China, India, Japan, South Korea, Vietnam, Singapore, Australia, Rest of Asia Pacific), Middle East & Africa (Middle East [UAE, Egypt, Saudi Arabia, Qatar, Rest of Middle East], Africa [Nigeria, South Africa, Rest of Africa], Latin America (Brazil, Argentina, Colombia Rest of Latin America)
Company Profiles
Magnum Board Products, LLC., Ambient Bamboo Products Inc., GemtreeBoard, KUNSHAN ROCKMAX BUILDING MATERIAL CO, Ukrmagnesit, Suparna Building Materials, RPV Industries, Ambient Bamboo Products Inc., North American MgO LLC, Foreverboard California, Inc
Key Drivers
• Increasing use in the advertising industry as an alternative to materials such as vinyl banners and foam board signs.
• Increased investment in environmentally friendly materials will fuel expansion.
Market Restraints
• Fluctuation in prices may hamper the market growth