REPORT SCOPE & OVERVIEW:
The Outage Management Market size was valued at USD 1.2 billion in 2022 and is expected to grow to USD 5.16 billion by 2030 and grow at a CAGR of 20% over the forecast period of 2023-2030.
The power outages have become a part of our lives. To deal with such situations, there is an entire market dedicated to outage management. This market includes software, services, and hardware that help in dealing with power outages. These products assist and support utilities in managing outages effectively by automating the process of identification, dispatching crews to the site of the incident, and communicating updates to affected customers. The growth of this market is driven by increasing electricity demand worldwide along with the rise in renewable energy sources and advanced technologies for efficient energy distribution. The Outage Management Market is predicted to grow rapidly owing to the increasing need among utilities for reliable and continuous power supply. As a result, we can expect more innovative solutions to emerge from this market as it continues to expand in size and importance over time.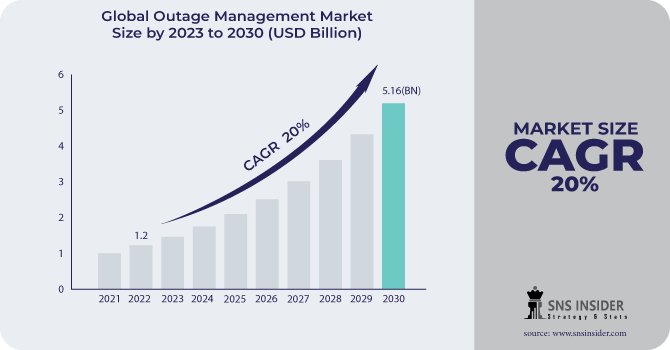 To get more information on Outage Management Market - Request Free Sample Report
MARKET DYNAMICS
KEY DRIVERS:
The rise in the adoption of smart grid technology and IoT-based solutions are also significant contributors to the market growth. Additionally, concerns around public safety and regulatory compliance have made it necessary for utilities to implement advanced outage management systems that can quickly respond to power outages and mitigate their impact on consumers. Furthermore, increased focus on renewable energy sources has spurred investments in the development of robust algorithms and predictive software that enable real-time monitoring of power networks. Overall, these drivers are shaping the Outage Management market towards sustainable growth while ensuring reliable energy supply to consumers around the world.
RESTRAIN:
This could be brought on by a shortage of resources, such as money or labor, or it might be the result of regulatory restrictions that restrict what businesses can do. Technology restrictions or a delayed rate of consumer adoption are two more potential bottlenecks. Whatever the reason, these limitations might prevent the business from expanding and make it difficult for service providers to compete with one another. Decision-makers in this field must be aware of any potential obstacles they may encounter and devise imaginative ways to get around them through strategic planning to keep providing worthwhile services to their clients.
OPPORTUNITY:
The market for outage management is a profitable and expanding sector that has been gaining ground recently. The need for efficient outage management systems has grown as power outages are growing more common as a result of rising demand, deteriorating infrastructure, and severe weather. New market players have emerged as a result, offering cutting-edge technology like real-time monitoring systems and predictive maintenance powered by AI. Businesses in this sector are in a good position to benefit from the rising demand for dependable energy services across sectors like utilities, healthcare, transportation, and telecommunications. Companies have plenty of potential to innovate and take a piece of this market, as there are an increasing number of vendors contending for market share and the landscape of customer wants is constantly changing.
CHALLENGES:
Coordination Amang Stakeholders

Safety consideration

Requirement of update and combine outdated systems
The requirement to update and combine outdated systems with contemporary technologies is one of the main issues. Numerous businesses have previously purchased outage management software without modifying it to work with other helpful technologies like GIS mapping or smart grids. Making decisions about which data to prioritize and how to manage data more efficiently is another difficulty. Companies must choose which data among the many streams of information coming in from many sources will offer insightful information that will improve their capacity to react swiftly to disruptions. The best system performance during outages still depends on efficient cooperation between regional operators and local utilities. As we transition to more decentralized energy models that utilize renewable energy sources.
IMPACT OF RUSSIAN UKRAINE WAR
The outage management business, particularly in Ukraine, has been significantly impacted by the Russian-Ukraine war. Power outages have increased as a result of the conflict, which has increased demand for outage management products and services. In addition, utility providers now find it challenging to quickly locate and resolve problems due to the infrastructure damage brought on by military operations. The need for advanced metering infrastructure (AMI), distribution automation (DA), and other smart grid technology has increased as a result, allowing utilities to quickly identify and resolve issues. To lessen its reliance on Russian gas imports, the Ukrainian government is also making significant investments in modernizing its energy industry. Excellent prospects have been generated by this action for international businesses that provide outage management.
IMPACT OF ONGOING RECESSION
Therefore, the outage management market has been significantly impacted by the ongoing recession. Companies are postponing system updates and expansions as they cut back on expenditures to save money for uncertain times. The demand for new outage management systems and the technological services that support them has decreased as a result of the slowdown in investment. Additionally, utility firms that are seeing a decline in customer revenue are hesitant to spend money on pricey upgrades or the replacement of old infrastructure. Utility companies' capacity to maintain physical infrastructure has also been hampered by the pandemic, resulting in a backlog of maintenance and repair tasks that will demand more money in the future.
IMPACT OF COVID-19
Around the world, COVID-19 has led to the temporary closure of business and industrial facilities as well as the suspension of public transport services. It hurts the electricity demand. The nationwide lockout has created a small rise in residential power demand, which has caused no stay-at-home advice. Utility companies are adjusting their operations to the COVID-19 environment to provide delayed services. so they may concentrate on enhancing grid resilience and asset management, which are the key priorities for utilities. the use of technology to support access, edge computing, machine learning, and remote monitoring to make sure the electrical grid isn't disrupted, enormous volumes of data and analytics are used.
KEY MARKET SEGMENTS
By Type
Standalone outage management system

Integrated outage management system.
By Component
Software System

Communication System
By End-User Industry
Private Utility

Public Utility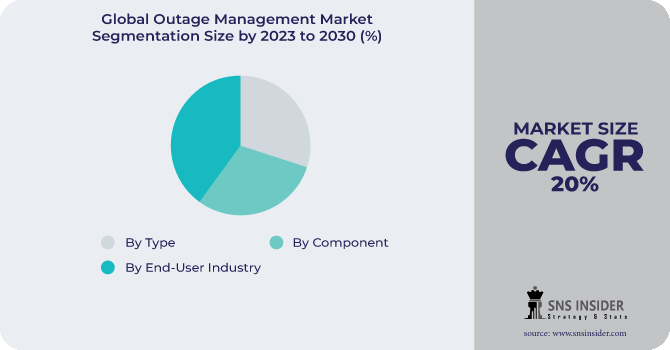 Need any customization research on Outage Management Market - Enquiry Now
REGIONAL ANALYSIS
The analysis provides market insights for each region separately, including North America, Europe, Asia-Pacific, and the Rest of the World. Due to an increase in restoration power and a decrease in crew management expenses and outage costs with simple historical facts, the North American Outage Management System market segment dominates this market. The US is the greatest contributor to the North American outage management system market.
Additionally, the US, Canada, Germany, France, the UK, Italy, and Spain are the primary nations examined in the market report.
REGIONAL COVERAGE:
North America
Europe
Germany

UK

France

Italy

Spain

The Netherlands

Rest of Europe
Asia-Pacific
Japan

South Korea

China

India

Australia

Rest of Asia-Pacific
The Middle East & Africa
Latin America
Brazil

Argentina

Rest of Latin American
KEY PLAYERS
The Major Players are ABB, General Electric, Oracle, Schneider Electric, Siemens, CGI Inc., Advanced Control Systems, Inc., FUTURA SYSTEMS, INC., Intergraph Corporation, Milsoft Utility Solutions., Survalent Technology Corporation, S&C Electric Company, Open Systems International, Inc., FirstEnergy Corp., Hexagon AB, Kaihen., Westinghouse Electric Company LLC., Power System Engineering, Inc., Ripley Power & Light Company, SEDC and other players listed in the final report.
Siemens​​​​​​​​​​​​​​​​​​​​​-Company Financial Analysis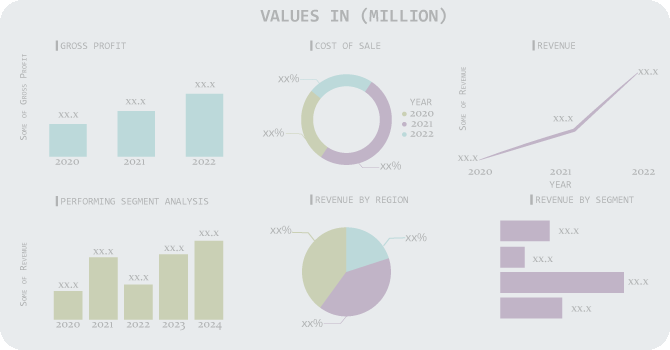 ​​​​​​​
RECENT DEVELOPMENTS
The market for outage management has shown tremendous growth recently, and this pattern is anticipated to continue. Power outages are a serious worry for utilities and consumers alike due to the growing reliance on electricity for daily life. To reduce the time it takes to restore power, utilities are actively investing in outage management technologies that can instantly detect and identify issues.

These solutions not only aid customers by reducing downtime, but they also assist utilities in reducing costs related to customer complaints and emergency repair work. The market has also witnessed some technology developments, such as AI-based platforms that permit real-time grid operation monitoring. Additionally, the demand for improved outage notification has increased due to increased infrastructure development and the proliferation of smart grids.
Outage Management Market Report Scope:
Report Attributes
Details
Market Size in 2022
US$ 1.2 Bn
Market Size by 2030
US$ 5.16 Bn
CAGR
CAGR of 20% From 2023 to 2030
Base Year
2022
Forecast Period
2023-2030
Historical Data
2020-2021
Report Scope & Coverage
Market Size, Segments Analysis, Competitive Landscape, Regional Analysis, DROC & SWOT Analysis, Forecast Outlook
Key Segments
• By Type (Standalone outage management system, Integrated outage management system.)
• By Component (Software System, Communication System)
• By End-User Industry (Private Utility, Public Utility)
Regional Analysis/Coverage
North America (USA, Canada, Mexico), Europe
(Germany, UK, France, Italy, Spain, Netherlands,
Rest of Europe), Asia-Pacific (Japan, South Korea,
China, India, Australia, Rest of Asia-Pacific), The
Middle East & Africa (Israel, UAE, South Africa,
Rest of Middle East & Africa), Latin America (Brazil, Argentina, Rest of Latin America)
Company Profiles
ABB, General Electric, Oracle, Schneider Electric, Siemens, CGI Inc., Advanced Control Systems, Inc., FUTURA SYSTEMS, INC., Intergraph Corporation, Milsoft Utility Solutions., Survalent Technology Corporation, S&C Electric Company, Open Systems International, Inc., FirstEnergy Corp., Hexagon AB, Kaihen., Westinghouse Electric Company LLC., Power System Engineering, Inc., Ripley Power & Light Company, SEDC
Key Drivers
• The increasing demand for uninterrupted power supply
• Efficient grid management
Market Opportunities
• The need for efficient outage management systems