Report Scope & Overview:
The Persulfates Market size was valued at USD 825 million in 2022. It is expected to grow to USD 1094.79 million by 2030 and grow at a CAGR of 3.6% over the forecast period of 2023-2030.
The increasing demand for polymers and plastics in various industries, such as automotive, packaging and construction, drives the need for persulfates as polymerization initiators. The rising adoption of electronic devices and the subsequent demand for printed circuit boards further fuel the market growth. Additionally, the growing awareness regarding water pollution and the need for effective water treatment solutions propel the demand for persulfates in this sector.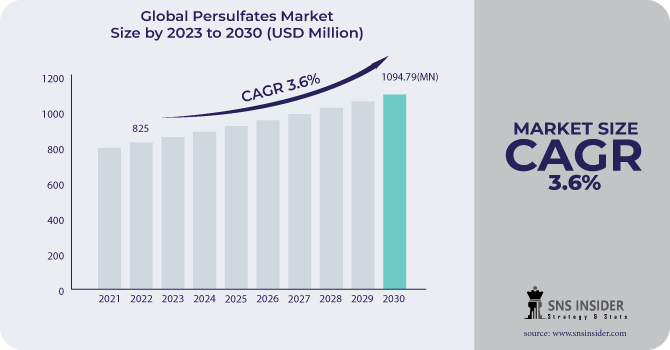 Get E-PDF Sample Report on Persulfates Market - Request Sample Report
Persulfates are salts of peroxydisulfuric acid, with the most common types being ammonium, sodium, and potassium persulfate. These compounds are highly soluble in water and possess excellent oxidative properties. Due to their stability and versatility, persulfates find extensive use in a wide range of industries.
The ammonium persulfates segment dominated the persulfates market with the highest revenue share of about 52% in 2021. The growth is attributed to the extensive range of applications that ammonium persulfate offers. Notably, it is widely utilized in various industries such as metal surface treatment, semiconductor manufacturing, and copper etching on printed circuit boards. Furthermore, its versatility extends to wastewater treatment, where it plays a crucial role, as well as serving as an initiator for the emulsion polymerization of acrylic monomers. Ammonium persulfate, commonly referred to as APS finds application in numerous commercial industries. Within the textile industry, it serves as a vital component for denim desizing and bleach activators. In the paper industry, APS is instrumental in the processes of de-inking and re-pulping. Moreover, its significance extends to the fields of molecular biology and biochemistry, where it acts as a reagent for the preparation of polyacrylamide gels.
Market Dynamics
Drivers
Increasing demand for persulfates in various industries

Increasing wastewater treatment projects
Persulfates are utilized by the water treatment industry to address various contaminants, including halogenated olefins, perfluorinated substances, phenols, pharmaceutical drugs, inorganics, and more. The increasing global focus on wastewater management initiatives is stimulating the growth of the water treatment sector, consequently driving the expansion of the persulfates market.
Restraint
High cost associated with the production and transportation of persulfates

Health concerns associated with the persulfates
The utilization of Persulfates presents numerous health hazards, leading to the implementation of various restrictions on their usage. For example, the New Jersey Department of Health and Senior Services has classified sodium persulfates as a hazardous substance due to their potential to cause irritation to the eyes, nose, and skin, as well as respiratory issues. Additionally, the raw materials involved in the manufacturing of persulfates, such as persulfuric acid, have detrimental effects on human health. Consequently, these aforementioned health concerns associated with the use of persulfates may impede the expansion of the persulfates market.
Opportunities
Challenges
Impact of Russia-Ukraine War:
The Persulfates market has been negatively impacted by the Russia-Ukraine conflict. The war has caused supply chain disruptions, increased energy prices, and weakened consumer confidence. This has led to a decline in demand for Persulfates in both the industrial and consumer sectors. Russia and Ukraine are major producers of Persulfates, and the war has disrupted production and transportation. The Russia-Ukraine conflict has also had a negative impact on consumer confidence. Consumers are more likely to save their money and avoid spending on non-essential items during times of economic uncertainty. This has led to a decline in demand for Persulfates in the consumer sector. Disruptions have led to higher prices for Persulfates.
Impact of Recession:
During a recession, consumer spending tends to decline, leading to a decrease in demand for goods and services. This reduction in demand can have a direct impact on the persulfates market. Industries that heavily rely on persulfates, such as cosmetics and electronics, may experience a decrease in production due to reduced consumer purchasing power. Consequently, the demand for persulfates in these sectors may decline, negatively affecting the market. Furthermore, a recession often leads to a decrease in investment and capital expenditure. This reduction in financial resources can hinder research and development efforts within the persulfates industry. As a result, innovation and the introduction of new products may be delayed, further impeding market growth.
Market Segmentation
By Type
Sodium Persulfate

Ammonium Persulfate

Potassium Persulfate
By End-use Industry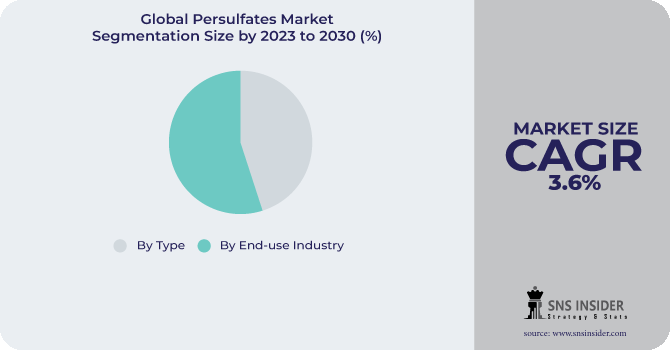 Get Customized Report as Per Your Business Requirement - Request For Customized Report
Regional Analysis
Asia Pacific dominated the Persulfates Market with the highest revenue share of about 47% in 2022. The growth is attributed to the presence of a multitude of plastic manufacturing industries in countries like China, Indonesia, and, Malaysia. Notably, Thailand's plastic production industry has experienced rapid expansion in recent years, boasting an impressive number of around 5,000 operating companies. China, on the other hand, stands as the largest global producer of plastics, accounting for approximately one-third of the world's plastic production. Astonishingly, China consumed a staggering 90.88 million tons of plastic in 2020 alone. The country is home to over 17,000 plastic factories, primarily concentrated in the Eastern and Central South regions. Furthermore, China proudly hosts some of the most prominent electronic manufacturing companies, including Lenovo, BOE Technology, and Huawei. The increasing demand for persulfates in the Asia Pacific region is also driven by end-use industries such as electronics, polymer manufacturing, and cosmetics & and personal care. Additionally, the forecast period anticipates significant growth in newer applications of persulfates, such as water treatment and soil remediation. The rising concerns surrounding soil pollution are expected to fuel the consumption of persulfates in soil remediation throughout the Asia Pacific region.
North America held a significant revenue share of the Persulfates Market and is expected to grow with a CAGR of about 3.8% during the forecast period. This is attributed to the strong presence of market leaders in the plastic industry, including ExxonMobil's chemical division and DoW Chemical in the United States. It is worth noting that the plastics industry ranks as the third-largest manufacturing sector in the country. Notably, the United States is a major producer of various polymers such as high-density polyethylene, low-density polyethylene, and linear low-density polyethylene.
REGIONAL COVERAGE:
North America
Europe
Eastern Europe

Poland

Romania

Hungary

Turkey

Rest of Eastern Europe

Western Europe

Germany

France

UK

Italy

Spain

Netherlands

Switzerland

Austria

Rest of Western Europe
Asia Pacific
China

India

Japan

South Korea

Vietnam

Singapore

Australia

Rest of Asia Pacific
Middle East & Africa
Middle East

UAE

Egypt

Saudi Arabia

Qatar

Rest of the Middle East

Africa

Nigeria

South Africa

Rest of Africa
Latin America
Brazil

Argentina

Colombia

Rest of Latin America
Key Players
The major key players are Mitsubishi Gas Chemical Company, Inc., United Initiators, Fujian ZhanHua Chemical Co., Ak-Kim, Adeka Corporation, PeroxyChem, Yatai Electrochemistry Co. Ltd., UI VR Persulfates, RheinPerChemie, Hebei Jiheng Group, San Yuan Chemical Co. Ltd., Evonik Active Oxygens, and other key players mentioned in the final report.
United Initiators-Company Financial Analysis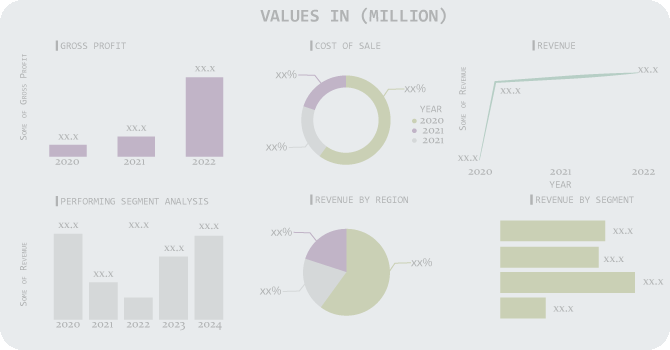 Recent Development:
In September 2022, Calibre Chemicals, a Mumbai-based company specializing in nutrition, pharmaceuticals, and personal care specialty chemicals, announced its definitive agreement to acquire RheinPerChemie GmbH (RPC) from Evonik, a leading global specialty chemical company.

In April 2022, Evonik's Active Oxygens business line unveiled a new sustainability strategy for its hydrogen peroxide (H2O2), peracetic acid, and persulfates. This strategy aims to reduce carbon emissions and enhance resource efficiency in production, with the ultimate goal of achieving climate neutrality across the business line by 2040.
Persulfates Market Report Scope
Report Attributes
Details
Market Size in 2022
US$ 825 Mn
Market Size by 2030
US$ 1094.79 Mn
CAGR
CAGR of 3.6% From 2023 to 2030
Base Year
2022
Forecast Period
2023-2030
Historical Data
2019-2021
Report Scope & Coverage
Market Size, Segments Analysis, Competitive Landscape, Regional Analysis, DROC & SWOT Analysis, Forecast Outlook
Key Segments
• By Type (Sodium Persulfate, Ammonium Persulfate, and Potassium Persulfate)
• By End-use Industry (Polymers, Cosmetics & Personal Care, Pulp, Paper & Textile, Electronics, Oil & Gas, Water Treatment, Soil Remediation, and Others)
Regional Analysis/Coverage
North America (US, Canada, Mexico), Europe (Eastern Europe [Poland, Romania, Hungary, Turkey, Rest of Eastern Europe] Western Europe] Germany, France, UK, Italy, Spain, Netherlands, Switzerland, Austria, Rest of Western Europe]), Asia Pacific (China, India, Japan, South Korea, Vietnam, Singapore, Australia, Rest of Asia Pacific), Middle East & Africa (Middle East [UAE, Egypt, Saudi Arabia, Qatar, Rest of Middle East], Africa [Nigeria, South Africa, Rest of Africa], Latin America (Brazil, Argentina, Colombia Rest of Latin America)
Company Profiles
Mitsubishi Gas Chemical Company, Inc., United Initiators, Fujian ZhanHua Chemical Co., Ak-Kim, Adeka Corporation, PeroxyChem, Yatai Electrochemistry Co. Ltd., UI VR Persulfates, RheinPerChemie, Hebei Jiheng Group, San Yuan Chemical Co. Ltd., Evonik Active Oxygens
Key Drivers
• Increasing demand for persulfates in various industries
• Increasing wastewater treatment projects
Market Restraints
• High cost associated with the production and transportation of persulfates
• Health concerns associated with the persulfates