REPORT SCOPE & OVERVIEW:
The Technical Textile Market size was USD 188.43 billion in 2022 and is expected to reach USD 267.96 billion by 2030 and grow at a CAGR of 4.5 % over the forecast period of 2023-2030.
The Technical Textile Market describes the manufacture sale, and use of textiles that are engineered and developed for particular functional requirements. In order to satisfy the need of various industries and applications, these textiles are developed to have specialized qualities and traits.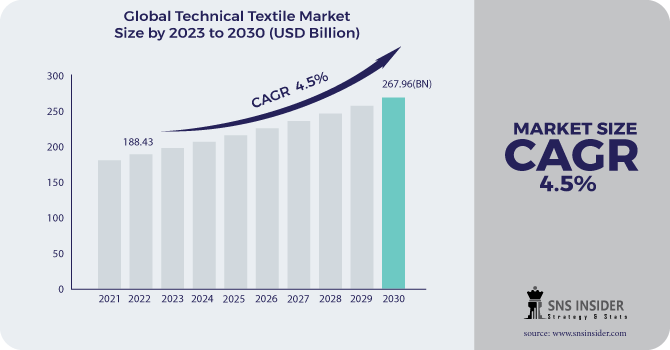 Get More Information on Technical Textile Market - Request Sample Report
Automotive, aerospace, healthcare, construction, agriculture, sports, and many other industries all use technical textiles. They provide advantages in terms of functionality, including high strength, endurance, chemical resistance, flame resistance, breathability, and insulation.
Due to a number of factors, including rising industry demand for advanced materials, technological development, and the need for creative solutions, the market for technical textiles has seen significant growth in recent years. Over the forecast period, the market is anticipated to grow as more end-user industries become aware of the advantages of technical textiles.
These products are discovered to be 20% to 25% lighter than conventional materials, which reduces weight and improves vehicle fuel efficiency. Technical textiles majorly use man-made raw materials. Thus, synthetic raw materials production using the technology is likely to impact the market growth of the Technical Textile Market.
Agriculture and farming activities have adopted the technical textile to increase crop production have added to the growth of the technical textile market. In agriculture, technical textiles are used in the manufacturing of nets and shade cloth because of their qualities of temperature, and water resistance.
MARKET DYNAMICS
KEY DRIVERS:
There has been growth in awareness of products made from technical textiles. The products give a high level of functionality and are safe and long-lasting. The high innovation and technological advancements have made products durable, and lightweight giving high strength.
Increasing demand from the packaging industry

Increasing demand for healthcare

Increasing demand from the automotive and rail transport industry

Multiple advantages of technical textile products
RESTRAIN:
Major companies are concentrating on restructuring their business in order to adopt new engineering technologies, like smart textiles and nanotechnology, as a result of rising consumer preference for protective clothing combined with well-liked fashion trends. As a result, market expansion is anticipated to be constrained by an increase in the cost of the final product.
OPPORTUNITY:
Technical textiles can be used in areas like interior textiles, seating systems, filtration, and acoustic insulation in the automotive and aerospace industries. Fuel efficiency, comfort, and safety can all be improved in these industries by using lightweight, high-performance textiles.
CHALLENGES:
It takes significant research and development (R&D) investments to create innovative technical textiles. For smaller businesses or those with limited resources, the costs involved with developing new materials, testing them, and obtaining regulatory approvals can be high.
Volatility in raw material prices

Substitutes for the products
IMPACT OF RUSSIAN UKRAINE WAR
Tensions between Russia and Ukraine are contributing to an ever-increasing instability of the global order. Most of these unforeseen events are the result of the ongoing conflict between Russia and Ukraine, which has been going on since February 2022. Russia has seen a big change as a result of fashion retailing. Major domestic brands no longer conduct business in the country. In March 2022, allegedly more than 400 foreign businesses ceased operations in Russia.
Payment issues brought on by the sanctions are the main concern with regard to trade with Russia, particularly with respect to Asian countries like Bangladesh and Vietnam. This could have a negative impact on the textile and apparel industries in Asia and India, but the demand for these goods in Russia isn't as high. Only clothing accounted for half of Russia's monthly imports of textiles and apparel from Asian countries, worth $600-650 million. Depending on how long the sanctions last, the Asian countries will lose close to $2–2.5 billion or more in export revenues if Russian imports stop or significantly decrease for a while as a result.
IMPACT OF COVID-19
Covid-19 has influenced the technical textile market growth. Technical textiles are used in the healthcare sector for the production of many medical equipment such as PPE kits, masks, as well as gloves. During the Covid-19 the healthcare sector and hospitals were in large demand for medical PPE kits. Hence, Covid-19 had driven the technical textile market growth.
According to the survey conducted of the overall textile industry with a response rate of around 57%, it was found that 7.2% of companies surveyed were small-scale businesses, 34 % were medium-scale businesses, and 57 % were large-scale businesses.
Among these companies, 72% companies continued their businesses whereas 28 % companies stopped their operations during pandemic. The main reason for this was the decline in orders, also financial instability, and supply chain disruptions. Small scale industries were majorly affected.
MARKET SEGMENTATION
By Raw Materials
Natural Fibre

Synthetic Polymer

Mineral

Others
By Manufacturing
3D Weaving

3D Knitting

Thermoforming

Finishing Treatments

Nano Technology

Handmade Elements

Heat-set Synthetics

Others
By End Use
Clothtech Textile

Agro Textiles

Indutech Textile

Sportech Textile

Buildtech Textiles

Hometech Textile

Protech Textile

Transtech Textile

Packtech Textile

Medtech Textile

Others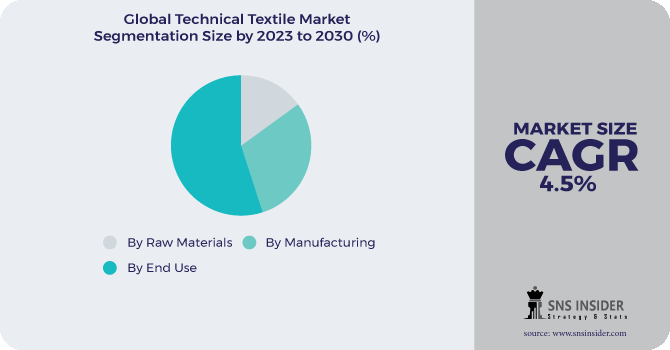 Get Customized Report as per Your Business Requirement - Request For Customized Report
REGIONAL ANALYSIS
In 2022, Asia Pacific dominated the market and generated more than 46 percent of global revenue. Over the forecast period, a rise in demand for protective, and industrial clothing is anticipated to fuel market expansion.
It is anticipated that the regional market for technical textiles will experience growth due to the expansion of China's residential, commercial, and industrial sectors as well as government policies supporting India's overall textile market.
Fashion apparel and household applications are the main drivers of product demand in Europe, and this trend is expected to last throughout the forecast period. The expansion of the tourism, automotive, and healthcare industries is also anticipated to significantly boost the demand for various end-use textile segments, which will in turn propel the industry's expansion.
Because of the significant demand for products from the construction and healthcare application industries, North America is anticipated to grow at a nominal CAGR during the forecast period. Additionally anticipated to support market growth during the forecast period is an increase in infrastructure development and renovation activities.
REGIONAL COVERAGE:
North America
Europe
Germany

UK

France

Italy

Spain

The Netherlands

Rest of Europe
Asia-Pacific
Japan

South Korea

China

India

Australia

Rest of Asia-Pacific
The Middle East & Africa
Latin America
Brazil

Argentina

Rest of Latin American
RECENT DEVELOPMENT
The Indian technical textile industry will achieve a CAGR of 50 percent in the future, according to the Ministry of Textiles and Coordinator of the National Technical Textile Mission (NTTM) said in an international conference on technical textiles.

US' Regal Lager is going to launch plant-based diapers & wipes.

From Apr 2022 to Jan 2023, Meditech exports increased by 60 percent and Geotech textiles dropped by 45 percent.
Key players:
Some of the major key players in the technical textile market are Toray Industries Inc, Low & Bonar PLC, Kimberly-Clark Corp, Freudenberg Group, Huntsman International LLC, Ahlstrom-Munksjo, Mitsui Chemicals Inc, Berry Global Group Inc, Asahi Kasei Advance Corp, Milliken & Company, and other players.
Kimberly-Clark Corp-Company Financial Analysis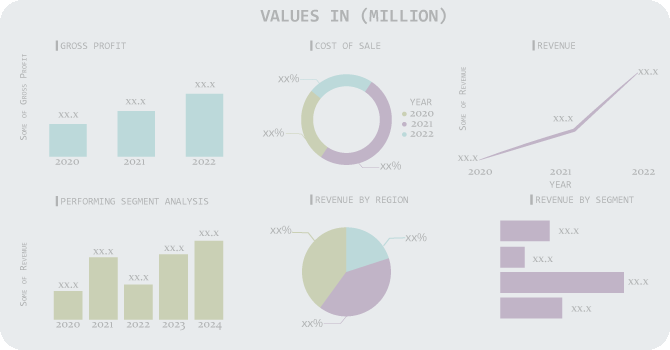 Technical Textile Market Report Scope:
Report Attributes
Details
Market Size in 2022
US$ 188.43 Bn
Market Size by 2030
US$ 267.96 Bn
CAGR
CAGR of 4.5% From 2023 to 2030
Base Year
2022
Forecast Period
2023-2030
Historical Data
2020-2021
Report Scope & Coverage
Market Size, Segments Analysis, Competitive Landscape, Regional Analysis, DROC & SWOT Analysis, Forecast Outlook
Key Segments
• By Raw Materials (Natural Fibre, Synthetic Polymer, Mineral, Others)
• By Manufacturing (3D Weaving, 3D Knitting, Thermoforming, Finishing Treatments, Nano Technology, Handmade Elements, Heat-set Synthetics, Others)
• By End Use (Clothtech Textile, Agro Textiles, Indutech Textile, Sportech Textile, Buildtech Textiles, Hometech Textile, Protech Textile, Transtech Textile, Packtech Textile, Medtech Textile, Others)
Regional Analysis/Coverage
North America (USA, Canada, Mexico), Europe
(Germany, UK, France, Italy, Spain, Netherlands,
Rest of Europe), Asia-Pacific (Japan, South Korea,
China, India, Australia, Rest of Asia-Pacific), The
Middle East & Africa (Israel, UAE, South Africa,
Rest of Middle East & Africa), Latin America (Brazil, Argentina, Rest of Latin America)
Company Profiles
Toray Industries Inc, Low & Bonar PLC, Kimberly-Clark Corp, Freudenberg Group, Huntsman International LLC, Ahlstrom-Munksjo, Mitsui Chemicals Inc, Berry Global Group Inc, Asahi Kasei Advance Corp, Milliken & Company
Key Drivers
• Increasing awareness and acceptance of the products
Market Opportunities
• Aerospace & Automotive Industry