Report Scope & Overview:
Pigment Dispersions Market Size was valued at USD 37 billion in 2022, and is expected to reach USD 50.64 billion by 2030, and grow at a CAGR of 4.0% over the forecast period 2023-2030.
Pigment dispersion is when solid particles that don't dissolve in water or an organic solvent are mixed together. Pigment Dispersion particles have a big impact on how lacquers, paints, and printing inks turn out in the end. The main jobs of these dispersions are to protect against chemical attacks, fading, weather, and high temperatures. The main places where it is used are in the car, chemical, and building industries.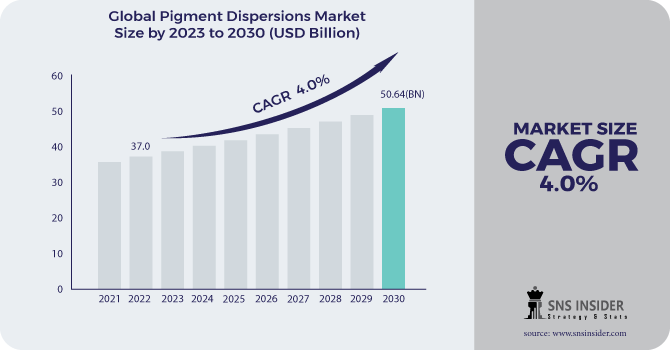 According to our analysis, some of the most important market factors and trends in the Global Pigment Dispersion Market are the rapid increase in construction activities, the rising demand for protective paints in the automotive industry, and UV protection paints for aircrafts. A lot of people are buying more wood finish paints, which is expected to drive up the demand for pigment dispersion over the assessment period. Over the next ten years, the Global Construction Market is expected to grow faster than the world's GDP, as Asian economies continue to industrialise and the U.S. gets back on its feet after the global financial crisis. The growth of the market is also expected to be fueled by mergers and acquisitions between automakers and suppliers, as well as by more cars being made and sold. During the assessment period, from 2020 to 2030, the growth of the market is expected to be driven by rapid urbanisation and rising disposable income in emerging economies. But strict rules put in place by different government agencies have limited the use of toxic organic chemicals used to make pigment dispersion. This is likely to slow the growth of the market.
Market Dynamics:
Drivers:
The packaging business is getting bigger.

Paint and coating sales are on the rise.

Changes in how people want coloured packaging
Restraints:
Opportunity:
Research and development activities are getting more money.

Green technology is becoming more popular, and environmental laws are getting stricter.
Challenge:
Impact of Covid-19:
COVID-19 has put the industrial and manufacturing sectors around the world into a new way of working that nobody knows about. Government rules about how many people can be in one place at once have had a big effect on the sectors. For example, the virus had a big effect on the construction business. During the lockdown, factories and production lines in the auto, electronics, and aerospace industries were temporarily shut down. China is the main source of raw materials for most industries. Because of this, disruptions in the supply chain have also had a big effect on industrial output. Because of the pandemic, the world economy had shrunk. As long as the pandemic lasts, COVID-19 will keep having an effect on all industries. Losses in investments, a lack of cash, a lack of workers, problems in the supply chain, and the general uncertainty of the global economy all slow down the growth of both the industrial and construction sectors. Many countries, like India, China, and the US, have opened their economies, and manufacturing has started up again, but there aren't as many workers or materials as before. As most of the economies have opened, industrial output is likely to go up again. COVID-19 has also hurt the sales volume of pigment dispersions in 2020 for the companies that make them. Major market players are reducing the risk by putting more emphasis on local management and looking for untapped market opportunities.
Key Players:
Akzo Nobel N.V., BASF SE, Kelly-Moore Paints, The Sherwin-Williams Company, KANSAI PAINT CO.,LTD, Dunn-Edwards Corporation, Clariant, PPG Industries, Inc., Tikkurila Oyj, RPM International Inc., and other players.
Market Segment:
By Dispersion Type
By Application
Automotive paints & coatings

Decorative paints & coatings

Industrial paints & coatings

Inks

Plastics

Others
By End-Use Industry
Building & construction

Automotive

Packaging

Paper & printing

Textile

Others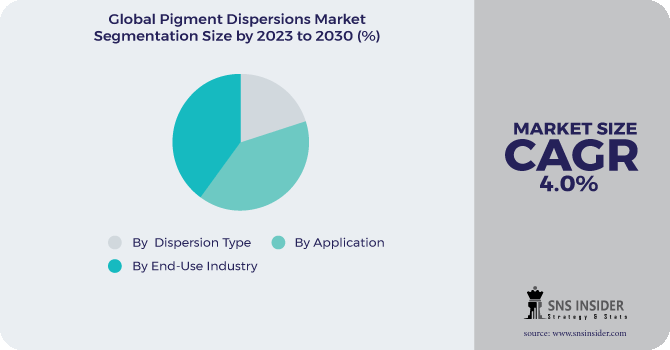 Regional Analysis:
Asia-Pacific, Europe, Latin America, North America, and the Middle East and Africa are the five regions that make up the Global Pigment Dispersion Market. From 2017 to 2023, the aerospace and defence sector in North America is expected to grow the most, which will make it the fastest-growing region. Many countries in the Middle East and Africa, such as Iraq, the United Arab Emirates, Saudi Arabia, Iran, and Kuwait, will need more pigment dispersion because tourism and travel are growing. There are also a lot of oil and gas reserves in this area, which is expected to help the market grow because pigment dispersion is used to protect industrial machinery.
The North American Pigment Dispersion Market is expected to grow a lot because there is a lot of demand, production capacities are growing, and the rate of economic growth is going up. The U.S. is expected to be a big part of the growth of the Pigment Dispersion Market in North America, and Pigment Dispersion is expected to be in high demand from 2017 to 2023, which is the forecast period. As of 2016, the U.S. had the biggest share of the market, followed by Canada in terms of both value and volume. The U.S. is expected to grow at a moderate CAGR because more pigment dispersion-based paints and coatings are being used in the furniture industry. In Europe, the demand for pigment dispersion is expected to grow in countries like Italy, Germany, Spain, the United Kingdom, France, and Russia. This is because more money is being spent on innovation and people have more money to spend. Pigment Dispersion is also expected to grow a lot in Latin American countries like Argentina, Colombia, and Brazil. This is because consumers are spending more on passenger cars and new technologies and inventions are being used in Pigment Dispersion.
REGIONAL COVERAGE:
North America

Europe

Germany

UK

France

Italy

Spain

The Netherlands

Rest of Europe

Asia-Pacific

Japan

south Korea

China

India

Australia

Rest of Asia-Pacific

The Middle East & Africa

Latin America

Brazil

Argentina

Rest of Latin America
Pigment Dispersions Market Report Scope:
Report Attributes
Details
Market Size in 2022
US$ 37 Billion
Market Size by 2030
US$ 50.64 Billion
CAGR
CAGR of 4.0% From 2023 to 2030
Base Year
2022
Forecast Period
2023-2030
Historical Data
2020-2021
Report Scope & Coverage
Market Size, Segments Analysis, Competitive Landscape, Regional Analysis, DROC & SWOT Analysis, Forecast Outlook
Key Segments
• By Dispersion Type (Water-based dispersions, Solvent-based dispersions)
• By Application (Automotive paints & coatings, Decorative paints & coatings, Industrial paints & coatings, Inks, Plastics, Others)
• By End-Use Industry (Building & construction, Automotive, Packaging, Paper & printing, Textile, Others)
Regional Analysis/Coverage
North America (USA, Canada, Mexico), Europe
(Germany, UK, France, Italy, Spain, Netherlands,
Rest of Europe), Asia-Pacific (Japan, South Korea,
China, India, Australia, Rest of Asia-Pacific), The
Middle East & Africa (Israel, UAE, South Africa,
Rest of Middle East & Africa), Latin America (Brazil, Argentina, Rest of Latin America)
Company Profiles
Akzo Nobel N.V., BASF SE, Kelly-Moore Paints, The Sherwin-Williams Company, KANSAI PAINT CO.,LTD, Dunn-Edwards Corporation, Clariant, PPG Industries, Inc., Tikkurila Oyj, RPM International Inc., and other players.
DRIVERS
• The packaging business is getting bigger.
• Paint and coating sales are on the rise.
• Changes in how people want coloured packaging
Restraints
• High prices and poor ability to spread