Report Scope & Overview:
The Specialty Gas Market size was valued at USD 12.14 billion in 2022. It is expected to grow to USD 22.30 billion by 2030 and grow at a CAGR of 7.9% over the forecast period of 2023-2030.
One of the key factors driving the growth of the Specialty Gas Market is the increasing demand for specialty gases in the healthcare sector. These gases are extensively used in medical procedures, such as anesthesia, respiratory therapy, and surgical applications. Moreover, they are vital for the calibration of medical equipment, ensuring accurate and reliable measurements.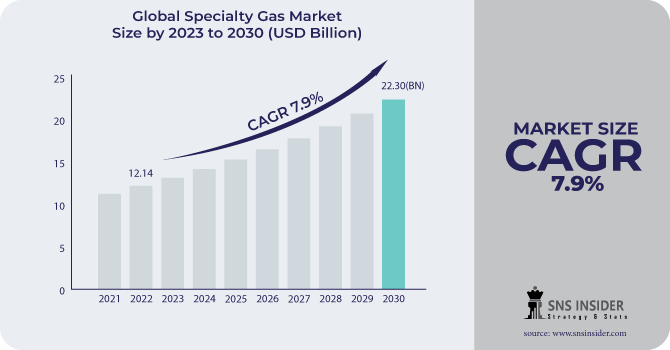 Get E-PDF Sample Report on Specialty Gas Market - Request Sample Report
Furthermore, the manufacturing sector benefits greatly from specialty gases, as they are utilized in various industrial processes. For example, they are crucial for welding, heat treatment, and metal fabrication, ensuring superior product quality and operational efficiency. In the case of scientific research, specialty gases are indispensable tools for conducting experiments and analysis. They are used in laboratories worldwide for applications such as chromatography, spectroscopy, and environmental testing. The exceptional purity and accuracy of these gases enable researchers to obtain precise and reliable results.
The carbon gas segment dominated the Specialty Gas Market with the highest market share of about 31.6% in 2022. Carbon gases are extensively utilized in various medical equipment, including nuclear magnetic resonance imaging, magnetic resonance imaging, and ophthalmology, among others. The demand for carbon gases remains consistently high across sectors such as electronics, manufacturing, healthcare, and chemicals. The expanding range of applications for carbon gases, particularly in instrument calibration, is driving the surge in demand for these gases.
Market Dynamics
Drivers
Rising demand for specialty gases in various industries

The growing need for high-purity gases in research and development activities
The advancements in scientific research and technological innovations have led to a greater emphasis on precision and accuracy. As a result, researchers and developers require gases with extremely high levels of purity to ensure reliable and consistent results. These high-purity gases are essential in various industries such as pharmaceuticals, electronics, and aerospace, where even the slightest impurities can have detrimental effects on the final product or experiment. Moreover, the rising awareness regarding environmental concerns has prompted the adoption of cleaner and greener technologies. Specialty gases play a crucial role in this transition by enabling the development of eco-friendly alternatives. For example, in the automotive industry, specialty gases are used in the production of electric vehicle batteries, reducing the reliance on fossil fuels and contributing to a more sustainable future. Furthermore, the increasing focus on healthcare and medical research has further fueled the demand for specialty gases. These gases are utilized in medical imaging, diagnostics, and therapeutic applications, where precision and purity are of utmost importance. The continuous advancements in medical technology and the growing need for accurate diagnosis and treatment options have created a significant market for specialty gases.
Restraint
Opportunities
Growing demand for eco-friendly specialty gases

Expanding applications of specialty gases in emerging industries
Expanding applications of specialty gases in emerging industries, such as renewable energy and nanotechnology, present significant opportunities for market growth. As these industries continue to evolve, the demand for specialty gases customized to meet their specific needs is expected to rise.
Challenges
Impact of Russia-Ukraine War:
Russia and Ukraine are major producers of specialty gases, which are used in a wide range of industries, including electronics, semiconductors, and healthcare. The war has caused disruptions to the supply of specialty gases, leading to higher prices and shortages. In addition, the war has also caused increased uncertainty and volatility in the global economy, which has led to some businesses delaying or canceling investments in new specialty gas production capacity. As a result of these factors, the global specialty gas market is expected to grow at a slower rate in the next few years than it would have without the war. In 2022, global specialty gas prices increased by an average of 25%. The Russia-Ukraine war has had a significant impact on a variety of industries that rely on specialty gases. For example, the semiconductor industry has been particularly hard hit, as Russia and Ukraine are major suppliers of neon, a key gas used in the production of semiconductors. The war has also had a negative impact on the electronics industry, as specialty gases are used in a variety of electronic products, such as smartphones and computers. In addition, the healthcare industry has also been impacted by the war, as specialty gases are used in a variety of products and procedures.
Impact of Recession:
The recession has had a profound impact on the specialty gas market, leading to a decrease in demand and a shift in consumer behavior. Specialty gases are used in a variety of electronic products, such as smartphones and computers. During a recession, consumers are typically less likely to spend money on new electronics, which would lead to a decrease in demand for specialty gases. The recession has presented several challenges for the specialty gas market. The detailed impact is included in the final report.
Market segmentation
By Product
Noble Gases

Ultra-high Purity Gases

Carbon Gases

Halogen Gases

Others
By Application
Manufacturing

Healthcare

Electronics

Institutions

Others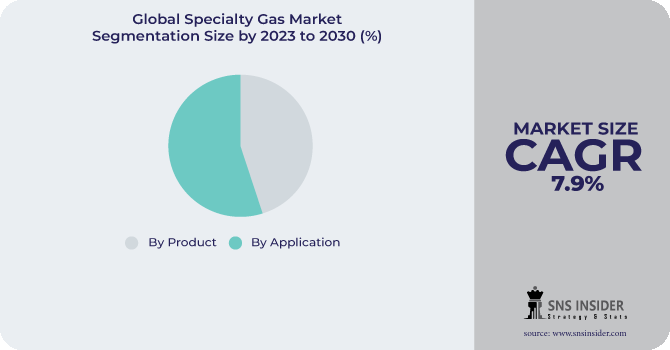 Get Customized Report as Per Your Business Requirement - Request For Customized Report
Regional Analysis
Asia Pacific dominated the Specialty Gas Market with the highest revenue share of about 40.5% in 2022. This region boasts numerous electronic manufacturing hubs located in China, Japan, and India. Moreover, local governments are actively promoting the expansion of various end-use industries, including consumer electronics, oil and gas, manufacturing, and healthcare, through initiatives such as Production-Linked Incentives (PLI), subsidies, and favorable Foreign Direct Investment (FDI) policies. These factors collectively contribute to the remarkable growth and dominance of the specialty gas industry in the Asia Pacific region.
Europe held a significant revenue share of the Specialty Gas Market and is expected to grow with a CAGR of about 8.4% during the forecast period. The region is actively focusing on expanding its production capacity to meet the increasing demand from various end-use industries. Furthermore, the healthcare and pharmaceutical sectors are witnessing substantial investments, which are expected to further drive the demand for specialty gases in the region. For example, the French government announced a public funding plan of USD 8.33 billion in June 2021, aimed at advancing the healthcare system within the country. Europe, being the second largest chemical producer globally, boasts advanced healthcare technologies and facilities. However, it lags behind in the semiconductor industry. Nevertheless, certain European countries, including the Netherlands, Germany, France, and the U.K., are witnessing a surge in demand for electronic gases. By enhancing production capacity and capitalizing on investments in the healthcare and pharmaceutical sectors, Europe is poised to maintain its strong position in the Specialty Gas Market. Additionally, the growth potential in the semiconductor industry presents an opportunity for European countries to bridge the gap and further diversify their specialty gas market.
REGIONAL COVERAGE:
North America
Europe
Eastern Europe

Poland

Romania

Hungary

Turkey

Rest of Eastern Europe

Western Europe

Germany

France

UK

Italy

Spain

Netherlands

Switzerland

Austria

Rest of Western Europe
Asia Pacific
China

India

Japan

South Korea

Vietnam

Singapore

Australia

Rest of Asia Pacific
Middle East & Africa
Middle East

UAE

Egypt

Saudi Arabia

Qatar

Rest of the Middle East

Africa

Nigeria

South Africa

Rest of Africa
Latin America
Brazil

Argentina

Colombia

Rest of Latin America
Key Players
The major key players are Air Liquide, Norco Inc., Messer Group GmbH, Air Products and Chemicals, Inc., Taiyo Nippon Sanso Corp., Showa Denko K. K., MESA Specialty Gases & Equipment, Linde plc., Coregas, Weldstar, and other key players mentioned in the final report.
Air Liquide-Company Financial Analysis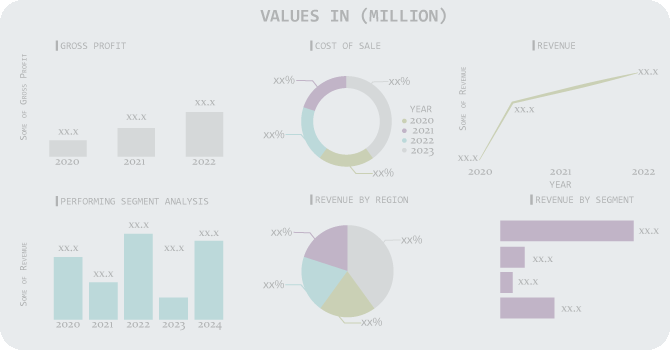 Recent Development:
In May 2023, Messer, a specialist in industrial gases acquired the joint venture Messer Industries, making them the sole owner. This joint venture includes Messer's companies in North and South America, as well as Western Europe.

In April 2023, Linde announced its plans to expand the capacity of its on-site facility in Tangjeong, South Korea.

In January 2023, Taiyo Nippon Sanso Corporation revealed its establishment of a business site and a logistics site for specialty gases in Kumamoto, Japan. This move is intended to enhance its logistics activities for specialty gases in the Kyushu area.

In Jan 2023, Air Liquide made an exciting announcement. The company signed 52 new long-term on-site contracts for its Industrial Merchant business line in 2022, surpassing the previous year's record of 48 new contracts. This achievement marks continuous progress for Air Liquide over the past five years. The newly signed contracts will primarily serve customers in the growing markets of nitrogen, oxygen, or hydrogen, particularly in industries such as glass, metals, water and waste treatment, and secondary electronics. Additionally, in 2022, the company introduced a new generation of on-site oxygen production units. These units feature breakthrough technology that is 10% more energy efficient than the previous generation.
Specialty Gas Market Report Scope:
Report Attributes
Details
Market Size in 2022
US$ 12.14 Billion
Market Size by 2030
US$ 22.30 Billion
CAGR
CAGR of 7.9 % From 2023 to 2030
Base Year
2022
Forecast Period
2023-2030
Historical Data
2019-2021
Report Scope & Coverage
Market Size, Segments Analysis, Competitive Landscape, Regional Analysis, DROC & SWOT Analysis, Forecast Outlook
Key Segments
• By Product (Noble Gases, Ultra-high Purity Gases, Carbon Gases, Halogen Gases, and Others)
• By Application (Manufacturing, Healthcare, Electronics, Institutions, and Others)
Regional Analysis/Coverage
North America (US, Canada, Mexico), Europe (Eastern Europe [Poland, Romania, Hungary, Turkey, Rest of Eastern Europe] Western Europe] Germany, France, UK, Italy, Spain, Netherlands, Switzerland, Austria, Rest of Western Europe]), Asia Pacific (China, India, Japan, South Korea, Vietnam, Singapore, Australia, Rest of Asia Pacific), Middle East & Africa (Middle East [UAE, Egypt, Saudi Arabia, Qatar, Rest of Middle East], Africa [Nigeria, South Africa, Rest of Africa], Latin America (Brazil, Argentina, Colombia Rest of Latin America)
Company Profiles
Air Liquide, Norco Inc., Messer Group GmbH, Air Products and Chemicals, Inc., Taiyo Nippon Sanso Corp., Showa Denko K. K., MESA Specialty Gases & Equipment, Linde plc., Coregas, Weldstar
Key Drivers
• Rising demand for specialty gases in various industries
• The growing need for high-purity gases in research and development activities
Market Opportunity
• Growing demand for eco-friendly specialty gases.
• Expanding applications of specialty gases in emerging industries