Report Scope & Overview:
The Smart Home Projector Market size was valued at USD 648 million in 2022. It is expected to hit USD 2354.38 million by 2030 and grow at a CAGR of 17.5% over the forecast period of 2023-2030.
With the increasing demand for smart home devices, projectors have emerged as a popular choice for homeowners looking to enhance their entertainment experience. A Smart Home Projector refers to a device that combines the functionalities of a traditional projector with smart technology. This innovative gadget allows users to project high-quality images and videos onto a screen or any flat surface, transforming their living space into a personalized home theater experience. One of the key drivers of the smart home projector market is the growing trend of creating immersive home entertainment spaces. Homeowners are increasingly investing in high-quality audiovisual systems to replicate the cinema experience within the comfort of their own homes. Smart home projectors provide a versatile and cost-effective solution for achieving this goal.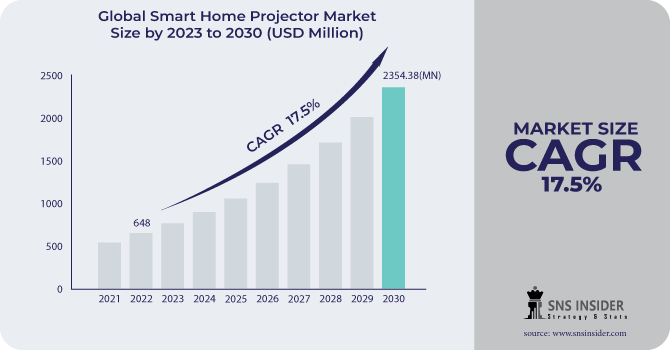 To get more information on Smart Home Projector Market - Request Sample Report
Furthermore, the advancements in projection technology have significantly improved the quality and performance of smart home projectors. Manufacturers are now offering projectors with higher resolutions, brighter images, and better color accuracy. This has further fueled the demand for smart home projectors among consumers. In addition to entertainment purposes, smart home projectors are also being utilized for educational and business applications. These projectors can be used for presentations, video conferences, and interactive learning experiences. The versatility of smart home projectors makes them a valuable asset in various professional settings.
Market Dynamics:
Drivers
With the rise in demand for home entertainment systems, smart home projectors have gained popularity. These projectors provide a cinema-like experience in the comfort of one's home, attracting consumers who seek immersive and high-quality visual experiences.
The increasing adoption of smart home devices and systems has created a favorable environment for the smart home projector market. As more households integrate smart technologies into their homes, the demand for smart home projectors is expected to rise.
Restrain
Limited Connectivity Options: While smart home projectors offer wireless connectivity, they may not always be compatible with all smart devices or platforms. This limitation can restrict their usage and appeal to a specific consumer segment.
Opportunities
The integration of smart home projectors with virtual assistants, such as Amazon Alexa or Google Assistant, presents an opportunity for market expansion. This integration allows users to control their projectors through voice commands, enhancing convenience and accessibility.
Challenges
The lack of standardization in the smart home projector market is a challenge that needs to be overcome. The absence of industry-wide standards makes it difficult for manufacturers to develop products that are universally compatible and interoperable. This lack of standardization also hampers innovation and slows down the overall growth of the market.
Impact of Russia-Ukraine War:
The Russia-Ukraine war has disrupted the global supply chain, causing manufacturers of smart home projectors to face numerous challenges. Many of these manufacturers heavily rely on components and raw materials sourced from both Russia and Ukraine. The conflict has led to increased transportation costs, delays in shipments, and scarcity of essential resources. Consequently, manufacturers are struggling to meet the demand for smart home projectors, resulting in a decline in production and a potential loss of market share. The war has also influenced consumer behavior in the smart home projector market. Uncertainty surrounding the conflict has led to a decrease in consumer confidence and a reluctance to invest in new technologies. Consumers are apprehensive about the availability of products, potential price hikes, and the long-term viability of the market. As a result, the demand for smart home projectors has experienced a significant decline, impacting the revenue and growth prospects of manufacturers.
Impact of Recession:
As economic uncertainty looms, consumers have become more cautious with their spending, resulting in a decrease in demand for luxury items such as smart home projectors. Manufacturers in the Smart Home Projector Market have faced numerous challenges during the recession. Firstly, the decrease in demand has led to excess inventory, putting pressure on manufacturers to find alternative ways to sell their products. Additionally, the economic downturn has limited consumers' purchasing power, making it difficult for manufacturers to maintain their profit margins. The recession has also influenced consumer behavior in the Smart Home Projector Market. With financial uncertainty, consumers are more inclined to prioritize essential purchases over luxury items. This shift in consumer preferences has led to a decline in demand for smart home projectors, as they are often considered non-essential items.
Market segmentation
By Type
Android Smart Home Projectors

Linux Smart Home Projectors
By Technology
By Resolution
VGA

XGA

WXGA

HD & Full HD

4K

8K
By Pricing
By Sales Channel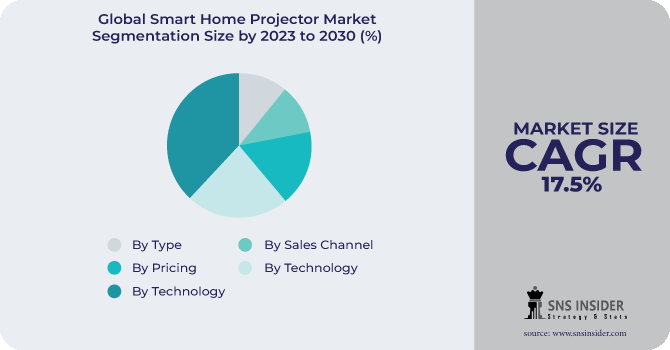 Need any customization research on Smart Home Projector Market - Enquiry Now
Regional Analysis
North America dominated the Smart Home Projector Market and is expected to grow with a significant CAGR during the forecast period of 2023-2030. This dominance is mainly attributed to the region's rising standard of living and the concurrent increase in disposable income. As individuals experience an increase in disposable income, they are more inclined to invest in advanced technologies that enhance their quality of life. Smart home projectors, with their ability to transform living spaces into immersive entertainment hubs, have gained immense popularity among consumers seeking to elevate their home entertainment experiences.
Furthermore, the rapid advancements in technology and the increasing availability of high-speed internet have further fueled the demand for smart home projectors in North America. These projectors offer seamless connectivity, allowing users to effortlessly stream their favorite content from various online platforms. The convenience and versatility offered by these devices have made them an integral part of modern households, contributing to the region's dominance in the market. Moreover, the North American market benefits from a robust infrastructure and a well-established distribution network, facilitating the widespread adoption of smart home projectors. The region boasts a highly developed retail sector, with numerous electronic stores and online platforms offering a wide range of projector options to cater to diverse consumer preferences. This accessibility and availability have significantly contributed to the market's growth and dominance in North America.
The Asia-Pacific region is projected to experience the highest CAGR in the Smart Home Projector Market during the forecast period of 2023-2030. Firstly, the Asia-Pacific region has a large population, which presents a vast consumer base for smart home projector manufacturers. With the increasing disposable income and improving living standards in countries like China, India, and Japan, the demand for smart home projectors is expected to surge. Furthermore, the rapid urbanization and digitalization in the region have led to increased adoption of smart home technologies. As consumers seek to enhance their living spaces with advanced and convenient solutions, smart home projectors have gained popularity. These devices offer seamless integration with other smart home devices, allowing users to control and customize their home entertainment experience effortlessly. Additionally, the region is witnessing a rise in the number of smart homes and smart city initiatives. Governments and private entities are investing in the development of smart infrastructure, which includes the integration of smart home technologies. For instance, in 2021, China emerged as the leading country in the Asia-Pacific region in terms of total smart home device shipments, boasting an impressive figure of approximately 42.3 million units. Japan secured the second position with around 6.7 million shipments. This trend further fuels the demand for smart home projectors, as they play a crucial role in creating a connected and intelligent living environment.
REGIONAL COVERAGE:
North America
Europe
Eastern Europe

Poland

Romania

Hungary

Turkey

Rest of Eastern Europe

Western Europe

Germany

France

UK

Italy

Spain

Netherlands

Switzerland

Austria

Rest of Western Europe
Asia Pacific
China

India

Japan

South Korea

Vietnam

Singapore

Australia

Rest of Asia Pacific
Middle East & Africa
Middle East

UAE

Egypt

Saudi Arabia

Qatar

Rest of Middle East

Africa

Nigeria

South Africa

Rest of Africa
Latin America
Brazil

Argentina

Colombia

Rest of Latin America
Key Players
The major key players are Optoma Corporation, Sony Corporation, Samsung Electronics, ViewSonic Corporation, Koninklijke Philips N.V., SERAPHIC Information Technology Co. Ltd., Zebronics, Panasonic Corporation, BenQ Corporation, Seiko Epson Corporation, Delta Electronics, Inc., and other key players mentioned in the final report.
Recent Development:
In June 2023, Optoma ML1080 and ML1080ST is introduced by Optoma at InfoComm. These portable projectors are the first of their kind, boasting premium RGB triple laser technology. The ML1080 has even been honored with the prestigious InfoComm 2023 Best of Show Award by ProjectorCentral.

In March 2023, SERAPHIC and Partners, including SoC manufacturers, OEMs, and ODMs Jointly Launched a Smart Projector Solution supporting the world's Top video streaming services.

In Feb 2023, Zebronics introduced the ZEB-PixaPlay 18 smart LED projector. This device is designed in a vertical format, offering users a complete home cinema experience like never before.
Smart Home Projector Market Report Scope:
Report Attributes
Details
Market Size in 2022
US$ 648 Mn
Market Size by 2030
US$ 2354.38 Mn
CAGR
CAGR of 17.5 % From 2023 to 2030
Base Year
2022
Forecast Period
2023-2030
Historical Data
2020-2021
Report Scope & Coverage
Market Size, Segments Analysis, Competitive Landscape, Regional Analysis, DROC & SWOT Analysis, Forecast Outlook
Key Segments
• By Type (Android Smart Home Projectors and Linux Smart Home Projectors)
• By Technology (LED, LCD, DLP, and LCoS)
• By Resolution (VGA, XGA, WXGA, HD & Full HD, 4K, and 8K)
• By Pricing (Low-End, Mid-End, and High-end)
• By Sales Channel (Online And Offline)
Regional Analysis/Coverage
North America (US, Canada, Mexico), Europe (Eastern Europe [Poland, Romania, Hungary, Turkey, Rest of Eastern Europe] Western Europe] Germany, France, UK, Italy, Spain, Netherlands, Switzerland, Austria, Rest of Western Europe]). Asia Pacific (China, India, Japan, South Korea, Vietnam, Singapore, Australia, Rest of Asia Pacific), Middle East & Africa (Middle East [UAE, Egypt, Saudi Arabia, Qatar, Rest of Middle East], Africa [Nigeria, South Africa, Rest of Africa], Latin America (Brazil, Argentina, Colombia Rest of Latin America)
Company Profiles
Optoma Corporation, Sony Corporation, Samsung Electronics, ViewSonic Corporation, Koninklijke Philips N.V., SERAPHIC Information Technology Co. Ltd., Zebronics, Panasonic Corporation, BenQ Corporation, Seiko Epson Corporation, Delta Electronics, Inc.
Key Drivers
• Increasing Demand for Home Entertainment
• Growing Smart Home Adoption
Market Restraints
• High cost associated with the smart home projectors