REPORT SCOPE & OVERVIEW:
3D Display Market size was valued at USD 105.70 billion in 2022 and is expected to grow to USD 427.9264 billion by 2030 and grow at a CAGR of 19.10% over the forecast period of 2023-2030.
The manufacturing, development, and marketing of various display technologies used in electronic devices is referred to as the "3D Display market." Devices including televisions, cell phones, tablets, computer monitors, wearable technology, and vehicle display all depend on display technologies. The market for 3D Display has grown and innovated significantly over the years, with improvements in aspects like resolution, color accuracy, refresh rates, and energy economy. Due to affordability, adaptability, and capacity to create high-quality images, LCD technology has been widely used in a variety of products. LCDs do, however, have several drawbacks, including restricted viewing angles and reduced contrast ratios when compared to other technologies.
MARKET DYNAMICS
KEY DRIVERS:
Technology Advanced Product

Increasing use of 3D Display
The technology is used in a wide range of applications such as TV, smartphones, video walls, digital signage, etc.
RESTRAIN:
Less Demand For Screens In Commercial And Retail Contexts

People shifted towards online advertising
Due to a sharp shift towards online advertising and shopping, demand for displays in the retail industry is declining. Millions of individuals now purchase online, which has greatly increased the worldwide electronic commerce business in recent years. Consumers are more at ease purchasing goods online despite initial security worries as a result of quicker delivery, simple return policies, and free shipping provided by many e-commerce companies.
Due to the rapid growth of online sales, this trend has had a substantial influence on the retail industry, with brick-and-mortar establishments witnessing a drop in business. Digital advertising provides more sophisticated and individualized choices for connecting with customers who use multiple devices and channels and spend more time online than ever.
OPPORTUNITY
The market has a lot of room for flexible and foldable displays. These displays' flexibility allows for novel form factors and creative product designs. They may be bent, coiled, or even folded. Although the technology has already been incorporated into products like smartphones and smartwatches, there is still room for development and expansion into other markets like vehicle displays and signs.
CHALLENGES:
The steadily falling cost of LCD panels has had a significant impact on the display business in recent years. Although certain more recent technologies, such micro-LEDs and quantum dot displays, are more expensive than older ones such as LED-LCD.
Due to the rising demand for OLED displays from manufacturers of smartphones, smart wearables, and TVs, LCD panels are currently less expensive than OLED panels. Manufacturers frequently charge more when a new technology is launched, which drives up prices and can restrain the market's expansion. this harms the display market as a whole.
IMPACT ANALYSIS
IMPACT OF COVID-19
During covid-19 consumer expenditure on non-essential things, especially consumer electronics, decreased as a result of the pandemic's effects on the economy. Thus, during the early stages of the pandemic, there was a decline in the demand for 3D Display like TVs, cell phones, and monitors. Manufacturers of 3D Display saw a loss in revenue and profitability as a result of this decline in demand.
The demand for displays and monitors for home offices increased as a result of social distancing initiatives and remote work laws. Larger displays and several monitors were purchased by many people and businesses to increase productivity while working from home. As people spent more time at home, there was also a rise in the demand for entertainment equipment like TVs, game consoles, and streaming services.
IMPACT OF RUSSIAN UKRAINE WAR
The conflict may have an impact on national and global trade regulations. The market for 3D Display may be impacted by trade restrictions, tariffs, or sanctions that are implemented by governments. The disagreement may cause the market to feel unstable and unpredictable. Geopolitical issues may cause businesses to be reluctant to invest or expand. The development of new products and innovation in the 3D Display industry may be slowed by this cautious approach. Changes in the dynamics of the regional market may result if the war intensifies or impacts the neighboring countries. For instance, changes in market share could result if tensions between Russia and Ukraine increase and neighboring nations in Eastern Europe look for different suppliers of display technologies.
IMPACT OF ONGOING RECESSION
During a recession, people frequently limit their discretionary spending, which includes buying goods like televisions, computers, and cell phones. Manufacturers and merchants of 3D Display may see a fall in sales and revenue as a result of this decline in consumer demand. Consumers may be less likely to upgrade their current devices or adopt newer technologies as a result of economic instability and diminished purchasing power. As a result of consumers prioritizing more necessary purchases, sophisticated display technologies like OLED (Organic Light-Emitting Diode) or MicroLED may adopt more slowly. During a recession, businesses may experience financial difficulties and decide to cut back on their R&D expenditures. This might affect the development of display technologies.
MARKET SEGMENTATION
3D Display Market, By Product:
3D Display Market, By Application:
Television (TV)

Smartphones

Monitor

Mobile Computing Devices

Projectors

Others
3D Display Market, By Technology:
Digital Light Processing (DLP)

Plasma Display Panel (PDP)

Organic LED (OLED)

Light Emitting Diode (LED)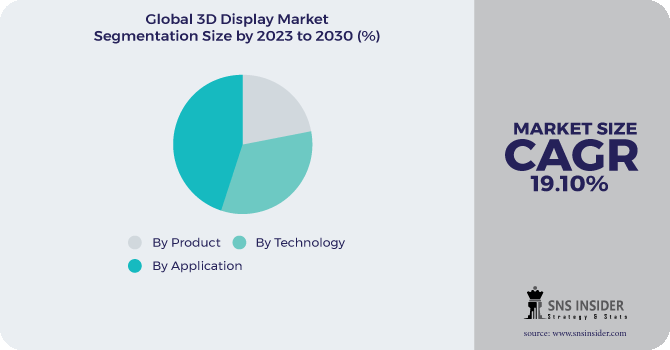 REGIONAL ANALYSIS
The Asia Pacific region dominated the market and accounted for approximately 31.66% of worldwide revenue in 2022. The main factors influencing the growth of the regional market are technological improvements, an increase in smartphone penetration, and a high adoption rate of digital services.
Due to changing consumer preferences and rising disposable family income, Asia Pacific is predicted to grow at the quickest rate throughout the same time.
REGIONAL COVERAGE:
North America
Europe
Germany

UK

France

Italy

Spain

The Netherlands

Rest of Europe
Asia-Pacific
Japan

South Korea

China

India

Australia

Rest of Asia-Pacific
The Middle East & Africa
Latin America
Brazil

Argentina

Rest of Latin American
KEY PLAYERS
AUO Corporation, BOE Technology Group Co., Ltd., Innolux Corporation, Japan Display Inc., LG Electronics, SAMSUNG, SHARP CORPORATION, Sony Corporation, Truly Semiconductor Co., Ltd., Vision ox Company.
RECENT DEVELOPMENT
The Integrated panels rather than plastic touch film. With its On-Cell Touch AMOLED (OCTA) technology, which was created by Samsung, touch screen panels are no longer necessary because the touch sensor is integrated right into the display.

Due to its size, the 97-inch OLED display panel LG Display Co., Ltd. introduced in December 2022 offers users a higher-level cinematic experience. Additionally, it debuted a 77-inch 8K OLED screen with the highest resolution possible by managing 33 million self-emissive pixels to produce breathtaking ultra-high-quality images.

AUO Corporation debuted the first 34-inch AMOLED curved gaming display panel with a widescreen resolution in May 2022. At SID Display Week 2022, a 165Hz ultra-high refresh rate and a widescreen IC will be used.

A 16-inch MiniLED gaming notebook panel with excellent resolution, contrast ratio, and low latency was created by Innolux Corporation in April 2021 and is ideal for professional gaming. The business also displayed a 27-inch MiniLED gaming monitor with a 300Hz ultra-high refresh rate, as well as a 17.3-inch FHD gaming notebook panel with a 480Hz ultra-high refresh rate.
3D Display Market Report Scope:
Report Attributes
Details
Market Size in 2022
US$ 105.70 Bn
Market Size by 2030
US$ 427.9264 Bn
CAGR
CAGR of 19.10% From 2023 to 2030
Base Year
2022
Forecast Period
2023-2030
Historical Data
2020-2021
Report Scope & Coverage
Market Size, Segments Analysis, Competitive Landscape, Regional Analysis, DROC & SWOT Analysis, Forecast Outlook
Key Segments
• By Product (Volumetric Display, Stereoscopic Display, Head-Mounted Display)
• By Application (Television, Smartphones, Monitor, Mobile Computing Devices, Projectors, Others)
• By Technology (Digital Light Processing, Plasma Display Panel, Organic LED, Light Emitting Diode)
Regional Analysis/Coverage
North America (USA, Canada, Mexico), Europe
(Germany, UK, France, Italy, Spain, Netherlands,
Rest of Europe), Asia-Pacific (Japan, South Korea,
China, India, Australia, Rest of Asia-Pacific), The
Middle East & Africa (Israel, UAE, South Africa,
Rest of Middle East & Africa), Latin America (Brazil, Argentina, Rest of Latin America)
Company Profiles
AUO Corporation, BOE Technology Group Co., Ltd., Innolux Corporation, Japan Display Inc., LG Electronics, SAMSUNG, SHARP CORPORATION, Sony Corporation, Truly Semiconductor Co., Ltd., Vision ox Company.
Key Drivers
• Technology Advanced Product
• Increasing use of 3D Display
Market Opportunities
• Transparent displays
• flexible and foldable displays