Report Scope & Overview:
The Smart Robot Market size was valued at USD 10.35 billion in 2022. It is expected to hit USD 84.95 billion by 2030 and grow at a CAGR of 30.1% over the forecast period of 2023-2030.
The term "Smart Robot" refers to a highly advanced machine that possesses the ability to perform tasks autonomously, utilizing artificial intelligence (AI) and machine learning algorithms. These robots are designed to mimic human intelligence and adapt to their surroundings, making them invaluable in various industries and everyday life. Smart robots are equipped with a wide range of sensors, enabling them to perceive and interpret their environment accurately. These sensors include cameras, microphones, touch sensors, and even advanced technologies like lidar and radar. By collecting data from their surroundings, smart robots can make informed decisions and execute tasks efficiently.
One of the key features of smart robots is their ability to learn and improve over time. Through machine learning algorithms, these robots can analyze vast amounts of data, identify patterns, and make predictions. This capability allows them to adapt to changing circumstances and optimize their performance, making them highly efficient and effective in their tasks. In industrial settings, smart robots are revolutionizing manufacturing processes. They can perform labor-intensive tasks repetitively with speed and precision reducing human error and increasing productivity. These robots can also work alongside humans, collaborating and assisting in complex operations, thereby enhancing overall efficiency and safety.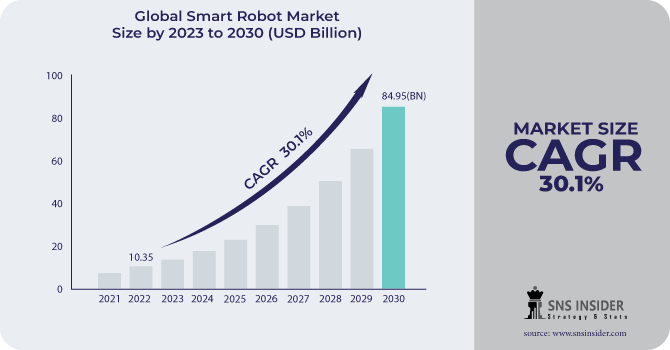 The growth is attributed to the rising adoption of automation in industries worldwide. Smart robots have proven to be invaluable assets, enabling businesses to streamline operations, reduce costs, and improve overall performance. Moreover, the integration of AI technologies, such as machine learning and natural language processing, has further enhanced the capabilities of these robots, making them more intelligent and adaptable. The COVID-19 pandemic also accelerated the adoption of smart robots.
Market Dynamics:
Drivers
Advancements in artificial intelligence and machine learning technologies

Increasing integration of the Internet of Things in the smart robots

Growing demand for automation across various industries
Automation has become a crucial aspect of numerous industries, driving the need for smart robots. These advanced machines possess the ability to perform complex tasks with precision and efficiency, making them highly sought after. The need for increased productivity and cost-effectiveness has led industries to embrace automation. Smart robots can carry out repetitive tasks at a much faster pace than humans, resulting in enhanced productivity levels. Moreover, their ability to work continuously without breaks or fatigue ensures uninterrupted operations, further boosting efficiency. By reducing the reliance on human labor, companies can also cut down on costs associated with wages, training, and employee benefits.
Moreover, the rising focus on workplace safety has propelled the adoption of smart robots. These machines can handle hazardous or physically demanding tasks, minimizing the risk of accidents and injuries to human workers. By delegating such tasks to smart robots, companies can create a safer work environment and protect their employees from potential harm.
Restrain
High initial investment required for the development and deployment of smart robots

Concerns regarding the ethical implications of smart robots
As these robots become more intelligent and autonomous, questions arise regarding their impact on employment, privacy, and safety. Addressing these ethical concerns and ensuring the responsible deployment of smart robots is crucial for the sustained growth of the market.
Opportunities
Challenges
While AI holds immense potential for enhancing the capabilities of these robots, its implementation requires overcoming numerous hurdles. These include ensuring the robots can effectively process and interpret vast amounts of data, as well as addressing ethical concerns surrounding AI decision-making.
As these robots become more autonomous and interact more closely with humans, ensuring their safety becomes paramount. Developing robust safety protocols and mechanisms to prevent accidents or mishaps is crucial to instill trust and confidence in the market.
Impact of Russia-Ukraine War:
The ongoing conflict between Russia and Ukraine has had significant implications, particularly in the realm of defense and domestic applications, leading to a surge in demand for smart robots. This war has witnessed a notable increase in the deployment of autonomous robots specifically designed for offensive purposes. Ukraine, for instance, has already developed semi-autonomous attack drones and counter-drone weapons equipped with advanced artificial intelligence (AI) capabilities. In January 2023, the Russian Advanced Research Foundation, in collaboration with the Russian-based Android Technics company, unveiled the groundbreaking Marker robot. This creation is purportedly capable of obliterating Abrams and Leopards tanks, along with their crews. The introduction of such advanced robotic technology has undeniably played a pivotal role in the ongoing conflict between Russia and Ukraine.
The Russia-Ukraine war has also witnessed a widespread utilization of professional smart robots. These sophisticated machines have been employed extensively throughout the conflict, showcasing their effectiveness and versatility in various combat scenarios. The impact of this war has not only fueled the demand for smart robots in defense applications but has also spurred their adoption in domestic settings. The need for enhanced security measures and the desire to mitigate potential threats have prompted individuals and organizations to explore the utilization of smart robots for safeguarding their homes and businesses.
Impact of Recession:
As businesses face financial constraints and reduced consumer spending, the demand for smart robots has experienced a decline. Companies are hesitant to invest in expensive technologies during uncertain economic times, leading to a slowdown in the adoption of smart robots across industries. One of the major consequences of the recession on the smart robots market is reduced investment in research and development (R&D). Companies are compelled to cut costs and prioritize essential operations, resulting in a decrease in R&D budgets. This reduction in funding hampers the development of new and innovative smart robot technologies, hindering the market's growth potential. The recession has also caused a delay in the implementation of automation processes, which heavily rely on smart robots. Businesses are cautious about making significant changes to their operations during economic uncertainty. Consequently, the adoption of smart robots for automation purposes has been postponed, impacting the market's expansion.
Market segmentation
By Component
Hardware

Sensor

Power Sources

Actuator

Control Systems

Others

Software

Service
By Mobility
By Operating Environment
By Vertical
Healthcare

Automotive

Food and Beverages

Manufacturing

Energy & Utility

Retail

Others
By Application
Professional

Industrial

Healthcare Assistance

Military & Defense

Field/Agricultural

Logistics Management

Packaging & palletizing

Construction

Others

Personal & Domestic

Education

Entertainment

Companionship

Home Security

Early Assistance

Others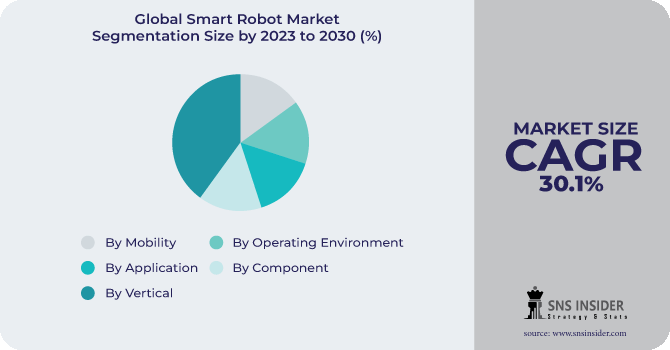 Regional Analysis
Asia Pacific is the dominating region and is expected to grow with the highest CAGR during the forecast period of 2023-2030. China is the leading country in the APAC region for the Smart Robot Market. China boasts a massive population, providing a vast consumer base for Smart Robot products and services. With a growing middle class and increasing disposable income, the demand for innovative and technologically advanced solutions, such as Smart Robots, is on the rise. Furthermore, China has made significant investments in research and development, fostering a conducive environment for the development and deployment of Smart Robots.
Additionally, China's manufacturing capabilities and infrastructure play a crucial role in its dominance. The country's well-established manufacturing sector enables efficient production and cost-effective manufacturing of Smart Robots. This advantage allows Chinese companies to offer competitive pricing and high-quality products, attracting both domestic and international customers.
In January 2023, China unveiled a groundbreaking action plan that outlines its intention to integrate robotics into 10 key industries. This move comes as the country grapples with its first population decline in 6 decades and seeks to automate various sectors, ranging from manufacturing to agriculture. The plan sets ambitious targets, aiming to develop more than 100 innovative robotics applications and over 200 model use cases by 2025. China envisions transforming into a global powerhouse in the field of robotics within this timeframe.
China's dominance in the industrial robot market is well-established, having held the title for 9 consecutive years since 2013. Furthermore, it remains one of the fastest-growing markets worldwide, as confirmed by data from the China Robot Industry Alliance. In 2021 alone, China witnessed a remarkable surge in industrial robot sales, reaching a staggering volume of 272,000 units, a remarkable 51% increase compared to the previous year.
The World Robotics 2022 Report, published by the International Federation of Robotics, sheds light on China's remarkable progress in the realm of manufacturing robotics. In 2021, China surpassed the United States for the first time, achieving a manufacturing robot density of 321 robots per 10,000 people. This achievement propelled China to the fifth position globally. However, it still trails behind South Korea, which leads the pack with an impressive 1,000 robots per 10,000 people. Singapore, Japan, and Germany also outpace China in this regard.
REGIONAL COVERAGE:
North America
Europe
Eastern Europe

Poland

Romania

Hungary

Turkey

Rest of Eastern Europe

Western Europe

Germany

France

UK

Italy

Spain

Netherlands

Switzerland

Austria

Rest of Western Europe
Asia Pacific
China

India

Japan

South Korea

Vietnam

Singapore

Australia

Rest of Asia Pacific
Middle East & Africa
Middle East

UAE

Egypt

Saudi Arabia

Qatar

Rest of Middle East

Africa

Nigeria

South Africa

Rest of Africa
Latin America
Brazil

Argentina

Colombia

Rest of Latin America
Key Players
The major key players are Hanson Robotics Ltd., KUKA AG, Amazon Inc., SoftBank Corporation, ABB, Honda Motor Company Ltd., OMRON Adept Technology Inc., YASKAWA Electric Corporation, Blue Frog Robotics, DeLaval, Intuitive Surgical, Samsung Electronics Co. Ltd., and other key players mentioned in the final report.
Recent Development:
In Nov 2022, Amazon introduced Sparrow, an advanced robot capable of handling millions of diverse products.

In April 2022, Yaskawa Company developed an industrial robot equipped with artificial intelligence that can accurately identify the color and shape of objects, efficiently transporting them to their designated positions.

In Oct 2021, OMRON made a strategic investment in Techman Robot Inc., a collaborative robot company based in Taiwan, acquiring a stake of approximately 10% in the company.
Smart Robot Market Report Scope:
Report Attributes
Details
Market Size in 2022
US$ 10.35 Bn
Market Size by 2030
US$ 84.95 Bn
CAGR
CAGR of 30.1 % From 2023 to 2030
Base Year
2022
Forecast Period
2023-2030
Historical Data
2020-2021
Report Scope & Coverage
Market Size, Segments Analysis, Competitive Landscape, Regional Analysis, DROC & SWOT Analysis, Forecast Outlook
Key Segments
• By Component (Hardware, Software, and Service)
• By Operating Environment (Ground and Underwater)
• By Mobility (Mobile and Fixed/Stationary)
• By Vertical (Healthcare, Automotive, Food and Beverages, Manufacturing, Energy & Utility, Retail, and Others)
• By Application (Professional and Personal & Domestic)
Regional Analysis/Coverage
North America (US, Canada, Mexico), Europe (Eastern Europe [Poland, Romania, Hungary, Turkey, Rest of Eastern Europe] Western Europe] Germany, France, UK, Italy, Spain, Netherlands, Switzerland, Austria, Rest of Western Europe]). Asia Pacific (China, India, Japan, South Korea, Vietnam, Singapore, Australia, Rest of Asia Pacific), Middle East & Africa (Middle East [UAE, Egypt, Saudi Arabia, Qatar, Rest of Middle East], Africa [Nigeria, South Africa, Rest of Africa], Latin America (Brazil, Argentina, Colombia Rest of Latin America)
Company Profiles
Hanson Robotics Ltd., KUKA AG, Amazon Inc., SoftBank Corporation, ABB, Honda Motor Company Ltd., OMRON Adept Technology Inc., YASKAWA Electric Corporation, Blue Frog Robotics, DeLaval, Intuitive Surgical, Samsung Electronics Co. Ltd.
Key Drivers
• Advancements in artificial intelligence and machine learning technologies
• Increasing integration of the Internet of Things in the smart robots
• Growing demand for automation across various industries
Market Restraints
• High initial investment required for the development and deployment of smart robots
• Concerns regarding the ethical implications of smart robots