Report Scope & Overview:
Active Optical Cable Market size was valued at USD 3.2 billion in 2022 and is expected to grow to USD 8.50 billion by 2030 and grow at a CAGR of 13% over the forecast period of 2023-2030.
The rising popularity of emerging technologies such as network-function virtualization (NFV) and software-defined networking (SDN) is likely to propel the industry in the coming years. In addition, increased demand for high bandwidth networks necessitates the use of active optical cables in data centers, which is expected to enhance the market in the future years.
The Active Optical Cable Market is classified into InfiniBand, Ethernet, HDMI, DisplayPort, USB, and Others. In 2022, the Ethernet sector had the greatest market share, accounting for 41.1%. The increasing adoption of active optical cables based on Ethernet protocols by various end-users, as it provides virtualized connectivity and minimized errors within switch-to-switch, server-to-switch, and many other high-speed storage applications while remaining cost-effective, fuels the global active optical market growth. Because of their high EMI and resistivity, the optical cables are a good choice for a wide range of end-use applications in harsh industrial environments. These ruggedized optical cables are widely utilized in high-speed control and data systems, aircraft system ground stations, avionics system controllers, and other applications.
The Active Optical Cable Market is classified into Data Center, High-Performance, and Others. Computing, Personal Computing, Digital Signage, Consumer Electronics, and Others are examples of technologies. In 2022, the Data Center segment held the biggest market share, accounting for 34.18 % of the total. The active optical connection in the data center connects servers, switches, and storage, necessitating a varied portfolio of fiber optic modules. The rising deployment of data centers is primarily driving demand for fiber optic cable in this market.
KEY DRIVERS:
• Increasing Data Center Industry Demand
One of the factors driving the growth of the active optical cable market is the increased deployment of data centers around the world. The increasing use of active optical cables in data centers, high performance computing, and other applications is propelling the global market forward. Active optical cables are used in data centers for high-speed transmission, such as 40Gbps, 100Gbps, and InfiniBand. The data center requires a diverse set of fiber optic modules to connect switches, servers, and storage, which is accomplished through the use of active optical cable. Active optical cables use active electrical and optical components to transmit and receive signals.
The widespread use of 4K and 8K video technology
RESTRAIN:
Expensive Manufacturing and Implementation Fees
The industry's key hurdles are the high manufacture and deployment costs of active optical cables. The high cost of production, maintenance, and repair is a major impediment to the growth of the active optical cable market over the projection period. Furthermore, the manufacturing prices of these optical cables are significantly higher due to the use of pricey active components, which has a negative impact on market growth. High compatibility with various types of expensive connectors, in order to provide optimum network connectivity across applications such as high-performance computing, consumer devices, and others, has caused manufacturers to raise the purchasing costs of these cables, slowing the growth of the active optical cable market.
OPPORTUNITY:
Increasing Popularity of 40g QSFP+ AOC in Data Centres
Nowadays, QSFP+ has mostly replaced QSFP and is commonly utilized due to its increased bandwidth. 406 QSFP+ AOC is a type of active optical cable terminated with 40GBASE-QSFP for 40GbE applications. The 40G QSFP+ AOC is a parallel 40Gbps quad small form factor pluggable (QSFP+) active optical cable that provides increased port density while lowering total system cost. The QSFP+ optical modules offer four independent full-duplex transmit and receive channels, each capable of 10Gbps operation and 40Gbps aggregate bandwidth across at least 100m multimode fibre. AOC is a short-range multi-lane data transfer and connection technology.
CHALLENGES:
High implementation cost of AOC cable
Factors such as increased bandwidth requirements, massive data centre deployments, and increased virtualization usage and cloud-based services are driving the global expansion of the active optical cable market. However, the industry's key challenges include the high implementation cost of AOC cable as well as vulnerability to physical damage and transmission losses. Additionally, greater connectivity in emerging markets and improvements in fibre optics technology are likely to generate profitable potential for market expansion in the future years.
IMPACT ANALYSIS
IMPACT OF RUSSIAN UKRAINE WAR
Russia has made numerous attempts to limit the flow of information. According to Ukraine's Special Communications Service, Russian soldiers have seized or destroyed over 4,000 base stations belonging to Ukrainian telecommunications providers since the beginning of the invasion, as well as over 60,000 kilometres of fibre-optic lines used for Internet access. In addition, Russian forces destroyed 18 transmitting antennas that provided television and radio signals. Russia appears to have diverted Internet data through their own providers in some areas of southern Ukraine, exposing it to the Kremlin's enormous system of surveillance and censorship.
According to information given with TIME by Ukraine's Digital Ministry, Ukrainian mobile operators have rebuilt 71 of their base stations in towns and cities liberated from Russian domination since the start of the counter-offensive last month. Since March, Ukrainian telecoms technicians have repaired 1,232 base stations in Russian-occupied territories. According to photographs posted on Telegram groups, officials have been setting up improvised WiFi stations where citizens queue in long lines for 15 minutes at a time to prevent overwhelming the frail connection.
IMPACT OF ONGOING RECESSION
As a result, there was no economic slump or recession. It was a mania-and-panic or investment bubble that was mostly confined to the "information-and-communications technology" (ITC) business. The reason we're bringing this up now is that we don't believe that bubble will reoccur in fiber optics. Investors understand telecom and Internet technology considerably better and will not over-invest in those areas.
A worldwide recession may constrain the short-term availability of financing for network building for the rest of 2020 and possibly into 2021, but the drivers of telecom network construction will not go away. The need for bandwidth will continue to rise. Corporations and individual users will continue to rely on cloud services, necessitating the expansion of data centers and interconnectivity. Finally, even if capital-intensive projects such as new optical cable networks are delayed or stretched out, continued demand for cable assemblies related with maintaining, operating, and improving capacity on already established networks may exist.
MARKET SEGMENTATION
By Product
Active Optical cables
Extenders
By Protocol
InfiniBand
Ethernet
Serial Attached SCSI (SAS)
DisplayPort
PCI Express (PCle)
HDMI
Thunderbolt
USB
MIPI
Fiber Channel
Other Protocols
By Form Factor
QSFP
QSFP-DD
OSPF/CFP8/COBO
SFP
SFP+
PCIE
CXP
Cx4
CFP
CDFP.
Other Form Factors
By Application
Data Centers
High-performance Computing (HPC)
Consumer Electronics
Telecommunications
Industrial
Energy
Oil & Gas
Medical
Military/Aerospace
Other Applications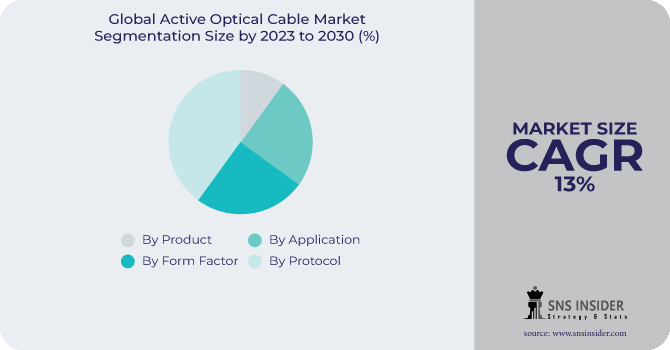 REGIONAL ANALYSIS
North America's expected CAGR is 39.8% from 2022 to 2032. The presence of well-known companies like as Sales would be driven by EMCORE Corporation across North America.
In 2022, the Asia Pacific region held the biggest market share, accounting for 37.4%. The region's expansion has been supported by significant investments in R&D from Asia Pacific governments, as well as a developing consumer electronics sector. Government initiatives to promote the expansion of the telecom industry, as well as technological breakthroughs such as cloud, loT, and others, are projected to drive increasing demand for active optical cables over the projection period. For example, the Indian government committed a US$108 million investment in 2022 as part of the National Connectivity Mission, which aims to bring universal internet to rural and remote areas by 2022. This investment aided by laying down an additional 3 million route kilometers of optical fiber cables and increasing tower density.
By 2032, China's active optical cable market would be worth US$1.4 billion. It would grow at an absolute dollar rate. In the expected time range, there is a 1.2-billion-dollar potential. Between 2017 and 2021, the China market expanded at a CAGR of 25.1%. It is predicted to rise at a rapid pace. From 2022 to 2032, the CAGR is 20.6%. Gigalight Technologies of Shenzhen will launch a range of 400G Long-Reach 8-lane transceivers in November 2022. These will be able to provide DCI and metro telecom within 40 kilometres. This new family of devices will improve the metro telecom transport network's long-term dependability. A subway Because of its high efficiency and low lag, the DCI network will also use it.
REGIONAL COVERAGE:
North America
Europe
Eastern Europe

Poland
Romania
Hungary
Turkey
Rest of Eastern Europe

Western Europe

Germany
France
UK
Italy
Spain
Netherlands
Switzerland
Austria
Rest of Western Europe
Asia Pacific
China
India
Japan
South Korea
Vietnam
Singapore
Australia
Rest of Asia Pacific
Middle East & Africa
Middle East

UAE
Egypt
Saudi Arabia
Qatar
Rest of Middle East

Africa

Nigeria
South Africa
Rest of Africa
Latin America
Brazil
Argentina
Colombia
Rest of Latin America
KEY PLAYERS
The active optical cable & extender companies are dominated by globally established players such as Coherent Corp. (US), Broadcom (US), Amphenol Communications Solutions (US), Corning Incorporated (US), TE Connectivity (Switzerland), 3M (US), Molex (US) Sumitomo Electric Industries Ltd. (Japan), Dell Inc. (US), Eaton (Ireland), and other players are listed in a final report.
RECENT DEVELOPMENT
Broadcom (US) introduced the BCM85812, a transceiver tailored for 800G DR8, 2x400G FR4, and 800G AOC module applications, in March 2023. It enables hyper-scale data centers to use high-performance and efficient active optical cable technologies.
In February 2022, II-VI Incorporated (US) introduced the QSFP Pluggable Optical Line Subsystem (POLS) intended for 400ZR/ZR+ transfer in data center interconnects. This little system offers full-duplex multichannel communication transmission while consuming less power and taking up less space while keeping compatible with commonly available connections
Broadcom (US) introduced 100Gbps Multimode AOCs and pluggable optical transceivers that connect modern networks in June 2021 servers and connectivity rates of up to 100 Gb/s per lane
Broadcon Inc. provided the first 50G car Ethernet switch in May 2022. The BCM8958X was designed to handle the growing bandwidth requirements for in-vehicle networking applications. It would increase the use of software-defined vehicles. Six of the BCM8958X's 16 Ethernet ports have a 10 Gbps capacity. The 100BASE-T1 and 1000BASE-T1 PHYs are both integrated.

Active Optical Cable Market Report Scope:
Report Attributes
Details

Market Size in 2022

US$ 3.2 Bn

Market Size by 2030

US$ 8.50 Bn

CAGR

CAGR of 13% From 2023 to 2030

Base Year

2022

Forecast Period

2023-2030

Historical Data

2019-2021

Report Scope & Coverage

Market Size, Segments Analysis, Competitive Landscape, Regional Analysis, DROC & SWOT Analysis, Forecast Outlook

Key Segments

By Product (Active Optical cables, Extenders), By Protocol (InfiniBand, Ethernet, Serial Attached SCSI (SAS), DisplayPort, PCI Express (PCle), HDMI, Thunderbolt, USB, MIPI, Fiber Channel, Other Protocols), By Form Factor (QSFP, QSFP-DD, OSPF/CFP8/COBO, SFP, SFP+, PCIE, CXP, Cx4, CFP, CDFP., Other Form Factors), By Application(Data Centers, High-performance Computing (HPC), Consumer Electronics, Telecommunications, Industrial, Energy, Oil & Gas, Medical, Military/Aerospace, Other Applications)

Regional Analysis/Coverage

North America (US, Canada, Mexico), Europe (Eastern Europe [Poland, Romania, Hungary, Turkey, Rest of Eastern Europe] Western Europe] Germany, France, UK, Italy, Spain, Netherlands, Switzerland, Austria, Rest of Western Europe]), Asia Pacific (China, India, Japan, South Korea, Vietnam, Singapore, Australia, Rest of Asia Pacific), Middle East & Africa (Middle East [UAE, Egypt, Saudi Arabia, Qatar, Rest of Middle East], Africa [Nigeria, South Africa, Rest of Africa], Latin America (Brazil, Argentina, Colombia Rest of Latin America)

Company Profiles

Coherent Corp. (US), Broadcom (US), Amphenol Communications Solutions (US), Corning Incorporated (US), TE Connectivity (Switzerland), 3M (US), Molex (US) Sumitomo Electric Industries Ltd. (Japan), Dell Inc. (US), Eaton (Ireland)

Market Opportunities

• Increasing Popularity of 40g QSFP+ AOC in Data Centres

Market Challenges

•High implementation cost of AOC cable

•Lack of IT expertise