REPORT SCOPE & OVERVIEW
Alcohol Packaging Market size was USD 72.06 billion in 2022 and is expected to Reach USD 103.27 billion by 2030 and grow at a CAGR of 4.6 % over the forecast period of 2023-2030.
Alcohol packaging is the use of primary and secondary packaging to package various types of alcohol. The rise in alcohol consumption has increased the demand for alcohol packaging. Global alcohol consumption has increased in tandem with rising levels of capital income among the populace.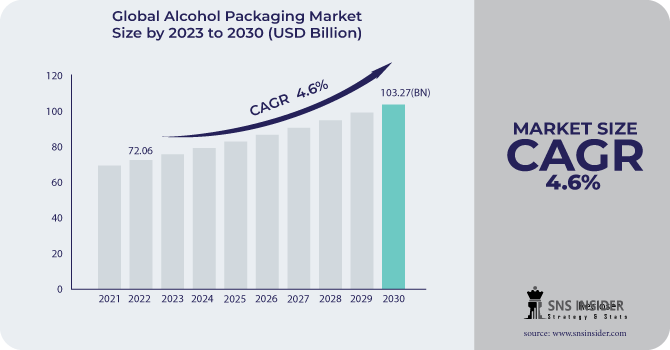 Get More Information on Alcohol Packaging Market - Request Sample Report
Increased demand from end-user industries, including the alcohol industry, is what is fuelling the growth of the global market for alcohol packaging. Additionally, the entry of fresh local competitors into this market and creative packaging that enhances product appeal is anticipated to fuel market expansion internationally.
Global alcohol packaging market growth is anticipated to be constrained by price fluctuations for the raw materials used to make plastic and strict regulations aimed at the alcohol industry.
Recent research studies have shown that consuming good-quality alcohol in moderation may reduce the risk of kidney stones and other health problems. For instance, beer is a low-calorie, carbohydrate, that also contains several vitamins, proteins, and natural antioxidants. These nutritional benefits support muscle recovery and the prevention of cardiovascular diseases (CVDs).
Additionally, it raises levels of HDL and lowers cholesterol. Increased consumption of premium alcoholic beverages is therefore anticipated as a result of growing awareness of these benefits, which will accelerate market expansion. Additionally, it is anticipated that corporate culture will have an impact on consumer demand for these drinks, driving the market.
The introduction of innovative and appealing packaging options for alcoholic beverages, such as ceramic glass bottles, and whiskey pouches, will also support market growth. Additionally, extensive R&D to introduce green packaging materials in response to growing environmental concerns will help in market growth.
MARKET DYNAMICS
KEY DRIVERS:
The rising development in emerging economies such as India and China and also due to an increase in disposable income is leading to the growth of the alcohol packaging market.
RESTRAIN:
The increase in the cost of raw materials used in packaging is restraining the growth of the market. This is affecting the production cost.
OPPORTUNITY:
The use of new packaging solutions such as ceramic glass bottles, and whiskey pouches, will help in the growth of the market. More Research & Development on packaging material which can be sustainable and environment friendly.
CHALLENGES:
Consumers are getting aware of the side effects of alcohol consumption. The government is also supporting the campaigns against alcohol consumption. This will affect the growth of the alcohol packaging market.
IMPACT OF RUSSIAN UKRAINE WAR
Consumer spending in Russia, which made up 48% of its GDP in 2022, fell precipitously. Consumers are being compelled to modify their buying habits and switch to less expensive options as a result of declining incomes. Increased emigration is a result of freedom restrictions, rising inflation, declining disposable incomes, and rising unemployment.
Leading international corporations, who previously saw Russia as a target market for further expansion, are now curtailing or terminating their presence in the nation. Russian industries are suffering greatly from spillover effects, in addition to assortment restrictions brought on by import and production suspensions by significant international players. Significant price increases for imported beverages were met by exploding local substitutes. Permanent price reductions are stopped as a practice. This circumstance has also hampered foreign market participants who chose to remain in Russia and rely on imported resources.
Logistics challenges and issues with international payments have caused delays and stockouts, which have raised prices. Production and distribution locally are also being hampered by shortages of imported equipment, packaging materials, and ingredients. Metal screw closures are predicted to replace corks in the wine industry. The government, businesses, and retailers have tried to create new schemes for import possibilities, but logistical challenges have caused prices to rise even more. Retailers and producers are burdened by state-mandated price controls for necessities because they have tried to maintain margins by lowering packaging size or quality.
IMPACT OF ONGOING RECESSION
Alcoholic beverage consumption in the U.S. has demonstrated little correlation with economic expansion. Volumes appear to be more significantly influenced by the general trend in alcoholic beverage consumption per capita than by the state of the economy. However, during a recession, consumers are more likely to switch to less expensive goods and drinks at home because it is less expensive than doing so out at a bar or restaurant.
For advanced economies such as the U.S., the amount of money spent on alcoholic beverages has decreased as households' incomes have increased. Looking at food spending is similar to the decline in the percentage of expenditures on alcohol. In the U.S., beer and alcoholic beverages are regarded as affordable luxuries or even necessities.
However, demand in emerging markets is more variable and is influenced by economic expansion. Furthermore, the affordability of imported alcoholic beverages may be impacted by a weak local currency.
KEY MARKET SEGMENTS
By Raw Material
Glass

Paper

Plastic

Metal

Paperboard
By Packaging
By End Use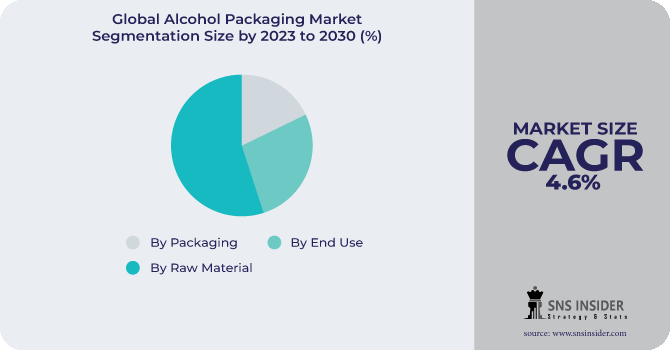 Get Customized Report as per your Business Requirement - Request For Customized Report
REGIONAL ANALYSIS
The North American region holds the largest market share in the global market due to the presence of nations like the US, Canada, and Mexico, which have high standards of living and growing disposable income, which increases demand in this region.
The European region holds the second-largest market share as a result of its well-established, technologically advanced infrastructure, which necessitates the need for more advanced packaging and, consequently, expands its growth prospects.
Because of the presence of highly populous nations like China, India, and Japan, along with other countries like the United States, this region holds the third largest market share in the global market. Another element driving market demand is rising commercial and residential development.
Latin America and the Middle East and Africa have the smallest market shares because of their underdeveloped infrastructure. Another factor that is limiting market growth is the low per capita income.
REGIONAL COVERAGE:
North America
Europe
Germany

UK

France

Italy

Spain

The Netherlands

Rest of Europe
Asia-Pacific
Japan

South Korea

China

India

Australia

Rest of Asia-Pacific
The Middle East & Africa
Latin America
Brazil

Argentina

Rest of Latin American
Key Players:
Some of the major players in the Alcohol Packaging Market are Brick Packaging LLC, Encore Glass, United Bottles & Packaging, Tetra Pak International S.A, Crown Holdings Inc, Ball Corp, Orora Packaging Australia Pty Ltd, Vetreria Etrusca S.p.A, Creative Glass, Owens-Illinois (O-I) Inc, and other players.
United Bottles & Packaging-Company Financial Analysis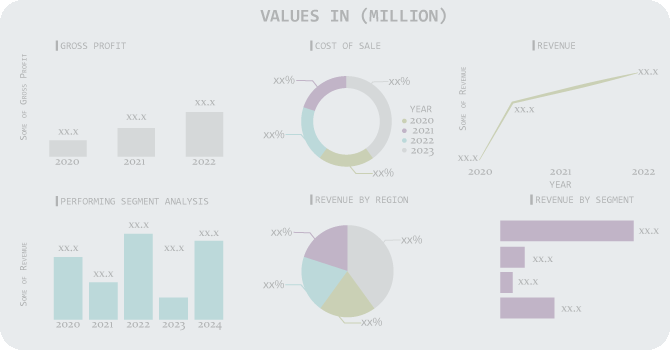 RECENT DEVELOPMENT
Carlsberg, Brewery expansion is funded by Carlsberg at Falkenberg in Sweden. According to Carlsberg, the plant will receive investments to boost capacity and efficiency.

Waitrose, a UK retailer, has begun selling wine bottles without plastic sleeves and foil neck bands to reduce the amount of packaging.

AB InBev, in a new brewery in Colombia, AB InBev commits $413 million. In the municipality of Palmar de Varela, in Colombia's northern region, Bavaria, AB InBev's brewer, will build a new brewery.
Alcohol Packaging Market Report Scope:
Report Attributes
Details
Market Size in 2022
US$ 72.06 Bn
Market Size by 2030
US$ 103.27 Bn
CAGR
CAGR of 4.6% From 2023 to 2030
Base Year
2022
Forecast Period
2023-2030
Historical Data
2019-2021
Report Scope & Coverage
Market Size, Segments Analysis, Competitive Landscape, Regional Analysis, DROC & SWOT Analysis, Forecast Outlook
Key Segments
• By Raw Material (Glass, Paper, Plastic, Metal, Paperboard)
• By Packaging (Primary, Secondary)
• By End Use (Beer, Wine, Spirits, Others)
Regional Analysis/Coverage
North America (USA, Canada, Mexico), Europe
(Germany, UK, France, Italy, Spain, Netherlands,
Rest of Europe), Asia-Pacific (Japan, South Korea,
China, India, Australia, Rest of Asia-Pacific), The
Middle East & Africa (Israel, UAE, South Africa,
Rest of Middle East & Africa), Latin America (Brazil, Argentina, Rest of Latin America)
Company Profiles
Brick Packaging LLC, Encore Glass, United Bottles & Packaging, Tetra Pak International S.A, Crown Holdings Inc, Ball Corp, Orora Packaging Australia Pty Ltd, Vetreria Etrusca S.p.A, Creative Glass, Owens-Illinois (O-I) Inc
Key Drivers
• Rising consumption of alcoholic beverages is expanding the packaging market.
Market Opportunities
• Advancements in packaging materials