Report Scope & Overview:
The Alpha Olefin Market size was valued at USD 9.8 billion in 2022. It is expected to grow to USD 14.59 billion by 2030 and grow at a CAGR of 5.1% over the forecast period of 2023-2030.
One of the key factors propelling the growth of the alpha-olefin market is the increasing consumption of polyethylene, which finds extensive application in packaging, construction, and automotive industry. The versatility and durability of polyethylene make it a preferred choice for manufacturers, leading to a surge in demand for alpha olefins as a raw material. Furthermore, the growing awareness regarding environmental concerns has prompted the adoption of bio-based alpha olefins. These renewable alternatives offer a sustainable solution, reducing the carbon footprint associated with traditional petroleum-based alpha olefins. This shift towards eco-friendly options has opened up new avenues for market players, creating opportunities for innovation and development. However, fluctuating crude oil prices and the volatility of raw material availability pose significant hurdles for market players. Additionally, stringent regulations regarding emissions and waste management necessitate continuous research and development to ensure compliance.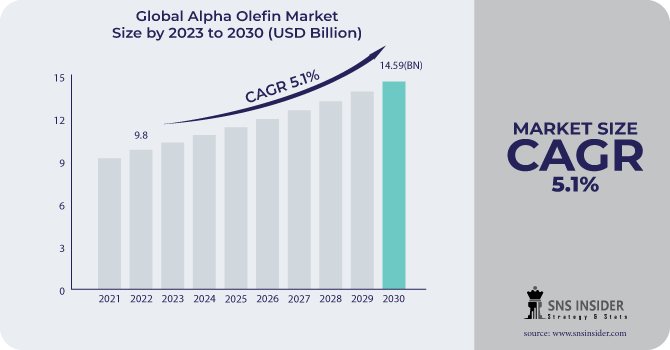 Get E-PDF Sample Report on Alpha Olefin Market - Request Sample Report
1-hexene product dominated the alpha-olefin market with a revenue share of about 35% in 2022. This is attributed to the increasing utilization of 1-hexene as a widely adopted monomer for the production of High-Density Polyethylene (HDPE) and Linear Low-Density Polyethylene (LLDPE) polymers. As a result, the segment is poised for significant growth. The demand for polyethylene is on the rise, primarily driven by the flourishing automotive and consumer goods markets in the emerging economies of China, India, and Brazil. These countries have witnessed a surge in economic development, leading to an increased need for polyethylene-based products. Consequently, this surge in demand is expected to further propel the growth of the 1-hexene segment.
Market Dynamics
Drivers
Increasing demand for polyethylene

Rising demand for synthetic lubricants, plasticizers, and surfactants

Expanding automotive industry and the need for high-performance lubricants
The automotive industry is experiencing significant growth, with a rising number of vehicles hitting the roads each year. As a result, the demand for lubricants that can enhance the performance and efficiency of these vehicles has also surged. This need for high-performance lubricants has become a crucial factor propelling the Alpha Olefin Market forward. Alpha olefins, which are key components in the production of lubricants, possess exceptional properties that make them ideal for this purpose. These olefins exhibit excellent thermal stability, oxidation resistance, and low-temperature fluidity, enabling them to withstand the demanding conditions within automotive engines. By utilizing lubricants derived from alpha olefins, automotive manufacturers can ensure optimal engine performance, reduce friction, and enhance fuel efficiency. Moreover, the automotive industry's shift towards electric vehicles (EVs) has further amplified the demand for high-performance lubricants. EVs rely heavily on lubricants to maintain the smooth operation of their electric motors and other vital components. Alpha olefins, with their superior lubricating properties, are well-suited to meet the specific requirements of these advanced electric propulsion systems.
Restraint
Volatility of raw material prices

Availability of alternative products and the threat of substitution
Opportunities
Development of bio-based alpha olefins

Growing demand for high-performance polymers and specialty chemicals
In recent years, there has been a remarkable surge in the need for high-performance polymers and specialty chemicals across various industries. These substances play a crucial role in enhancing the performance and durability of numerous products, ranging from automotive components to packaging materials. As a result, the Alpha Olefin Market has witnessed a substantial growth potential. These materials possess exceptional strength, chemical resistance, and thermal stability, making them ideal for demanding applications. Moreover, they offer enhanced flexibility, enabling manufacturers to create innovative and customized solutions for their customers. The automotive industry, for example, heavily relies on high-performance polymers and specialty chemicals to improve the efficiency and safety of vehicles. These substances are utilized in the production of lightweight components, such as bumpers and interior panels, which contribute to fuel efficiency and reduce emissions. Additionally, they enhance the durability and crash resistance of these components, ensuring passenger safety.
Challenges
Impact of Russia-Ukraine War:
The second quarter of 2022 witnessed a significant impact on the prices of Linear Alpha Olefins due to the disruption in the feedstock Olefins and upstream energy market. Both ethylene and polymer-grade propylene, which are primary feedstocks, experienced a strong increase, with prices surging by more than 10% in the first half of the quarter. This surge is mainly attributed to the Russia-Ukraine war, which disrupted global energy dynamics and led to a sharp increase in crude oil prices. SABIC, a major producer of Linear Alpha Olefins, responded to the high production costs by raising the prices of all major categories of Linear Alpha Olefins in the first two months of the second quarter of 2022. Additionally, the market dynamics shifted towards the latter stages of the quarter, with a deterioration in feedstock pricing sentiment. The soaring prices of Brent crude oil and LNG added to the cost pressure on downstream Linear Alpha Olefins, resulting in a considerable rise in LAO prices in Q1 2022. Despite these challenges, the demand dynamics remained strong, particularly in the downstream plasticizer, surfactants, and lubricants industry. Consumption from these sectors remained firm throughout the quarter, providing some stability amidst the volatile market conditions. However, it is important to note that the conflict in the European continent has not only impacted prices but also caused disruptions in the production and supply chain for Shell and other producers. These companies have reported increased production costs and supply chain issues as a result of the growing conflict.
Impact of Recession:
The prices of LAO (Linear Alpha Olefins) continued to decline in July 2023 due to weak demand and limited supply. However, inventories of LAO remained at an adequate level during this period, primarily because the cost of supply and materials was rising. The OPEC+ decision to cut production by 1 million barrels per day forced the US to increase its production in order to balance domestic pricing. In July, the demand for LAO remained subdued as the US Federal Reserve raised interest rates again, discouraging consumption. This led to a significant decline in prices, reflecting the weak chemical margins of major LAO producers such as Shell. However, towards the end of July, prices began to rise, leading to increased consumption in the retail sector as inflation moderated to 3%. Imported inflation and overpriced goods remained in inventories, which started to decline. Europe's aggressive purchase of natural gas for heating oil in winter continued to drive up the prices of feedstock ethylene. Despite weakening demand, manufacturers continued to lower prices down the value chain in order to maintain a positive cash flow, resulting in deteriorating chemical margins. In September demand again decreased, as reflected in falling freight charges across the Atlantic and Pacific. Surprisingly, LAO prices continued to increase despite the weak demand. More analysis is included in the final report.
Market segmentation
By Product
1-butene

1-hexene

1-octene

1-decene

1-dodecene

Others
By Application
Polyethylene

Synthetic Lubricants

Fine chemicals

Plasticizer

Detergent Alcohol

Polyolefins comonomer

Others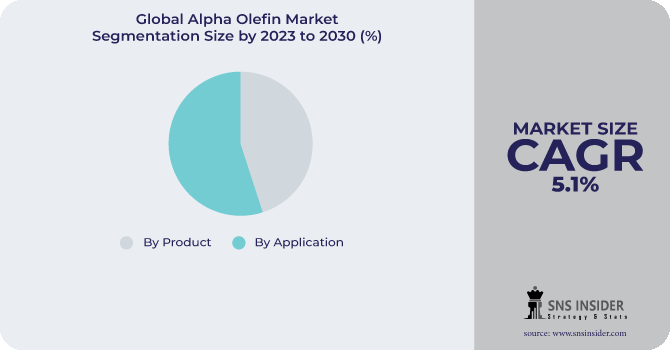 Get Customized Report as Per Your Business Requirement - Request For Customized Report
Regional Analysis
North America dominated the Alpha Olefin Market with the highest revenue share of about 42% in 2022. This is attributed to the shale gas boom in the United States, which has significantly boosted ethylene production in the region, consequently driving alpha olefin production as well. Moreover, the ongoing increase in oil exploration activities along the Gulf of Mexico is expected to further propel the growth of the alpha-olefin market. Canada, too, is poised to contribute to the surge in alpha olefin production, because of its escalating crude oil production. The region's abundant natural resources make it an attractive investment hub for both domestic and foreign businesses seeking to produce alpha olefins. Furthermore, the presence of numerous manufacturing enterprises, coupled with the expansion of petrochemical and infrastructural projects in the gas and oil sectors, is anticipated to fuel the growth of the regional market.
Asia Pacific is expected to grow with the highest CAGR of about 5.5% in the Alpha Olefin Market during the forecast period. This growth is attributed to the rapid urbanization and industrialization occurring in emerging economies such as China and India, which are expected to drive the demand for polyethylene products. Furthermore, the manufacturing sector in the Asia Pacific has witnessed significant growth due to various government incentives and a favorable regulatory environment in countries like China, India, Malaysia, and Indonesia. Alpha olefins find extensive applications in industries such as polyethylene, detergent alcohols, synthetic lubricants, and plasticizers. The increasing urbanization and industrialization in China and India's emerging economies are anticipated to further boost the demand for polyethylene products. Moreover, the Asia Pacific region is expected to witness a surge in the production of these products, which will contribute to the growth of the regional market. In terms of market share, China currently dominates the alpha olefins market, while India's market is experiencing the fastest growth in the Asia-Pacific region. This highlights the significant potential and opportunities present in these markets.
REGIONAL COVERAGE:
North America
Europe
Eastern Europe

Poland

Romania

Hungary

Turkey

Rest of Eastern Europe

Western Europe

Germany

France

UK

Italy

Spain

Netherlands

Switzerland

Austria

Rest of Western Europe
Asia Pacific
China

India

Japan

South Korea

Vietnam

Singapore

Australia

Rest of Asia Pacific
Middle East & Africa
Middle East

UAE

Egypt

Saudi Arabia

Qatar

Rest of the Middle East

Africa

Nigeria

South Africa

Rest of Africa
Latin America
Brazil

Argentina

Colombia

Rest of Latin America
Key Players
The major key players are Evonik Industries AG, INEOS Oligomers, Dow Chemical Company, Chevron Phillips Chemical Company LLC, Qatar Chemical Company Ltd, Exxon Mobil Corporation, Royal Dutch Shell, SABIC, Sasol Limited, Mitsubishi Chemical Corp., and other key players mentioned in the final report.
Evonik Industries AG-Company Financial Analysis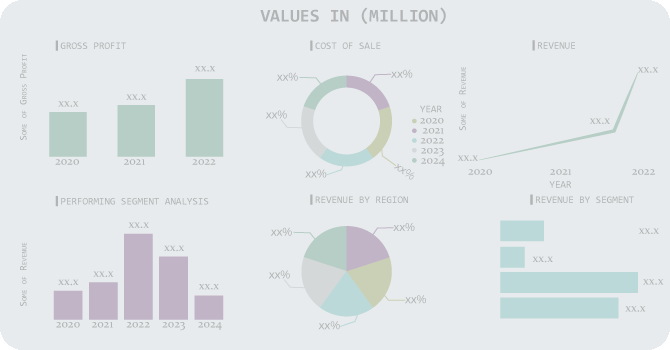 Recent Development:
In Sept 2023, ExxonMobil made an exciting announcement regarding the commencement of operations for two chemical production units at its Baytown manufacturing facility in Texas. This remarkable $2 billion expansion project is a crucial component of ExxonMobil's extensive growth strategy, aimed at providing enhanced value through the production of top-tier products at its refining and chemical facilities along the U.S. Gulf Coast.

In August 2023, Chevron Phillips Chemical achieved a significant milestone by successfully completing the construction of the world's largest on-purpose 1-hexene unit in Old Ocean, Texas. This groundbreaking achievement positions Chevron Phillips Chemical at the forefront of innovation, with operations at the plant scheduled to commence by early September.
Alpha Olefin Market Report Scope
Report Attributes
Details
Market Size in 2022
US$ 9.8 Bn
Market Size by 2030
US$ 14.59 Bn
CAGR
CAGR of 5.1% From 2023 to 2030
Base Year
2022
Forecast Period
2023-2030
Historical Data
2019-2021
Report Scope & Coverage
Market Size, Segments Analysis, Competitive Landscape, Regional Analysis, DROC & SWOT Analysis, Forecast Outlook
Key Segments
• By Product (1-butene, 1-hexene, 1-octene, 1-decene, 1-dodecene, and Others)
• By Application (Polyethylene, Synthetic Lubricants, Fine chemicals, Plasticizer, Detergent Alcohol, Polyolefins comonomer, and Others)
Regional Analysis/Coverage
North America (US, Canada, Mexico), Europe (Eastern Europe [Poland, Romania, Hungary, Turkey, Rest of Eastern Europe] Western Europe] Germany, France, UK, Italy, Spain, Netherlands, Switzerland, Austria, Rest of Western Europe]), Asia Pacific (China, India, Japan, South Korea, Vietnam, Singapore, Australia, Rest of Asia Pacific), Middle East & Africa (Middle East [UAE, Egypt, Saudi Arabia, Qatar, Rest of Middle East], Africa [Nigeria, South Africa, Rest of Africa], Latin America (Brazil, Argentina, Colombia Rest of Latin America)
Company Profiles
Evonik Industries AG, INEOS Oligomers, Dow Chemical Company, Chevron Phillips Chemical Company LLC, Qatar Chemical Company Ltd, Exxon Mobil Corporation, Royal Dutch Shell, SABIC, Sasol Limited, Mitsubishi Chemical Corp.
Key Drivers
• Increasing demand for polyethylene
• Rising demand for synthetic lubricants, plasticizers, and surfactants
• Expanding automotive industry and the need for high-performance lubricants
Market Restraints
• Volatility of raw material prices
• Availability of alternative products and the threat of substitution