Report Scope & Overview:
The Anticoagulation Market Size was valued at USD 35.25 billion in 2022, and is expected to reach USD 61.49 billion by 2030 and grow at a CAGR of 7.9% over the forecast period 2023-2030.
Anticoagulants, also referred to as blood thinners, are chemicals that speed up the process of blood clotting and diminish blood coagulation. Anticoagulants are a family of drugs used to treat thrombotic diseases in medicine. Oral anticoagulants can be taken orally or intravenously and come in a variety of dose formulations. Additionally, several anticoagulants are utilized in medical devices such as blood transfusion bags, dialysis equipment, and sampling tubes. Warfarin was initially authorized as an anticoagulant.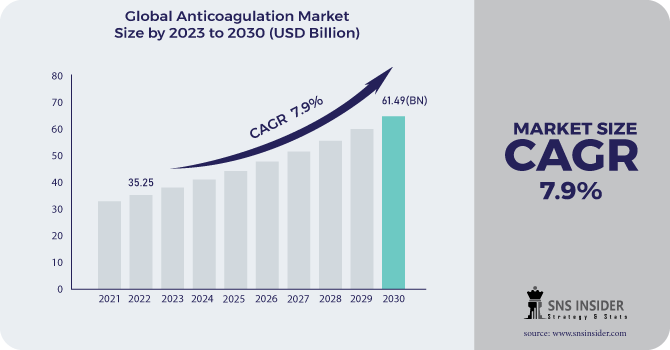 To get more information on Anticoagulation Market - Request Sample Report
The increasing prevalence of cardiovascular and coronary artery disorders, dependence on anticoagulants, and the growing geriatric population all contribute to the growth of the worldwide anticoagulation market. Additionally, the industry has a profitable chance due to the rising awareness of the treatment. However, strict regulatory requirements could limit market expansion.
MARKET DYNAMICS
DRIVERS
Cardiovascular and coronary artery disorders are becoming more common

Anticoagulants are becoming more popular, expensive, and used more frequently.
RESTRAINTS
Stern governmental regulations

The Treatment's Adverse Reactions
OPPORTUNITIES
CHALLENGES
IMPACT OF COVID-19
Various nations and companies are attempting to address the problems caused by the new coronavirus (COVID-19). The healthcare sector is one such one that is concerned about the COVID-19's potential effects. Patients' capacity to undergo disease diagnostic and surgical treatment has been hampered by social distancing restrictions, substantial reductions in consumers' disposable cash during the COVID-19 crisis, and governmental measures. Lack of personal protection equipment poses a problem for many hospitals and clinics, limiting access to treatment services.
The acquisition of raw materials is the first step in the creation of anticoagulant medications. The source of raw materials is a little challenging because of the urgent actions taken around the world to combat surge ability, such as lockdowns, physical distance, and transport limitations. Additionally, the first half of the year saw labour shortages and limits on the supply of raw materials for the anticoagulant market. The workforce is required to gather the raw materials, put them together to create the finished product, package it, and deliver it to the customers.
The COVID-19 outbreak has been quickly spreading throughout the world. Due to patients' rising demand, the market for anticoagulant medications has not been significantly affected. Demand is also expected to rise as more people are predicted to be unable to access healthcare facilities for thrombolytic therapy.
VALUE CHAIN ANALYSIS
Due to the increasing demand for anticoagulants, the worldwide anticoagulation market is expanding rapidly, providing lucrative growth prospects for the number of players who are developing new and improved products. Four key elements make up the value chain analysis of the anticoagulation market: R&D and design, distribution and sales, product manufacturing, and post-sales services.
Conceptualizing comes first in research and development, then comes design, development, and testing. The value chain is made up of the R&D component. The manufacture of the product begins once the final product designs have been completed. 50–55 percent of the value chain is made up of the manufacturing sector. Distribution and sales follow, which are critical to any industry. To draw customers to the goods, information about it is disseminated throughout the market in this case. The post-sales services are the last. After the pharmaceuticals are put on the market, the FDA is periodically updated on the product's safety in order to start the post-marketing surveillance stage. About 5% of the value chain is made up of it.
By Drug Class
The oral anticoagulants Rivaroxaban, Dabigatran, Edoxaban, Apixaban, and Betrixaban are new medications. These treatments provide a wide range of possible advantages and are novel. They show promise in lowering the risk of stroke and systemic embolism, as well as preventing deep vein thrombosis (DVT) and pulmonary embolism (PE)
For almost 60 years, only two oral anticoagulants—warfarin and acenocoumarin—have been prescribed. In the N-terminal portions of the proteins that are dependent on vitamin K, glutamate residues are post-translationally carboxylate to form -carboxyglutamates.
Deep vein thrombosis (DVT), acute myocardial infarction (AMI), pulmonary embolism (PE), stroke, atrial fibrillation (AF), vasculopathy, and individuals with tissue heart valves or mechanical prosthetic cardiac valves are just a few of the medical disorders for which VKA treatment is recommended.
Warfarin and acenocoumarol, two other Vitamin K Antagonists (VKA), have been the sole oral anticoagulants used for more than 60 years. In the N-terminal portions of the vitamin K-dependent proteins, glutamate residues are post-translationally carboxylated to -carboxyglutamates with the assistance of vitamin K.
Anticoagulants include LMWH, such as enoxaparin and daleteparin. When a patient is admitted to the hospital for an acute or voluntary reason, these medications are used to avoid VTE. They are also used to treat DVT and PE.
By Disease Indication
Heart failure (HF) or a heart attack with diminished left ventricular function causes a significant and increasing number of morbidities and fatalities in the US and around the world. A factor in this burden is stroke. The largest risks for stroke are shown when other risk factors, such as atrial fibrillation, are present, despite the fact that it appears that HF itself may carry some risk. In this demographic, the cornerstone of risk reduction tactics is therapeutic anticoagulation.
Stroke management and prevention medications include anticoagulation. Anticoagulants have been used to treat ischemic stroke patients for a long time. This market is expanding as a result of more people using these anticoagulants to treat strokes.
The global increase in deep vein thrombosis/pulmonary embolism atrial fibrillation, and mechanical heart valves (MHV) is propelling this market's expansion.
The increase in these cases is what is fueling this market segment's expansion. The existence of leading pharmaceutical and biotechnology firms working to create novel medicines to address various disease indications is also making a substantial contribution to the market's expansion.
This market is growing as a result of the rise of DVT/PE, atrial fibrillation, and mechanical heart valves (MHV) around the world.
The growth of this market segment is being driven by an increase in these cases. An important factor in the market's growth is the presence of top pharmaceutical and biotechnology companies that are developing novel medications to treat a range of illness indications.
Coronary artery diseases and myocardial infarction are included in the other segment, which is based on disease indication. Due to a sizable target population and a rise in the use of anticoagulants to treat these disorders, this segment, which currently accounts for a significant portion of the market's revenue growth, is predicted to dominate throughout the forecast period.
By Route of Administration (ROA)
DOACs are anticoagulants that are administered orally, and thus marks a significant advancement in anticoagulation. In addition, DOACs have increased availability in terms of anticoagulation and have been shown to be effective across a range of applications. As a result, this aspect significantly supports the market expansion of this industry, which in turn supports the growth of the anticoagulation market.
Unfractionated heparin (UFH), an injectable anticoagulant, is given either intravenous (IV) infusion or subcutaneous (SC) injection, which are the preferred modes of administration. Plasma concentrations are quickly reached that are therapeutic after IV treatment (with a bolus dosage). Additionally, it is the mode of administration of choice when quick anticoagulation is necessary. Vitamin K can be administered intravenously (IV) or orally; the SC method is not advised. Increased obesity rates and the ageing population, significant unmet requirements, and a rise in the demand for innovative medicines all contribute to the slow expansion of this industry.
By Distribution Channel
Hospital pharmacies, a specialist sector of pharmacy, play a significant role in the supply chain. Examples include a hospital, drug treatment facility, outpatient clinic, drug information center, and residential care facility. The market expansion of this niche is being driven by the rising number of hospital pharmacies that are engaged in the sale of anticoagulant medications.
The majority of the market was accounted for by retail pharmacies. As a result of the retail pharmacy's ability to deliver medications at a lower cost than hospital-affiliated pharmacies, this market sector is anticipated to increase at a CAGR. During the assessment period, it is predicted that the market for retail pharmacies will develop due to the rise in the number of pharmacies supplying anticoagulant medications.
An internet-based pharmacy is also known as an online pharmacy, internet pharmacy, or mail-order pharmacy. It delivers orders to customers by postal service, shipping services, or an online pharmacy website.
High-speed internet access, an increase in anticoagulant-specific online pharmacies, and greater discounts offered in comparison to retail pharmacies are all contributing factors to the market expansion of this industry category. Additionally, this segment is growing as the urban population increases.
KEY MARKET SEGMENTS:
By Drug Class
Direct Oral Anticoagulants (DOACS)

Warfarin

Other Vitamin K

Low Molecular Weight Heparin (LMWH)
By Disease Indication
Heart Attack

Stroke

Deep Vein Thrombosis/ Pulmonary Embolism DVT/PE

Mechanical Heart Valves (MHV)
By Route of Administration (ROA)
By Distribution Channel
Retail Pharmacy

Hospital Pharmacies

Online Pharmacies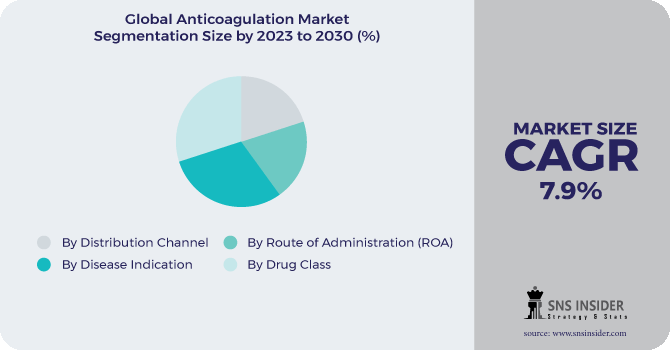 Need any customization research on Anticoagulation Market - Enquiry Now
REGIONAL ANALYSIS
The largest market share is anticipated to be in North America during the study period. A rising number of heart patients, growing awareness of chronic and lifestyle illnesses, new product releases, the existence of significant players, and these factors are all driving the anticoagulation market in North America. Anticoagulation is frequently used to minimize clot formation, which raises the risk of heart disease in North America due to the high cost of healthcare. The region with the fastest growth rate throughout the projection period is expected to be Asia-Pacific.
REGIONAL COVEREGE
North America

Europe

Germany

UK

France

Italy

Spain

The Netherlands

Rest of Europe

Asia-Pacific

Japan

south Korea

China

India

Australia

Rest of Asia-Pacific

The Middle East & Africa

Latin America

Brazil

Argentina

Rest of Latin America
KEY PLAYERS:
Some of the major key players are Bristol-Myers Squibb Company, Pfizer Inc, Daiichi Sankyo Company, Hoffmann-La Roche Ltd, Johnson & Johnson Services Inc, GlaxoSmithKline plc, Boehringer Ingelheim International GmbH, Portola Pharmaceuticals, Inc, Novartis AG, Sanofi and Other Players.
Johnson & Johnson Services Inc-Company Financial Analysis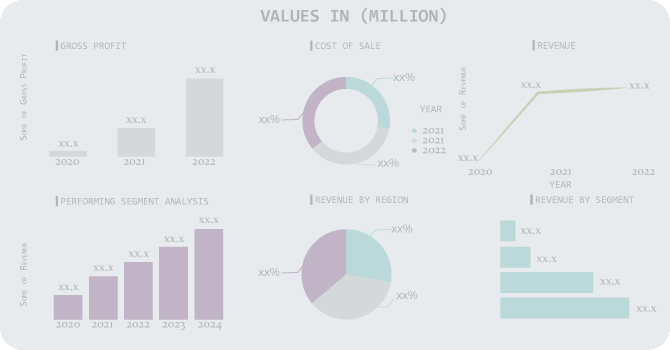 Anticoagulation Market Report Scope:

Report Attributes
Details
Market Size in 2022
US$ 35.25 Billion
Market Size by 2030
US$ 61.49 Billion
CAGR
CAGR of 7.9% From 2023 to 2030
Base Year
2022
Forecast Period
2023-2030
Historical Data
2020-2021
Report Scope & Coverage
Market Size, Segments Analysis, Competitive Landscape, Regional Analysis, DROC & SWOT Analysis, Forecast Outlook
Key Segments
• By Drug Class (Direct Oral Anticoagulants (DOACS), Warfarin, Other Vitamin K, Low Molecular Weight Heparin (LMWH))
• By Disease Indication (Heart Attack, Stroke, Deep Vein Thrombosis/ Pulmonary Embolism DVT/PE, Mechanical Heart Valves (MHV))
• By Route of Administration (ROA) (Oral, Injectable, Others)
• By Distribution Channel (Retail Pharmacy, Hospital Pharmacies, Online Pharmacies)
Regional Analysis/Coverage
North America (USA, Canada, Mexico), Europe
(Germany, UK, France, Italy, Spain, Netherlands,
Rest of Europe), Asia-Pacific (Japan, South Korea,
China, India, Australia, Rest of Asia-Pacific), The
Middle East & Africa (Israel, UAE, South Africa,
Rest of Middle East & Africa), Latin America (Brazil, Argentina, Rest of Latin America)
Company Profiles
Bristol-Myers Squibb Company, Pfizer Inc, Daiichi Sankyo Company, Limited, Hoffmann-La Roche Ltd, Johnson & Johnson Services Inc, GlaxoSmithKline plc, Boehringer Ingelheim International GmbH, Portola Pharmaceuticals, Inc, Novartis AG, Sanofi.
Key Drivers
• Cardiovascular and coronary artery disorders are becoming more common.
RESTRAINTS
• Stern governmental regulations
• The Treatment's Adverse Reactions