Report Scope & Overview:
The Antifreeze Market size was valued at USD 5120 million in 2022. It is estimated to hit USD 8731.56 million by 2030 and grow at a CAGR of 6.9% over the forecast period of 2023-2030.
Antifreeze, also known as coolant, is a substance used to regulate the temperature of engines and prevent them from freezing or overheating. This essential fluid is widely used in various vehicles, including cars, trucks, motorcycles, and heavy-duty machinery. The antifreeze market has witnessed substantial growth in recent years and is expected to continue expanding at a steady pace. Factors contributing to this growth include the rising production and sales of automobiles, particularly in emerging economies. Moreover, the growing awareness among consumers regarding the importance of engine maintenance and the increasing adoption of advanced engine technologies further fuel the demand for antifreeze. Additionally, stringent regulations regarding vehicle emissions and environmental concerns have led to the development of eco-friendly antifreeze solutions, opening up new avenues for market growth.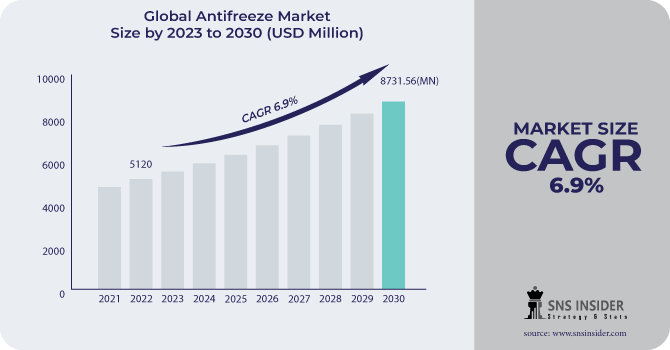 Get E-PDF Sample Report on Antifreeze Market - Request Sample Report
Ethylene Glycol antifreeze products dominated the antifreeze market with the highest revenue share of about 60.5% in 2022. This type of antifreeze boasts exceptional thermal stability, making it highly effective in preventing freezing and overheating of engines. Its ability to maintain optimal temperature levels ensures the smooth operation of vehicles, safeguarding their engines from potential damage.
Market Dynamics
Drivers
Increasing demand for automobiles worldwide

Rising industrialization and urbanization in emerging economies

Growing awareness regarding the importance of regular maintenance and servicing of vehicles
Restraint
Stringent regulations imposed by governing bodies regarding the use of antifreeze

Volatility in raw material prices
Opportunities
Growing focus on sustainable practices and the rising demand for bio-based antifreeze products

Increasing adoption of electric vehicles (EVs)
As the world shifts towards a more sustainable future, the demand for electric vehicles has been steadily rising. These vehicles, powered by electricity rather than traditional internal combustion engines, offer numerous advantages such as reduced emissions and improved fuel efficiency. However, this transition also brings about unique challenges that require innovative solutions. One such challenge is the need to regulate the temperature of electric vehicle components, particularly the batteries. Electric vehicle batteries are highly sensitive to temperature fluctuations, as extreme heat or cold can negatively impact their performance and lifespan. This is where antifreeze plays a crucial role and creates opportunities for the antifreeze market.
Challenges
As the world becomes more conscious of the detrimental effects of certain chemicals on our planet, consumers are actively seeking antifreeze products that are less harmful to the environment. This shift in consumer preferences poses a significant obstacle for traditional antifreeze manufacturers, who must adapt their formulations to meet these new demands.
Impact of Russia-Ukraine War:
The Russia-Ukraine war has disrupted the supply chain of antifreeze products, as both countries are major producers and exporters. With the conflict escalating, transportation routes have been affected, leading to delays and shortages in the market. This has resulted in increased prices and limited availability for consumers and businesses alike. The geopolitical tensions between Russia and Ukraine have also influenced consumer behavior and preferences. As a result, there has been a shift in demand for antifreeze products. Consumers are now more inclined to support domestic manufacturers or seek alternatives from countries not involved in the conflict. This change in demand patterns has forced market players to adapt their strategies to cater to these evolving preferences. The war has prompted both Russia and Ukraine to impose trade restrictions on each other, affecting the antifreeze market. Tariffs, quotas, and other barriers have hindered the free flow of goods between the two countries, further exacerbating supply chain disruptions. These trade restrictions have not only impacted the availability of antifreeze products but have also increased costs for businesses operating in the affected regions.
Impact of Recession:
During periods of recession, the antifreeze market experiences a decline in demand. As a result, the sales of antifreeze products, which are primarily used in automotive and industrial applications, witnessed a significant decrease. Furthermore, the recession often leads to a decrease in vehicle sales, as consumers postpone or cancel their purchases. This directly affects the demand for antifreeze, as it is a crucial component for maintaining the optimal performance of vehicles. Consequently, antifreeze manufacturers and suppliers face a decline in revenue and profitability.
Market Segmentation
By Product
Propylene Glycol

Ethylene Glycol

Glycerin
By Technology
By Application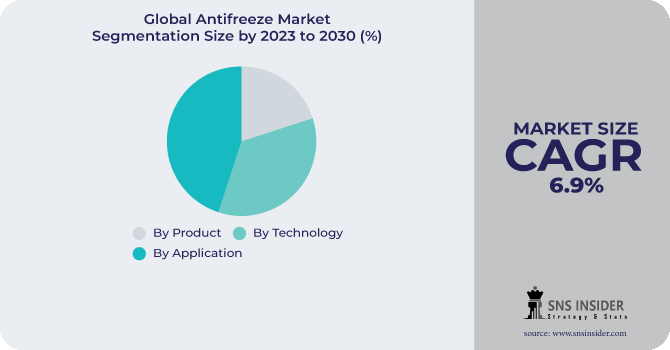 Get Customized Report as Per Your Business Requirement - Request For Customized Report
Regional Analysis
Asia Pacific dominated the antifreeze market with the highest revenue share of about 28.35% in 2022. This remarkable growth is attributed to the surging demand for passenger cars and light commercial vehicles, particularly in China and India. Moreover, the automotive sector in several countries, such as India, China, Indonesia, and Thailand, has been experiencing significant growth, fueled by an improved standard of living, heightened consumer awareness, and a rise in disposable income. These factors are expected to drive the market's expansion throughout the forecast period. Furthermore, the increasing adoption of electric vehicles and the substantial investments in research and development for hybrid vehicles are poised to create new avenues for growth. This exciting development not only aligns with the global shift towards smart transportation but also presents lucrative opportunities for the antifreeze market.
North America is the second largest region for the antifreeze market and is expected to grow with a steady growth rate of about 7.2% during the forecast period. The region's robust automotive industry, coupled with the increasing demand for vehicles, has significantly contributed to the expansion of the antifreeze market. Additionally, North America's extreme weather conditions, particularly in the northern regions, further drive the demand for antifreeze. The harsh winters experienced in these areas necessitate the use of antifreeze to prevent engine damage caused by freezing temperatures. Furthermore, the growing awareness among consumers regarding the importance of regular vehicle maintenance has also fueled the demand for antifreeze.
REGIONAL COVERAGE:
North America
Europe
Eastern Europe

Poland

Romania

Hungary

Turkey

Rest of Eastern Europe

Western Europe

Germany

France

UK

Italy

Spain

Netherlands

Switzerland

Austria

Rest of Western Europe
Asia Pacific
China

India

Japan

South Korea

Vietnam

Singapore

Australia

Rest of Asia Pacific
Middle East & Africa
Middle East

UAE

Egypt

Saudi Arabia

Qatar

Rest of Middle East

Africa

Nigeria

South Africa

Rest of Africa
Latin America
Brazil

Argentina

Colombia

Rest of Latin America
Key Players
The major key players are BASF SE, Royal Dutch Shell, Total, PARAS Lubricants, CCI Corporation, Chevron Corporation, KOST USA, Inc., Old World Industries Inc., Gulf Oil International, SONAX Gmbh, Millers Oils, PENTOSIN, Recochem Inc., and other key players are mentioned in the final report.
Royal Dutch Shell-Company Financial Analysis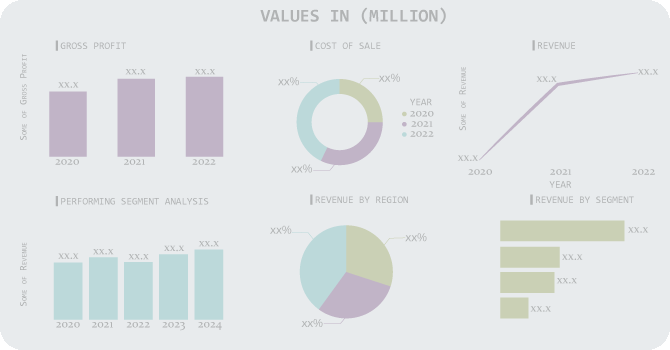 Recent Development:
In May 2023, GLYSANTIN® successfully introduced its new range of biomass-balanced coolants to the European aftermarket. This innovative product line offers enhanced performance and sustainability.

In Feb 2023, Old World Industries, the manufacturer of FINAL CHARGE® Heavy Duty Antifreeze/Coolant, announced that FINAL CHARGE® PRO-SERIES, featuring advanced and proprietary technology, has recently received multiple OEM approvals. These include prestigious certifications such as Cummins CES 14603, CES 14439, CES 14636, Volvo VCS2, and Mack Truck. Since its debut in late 2022, this coolant has been recognized for its exceptional quality and performance.

In Sept 2022, Gulf Oil Lubricants launched a specialized range of EV fluids designed for electric three-wheelers and buses. This product line is the result of a strategic partnership between Gulf Oil Lubricants, Piaggio Vehicles Pvt Ltd, and Switch Mobility.
Antifreeze Market Report Scope:
Report Attributes
Details
Market Size in 2022
US$ 5120 Mn
Market Size by 2030
US$ 8731.56 Mn
CAGR
CAGR of 6.9% From 2023 to 2030
Base Year
2022
Forecast Period
2023-2030
Historical Data
2019-2021
Report Scope & Coverage
Market Size, Segments Analysis, Competitive Landscape, Regional Analysis, DROC & SWOT Analysis, Forecast Outlook
Key Segments
By Product (Propylene Glycol, Ethylene Glycol, and Glycerin)
By Technology (IAT, OAT, and HOAT)
By Application (Aerospace, Automobile, and Industrial heat transfer and cooling systems)
Regional Analysis/Coverage
North America (US, Canada, Mexico), Europe (Eastern Europe [Poland, Romania, Hungary, Turkey, Rest of Eastern Europe] Western Europe] Germany, France, UK, Italy, Spain, Netherlands, Switzerland, Austria, Rest of Western Europe]), Asia Pacific (China, India, Japan, South Korea, Vietnam, Singapore, Australia, Rest of Asia Pacific), Middle East & Africa (Middle East [UAE, Egypt, Saudi Arabia, Qatar, Rest of Middle East], Africa [Nigeria, South Africa, Rest of Africa], Latin America (Brazil, Argentina, Colombia Rest of Latin America)
Company Profiles
BASF SE, Royal Dutch Shell, Total, PARAS Lubricants, CCI Corporation, Chevron Corporation, KOST USA, Inc., Old World Industries Inc., Gulf Oil International, SONAX Gmbh, Millers Oils, PENTOSIN, Recochem Inc.
Key Drivers
Increasing demand for automobiles worldwide
Rising industrialization and urbanization in emerging economies
Growing awareness regarding the importance of regular maintenance and servicing of vehicles
Market Restraints
Stringent regulations imposed by governing bodies regarding the use of antifreeze.
Volatility in raw material prices