REPORT SCOPE & OVERVIEW:
The Antimicrobial Packaging Market size was USD 9.3 billion in 2022 and is expected to Reach USD 13.58 billion by 2030 and grow at a CAGR of 4.85 % over the forecast period of 2023-2030.
The market segmentation of Antimicrobial Packaging is based on raw material which includes, plastics, bio-polymers, paperboards, polymers, and others. There is increasing demand for antimicrobial packaging in the food and beverage industry due to its ability to prevent the growth of harmful bacterial microorganisms. This will increase the shelf life of the product. Antimicrobial plastic packaging is mostly used in meat and poultry products as well as dairy products, as the risk of the product getting contaminated is high.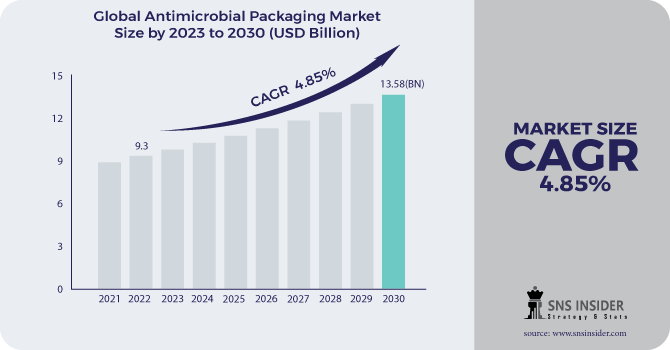 Get Sample Copy of Antimicrobial Packaging Market - Request Sample Report
Various types of antimicrobial packaging technologies are being used in the market, including active packaging, which incorporates antimicrobial agents directly into the packaging material, and controlled release packaging, which gradually releases antimicrobial substances over time. Common antimicrobial agents used in these packaging solutions include silver nanoparticles, essential oils, enzymes, and organic acids.
The antimicrobial packaging market is expected to continue its growth trajectory in the coming years. Factors such as the increasing focus on food safety, advancements in packaging technologies, and the growing demand for sustainable packaging solutions are likely to drive the market forward.
MARKET DYNAMICS
KEY DRIVERS:
Rising demand from pharmaceutical and food & beverage industry will drive the market.

Consumer awareness for healthy lifestyle will expand the overall industry.
Consumers are shifting more towards healthy lifestyle. After the Covid-19 pandemic this trend of health safety has made consumers aware about the packaged food products. For the safety of consumers, high quality of packaging material is used, which has driven the need of antimicrobial packaging demand. Since, antimicrobial packaging restricts the growth of micro-organisms on the surface of products. Bacteriocins are used in food packaging film for products spoilage. Also, rise of demand in pharmaceutical industry has given growth to the overall market.
RESTRAIN:
Rising prices of raw materials is major restrain for growth of the overall market. Proper infrastructure for the storage of final product is required, rise or decrease in temperature can cause growth of micro-organisms. Lack of storage infrastructure facility is also restraining the growth of market.
OPPORTUNITY:
Expansion in Healthcare & Pharmaceutical sector after Covid-19.

Development in Green Packaging
Green packaging refers to sustainable packaging, which means use of more of recycled raw materials and consumption of less energy. This will create huge positive impact on the growth of business and overall market, as government encourages sustainability.
CHALLENGES:
Due to high technological advancements and research in the packaging, it has lead to rise in overall cost of production which may affect the consumer. Consumers look for affordable product along with the safety. To deal with this situation, it will be challenging for industries to reduce the cost of production.
IMPACT OF RUSSIAN UKRAINE WAR
Due to the rise in conflict between Russia and Ukraine, there was disruption is trade and supply chain. Import and export of goods were decreased. There was 43.15 % decrease in export of machinery from Russia. The packaging machinery is important component for the production.
15% decrease in export of raw material exports and 30% decrease in import of other packaging materials were seen during the conflict, affecting the overall antimicrobial packaging market.
The production and consumption of personal care product was reduced during the war in the domestic region which is affecting the growth of antimicrobial packaging in domestic region.
IMPACT OF COVID-19
Hygiene was the major concern for the packaging market after the outbreak of Coronavirus. Antimicrobial packaging offers customers a higher level of product protection against potentially harmful microbes because it is frequently the first point of contact for any item. By material type plastic is the major material used for the production of antimicrobial packaging, so damage to plastic industry is damage to antimicrobial packaging market.
The months of April and May saw the biggest drops in European plastics production, which resulted in a 4.5% annual volume decline in 2020. Japan's plastic production also decreased by 4% also affecting the antimicrobial packaging. Availability of less raw material will affect the overall production.
However, rise in pharmaceutical sector and healthcare was observed during covid. Use of face masks across all regions was increased. Nearly about 1.6 million face masks were being used every day, in the month of April, 2020. Increased used of safety products, increased demand for antimicrobial technology.
KEY MARKET SEGMENTS
By Raw Material
Plastic

Bio-Polymers

Paperboards

Polymers

Others
By Antimicrobial Agent Type
Organic Acids

Plant Extracts

Bacteriocins Enzymes

Others
By Technology
Active

Controlled Release
By Application
Healthcare

Food & Beverages

Consumer Goods

Agriculture Products

Others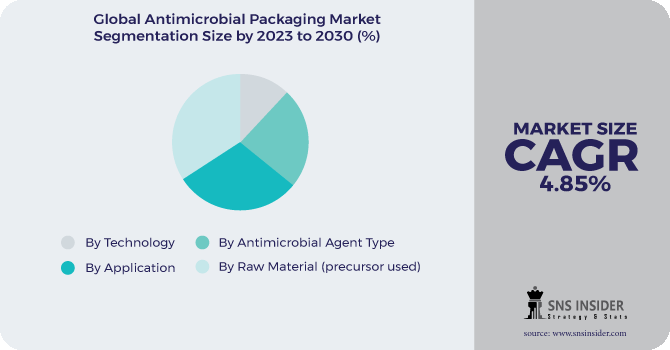 Get Customized Report as per Your Business Requirement - Enquiry Now
REGIONAL ANALYSIS
Asia Pacific region is the dominating the Antimicrobial Packaging Market, because of large demand from the emerging economies of India & China. China is showing increasing growth for the food industry, which is ultimately creating demand for the Antimicrobial packaging market.
The North America will show growth in Antimicrobial Packaging Market, due to increasing awareness of people in the region. The demand from Pharmaceutical and healthcare industry will also drive the growth in the region.
Europe's market is in demand for the cosmetics and personal care products and also for food and beverages. People's changing lifestyle is demanding for packaged food products, which is adding the growth of Antimicrobial packaging.
During the forecast period, the Latin America & Middle East & Africa will show steady growth. There is rising growth for the personal care products and food and beverages. The availability of raw materials is easy in this region which will be driving factor for the growth of the overall market.
REGIONAL COVERAGE:
North America
Europe
Germany

UK

France

Italy

Spain

The Netherlands

Rest of Europe
Asia-Pacific
Japan

South Korea

China

India

Australia

Rest of Asia-Pacific
The Middle East & Africa
Latin America
Brazil

Argentina

Rest of Latin American
RECENT DEVELOPMENT
In Egypt, researchers are developing antimicrobial active packaging film for cheddar cheese preservation.

Natural halloysite nanotubes have been studied by researchers in India as useful additives for use in active food packaging. According to the Indian Institute of Technology, the nanotubes exhibit increased shelf life, antimicrobial activity, ethylene scavenging, and barrier properties for moisture and gas.
Key players List
Some major key players in the antimicrobial packaging market are The Dow Chemical Company, Biocote Limited, Polyone Corporation, FoodTouch, Microban International, Olpon Pure Sciences Limited, Mondi Plc, Biomaster, Dunmore Corporation, BASF SE, and other players.
Dow Chemical Company-Company Financial Analysis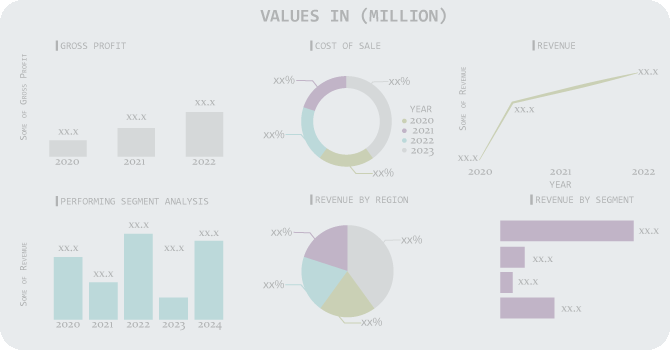 Antimicrobial Packaging Market Report Scope:
Report Attributes
Details
Market Size in 2022
US$ 9.3 Bn
Market Size by 2030
US$ 13.58 Bn
CAGR
CAGR of 4.85% From 2023 to 2030
Base Year
2022
Forecast Period
2023-2030
Historical Data
2020-2021
Report Scope & Coverage
Market Size, Segments Analysis, Competitive Landscape, Regional Analysis, DROC & SWOT Analysis, Forecast Outlook
Key Segments
• By Raw Material (Plastic, Bio-Polymers, Paperboards, Polymers, Others)
• By Anti-microbial Agent Type (Organic Acids, Plant Extracts, Bacteriocins Enzymes, Others)
• By Technology (Active, Controlled Release)
• By Application (Healthcare, Food & Beverages, Consumer Goods, Agriculture Products, Others)
Regional Analysis/Coverage
North America (USA, Canada, Mexico), Europe
(Germany, UK, France, Italy, Spain, Netherlands,
Rest of Europe), Asia-Pacific (Japan, South Korea,
China, India, Australia, Rest of Asia-Pacific), The
Middle East & Africa (Israel, UAE, South Africa,
Rest of Middle East & Africa), Latin America (Brazil, Argentina, Rest of Latin America)
Company Profiles
The Dow Chemical Company, Biocote Limited, Polyone Corporation, FoodTouch, Microban International, Olpon Pure Sciences Limited, Mondi Plc, Biomaster, Dunmore Corporation, BASF SE
Key Drivers
• Rising demand from pharmaceutical and food & beverage industry will drive the market.
• Consumer awareness for healthy lifestyle will expand the overall industry.
Market Opportunities
• Expansion in Healthcare & Pharmaceutical sector after Covid-19.
• Development in Green Packaging