Report Scope & Overview:
Carbon Nanotubes Market is expected to increase at a CAGR of 17%, from USD 25.72 billion in 2022 to USD 90.34 billion in 2030. Demand for lightweight structural polymer composites, conductive fillers for EMI shielding materials, and antistatic packaging from automotive, electronics, energy, and industrial end-users are driving the worldwide carbon nanotubes market. Fuel pumps, fuel filter, connectors, reservoirs, line clamps, and electronic housings are all made with carbon nanotube-based ESD materials. Electromagnetic interference (EMI) shielding composites and antistatic packaging materials are made with carbon nanotubes in the electrical and electronics industries. Despite the fact that numerous conducting particles, such as carbon black particles, carbon fibres, or metallic fibres, have been researched, CNTs have showed superior EMI shielding properties due to their high aspect ratio, increased strength, flexibility, and low density, making them suitable fillers.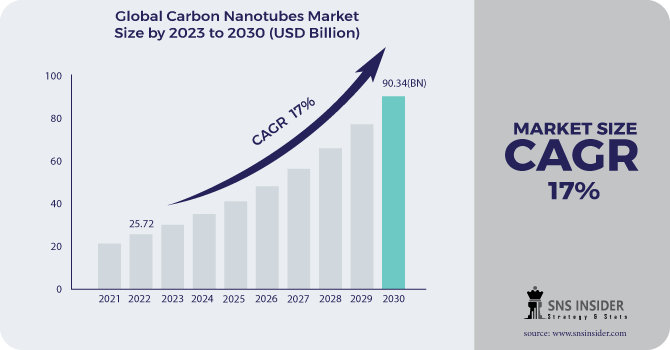 To get more information on Carbon Nanotubes Market - Request Sample Report
The Report identified a number of trends in the global industry, one of which is the high demand for diverse composite materials in a variety of applications, including bulletproof jackets and sporting goods. Carbon nanotubes are being more widely used in these applications because they improve the strength and mechanical qualities of completed market goods. Following the techniques that give high-quality finishing, the end products are stiffer, stronger, and lighter.
MARKET DYNAMICS:
KEY DRIVERS:
When it comes to electrical wiring, the average market vehicle uses 55 pounds of copper, but when it comes to electric cars, that quantity climbs to three times. The reduction in the quantity of copper used in vehicles is projected to result in a significant reduction in overall vehicle weight, as well as lower fuel consumption and carbon emissions, which would propel the market toward global expansion by the end of the term in 2030. In addition, its rise as a lighter alternative to copper has a significant role to play in the development of the market and changes to consider during the projection period, which ends in 2030.
RESTRAINTS:
Restraints that prevent the market from increasing in the forecast period of 2023-2030 are projected to have an influence on the carbon nanotubes market revenue. In the creation of nanomaterials, the release of nanoparticles and nano-biotechnological byproducts poses major dangers to human health and safety. A carbon nanotube can be found in a wide range of applications and goods, including solar cells and tennis rackets. They are growing their numbers in order to penetrate the environment, but the challenges that come with it are preventing them from doing so.
IMPACT OF COVID-19:
The emergence of the new coronavirus had a major economic influence on the operation of the carbon nanotube market. Travel, tourism, aviation, production, and manufacturing are among the financial and industrial market sectors that have been hit the worst. The International Monetary Fund and the World Bank predicted that the worst recession will occur in 2019-2020. Extending lockdown, market halts, and economic activity halts are all likely to reduce worldwide market demand. Furthermore, most countries' renewable energy sectors rely heavily on imports, particularly from China. COVID-19 has had the greatest impact on material supply and transportation in China, the pandemic's recognized source.
By Key Players:
Cheap Tubes, Inc., Showa Denko K.K., Thomas Swan & Co. Limited, Arkema SA, Carbon Solutions, Inc., Toray International Group Limited, LG Chem, Arry International Group Limited, Cnt Co., Ltd., Cnano Technology Ltd., Hanwha Corporation, Ocsial, Grafen Inc, Chengdu Organic Chemicals Co. Ltd., Klean Commodities, Kumho Petrochemical Co., Ltd., Raymor Industries Inc., Nanoshel LLC, Advanced Nanopower Inc., Nanolab Inc., Chasm Advanced Materials Inc., Nano-C Inc., Xinnano Materials, Inc., Nanothinx S.A., Reinste Nano Ventures
Market Segmentation:
By Type
Multi-Walled Carbon Nanotube

Single-Walled Carbon Nanotube
By Method
Chemical Vapor Deposition

Catalytic Chemical Vapor Deposition

High Pressure Carbon Monoxide Reaction

Others
By Application
By Technology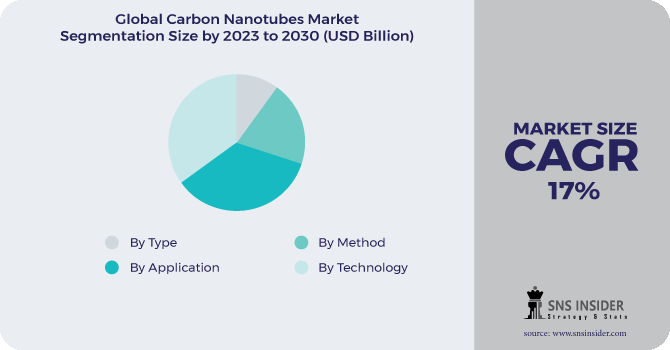 To Get Customized Report as per your Business Requirement - Request For Customized Report
REGIONAL ANALYSIS:
The carbon nanotubes market has been divided all across the region supported by the region into North American region, Asia-Pacific region, European region, Spanish American region, and also the Near East and African region. Being the fastest-emerging region, the biggest market share within the global market is held by the Asia-Pacific region because of the presence of states like Asian countries such as, Japan, China, and India which are thought to be the most junction of the auto, electrical, and defense industry and hence drives the market demand during this region. Moreover, increasing urbanization and industrializations are other factors that make more market demand.
REGIONAL COVERAGE:
North America

Europe

Germany

UK

France

Italy

Spain

The Netherlands

Rest of Europe

Asia-Pacific

Japan

South Korea

China

India

Australia

Rest of Asia-Pacific

The Middle East & Africa

Latin America

Brazil

Argentina

Rest of Latin America
Carbon Nanotubes Market Report Scope:
Report Attributes
Details
Market Size in 2022
US$ 25.72 Billion
Market Size by 2030
US$ 90.34 Billion
CAGR
CAGR of 17% From 2023 to 2030
Base Year
2022
Forecast Period
2023-2030
Historical Data
2020-2021
Report Scope & Coverage
Market Size, Segments Analysis, Competitive Landscape, Regional Analysis, DROC & SWOT Analysis, Forecast Outlook
Key Segments
• By Type (Multi-Walled Carbon Nanotube, Single-Walled Carbon Nanotube)
• By Method (Chemical Vapor Deposition, Catalytic Chemical Vapor Deposition, High Pressure Carbon Monoxide Reaction ,Others)
• By Application (Electronics & Semiconductors , Advanced Materials, Chemical & Polymers , Batteries & Capacitors , Aerospace & Defense, Energy, Medical,Others)
• By TECHNOLOGY (Arc Discharge, Laser Ablation, CVD, Catalytic CVD, High Pressure Carbon Monoxide, CoMoCAT, Floating Catalyst, Others)
Regional Analysis/Coverage
North America (USA, Canada, Mexico), Europe
(Germany, UK, France, Italy, Spain, Netherlands,
Rest of Europe), Asia-Pacific (Japan, South Korea,
China, India, Australia, Rest of Asia-Pacific), The
Middle East & Africa (Israel, UAE, South Africa,
Rest of Middle East & Africa), Latin America (Brazil, Argentina, Rest of Latin America)
Company Profiles
Cheap Tubes, Inc., Showa Denko K.K., Thomas Swan & Co. Limited, Arkema SA, Carbon Solutions, Inc., Toray International Group Limited, LG Chem, Arry International Group Limited, Cnt Co., Ltd., Cnano Technology Ltd., Hanwha Corporation, Ocsial, Grafen Inc, Chengdu Organic Chemicals Co. Ltd., Klean Commodities, Kumho Petrochemical Co., Ltd., Raymor Industries Inc., Nanoshel LLC, Advanced Nanopower Inc., Nanolab Inc., Chasm Advanced Materials, Inc., Nano-C Inc., Xinnano Materials, Inc., Nanothinx S.A., Reinste Nano Ventures