REPORT SCOPE & OVERVIEW
The Food Packaging Films Market size was USD 51.27 billion in 2022 and is expected to Reach USD 85.49 billion by 2030 and grow at a CAGR of 6.6 % over the forecast period of 2023-2030.
The demand for packaged food has been driven by shifting eating patterns and a faster pace of life, which is anticipated to have a big impact on the food packaging sector. Additionally, the advantages provided by food packagings, such as a prolonged and stable shelf-life, high barrier properties, and safety, have accelerated the industry's growth. The development of the food packaging film industry is anticipated to be aided by elements like the use of high-performance materials and the accessibility of different material compositions. The market is anticipated to grow as a result of the advantages of food packaging, such as the reduction of content contamination and increased efficiency. Additionally, it is anticipated that the declining household size, increasing disposable income, and rising population will all have a positive effect on market growth.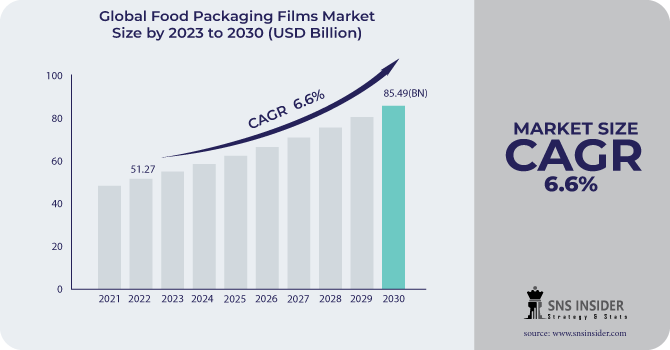 Get PDF Sample Copy of Food Packaging Films Market - Request Sample Report
Increased infrastructure improvements for recycling glass, metals, and plastics also support industry growth. The growth of the packaging film market could be hampered by worries about waste from improper packing.
The market is anticipated to be positively impacted by increasing retail product sales and the growing trend of online shopping. The busy lifestyle and the introduction of new low-fat and baked snacks that are health-conscious are also causing people to consume these items more frequently than traditional foods. The demand for packaged food products is then expected to increase as a result, which is predicted to spur market expansion.
Due to the switch from offline to online shopping, online goods, and services saw an increase in sales. The post-normalization of operations saw further growth in this trend. Sales of food packaging products used in the e-commerce sector increased as a result of the introduction of cutting-edge online shopping experiences with numerous consumer touchpoints, and this development is anticipated to continue in the years to come.
MARKET DYNAMICS
KEY DRIVERS:
The market for food packaging films is benefited by advancements in materials, film structures, protective coatings, and printing methods. As a result of these developments, it is now possible to produce films with enhanced barrier qualities, improved printing quality, and novel functionalities to satisfy the changing needs of the food industry.
RESTRAIN:
Resins, additives, and coatings are some of the primary raw materials whose prices have been rising recently and are used to make packaging films. These price hikes can be attributed to a variety of factors, including supply chain disruptions, changes in oil prices, and increased demand from various industries.
OPPORTUNITY:
Packaging films are required that not only adhere to environmental standards but also offer practical advantages like increased shelf life, improved product protection, and enhanced usability. Companies can gain market share and maintain an advantage over rivals by creating cutting-edge sustainable packaging solutions.
CHALLENGES:
The adoption of sustainable packaging solutions can be hampered by misconceptions or a lack of knowledge about composting, recycling, and the environmental effects of various packaging options. It is essential to explain to consumers the worth and sustainability of packaging films.
IMPACT OF RUSSIAN UKRAINE WAR
Russia, the world's second-largest oil producer, has the ability to significantly alter the petroleum market, which could have an indirect impact on the manufacturing of packaging.
Gas prices are expected to continue rising as long as the conflict lasts due to the disruption their sudden invasion of Ukraine caused. Logistics and shipping will face additional challenges as the price of gasoline rises significantly.
As manufacturers and distributors alike scramble to adjust their pricing as the price of gas continues to soar, these cost increases will likely be felt throughout the supply chain for various packaging products. Experts in the plastics industry are predicting potentially significant price increases for consumer goods made of plastic, which should come as no surprise given the rising costs in the global oil market.
Industry watchdogs worry that the cost of plastics will keep rising because the majority of flexible plastics packaging are made from resins derived from petroleum. The Ukrainian crisis may also lead to significant price increases for a variety of plastic packaging materials made from formulations derived from resin, such as polyethylene.
IMPACT OF ONGOING RECESSION
The market for food packaging film may be impacted in a variety of ways while the recession is still going strong. Lower demand for packaged foods can indirectly affect demand for food packaging films due to decreased consumer spending and increased price sensitivity. The demand for specific kinds of packaging films may be impacted if consumer preferences change in favor of less expensive alternatives. Manufacturers may implement cost-cutting strategies to address economic challenges, which may include looking for more affordable packaging options or lowering overall packaging spending. The precise effect on the food packaging film market will depend on the depth and length of the recession, the state of the local economy, and the nature of the industry.
KEY MARKET SEGMENTS
By Raw Material
PET

Polyamide

Polypropylene

Others
By Product Type
By End Use
Food & Beverages

Healthcare

Homecare Products

Industrial Goods

Others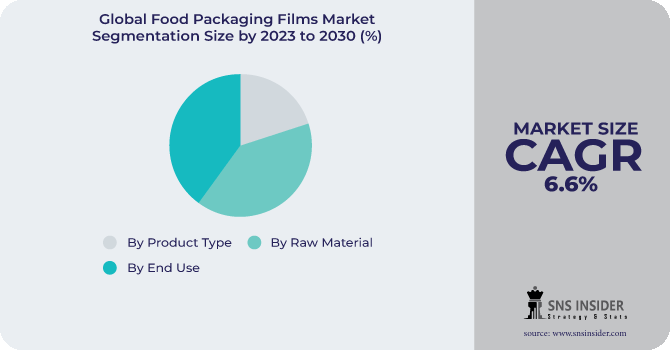 Get Customized Report as per Your Business Requiremrnt - Enquiry Now
REGIONAL ANALYSIS
With over 35% of the market's revenue expected to come from Asia Pacific in 2022, it is predicted that this region will be the largest market, followed by Europe and North America. The rising per capita income, expanding population, and rising demand for packaged foods in developing nations like China, Japan, and India are predicted to be major drivers of the food packaging industry.
Because of its large population and expanding economy, China is the biggest consumer. Because of China's growing middle class and increasing purchasing power, the country's food packaging market is predicted to expand significantly. As a result of the product's expanding use in retail chains, India has the fastest-growing market.
Demand for packaging solutions in North America is anticipated to be driven by the region's thriving retail market and consumers' high consumption of packaged food. In addition, the presence of numerous manufacturers is anticipated to be advantageous for the area.
Though there is a high level of saturation, Europe is anticipated to have a promising future. The single market policy of Europe permits free trade within the area, which is anticipated to promote exports and subsequently fuel industry growth.
REGIONAL COVERAGE:
North America
Europe
Germany

UK

France

Italy

Spain

The Netherlands

Rest of Europe
Asia-Pacific
Japan

South Korea

China

India

Australia

Rest of Asia-Pacific
The Middle East & Africa
Latin America
Brazil

Argentina

Rest of Latin American
Key players List-
Some major key players in the Food Packaging Films market are Amcor Plc, Coveris, Sealed Air Corporation, Mondi Group, WestRock, DS Smith, Graphic Packaging Holding Company, DuPont Tejin Films, Charter Next Generation, Berry Global, and other players.
Sealed Air Corporation-Company Financial Analysis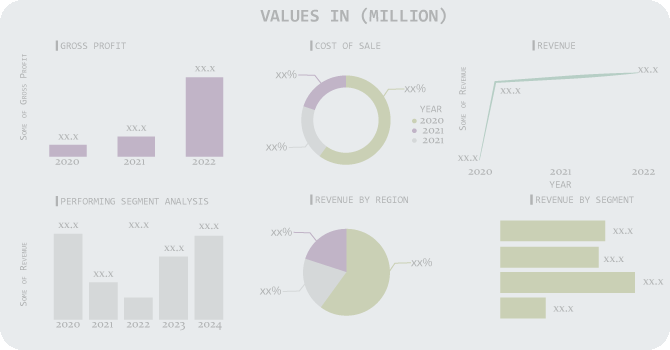 RECENT DEVELOPMENT
ProAmpac, The ProActive Recyclable R-2200D Easy-Peel Open for food film, manufactured by ProAmpac, based on PE.

Thailand and Malaysia, Using the leftover pineapple stems, researchers produce a biodegradable film.
Food Packaging Films Market Report Scope:
Report Attributes
Details
Market Size in 2022
US$ 51.27 Bn
Market Size by 2030
US$ 85.49 Bn
CAGR
CAGR of 6.6% From 2023 to 2030
Base Year
2022
Forecast Period
2023-2030
Historical Data
2020-2021
Report Scope & Coverage
Market Size, Segments Analysis, Competitive Landscape, Regional Analysis, DROC & SWOT Analysis, Forecast Outlook
Key Segments
• by Raw Material (PET, Polyethylene, Polyamide, Polypropylene, Others)
• by Product Type (Rigid Packaging Films, Flexible Packaging Films)
• by End Use (Food & Beverages, Healthcare, Homecare Products, Industrial Goods, Others)
Regional Analysis/Coverage
North America (USA, Canada, Mexico), Europe
(Germany, UK, France, Italy, Spain, Netherlands,
Rest of Europe), Asia-Pacific (Japan, South Korea,
China, India, Australia, Rest of Asia-Pacific), The
Middle East & Africa (Israel, UAE, South Africa,
Rest of Middle East & Africa), Latin America (Brazil, Argentina, Rest of Latin America)
Company Profiles
Amcor Plc, Coveris, Sealed Air Corporation, Mondi Group, WestRock, DS Smith, Graphic Packaging Holding Company, DuPont Tejin Films, Charter Next Generation, Berry Global
Key Drivers
• New packaging film markets are being developed as a result of improvements in film technologies.
• Packaging films are now required due to the growth of e-commerce and online food delivery services.
Market Opportunities
• Innovation and the creation of new products are made possible by the shift to sustainable packaging.
• E-commerce and direct-to-consumer channels are expanding, which gives packaging films a chance.