Report Scope & Overview:
Corrugated Boxes Market size was USD 124.4 billion in 2022 and is expected to Reach USD 224.10 billion by 2030 and grow at a CAGR of 6.6% over the forecast period of 2023-2030.
Corrugated Boxes market is involved the manufacturing, distribution as well of sales of corrugated boxes. Corrugated boxes are created using the three layers of paperboard, including a corrugated inner layer and flat outside layers known as liners. Corrugated boxes are useful for packaging and delivering a variety of goods because of their strength.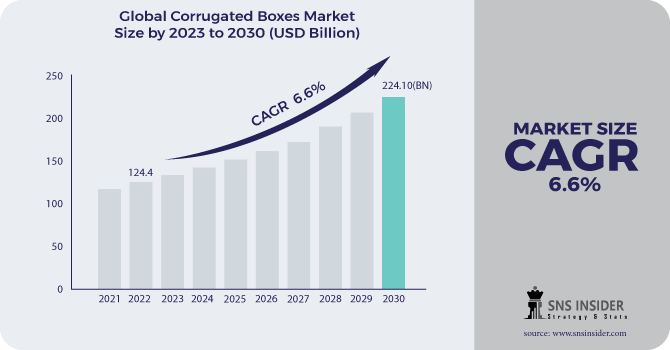 To get more information on Corrugated Boxes Market - Request Sample Report
Corrugated box sales have increased significantly over the years as a result of the expansion of e-commerce, rising consumer demand for eco-friendly packaging options, and the expansion of sectors including electronics, and consumer products. For moving items, keeping inventory, and safeguarding commodities in transit, corrugated boxes are frequently used.
Corrugated boxes are in demand because they have replaced traditional packaging products that were being used and are eco-friendly, sustainable as well as easily recycled.
MARKET DYNAMICS
KEY DRIVERS:
Corrugated boxes are made using material which are recyclable and are affordable. Consumers are getting attracted to corrugated boxes because they are high sustainbale and eco friendly. As after Covid 19 there has been significant rise in the consumer buying behviour and they have shifted to e-commerce. This has led to rise in corrugated boxes market.
RESTRAIN:
Corrugated boxes are made from paperboards which can be damaged from moisture, water and humidity. So high maintainance is required to keep them safe from factors affecting them.
OPPORTUNITY:
There has been growth in the e commerce sector which has increased the market for corrugated boxes. Since corrugates boxes are easy to handle and are cost efficient, there is growing opportunity to establish a market in this sector.
CHALLENGES:
Corrugated boxes production need 30 percent more energy consumption than traditional plastic packaging production. This is challenge to use less energy and also produce less green house gases.
IMPACT OF RUSSIAN UKRAINE WAR
Import of raw materials from Russian companies were stopped their was not major but minor shortage of raw materials for production which resulted in price hike. Overall cost of production was increased and resulted in downfall for market as consumers were shifting towards cost efficient and affordable packaging material. Due to war situation energy price were also increased affecting the production of corrugated boxes market.
IMPACT OF ONGOING RECESSION
North American companies shut down their production of raw materials which are required in production of corrugated boxes. West Rock and Packaging Corporation shut down their mills and tons of production was stopped which affected the market for corrugated boxes. Demand for corrugated boxes market depend on consumer buying behavior. During recession period consumers tend to spend less and save more resulting in downfall of the market.
IMPACT OF COVID-19
Covid-19 impacted the corrugated boxes market heavily, due to rise in coronavirus cases lockdown was imposed in various regions. So demand for corrugated boxes was down. Demand for electronic products was also less which affected the market for corrugated boxes since trade restrictions were imposed. As China is major contributor in production of electronic products, gadgets. Production from China was stopped due to trade restrictions which resulted in downfall of corrugated boxes market to large extent.
On the other hand rise in e commerce industry has driven the corrugated boxes market. During the lockdown people were not allowed to move due to which there was rise in e commerce industry which ultimately resulted in the rise of market for corrugated boxes.
Overall there was downfall on the growth of corrugated boxes market in covid-19.
KEY MARKET SEGMENTS
By Type:
Slotted Boxes

Rigid Boxes

Telescope Boxes

Self-Erecting Boxes

Others
By Product type:
Single Wall

Double Wall

Triple Wall
By Application:
Food Beverages

E Commerce

Personal Care

Consumer Goods

Pharmaceuticals

Others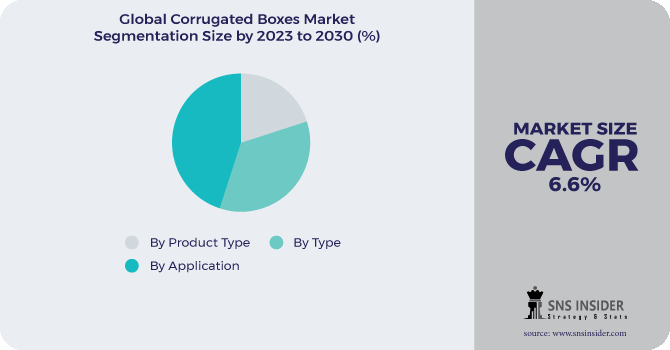 To Get Customized Report as per your Business Requirement - Request For Customized Report
REGIONAL ANALYSIS
REGIONAL COVERAGE:
Asia Pacific Region is highest in overall corrugated boxes market covering overall revenue of around 42%. This is because of consumer market of India and China having high demand and supply for this market of corrugated boxes.
Government regulations of banning plastic has also increased demand for this packaging material in countries such as India. Many investments made by foreign countries in Asian region have also increased market demand for the corrugated boxes packaging.
Over the forecast period of 2023-2030 Asian Region will show high CAGR growth in the market of corrugated boxes,.
North America
Europe
Germany

UK

France

Italy

Spain

The Netherlands

Rest of Europe
Asia-Pacific
Japan

South Korea

China

India

Australia

Rest of Asia-Pacific
The Middle East & Africa
Latin America
Brazil

Argentina

Rest of Latin American
RECENT DEVELOPMENT
Russian prohibition on export of pulp major Type for the corrugated boxes market, leading to shortage of 800000 metric ton in market.

Pulp prices rise to 40 percent in March.
Key players:
Some major players in the corrugated boxes market industry are Mondi, West Rock Company, International Paper, DS Smith, Oji Holdings Corporation, Georgia-Pacific, Packaging Corporation of America, Smurfit Kappa, Stora Enso, Port Townsend Paper Company and other players.
Corrugated Boxes Market Report Scope:
Report Attributes
Details
Market Size in 2022
US$ 124.4 Bn
Market Size by 2030
US$ 1374 Bn
CAGR
CAGR of 6.6% From 2023 to 2030
Base Year
2022
Forecast Period
2023-2030
Historical Data
2020-2021
Report Scope & Coverage
Market Size, Segments Analysis, Competitive Landscape, Regional Analysis, DROC & SWOT Analysis, Forecast Outlook
Key Segments
• By Type (Slotted Boxes, Rigid Boxes, Telescope Boxes, Self-Erecting Boxes, Others)
• By Wall Construction (Single Wall, Double Wall, Triple Wall)
• By Application (Food Beverages, E Commerce, Personal Care, Consumer Goods, Pharmaceuticals, Others)
Regional Analysis/Coverage
North America (USA, Canada, Mexico), Europe
(Germany, UK, France, Italy, Spain, Netherlands,
Rest of Europe), Asia-Pacific (Japan, South Korea,
China, India, Australia, Rest of Asia-Pacific), The
Middle East & Africa (Israel, UAE, South Africa,
Rest of Middle East & Africa), Latin America (Brazil, Argentina, Rest of Latin America)
Company Profiles
Mondi, West Rock Company, International Paper, DS Smith, Oji Holdings Corporation, Georgia-Pacific, Packaging Corporation of America, Smurfit Kappa, Stora Enso, Port Townsend Paper Company and other
Key Drivers
• Sustainability & rise in e commerce
Market Opportunities
• Growth of e commerce sector