REPORT SCOPE & OVERVIEW:
The Rigid Plastic Packaging Market size was USD 139736.72 million in 2022 and is expected to Reach USD 212831.2678 million by 2030 and grow at a CAGR of 5.4 % over the forecast period of 2023-2030.
The country's high proportion of organized retail has also significantly increased the use of plastic packaging. The packaged food and beverage sector has experienced rapid growth on a global level over the last few years. A number of macroeconomic factors, such as changing lifestyles, an increase in the urban population, increased economic activity in emerging markets, and greater penetration of e-retail globally, are driving the global packaged food sector. Additionally, the projected increase in the global population from 7.1 billion in 2015 to 9.5 billion in 2050 will lead to a rise in food demand, which is predicted to lead to an increase in the demand for plastic packaging materials.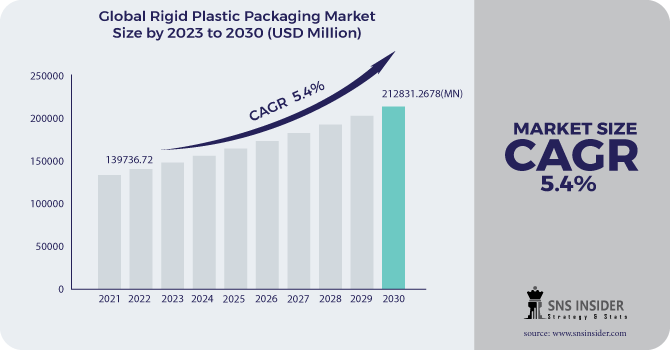 Get More Information on Rigid Plastic Packaging Market - Request Sample Report
Additionally, more opportunities for plastic packaging are anticipated in the coming years as innovative packaging solutions like active packaging, modified environment packaging, edible packaging, and bioplastic packaging continue to be introduced. However, it is anticipated that increased sustainability awareness and a strict ban on single-use plastic to reduce plastic pollution will endanger the sector's future.
Due to its durability and high aesthetic appeal, the rigid segment dominated the plastic packaging market and generated the most revenue, amounting to 60.2% of total sales, in 2021. In addition, rigid packaging's high barrier to light, moisture, and oxygen played a role in the segment's higher market share in 2021. The growth of rigid plastic products is likely to be aided by their reusability as industrial packaging materials like pallets, and other rigid packaging are reused repeatedly.
MARKET DYNAMICS
KEY DRIVERS:
Reusing and recycling rigid packaging materials.

The demand for rigid plastic packaging across various industries
Many industries benefit from rigid plastic packaging's durability, lightweight, and flexibility. Extrusion, injection molding, blow molding, thermoforming, and other processes are just a few of the methods used to create these packing components. To keep the products safe for a longer period of time, stiff plastic packaging made of substances like polyethylene, expanded polystyrene, and others is used. In addition, one of the key elements driving the expansion of the rigid plastic packaging market is the rise in packaged goods sales, which is a result of changing lifestyles.
RESTRAIN:
Increased competition from other plastic packaging companies.

An increase in the demand for alternative packaging.
Alternative packaging materials that are friendlier to the environment are gaining popularity among consumers. Due to their favorable environmental effects and high recyclability, aluminum and glass are widely accepted. People are consequently growing more skeptical of plastic. Also encouraging people to use biodegradable films rather than plastic is increased consumer awareness of good health and green packaging materials. The expansion of the global plastic packaging market is anticipated to be constrained by this during the forecast period.
OPPORTUNITY:
Manufacturers of rigid plastic packaging can spend money on research and development to produce cutting-edge materials like bio-based plastics, recyclable plastics, or biodegradable substitutes. These advancements can not only address environmental issues but also satisfy the evolving needs of consumers who care about the environment.
CHALLENGES:
Increasing environmental concerns.

Recycling of the plastic waste
Sustainable plastic packaging waste is a challenging process that requires high quality infrastructure. It takes a lot of time and requires staff expertise. However, recycling facilities are lacking in some parts of the world. The issue of insufficient recycling infrastructure exists even in wealthy nations like the US. Over USD 10 billion in recyclable containers are thrown away annually in the United States alone due to a lack of recycling facilities.
IMPACT OF RUSSIA UKRAINE WAR
Russia's and Ukraine's ongoing conflict decreased exports of plastics to nations including resin, plastics machinery, plastics molds, and plastic goods. Exports of plastics to Russia fell from $100.1 million to $37.8 million, a 61.4% decrease, and exports to Ukraine fell from $20.3 million to $9.4 million, a 50.4% decline. So far, 2022 has been the last year for Russia and Ukraine to receive any exports of plastic machinery or molds.
Polytetrafluoroethylene (PTFE) and other fluoropolymers are two of the top ten sources from Russia. A total of 0.95 million kg of PTFE and other fluoropolymers were produced in Russia; this is a decrease from 1.16 million kg during the same time period in 2021.
IMPACT OF ONGOING RECESSION
As people become more prudent with their money, consumer spending tends to decline. This could lead to a decrease in the demand for goods that are packaged in rigid plastic containers, which would decrease sales for the companies that make the packaging.
Manufacturers may reduce their output in response to declining market demand. For businesses that manufacture rigid plastic packaging, this may mean decreased output and earnings. In order to mitigate the effects of the recession, it may also result in cost-cutting measures like layoffs or shortened workweeks.
IMPACT OF COVID-19
The COVID-19 epidemic severely disrupted the supply chain, which had a negative impact on the rigid packaging industry. The shutdown in China, one of the major producers of plastic with more than 40% of the global market share, in the first quarter of 2020, has impacted manufacturers of plastic packaging globally. Due to the dearth of plastics produced by Chinese manufacturers, there is an imbalance between supply and demand. But the demand-supply imbalance was most prominent in the first quarter of 2020.
Covid 19 had a significant impact on the production and use of plastics in 2020-21. Plastic production, use, and waste were significantly impacted in 2020 by the COVID-19 pandemic and lockdown measures. Most industries saw a decrease in the use of plastics in tandem with a decrease in output and demand, particularly those that use large amounts of plastics, like the construction, trade, and automotive industries. 9.8 million tons (Mt) or a 2.1% decrease in global plastics consumption is projected for 2020, which is 4.3% less than the pre-COVID forecast.
MARKET SEGMENTATION
By Raw Material
Bioplastics

Polypropylene

Polyethylene

Polystyrene

Polyvinyl Chloride

Expanded Polystyrene

Others
By Product type:
Bottle & Jars

Trays

Rigid Bulk Products

Others
By Production Process:
Thermoforming

Injection Molding

Extrusion

Blow Molding

Others
By Application:
Food & Beverages

Household

Healthcare

Personal Care

Others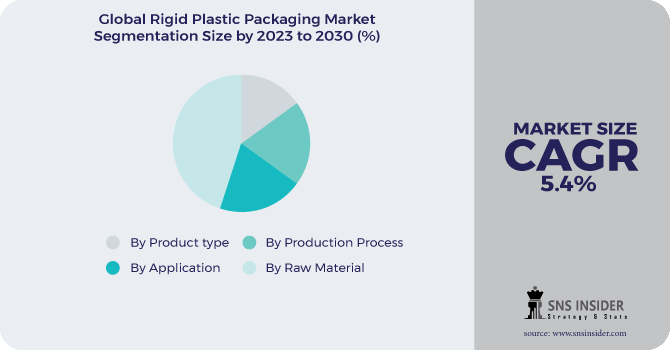 Get Customized Report as per Your Business Requirement - Request For Customized Report
REGIONAL ANALYSIS
Asia Pacific dominated the plastic packaging industry. Rapidly developing application sectors in significant economies like China, and India, are expected to increase regional demand throughout the projection period.
Despite surpassing Asia Pacific as the second-largest regional market for plastic packaging, Europe is predicted to grow slowly over the course of the projected period. Slow market growth in the region is primarily attributed to stringent restrictions on the use of plastic packaging and high consumer concern for sustainability.
China's rigid plastic packaging market is holding the largest market share and India's rigid plastic packaging market is an emerging and rapidly growing market in the Asia Pacific region.
REGIONAL COVERAGE:
North America
Europe
Germany

UK

France

Italy

Spain

The Netherlands

Rest of Europe
Asia-Pacific
Japan

South Korea

China

India

Australia

Rest of Asia-Pacific
The Middle East & Africa
Latin America
Brazil

Argentina

Rest of Latin American
RECENT DEVELOPMENT
Lidl GB to incorporate Prevented Ocean Plastic into its water bottles.

Since opening its PET Recovery Plant in Washington in 2022, waste management company Biffa claims to have recycled 1,600 tons of previously wasted plastic.
Key players:
Some of the major key players in the Rigid Plastic Packaging Market are Silgan Holdings, Berry Plastics Corporation, Amcor Limited, Consolidated Container Company, Pactiv Evergreen Inc, Al Jabri Plastic Factory, Sonoco Products Company, SABIC, Mauser Packaging Solutions, Ball Corporation, and other players.
Rigid Plastic Packaging Market Report Scope:
Report Attributes
Details
Market Size in 2022
US$ 139736.72 Mn
Market Size by 2030
US$ 212831.26 Mn
CAGR
CAGR of 5.4% From 2023 to 2030
Base Year
2022
Forecast Period
2023-2030
Historical Data
2020-2021
Report Scope & Coverage
Market Size, Segments Analysis, Competitive Landscape, Regional Analysis, DROC & SWOT Analysis, Forecast Outlook
Key Segments
• By Raw Material (Bioplastics, Polyethylene Terephthalate, Polypropylene, Polyethylene, Polystyrene, Polyvinyl Chloride, Expanded Polystyrene, Others)
• By Product Type (Bottle & Jars, Trays, Rigid Bulk Products, Others)
• By Production Process (Thermoforming, Injection Molding, Extrusion, Blow Molding, Others)
• By Application (Food & Beverages, Household, Healthcare, Personal Care, Others)
Regional Analysis/Coverage
North America (USA, Canada, Mexico), Europe
(Germany, UK, France, Italy, Spain, Netherlands,
Rest of Europe), Asia-Pacific (Japan, South Korea,
China, India, Australia, Rest of Asia-Pacific), The
Middle East & Africa (Israel, UAE, South Africa,
Rest of Middle East & Africa), Latin America (Brazil, Argentina, Rest of Latin America)
Company Profiles
Silgan Holdings, Berry Plastics Corporation, Amcor Limited, Consolidated Container Company, Pactiv Evergreen Inc, Al Jabri Plastic Factory, Sonoco Products Company, SABIC, Mauser Packaging Solutions, Ball Corporation
Key Drivers
• Reusing and recycling rigid packaging materials.
• The demand for rigid plastic packaging across various industries
Market Opportunities
• Rise of markets in emerging regions.
• Innovation and consumer awareness