REPORT SCOPE & OVERVIEW
The DNA Synthesis Market size was estimated USD 2.9 billion in 2022 and is expected to reach USD 12.2 billion by 2030 at a CAGR of 19.7% during the forecast period of 2023-2030.
The natural formation of nucleic acid strands by DNA replication is known as DNA synthesis. They are created artificially in the laboratory utilizing genetic engineering and enzyme chemistry for a variety of purposes including therapeutics, diagnostics, and academic and industrial research. With the recent acceptance of DNA synthesis, several applications have grown in popularity.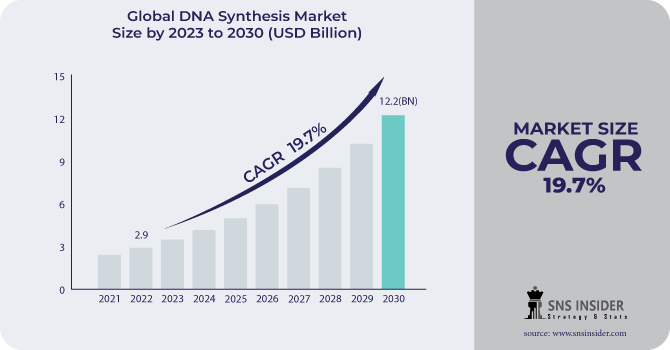 MARKET DYNAMICS
DRIVERS
Increasing usage in food and the agriculture industry

Increasing demand for DNA sequences and synthetic genes
The need for synthetic genes and DNA sequences has been fast expanding due to advances in synthetic biology and genetic engineering. Synthetic genes and DNA sequences can be utilized to make novel enzymes, proteins, and other compounds with unique features for use in a variety of applications. Furthermore, developments in DNA synthesis technology have made it easier and less expensive to create genes and DNA sequences. As a result, demand for synthetic genes and DNA sequences has increased, while the cost of DNA synthesis has decreased. These synthetic genes and DNA sequences have a wide range of uses, including gene therapy, medication development, and agricultural biotechnology. For example, Evonetix describes DNA synthesizer technology that will accelerate development across many therapeutic modalities.
RESTRAIN
The process of DNA synthesis is not error-free, and errors may occur. Because of these flaws, DNA sequences that differ from the planned design are produced, resulting in inaccuracies in the final output. Maintaining high-quality control requirements and reducing synthesis errors are continuous challenges for DNA synthesis businesses. Accurate synthesis is required, especially for applications such as gene therapy or DNA-based diagnostics. DNA sequencing is used by manufacturers to ensure the accuracy of manufactured DNA sequences. This entails comparing the synthesized sequence to the intended design in order to find any differences. The amount of DNA produced is measured using several techniques such as UV spectroscopy or quantitative PCR (qPCR). This guarantees that the correct amount of DNA is produced.
OPPORTUNITY
DNA synthesis aids in the development of potentially life-saving medications. Personalized medicine is a drug that is tailored to a patient's individual therapeutic needs. It is based on data from pharmacogenomics, pharmacogenetics, pharmacometabolomics, and pharmacoproteomics. It aids in the early detection and prevention of many ailments, as well as the monitoring of therapy. Personalized medicine is also characterized as enhanced healthcare through the use of preventative medicine, rational medication development, therapeutic monitoring, and early illness identification. Scientists are developing individualized medication for patients with specific genetic variants and mutations by employing gene synthesis. The development of DNA-based diagnostic assays relies heavily on DNA synthesis. Synthetic DNA probes or primers are used in these assays to detect specific genetic sequences linked to diseases, infections, or genetic variants. The growing desire for personalized treatment and precise diagnostics has fueled the expansion of DNA-based diagnostics.
CHALLENGES
IMPACT OF RUSSIAN UKRAINE WAR
In terms of the global pharmaceutical business, the war's influence has been limited to pharma manufacturers' investments and operations, as well as exporters' market interests in Russia, Ukraine, and other CIS nations, a phenomena that may be short-term and ephemeral. This is also because Russia and Ukraine are primarily pharma importing countries, implying that global pharma is not overly reliant on this region for essential raw materials and supplies. Indeed, some major pharmaceutical corporations have reduced their activities in Russia. However, there is merit to the notion that the pharmaceutical sector is dependent on oil and gas not just for transportation and logistics, but also because a huge number of pharmaceutical goods are derived from petrochemicals.
IMPACT OF ONGOING RECESSION
Many biopharmaceutical and biotechnology companies are now scrutinizing their spending and risk. Economic realities such as uncontrollable inflation, restricted capital, and supply chain challenges may hinder expansion goals, but there are reasons for optimism, as biotech experts recently emphasized. The research has shown that recessions can have an impact on medication demand for a variety of reasons, including lower use of patented biologics and branded pharmaceuticals, as well as an increase in utilization of biosimilars and generics.
KEY SEGMENTS
By Service Type
In 2022, Oligonucleotide Synthesis segment is expected to held the highest market share of 55.2% during the forecast period owing to oligonucleotide synthesis is a rapid and low-cost method of synthesizing desired oligonucleotide sequences. Furthermore, companies are embarking on strategic endeavors to introduce unique products, which will grow the segment. For example, in October 2022, Bachem announced a collaboration with Eli-Lilly and Company for the research and manufacturing of oligonucleotide-based APIs. The collaboration calls for Bachem to provide technical infrastructure and experience to help Lilly implement its new oligonucleotide manufacturing technique.
By Application
Research and Development

Diagnostics

Therapeutics
In 2022, the Research and Development segment is expected to dominate the market growth of 24.3% during the forecast period due to the technology, there are numerous benefits, such as speedy amplification, the requirement for a small amount of material, and utility in the detection of various diseases. When compared to other traditional methods, PCR allows for higher levels of amplification of specific sequences and more sensitive detection in less time, the technique is therefore particularly valuable for forensics, genetic identification testing, in vitro diagnostics, and industrial quality control. In clinical laboratories, real-time PCR has several advantages, including the simultaneous detection of several genes, lower reagent costs, the capacity to provide internal controls, and sample preservation for tumor profiling.
By End User
Biopharmaceutical Companies

Academic and Research Institutes

Contract Research Organizations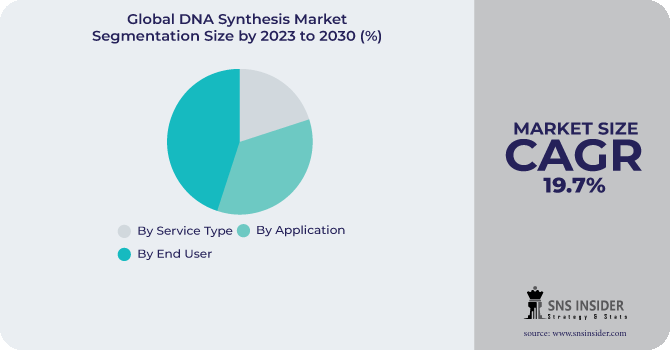 In 2022, the Biopharmaceutical Companies segment is expected to dominate the market growth of 40.1% during the forecast period to due to increasing demand for biotechnology-based trade opportunities globally. Furthermore, synthetic nucleotides hasten the creation of enhanced bio-molecular therapeutics such as enzymes, peptides, RNA catalysts, and aptamers. Furthermore, because to advancements in nucleotide manufacturing processes and an emphasis on automation and autonomous technologies, businesses can now synthesis DNA fragments more quickly, inexpensively, and effectively. DNA synthesis is a fundamental molecular biology procedure that is important in a variety of domains, including genetic engineering and clinical diagnosis and treatment. Such elements are projected to dominate the segment.
REGIONAL ANALYSES
North America held a significant market share of over 40.1% in 2022 due to the demand for synthetic nucleotides in this region is growing due to the various research projects in the region for emerging developments in biotechnology, including the rapid creation of medicines and vaccines, demand for synthetic nucleotides in this region is increasing.
Asia-Pacific is witness to expand fastest CAGR rate during the forecast period due to increased financing for biological research and drug development is increasing demand for a steady supply of synthetic nucleotides for use in research. Numerous ongoing research investigations at research institutions around the region, as well as emerging market participants, are positively impacting market growth.
REGIONAL COVERAGE
North America
Europe
Eastern Europe

Poland

Romania

Hungary

Turkey

Rest of Eastern Europe

Western Europe

Germany

France

UK

Italy

Spain

Netherlands

Switzerland

Austria

Rest of Western Europe
Asia Pacific
China

India

Japan

South Korea

Vietnam

Singapore

Australia

Rest of Asia Pacific
Middle East & Africa
Middle East

UAE

Egypt

Saudi Arabia

Qatar

Rest of Middle East

Africa

Nigeria

South Africa

Rest of Africa
Latin America
Brazil

Argentina

Colombia

Rest of Latin America
Key Players
The major key players are Thermo Fisher Scientific, Inc., Twist Bioscience, Bioneer Corporation, Eton Bioscience, LGC Biosearch Technologies, IBA GmbH, Eurofins Scientific, Integrated DNA Technologies, Inc., Quintara Biosciences, GenScript Biotech Corporation, and Others.
Bioneer Corporation-Company Financial Analysis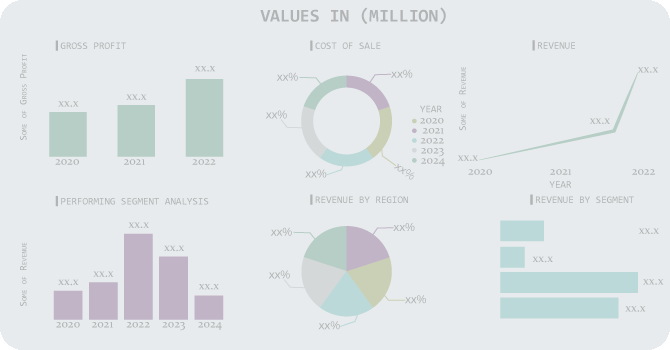 RECENT DEVELOPMENT
GenScript Biotech Corporation, in May 2023, GenScript Biotech Corporation created the GenTitan Gene Fragments Synthesis service to accelerate gene synthesis and reduce costs. This will allow the organization to broaden its service offerings and cater to a bigger consumer base.
Twist Bioscience, in January 2023, Twist Bioscience and Astellas have formed a research agreement to develop multitarget antibodies. The goal of this strategic alliance was to find antibodies against several targets of interest as well as curative medicines for individuals suffering from diseases with no therapeutic choices. This strategy is likely to assist the organization in improving its service offerings.
DNA Synthesis Market Report Scope:
Report Attributes
Details
Market Size in 2022
US$ 2.9 Billion
Market Size by 2030
US$ 12.2 Billion
CAGR
CAGR of 19.7% From 2023 to 2030
Base Year
2022
Forecast Period
2023-2030
Historical Data
2019-2021
Report Scope & Coverage
Market Size, Segments Analysis, Competitive Landscape, Regional Analysis, DROC & SWOT Analysis, Forecast Outlook
Key Segments
• By Service Type (Oligonucleotide Synthesis, Gene Synthesis)
• By Application (Research and Development, Diagnostics, Therapeutics)
• By End User (Biopharmaceutical Companies, Academic and Research Institutes, Contract Research Organizations)
Regional Analysis/Coverage
North America (US, Canada, Mexico), Europe (Eastern Europe [Poland, Romania, Hungary, Turkey, Rest of Eastern Europe] Western Europe] Germany, France, UK, Italy, Spain, Netherlands, Switzerland, Austria, Rest of Western Europe]), Asia Pacific (China, India, Japan, South Korea, Vietnam, Singapore, Australia, Rest of Asia Pacific), Middle East & Africa (Middle East [UAE, Egypt, Saudi Arabia, Qatar, Rest of Middle East], Africa [Nigeria, South Africa, Rest of Africa], Latin America (Brazil, Argentina, Colombia Rest of Latin America)
Company Profiles
Thermo Fisher Scientific, Inc., Twist Bioscience, Bioneer Corporation, Eton Bioscience, LGC Biosearch Technologies, IBA GmbH, Eurofins Scientific, Integrated DNA Technologies, Inc., Quintara Biosciences, GenScript Biotech Corporation
Key Drivers
• Increasing usage in food and the agriculture industry
• Increasing demand for DNA sequences and synthetic genes
Market Challenges
• DNA synthesis can be an expensive operation, making it difficult for researchers on tight budgets to obtain the technology.
• Possibility of unintentional release of synthetic DNA or the emergence of harmful diseases