Report Scope & Overview:
The Electric Bicycle Market is projected to reach USD 120.89 Billion by 2030 from USD 54.38 Billion in 2022 at a CAGR of 10.5% from year 2023 to 2030.
A bicycle with a merged electric motor drive mechanism and battery that produces power for main causing or assisting propulsion is known as an electric bike. Electric bikes with a tiny motor to help the rider's pedal force to more powerful e-bikes that create enough power to totally operate the bike using throttle are all available globally.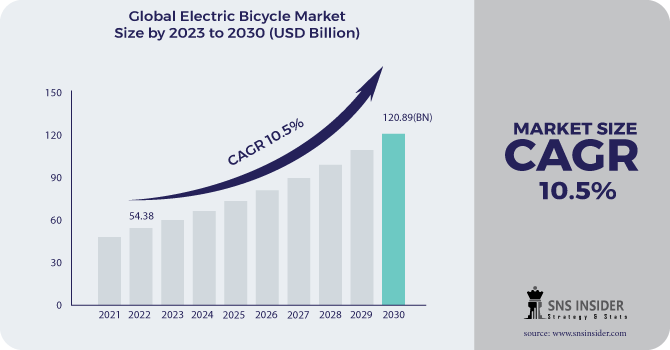 MARKET DYNAMICS
The global Electric Bicycle Market is growing due to favorable government legislation and policies encouraging the use of electric bicycles, as well as a rise in interest in riding as a fitness and recreational activity. On the other hand, the high cost of purchasing and maintaining electric bicycles, as well as the ban on their usage in large Chinese cities, limit expansion to some extent. Nonetheless, advancements in bicycle infrastructure and battery technology, as well as the growing popularity of linked electric bicycles, are expected to open up profitable prospects in the future.
DRIVER:
E-MTB has seen a rapid increase in demand compared to other models, such as city / city bikes and cargo bikes, in recent years. It is perfectly suited for off-road roads, as its durability provides safety even in wet and slippery terrain. In many cities, MTBs are used not only for mountaineering but also for work or shopping. The main reason for the growing popularity of e-MTBs is their durability, which makes them very popular on road vehicles. E-MTBs have also become a symbol of status, as they appear to be more expensive and in style.
RESTRAINT:
Government regulations and various names regarding e-bikes Some countries have national laws but the official authority and regulations for road use are determined by the provinces and provinces. Therefore, any changes / updates to e-bike control affect market demand. For example, China, the world's largest electric bicycle market, has announced a regulation of e-bikes, in which bikes will be classified as e-bikes only if they can pedal-assist, with a maximum speed of up to 25 km. / h, and have an engine power of up to 400 watts. Any e-bike that offers speeds over 25 km / h will be considered a moped. An e-bike under the new standards will be more expensive, which will not be different from empty bikes / scooters. Therefore, people may go looking for bicycles instead of e-bikes, thus disrupting the sale of e-bikes. Class-II and Class-III bikes are limited to the Asia Pacific region due to their high speed and throttle assistance to avoid traffic problems (except India, which allows phase-II). Many European countries, with the exception of Italy and the UK, have banned Class-II bikes. Class-III bikes have a limited presence in Europe. Therefore, the Class-II and Class-III markets have very limited access to the Asia Pacific and European regions. Currently, there is a lack of infrastructure, such as bike lanes and bike lanes, in developing countries, such as India and Taiwan, which can be considered a barrier to the e-bike market.
OPPORTUNITY:
With the growing demand for e-bikes, there are technological advances in the Electric Bicycle Market. The connected e-bike is one such development, where the SIM module allows the e-bike to send and receive data to or from the cloud without a connected smartphone. Some of the key features offered by the e-bike include automatic emergency calls, integrated roaming, communication network connection, anti-crime system, and remote diagnostics. Bosch is one of the major players in the e-bike market, offering integrated electric bike solutions. For example, Bosch's Smartphone Hub can connect e-bikes to a smartphone and support passengers before and after their trip. Bosch's premium Lock function also transforms the Kiox computer into a computer security key. Nyon from Bosch determines terrorist power and frequency during the trip and uses this information to calculate cyclist performance and power consumption. On komoot-like platforms, integrated into the COBI.Bike app, millions of users can exchange information and discover new routes with recommendations and tips from the community.
CHALLANGES:
The two most important features of the e-bike engine and battery. The engine provides power, and the battery saves and supplies power. Controlling the speed and torque of a car with a variety of speed and load conditions is one of the challenges for ebike manufacturers. With the limited amount of storage capacity available in a battery, the battery capacity should be used as fully as possible. Increasing the battery size will increase the capacity, which may increase the weight of the e bike. Therefore, determining the appropriate battery capacity regarding performance and width can be important for battery manufacturers. Consumers are focused on technology for devices such as smartphones and tablets. Therefore, e-bike manufacturers face the challenge of providing performance and ingenuity to e-bikes that can be compatible with smartphones and tablets at a minimal amount of power, either by a dedicated onboard device or by providing connectivity to a smartphone or tablet. .
Impact Of Covid-19:
Riders avoid public transportation due to the COVID-19 explosion and instead choose e-bikes as a safe, convenient, and economical mode. People commute to work has changed as a result of the COVID-19 epidemic, and cycling has become increasingly popular around the world. China, as a major bicycle manufacturer and major e-bike marketer, has seen an increase in demand in the region..People are turning to e-bike as a daily commodity due to government restrictions on public transport due to discriminatory standards.During the epidemic, industry players expect a short-term disruption in electric bike development and services due to the travel ban for vehicles such as cars and buses, which may open up new prospects for electric bike adoption.
Key Market Segmentation:
By Type
Pedal-assisted

Throttle-assisted

Pedelecs

Speed Pedelecs

Throttle on Demand

Scooter or motorcycle
BY Application
City/Urban

Trekking

Cargo
By Motor Type
By Drive Mechanism
Hub motor

Mid-drive

Others
By Battery Type
Lead acid

Lithium ion (Li-ion)

Others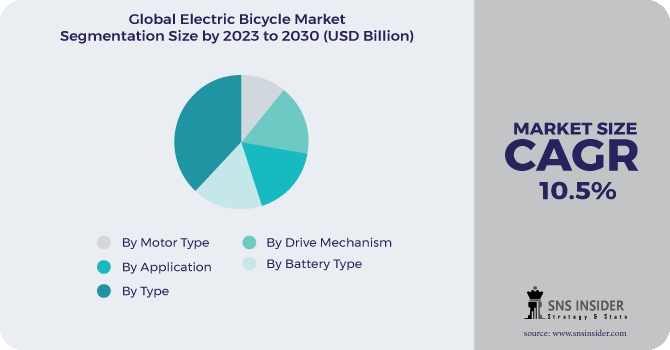 REGIONAL COVERAGE:
North America

Europe

Germany

UK

France

Italy

Spain

The Netherlands

Rest of Europe

Asia-Pacific

Japan

south Korea

China

India

Australia

Rest of Asia-Pacific

The Middle East & Africa

Latin America

Brazil

Argentina

Rest of Latin America
Key Players:
The major key players in Global Electric Bicycle market are Yamaha Motor Corporation, Giant Manufacturing Co Ltd, Accell Group N.V, Aima Technology Group Co Ltd, Yadea Group Holdings Ltd. T, Derby Cycle, Fuji-ta Bicycle Co., Ltd., Giant Manufacturing Co., Ltd., Jiangsu Xinri E-Vehicle Co., Ltd., Mahindra & Mahindra Ltd., Prodecotech, LLC, Tianjin Golden Wheel Group Co., Ltd., Trek Bicycle Corporation and others.
Yamaha Motor Corporation-Company Financial Analysis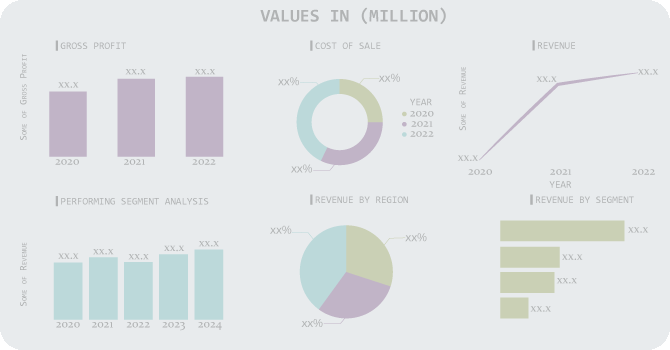 ​​​​​​​
Electric Bicycle Market Report Scope:
Report Attributes
Details
Market Size in 2022
US$ 54.38 Billion
Market Size by 2030
US$ 120.89 Billion
CAGR
CAGR of 10.5% From 2023 to 2030
Base Year
2022
Forecast Period
2023-2030
Historical Data
2020-2021
Report Scope & Coverage
Market Size, Segments Analysis, Competitive Landscape, Regional Analysis, DROC & SWOT Analysis, Forecast Outlook
Key Segments
• by Type (Pedal-assisted, Throttle-assisted, Pedelecs, Speed Pedelecs, Throttle on Demand, Scooter or motorcycle)
• by Application ( City/Urban, Trekking, Cargo)
• By Motor type(Mid, Hub)
• by Drive Mechanism ( Hub motor, Mid-drive, Others)
• by Battery Type (Lead acid, Lithium ion (Li-ion), Others)
Regional Analysis/Coverage
North America (USA, Canada, Mexico), Europe
(Germany, UK, France, Italy, Spain, Netherlands,
Rest of Europe), Asia-Pacific (Japan, South Korea,
China, India, Australia, Rest of Asia-Pacific), The
Middle East & Africa (Israel, UAE, South Africa,
Rest of Middle East & Africa), Latin America (Brazil, Argentina, Rest of Latin America)
Company Profiles
Yamaha Motor Corporation, Giant Manufacturing Co Ltd, Accell Group N.V, Aima Technology Group Co Ltd, Yadea Group Holdings Ltd. T, Derby Cycle
Key Drivers
• E-MTB has seen a rapid increase in demand compared to other models
RESTRAINTS
• Government regulations and various names regarding e-bikes