Report Scope & Overview:
The Electronic Materials and Chemicals Market size was valued at USD 64.2 billion in 2022. It is estimated to hit USD 105.46 billion by 2030 and grow at a CAGR of 6.4% over the forecast period of 2023-2030.
Electronic materials include semiconductors, conductors, insulators, and dielectrics. They are essential for the efficient functioning of electronic devices, such as smartphones, computers, and televisions. Chemicals, on the other hand, are integral to the manufacturing processes involved in the production of electronic devices. They are used for cleaning, etching, and deposition purposes. Chemicals like solvents, acids, and bases are employed to ensure the quality and reliability of electronic components.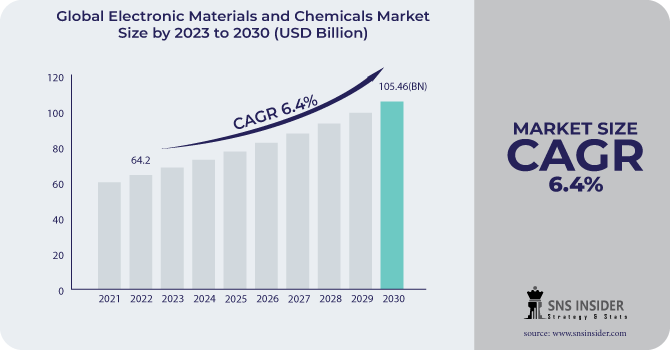 Get E-PDF Sample Report on Electronic Materials and Chemicals Market - Request Sample Report
The demand for electronic materials and chemicals is driven by the rapid growth of the electronics industry. With the increasing adoption of smart devices and the Internet of Things (IoT), the market is expected to witness substantial growth in the coming years. Additionally, the emergence of new technologies, such as 5G and artificial intelligence, further fuels the demand for advanced electronic materials and chemicals. One of the key factors influencing the market is the constant need for miniaturization and improved performance of electronic devices. Manufacturers are constantly striving to develop materials and chemicals that offer enhanced conductivity, durability, and thermal stability. This drives research and development activities in the industry, leading to the introduction of innovative products.
PCB laminate applications accounted for 16% of the total revenue share of the Electronic Materials and Chemicals Market in 2022. The manufacturing of various electronic products, such as amplifiers and LEDs, is driving the increasing demand for PCB laminates. This trend is anticipated to further contribute to the industry's growth.
The Printed Circuit Boards (PCBs) End-use segment is expected to witness the highest CAGR of about 6.7% over the forecast period. This growth is attributed to the rising demand for printed circuit boards, which serve as vital components of integrated circuit chip technology. These boards are extensively used in consumer appliances, including smartphones, computers, and laptops.
Market Dynamics
Drivers
Growing demand for electronic devices and components

Technological advancements in the electronics industry

Growing adoption of renewable energy sources
Restraint
High cost of electronic materials and chemicals

Limited availability of raw materials
Opportunities
Advancements in nanotechnology and smart materials

Improvement in IT infrastructure with the advancement of AI and IoT
The emergence of technologies such as IoT (Internet of Things) and AI (Artificial Intelligence) has given rise to a fascinating new category of intelligent home devices. According to the Wall Street Journal, the growth of IoT is projected to be nothing short of explosive, particularly in the industrial sector, with an estimated growth rate of 66%. The utilization of AI-related technology has unlocked lots of opportunities for manufacturers of electronic materials. Furthermore, the surging demand for electric vehicles has presented a lucrative avenue for the electronics materials market to explore. Consequently, players in the electronic chemicals and materials market have various opportunities to expand their business.
Challenges
Rapidly changing consumer preferences and demands

Stringent regulations and environmental concerns associated with certain materials and chemicals
The electronics industry relies on a wide range of materials and chemicals throughout the manufacturing process. In Europe alone, there are nearly 550 laws specifically tailored to this industry. These laws encompass various aspects, such as energy efficiency requirements, product recycling obligations, restrictions on refrigerant usage, limitations on ozone-depleting substances, and regulations surrounding conflict minerals. Compliance with these regulations is of utmost importance to electronics manufacturers, as failure to do so could result in severe environmental damage or even a public health crisis. However, adhering to these laws comes at a significant cost. The cumulative impact of these regulations is felt throughout the entire supply chain, leading to substantial expenses in areas such as raw material procurement, production, packaging, distribution, and final product disposal.
Impact of Russia-Ukraine War:
The ongoing war between Russia and Ukraine affected the semiconductor industry. This conflict has disrupted supply chains across various sectors, including the semiconductor industry. One area that has been particularly affected is the supply of Neon and Hexafluorobutadiene gases, which are crucial for manufacturing semiconductor chips. These gases are used in the lithography processes that are essential for chip production. It is worth noting that a substantial portion of the world's semiconductor-grade neon, which is vital for the lasers used in chip manufacturing, is sourced from two Ukrainian companies. Approximately 45-55% of this crucial resource comes from Ukraine. As a result of the conflict, the supply of these gases has been severely impacted, leading to a shortage of semiconductor chips. This shortage has had far-reaching consequences, affecting industries worldwide. The automotive and electronics sectors, in particular, have been hit hard by the semiconductor chip shortage. This has resulted in production delays, reduced product availability, and increased prices for consumers. The impact of the Russia-Ukraine war on the electronic materials and chemicals market is very bad and disruptive. The disruption in the supply of essential gases for semiconductor chip production has created a ripple effect throughout various industries. As companies struggle to secure an adequate supply of these materials, the consequences are felt by consumers and businesses alike.
Impact of Recession:
The current condition in the electronics industry has raised concerns regarding the increasing costs of materials. The economic downturn has reduced consumer spending, decreased demand for electronic devices, and disrupted supply chains. Consequently, manufacturers are compelled to grapple with the challenge of acquiring essential materials at inflated prices, thereby impacting their production costs and overall profitability. A recession can trigger a domino effect, leading to disruptions in the intricate web of supply chains within the electronics industry. As consumer demand decreases, manufacturers are forced to scale back production, resulting in reduced orders for raw materials and chemicals. This, in turn, affects suppliers, who may face financial strain or even closure. The ensuing supply chain disruptions can further exacerbate material scarcity and price volatility, posing significant challenges for manufacturers in maintaining a steady flow of materials for production.
Market Segmentation
By Type
By Application
By End-use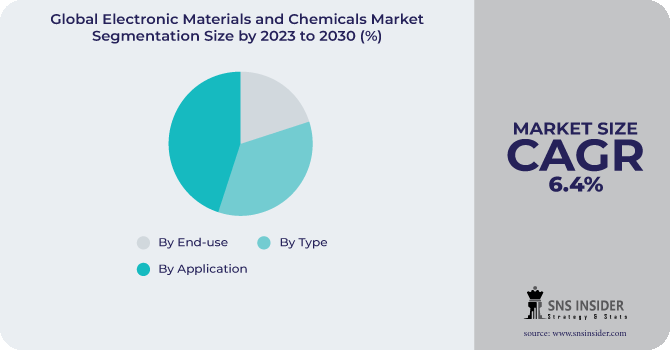 Get Customized Report as Per Your Business Requirement - Request For Customized Report
Regional Analysis
Asia-Pacific holds the largest share of about 65% in the global Electronic Materials and Chemicals Market and is projected to experience a significant growth rate during the forecast period. This growth is attributed to rapid industrialization and the presence of numerous electronic device manufacturers in Asian countries such as China, Japan, and South Korea. The dominance of the Asia-Pacific region in this market is primarily due to the high demand for printed circuit boards. These boards are essential components in various industries, including electronic gaming, consumer goods, telecommunications, and IT. As a result, the region has witnessed significant developments in these industries, further driving the demand for electronic materials and chemicals. China, India, and Japan are the major contributors to the growth of this market in the Asia-Pacific region. This is mainly due to the presence of large electronics manufacturers in these countries. China, in particular, stands out as the leading producer of electrical and electronic devices. As a result, the usage of electronic chemicals and materials in China has been surging, driven by continuous advancements and research and development in the electronic industry.
North America is projected to experience a Compound Annual Growth Rate (CAGR) of 6.7% throughout the forecast period. This growth is attributed to the presence of numerous electronic device manufacturers in the region, including industry giants such as Micron, Intel, Fairchild, Texas Instruments, and Avago. These companies are actively involved in the production of digital and analog semiconductor technologies for end-users, which in turn drives the demand for their products. Furthermore, North America plays a significant role in the specialty gases sector and is poised for future growth. This is primarily due to the rising demand for plasma display panels and photovoltaic products. The region has witnessed an increase in the consumption of CMP slurries, low-K dielectrics, and photoresist chemicals, which are essential components in the manufacturing of electronic devices. As a result, the market for electronic chemicals in North America is thriving. In terms of market share, the United States dominates the electronic chemicals market in North America, holding the largest share. On the other hand, Canada for electronic chemicals is experiencing the fastest growth in the region.
REGIONAL COVERAGE:
North America
Europe
Eastern Europe

Poland

Romania

Hungary

Turkey

Rest of Eastern Europe

Western Europe

Germany

France

UK

Italy

Spain

Netherlands

Switzerland

Austria

Rest of Western Europe
Asia Pacific
China

India

Japan

South Korea

Vietnam

Singapore

Australia

Rest of Asia Pacific
Middle East & Africa
Middle East

UAE

Egypt

Saudi Arabia

Qatar

Rest of Middle East

Africa

Nigeria

South Africa

Rest of Africa
Latin America
Brazil

Argentina

Colombia

Rest of Latin America
Key Players
The major key players are BASF, Air Products & Chemicals Inc., Albemarle Corporation, Air Liquide Holdings Inc., Ashland Inc., Bayer Ag, Linde Group, Honeywell International Inc., Cabot Microelectronics Corporation, Dow Chemical Company, Monsanto Electronic Materials Co., Hitachi Chemical Company, Brewer Science, Sumitomo Chemical, Shin-Etsu, Covestro, AZ Electronic Materials Plc, HD Microsystems, Drex-Chem Technologies, and other key players are mentioned in the final report.
Air Products & Chemicals Inc-Company Financial Analysis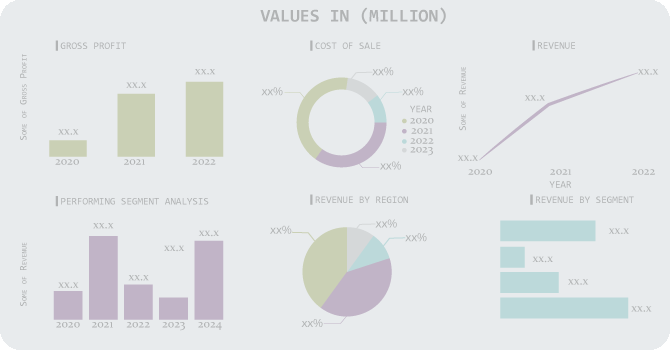 Recent Development:
In August 2023, BASF announced plans to relocate its Electronic Materials Research and Development (R&D) Center from Suwon to the company's Ansan site in South Korea. This strategic move aims to enhance research and development efficiency, showcasing BASF's commitment to innovation and technological advancement.

In June 2023, Air Liquide made a significant investment of close to 200 million US dollars in two advanced material production centers located in Taiwan and South Korea. This investment is aimed at accelerating the development and manufacturing of new advanced materials, while also increasing reliability and improving the sustainability of its supply chain. By localizing production close to semiconductor customers, Air Liquide aims to strengthen its position in the market.

In August 2022, Albemarle Corporation announced a realignment of its Bromine and Lithium global business units (GBU) into a new corporate structure. This strategic decision is driven by the company's commitment to meeting customer needs and fostering talent in a highly competitive global environment. This move follows the recent announcement of the company's decision to reorganize Catalyst under a yet-to-be-named, wholly-owned subsidiary.

In April 2021, Cabot Microelectronics Corporation made an acquisition of International Test Solution, expanding its electronic materials business division.
Electronic Materials and Chemicals Market Report Scope
Report Attributes
Details
Market Size in 2022
US$ 64.2 Bn
Market Size by 2030
US$ 105.46 Bn
CAGR
CAGR of 6.4% From 2023 to 2030
Base Year
2022
Forecast Period
2023-2030
Historical Data
2019-2021
Report Scope & Coverage
Market Size, Segments Analysis, Competitive Landscape, Regional Analysis, DROC & SWOT Analysis, Forecast Outlook
Key Segments
• By Type (Solid, Liquid, and Gaseous)
• By Application (Silicon wafers, Specialty gases, Wet chemicals and solvents, Photoresists, PCB Laminates, and Other Applications)
• By End-use (Semiconductors & Integrated Circuits and Printed Circuit Boards)
Regional Analysis/Coverage
North America (US, Canada, Mexico), Europe (Eastern Europe [Poland, Romania, Hungary, Turkey, Rest of Eastern Europe] Western Europe] Germany, France, UK, Italy, Spain, Netherlands, Switzerland, Austria, Rest of Western Europe]), Asia Pacific (China, India, Japan, South Korea, Vietnam, Singapore, Australia, Rest of Asia Pacific), Middle East & Africa (Middle East [UAE, Egypt, Saudi Arabia, Qatar, Rest of Middle East], Africa [Nigeria, South Africa, Rest of Africa], Latin America (Brazil, Argentina, Colombia Rest of Latin America)
Company Profiles
BASF, Air Products & Chemicals Inc., Albemarle Corporation, Air Liquide Holdings Inc., Ashland Inc., Bayer Ag, Linde Group, Honeywell International Inc., Cabot Microelectronics Corporation, Dow Chemical Company, Monsanto Electronic Materials Co., Hitachi Chemical Company, Brewer Science, Sumitomo Chemical, Shin-Etsu, Covestro, AZ Electronic Materials Plc, HD Microsystems, Drex-Chem Technologies
Key Drivers
• Growing demand for electronic devices and components
• Technological advancements in the electronics industry
• Growing adoption of renewable energy sources
Market Restraints

• High cost of electronic materials and chemicals
• Limited availability of raw materials