Report Scope & Overview:
Expanded Beam Cable Market size was valued at USD 6358 million in 2022 and is expected to grow to USD 34629.08 million by 2030 and grow at a CAGR of 23.6 % over the forecast period of 2023-2030.
The global extended beam cables market is divided into lens size, technology, connector type (single vs multi-channel), application, and region. The worldwide expanded beam cables are classified into 0.8 mm, 1.25 mm, 2.0 mm, 2.5 mm, 3.0 mm, and others based on lens size. The global expanded beam cables market is divided into three categories based on technology: single mode, multi-mode, and hybrid. Depending on the type of connector. Global extended beam cables are classified into single channel expanded beam connectors and multi-channel beam connectors based on connector type. Global expanded beam cables are classified as rack & panel, panel mount connections, in-line circular, quick-disconnect, and others based on single vs multi-channel connectors. The global expanded beam cables market is divided into military communications, oil and gas, and other applications.
Military communications, oil and gas, medical, robotics, energy & electricity, broadcast systems, manufacturing & industrial, geophysical exploration, maritime operations, military/ aerospace, and others are the segments of the worldwide expanded beam cables market.
KEY DRIVERS:
Fibre optics technology has made inroads into nearly every industrial industry. Fiber optics are widely used in areas such as defense and military, aerospace, geophysics, and so on. All of these industries are known for their mission-critical applications that are exposed to harsh environments, such as Military Communications, Oil & Gas, Medical, Robotics, Energy & Power, Broadcast Systems, Manufacturing and Industrial, Geophysical Exploration, Marine Operations, Military/ Aerospace, and so on. As a result, environmental elements such as dust, filth, dampness, extreme temperatures, oil, water, and even chemicals affect fiber optic cables and connectors. Nonetheless, the usage of fiber optic cables and connectors is unavoidable in these industrial applications. As a result, enlarged beam fiber optic connectors are created and produced.
RESTRAIN:
The adoption of extended beam cables/connectors is prohibitively expensive due to the high manufacture and installation costs of expanded beam cables. The high cost of manufacturing is a major impediment to the growth of the expanded beam cable market throughout the forecast period. Furthermore, the manufacturing costs of these expanded beam cables are considerably higher due to the use of high-quality components to protect against severe environments, which has a negative impact on their market growth. Furthermore, the requirement of safety years for installation in important areas such as oceans raises the cost of installation. As a result, the high cost of expanded beam cable is impeding industry expansion.
OPPORTUNITY:
The expanding potential for novel applications via expanded beam optical (EBO) is gaining traction in this era. Complex backplane cabling, for example, is currently the subject of applications. The increased use of loT applications with correspondingly powerful networks, such as in building cabling, is another motivation for the use of EBO technology.
Because EBO technology performs in demanding situations, new applications are already emerging. It is also less susceptible to vibrations and dust than previous connecting designs. It is, for example, well-suited for the usage of edge computing and 5G in commercial production. Only fiber optics can deliver the requisite long-term high bandwidths and low latencies in the backbone.
CHALLENGES:
Because of beam expansion, extended beam connections have a greater connector size than physical contact connectors, which can be problematic in space-constrained situations. Furthermore, the use of lenses in expanded beam connections can limit the wavelengths supported, making them unsuitable for wavelength division multiplexing (WDM) applications.
IMPACT ANALYSIS
IMPACT OF RUSSIAN UKRAINE WAR
India is Russia's second-largest importer; hence the ongoing Russia-Ukraine conflict has had a direct impact on India's economic ties with both countries. The cost of commerce between India and Russian or Ukraine-based companies has risen as the conflict has destabilized the region and reduced the number of safe and effective transit routes. These higher expenses, combined with the geopolitical hazards of doing business in a conflict zone, have deterred Indian trade and investment in both nations. A number of critical infrastructure projects in the region have also been stalled as a result of the fighting. For example, India had planned to construct a natural gas pipeline between India and Russia, which would have been a huge benefit to both countries.
Russia produces 5.5% of the world's aluminium and a comparable proportion of global aluminium exports, placing it third in the world after the People's Republic of China (hereinafter "China") and India. This very tiny figure conceals variation in certain countries' dependence. Specifically, Turkiye imports 35% of its aluminium from Russia, while Japan, Poland, and China import more than 10% of their aluminium from Russia. Russian aluminium is also less CO2-intensive than alternatives from China, India, and the Gulf countries because its smelters are primarily powered by hydroelectricity. Russia accounts for 11% of worldwide nickel output and 15% of global nickel exports. It is a major source of nickel to Finland, accounting for 84% of imports. Russia accounts for 11% of worldwide nickel output and 15% of global nickel exports. It is a major source of nickel to Finland, accounting for 84% of imports. It also sells nickel to the Netherlands, Ukraine, and China, with import shares of 3496, 239%, and 13%, respectively.
IMPACT OF ONGOING RECESSION
A worldwide recession may constrain the short-term availability of financing for network building for the rest of 2022 and possibly into 2021, but the core drivers of telecom network expansion will not disappear. The need for bandwidth will continue to rise. Corporations and individual users will continue to rely on cloud services, necessitating the expansion of data centres and interconnectivity. Finally, even if capital-intensive projects such as new optical cable networks are delayed or stretched out, ongoing demand for cable assemblies associated with maintaining, operating, and upgrading capacity on previously installed networks may exist.
MARKET SEGMENTATION
By Lens size
8 mm

25 mm

0 mm

5 mm

Others
By Technology
By Connector Type
By Single vs Multi-Channel Connector
Rack & Panel

Panel Mount Connectors

In-Line Circular

Quick-Disconnect

Others
By Application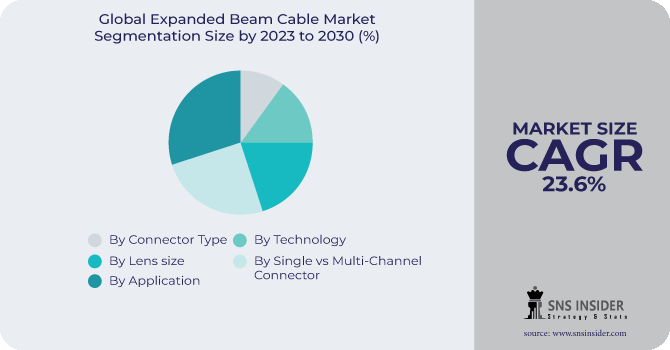 REGIONAL ANALYSIS
Because of its high need for more bandwidth, North America dominates the global expanded beam cable industry. The European expanded beam cable industry is likely to increase rapidly in the future years. Simultaneously, the Asia-Pacific region, which includes with expanding markets in China, Japan, and India, is an emerging market for expanded beam cable. During the review period, a significant CAGR is predicted.
The Asia-Pacific market has the highest consumption of fiber optic components. The new information technology and telecommunications industries, as well as planned innovations and initiatives in the United States, China, India, Brazil, and central and eastern countries, are likely to fuel telecom and broadband application growth in the next years. The development of new, high-quality items is pushing investments in technology implementation in the fiber optics sector.
REGIONAL COVERAGE:
North America
Europe
Eastern Europe

Poland

Romania

Hungary

Turkey

Rest of Eastern Europe

Western Europe

Germany

France

UK

Italy

Spain

Netherlands

Switzerland

Austria

Rest of Western Europe
Asia Pacific
China

India

Japan

South Korea

Vietnam

Singapore

Australia

Rest of Asia Pacific
Middle East & Africa
Middle East

UAE

Egypt

Saudi Arabia

Qatar

Rest of Middle East

Africa

Nigeria

South Africa

Rest of Africa
Latin America
Brazil

Argentina

Colombia

Rest of Latin America
KEY PLAYERS
Some of key players of Expanded Beam Cable Market are TE CONNECTIVITY LTD., Harting Technology Group, Smiths Interconnects (Smith Group Plc), Neutrik, Tech Optics, X-Beam Tech, Warren & Brown Networks, Radiall, Bel Fuse Inc., Foss Fiberoptics, 3M Company, Sumitomo Electric Industries Ltd., and other players are listed in a final report.
RECENT DEVELOPMENT
In November 2021, Tech Optics invested 18 million USD in a new microduct production plant in the southeast United States through its fully owned subsidiary Blue Diamond Industries.

Smith Group purchased Royal metal products in February 2021. The acquisition aided the company's expansion into the pathogen detection sector in the United States.

Bel Fuse Inc purchased RMS connections in January 2021. Bel Fuse Inc hopes to increase its offering of Mil-Spec qualified connectors with this acquisition, which includes the addition of the MIL-DTL-83723 Series II connector family.

Expanded Beam Cable Market Report Scope:

| | |
| --- | --- |
| Report Attributes | Details |
| Market Size in 2022 | US$ 6358 Mn |
| Market Size by 2030 | US$ 34629.08 Mn |
| CAGR | CAGR of 23.6% From 2023 to 2030 |
| Base Year | 2022 |
| Forecast Period | 2023-2030 |
| Historical Data | 2019-2021 |
| Report Scope & Coverage | Market Size, Segments Analysis, Competitive Landscape, Regional Analysis, DROC & SWOT Analysis, Forecast Outlook |
| Key Segments | By Lens size (8 mm, 25 mm, 0 mm, 5 mm, Others), By Technology (Single Mode, Multi-Mode, Hybrid), By Connector Type (Single Channel Expanded Beam Connector, Multi-Channel Beam Connector), By Single vs Multi-Channel Connector (Rack & Panel, Panel Mount Connectors, In-Line Circular, Quick-Disconnect, Others), By Application (Military Communications, Oil & Gas, Medical, Robotics, Energy & Power, Broadcast Systems, Manufacturing & Industrial, Geophysical Exploration, Marine Operations, Military/ Aerospace, Commercial aerospace, Space flight, Others) |
| Regional Analysis/Coverage | North America (US, Canada, Mexico), Europe (Eastern Europe [Poland, Romania, Hungary, Turkey, Rest of Eastern Europe] Western Europe] Germany, France, UK, Italy, Spain, Netherlands, Switzerland, Austria, Rest of Western Europe]), Asia Pacific (China, India, Japan, South Korea, Vietnam, Singapore, Australia, Rest of Asia Pacific), Middle East & Africa (Middle East [UAE, Egypt, Saudi Arabia, Qatar, Rest of Middle East], Africa [Nigeria, South Africa, Rest of Africa], Latin America (Brazil, Argentina, Colombia Rest of Latin America) |
| Company Profiles | TE CONNECTIVITY LTD., Harting Technology Group, Smiths Interconnects (Smith Group Plc), Neutrik, Tech Optics, X-Beam Tech, Warren & Brown Networks, Radiall, Bel Fuse Inc., Foss Fiberoptics, 3M Company, Sumitomo Electric Industries Ltd. |
| Market Opportunities | •Increased potential for new applications due to expanded beam opticals |
| Market Challenges | • Extended beam connectors are large in size, and wavelength support is limited |