REPORT SCOPE & OVERVIEW:
Molded Pulp Packaging Market size was USD 5113 million in 2022 and is expected to Reach USD 9118.92 million by 2030 and grow at a CAGR of 7.5 % over the forecast period of 2023-2030.
The molded pulp packaging market refers to the industry involve in production and distribution of products which are made from the molded pulp materials such as wood pulp or non-wood pulp materials. This can be used as a very good alternative to traditional way of packaging. Most of the molded pulp packaging products are made from recycled paper or cardboard which are mixed with water and then molded into various shapes. This type of packaging is of more useful since they are more helpful in protection of many Electronic Packaging products, healthcare products. Also, this packaging can be further recycling and is eco-friendly.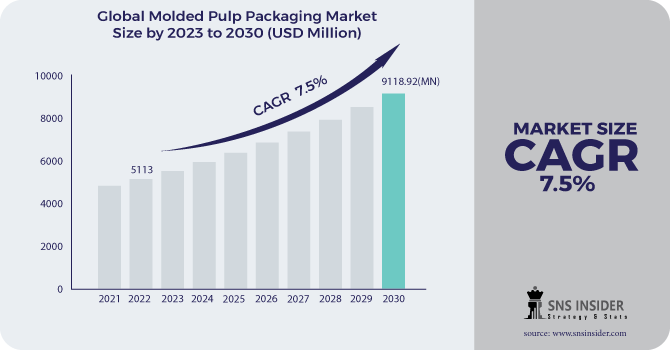 Get More Information on Molded Pulp Packaging Market - Request Sample Report
Non wood pulp packaging market showing growth in forecast period. This packaging market is growing since this is leading to less deforestation as no trees are harmed for making non wood pulps. Cost is reduced, it is affordable and availability of Sources also high hence gaining popularity.
MARKET DYNAMICS
KEY DRIVERS:
• Sustainability of Molded Pulp
Molded fiber pulp is made from recyclable material. Since sustainable and eco-friendly method is used this is generating huge market. Research and development for molded pulp packaging is needed so as to give comfort in packaging of electric, food items and to minimize the damage level during transportation of this products.
• Regulatory Initiatives
• Advantages in Protective Packaging
• Cost-Effectiveness
RESTRAIN:
• Regulatory compliances
Due to increase in environmental concerns governments have imposed many policies for reducing the waste material.
• Fragile and water sensitive
• Manufacturing complexity
OPPORTUNITY:
• Growth of market in Asia Pacific Region
Asia Pacific Region will show high growth rate of molded pulp packaging market. India, China are emerging economies which have logistic opportunity of molded pulp packaging which help in protection of various products available in market mostly which are fragile. The regions of India, China, Brazil have raw materials available required for the molded pulp packaging market. Since use of gadgets is high in Indian market and China is the largest manufacturer of electronic gadgets, this is growing opportunity for the market of molded pulp packaging.
• Expansion in emerging markets of Brazil, China and India.
• Rise in e-commerce market for deliveries of products.
CHALLENGES:
• Unavailability of Raw Materials
Due to rise in deforestation there is less availability of raw materials in the market. Hence this is leading to rise in prices of raw materials. Manufacturers are shifting towards the non-wood pulp packaging but this is requiring research and development to make the packaging look attractive and create demand in the market.
• Production capacity and infrastructure.
IMPACT OF ONGOING RECESSION
Decreased consumer spending has affected the packaging market. Less consumer spending is leading to less demand and less sales. Increase in raw material prices for molded pulp packaging is affecting consumers as they are looking for more affordable packaging material which is cost efficient and will overall profitable.
Companies are least interested in investment in research and development due to recession, less investment new innovations, manufacturing machinery is affecting the overall growth of molded pulp manufacturing market.
IMPACT OF COVID-19
Covid 19 has showed positive as well as negative impact on the molded pulp packaging market. Demand for the sustainable packaging has increased in covid 19, this happened due to increased consumer awareness.
Lockdown was imposed and movement of consumers was restricted, so there was growth of e commerce industry. There was seen a rise of molded pulp packaging market. Molded pulp packaging is in huge demand for food products, since this packaging is considered to be safe and hygienic, this also led to the rise in molded pulp packaging market.
Covid 19 also showed negative impact on molded pulp packaging market. Supply chain was disrupted, trade restrictions were imposed so there was drop in market. Manufacturing was less since people were not allowed to work together.
KEY MARKET SEGMENTS
By Source
• Wood Pulp
• Non-Wood Pulp
By Molded type
• Thick Wall
• Transfer
• Thermoformed
• Processed
By Product
• Trays
• End Caps
• Bowls & Cups
• Clamshells
• Plates
• Others
By Application
• Food Service
• Electronics
• Healthcare
• Industrial
• Others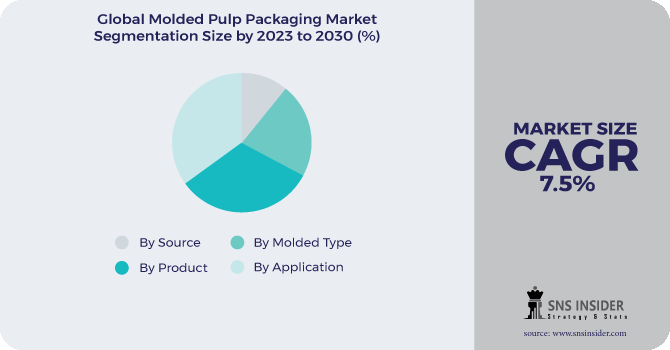 Get Customized Report as per Your Business Requirement - Request For Customized Report
REGIONAL COVERAGE:
Asia pacific region was holding largest market share of around 40-41% in the year 2022, India, China and Japan contributed the most in this region.
India and China contributed much in electronics as well as food industry. There is huge demand in this industry for Molded pulp packaging.
North America Region is second largest contributor to this molded pulp packaging market.
North America
• USA
• Canada
• Mexico
Europe
• Germany
• UK
• France
• Italy
• Spain
• The Netherlands
• Rest of Europe
Asia-Pacific
• Japan
• South Korea
• China
• India
• Australia
• Rest of Asia-Pacific
The Middle East & Africa
• Israel
• UAE
• South Africa
• Rest of the Middle East & Africa
Latin America
• Brazil
• Argentina
• Rest of Latin American
RECENT DEVELOPMENT
In July 2022, Europe's major straw producing company made deal to replace plastic with molded fiber.

Rochester, New York grocery retain chain Wegmans, which is holding 100 stores, in various state has adopted packaging of eggs in molded fiber.
Key players List:
The major key players in molded pulp packaging market are Genpak LLC, Brodrene Hartmann A/S, Sabert Corporation, Fabri-Kal, Eco-Products Inc, Huhtamaki Oyj, Hentry Molded Products Inc, Thermoform Engineered Quality LLC, Pro-Pac Packaging Limited, CKF Inc and other players.
Molded Pulp Packaging Market Report Scope:
Report Attributes
Details
Market Size in 2022
US$ 5113 Mn
Market Size by 2030
US$ 9118.92 Mn
CAGR
CAGR of 7.5 % From 2023 to 2030
Base Year
2022
Forecast Period
2023-2030
Historical Data
2020-2021
Report Scope & Coverage
Market Size, Segments Analysis, Competitive Landscape, Regional Analysis, DROC & SWOT Analysis, Forecast Outlook
Key Segments
• By Source (Wood Pulp, Non-Wood Pulp)
• By Molded Type (Thick Wall, Transfer, Thermoformed, Processed)
• By Product (Trays, End Caps, Bowls & Cups, Clamshells, Plates, Others)
• By Application (Food packaging, Food Service, Electronics, Healthcare, Industrial, Others)
Regional Analysis/Coverage
North America (USA, Canada, Mexico), Europe
(Germany, UK, France, Italy, Spain, Netherlands,
Rest of Europe), Asia-Pacific (Japan, South Korea,
China, India, Australia, Rest of Asia-Pacific), The
Middle East & Africa (Israel, UAE, South Africa,
Rest of Middle East & Africa), Latin America (Brazil, Argentina, Rest of Latin America)
Company Profiles
Genpak LLC, Brodrene Hartmann A/S, Sabert Corporation, Fabri-Kal, Eco-Products Inc, Huhtamaki Oyj, Hentry Molded Products Inc, Thermoform Engineered Quality LLC, Pro-Pac Packaging Limited, CKF Inc and other
Key Drivers
• Sustainability of Molded Pulp
Market Opportunities
• Growth of market in Asia Pacific Region