Report Scope & Overview:
Octyl Alcohol Market size was valued at USD 6.52 billion in 2022. It is expected to grow to USD 8.13 billion by 2030 and grow at a CAGR of 2.8% over the forecast period of 2023-2030.
The octyl alcohol market has experienced steady growth due to its versatile applications across multiple industries. It finds extensive use in the production of plasticizers, Industrial lubricants, flavors & fragrances, and pharmaceuticals. The increasing demand for these products, coupled with the expanding chemical industry, has propelled the growth of the octyl alcohol market.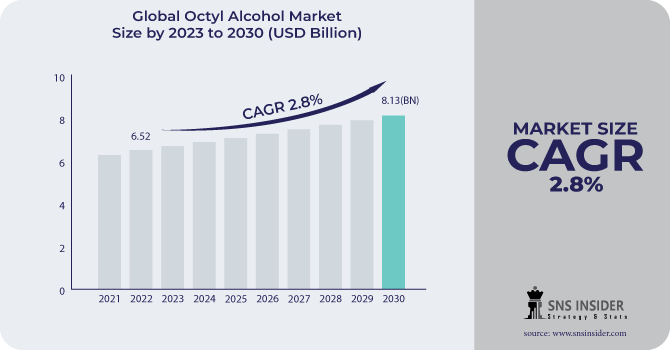 Get E-PDF Sample Report on Octyl Alcohol Market - Request Sample Report
One of the major trends in the octyl alcohol market is the increasing demand for bio-based octyl alcohol. With growing environmental concerns and the need for sustainable solutions, the market is witnessing a shift towards bio-based alternatives. This trend is expected to drive the growth of the octyl alcohol market in the coming years. Another significant trend is the rising demand for octyl alcohol in the pharmaceutical industry. Octyl alcohol is widely used as an intermediate in the production of pharmaceuticals, including drugs, ointments, and creams. The expanding pharmaceutical sector, coupled with the increasing prevalence of chronic diseases, is expected to fuel the demand for octyl alcohol in the coming years.
The 2-Ethylhexanol segment dominated the octyl alcohol market with a revenue share of more than 90% in 2022. This growth is due to its extensive use in various industries. It serves as a crucial component in the production of plasticized PVC for automobiles, acts as a solvent for surface coatings and inks, acts as a precursor for manufacturing plasticizers like dioctyl phthalate (DOP), and serves as a raw material for producing acrylate esters, which are essential in the manufacturing of emulsion paints and surface coatings.
Within the 2-Ethylhexanol segment, plasticizers accounted for the largest sub-segment in terms of revenue, comprising approximately 56% of the market share. This surge in demand is attributed to the increasing need for flexible and durable plastics across a wide range of industries, including automotive, construction, and packaging. Plasticizers play a vital role in enhancing the flexibility, durability, and processability of polymers. Moreover, the rising concerns regarding health and the environment have led to a growing demand for bio-based and non-phthalate plasticizers, further fueling the demand for plasticizers.
Market Dynamics
Drivers
Growing demand for octyl alcohol from various end-use industries

Rising awareness among consumers regarding personal grooming and hygiene
The rise in consumer awareness regarding personal grooming and hygiene has led to a greater emphasis on using products that not only enhance one's appearance but also prioritize cleanliness. Individuals now seek out personal care items that not only provide aesthetic benefits but also contribute to their overall well-being. Octyl alcohol, with its multifunctional properties, has gained prominence in the market as a result. Furthermore, the COVID-19 pandemic has further amplified the importance of personal hygiene, prompting individuals to adopt more stringent cleanliness practices. As a result, the demand for personal care products containing octyl alcohol has experienced a notable upswing. Consumers are now actively seeking out products that offer effective germ protection while also catering to their grooming needs.
Restrain
Octyl alcohol, a versatile chemical compound, finds extensive applications in various industries. However, the presence of substitutes like decyl alcohol and cetyl alcohol limits the growth potential of the octyl alcohol market. These alternative compounds possess similar properties and functionalities, making them viable options for many applications. The availability of substitutes creates a competitive environment within the market, as customers have more choices to meet their specific needs. This increased competition can lead to a decrease in demand for octyl alcohol, as customers may opt for readily available substitutes instead. Furthermore, the availability of substitutes can also impact the pricing dynamics of the octyl alcohol market. With multiple options to choose from, customers can negotiate better deals and potentially drive down the prices of octyl alcohol. This can further hinder the market's growth and profitability.
Opportunities
Rising demand for bio-based octyl alcohol

Expanding pharmaceutical industry in emerging economies
Challenges
Stringent regulations imposed by regulatory bodies regarding the use of octyl alcohol in various industries

Volatility in raw material prices and the fluctuating global economy
Impact of Russia-Ukraine War:
The conflict has disrupted the supply chain of octyl alcohol, leading to a decrease in production and availability. Both Russia and Ukraine have experienced difficulties in maintaining their production capacities due to the war's impact on infrastructure and transportation. This has resulted in a shortage of octyl alcohol in the market, leading to increased prices and limited availability for consumers. Furthermore, the political tensions between the two countries have also affected trade relations. Sanctions and trade restrictions imposed by both sides have hindered the export and import of octyl alcohol, further exacerbating the supply chain disruptions. This has created a challenging environment for businesses operating in the octyl alcohol market, as they struggle to navigate the complexities of the conflict.
Impact of Recession:
During a recession, consumer spending typically experiences a decline as individuals adopt a more cautious approach towards managing their finances. This decrease in demand can have a direct impact on the Octyl Alcohol market. Industries that heavily rely on Octyl Alcohol may experience a reduction in production, leading to a decrease in the overall demand for this compound. Furthermore, the Octyl Alcohol market may face challenges due to supply chain disruptions caused by the recession. As businesses struggle to maintain their operations, delays in the transportation and delivery of Octyl Alcohol may occur, affecting the availability of this crucial ingredient for various industries. The detailed analysis is included in the final report.
Market segmentation
By Application
1-Octanol

Pharmaceutical

Flavors & Fragrances

Others

2-Octanol

Agrochemicals

Flavors & Fragrances

Resins

Others

2-Ethylhexanol

2-EH Nitrate

2-EH Acrylate

Plasticizers

Others
Regional Analysis
Asia Pacific dominated the Octyl Alcohol Market with the highest revenue share of about 47.5% in 2022. This remarkable growth is attributed to the rapid advancements witnessed in the cosmetics, cleaning chemicals, and pharmaceutical industries within the region. Notably, China's beauty and personal care industry experienced a significant surge in sales, reaching a staggering USD 70 billion in 2023. The remarkable progress of end-use industries in China, India, and Japan is expected to fuel the demand for octyl alcohol throughout the forecast period. India, in particular, has witnessed a surge in demand for cosmetics and personal care products, driven by increasing consumer awareness, urbanization, and evolving lifestyles. Meanwhile, Japan stands as a significant contributor to the market within the region, boasting a well-established cosmetics industry renowned for its innovation and high-quality offerings. The demand for octyl alcohol in Japan is primarily driven by the need for ingredients used in cosmetics and personal care products.
The rapid growth of these sectors in Asia Pacific has consequently driven the demand for octyl alcohol, leading to its market dominance. The rising disposable incomes and changing lifestyles of the region's population have resulted in an increased demand for personal care and cosmetic products. Octyl alcohol, with its properties as an emollient and solvent, is widely used in the formulation of skincare and haircare products. The growing consumer preference for such products has significantly contributed to the region's dominance in the octyl alcohol market.
North America is expected to grow with a significant CAGR of about 3.1% in the Octyl Alcohol Market during the forecast period of 2023-2030. The anticipated growth in the North American Octyl Alcohol Market is attributed to the region's robust industrial sector, coupled with the increasing demand for consumer goods, which is expected to drive the market's expansion. As industries continue to flourish, the need for octyl alcohol as a raw material or additive will rise correspondingly. Furthermore, the growing awareness among consumers regarding personal care and hygiene products is contributing to the surge in demand for octyl alcohol-based cosmetics and toiletries. Moreover, the pharmaceutical industry's continuous advancements and the development of innovative drug formulations are fueling the demand for octyl alcohol. Its applications in drug delivery systems, as well as its use as a solvent in pharmaceutical manufacturing processes, are driving its market growth.
REGIONAL COVERAGE:
North America
Europe
Eastern Europe

Poland

Romania

Hungary

Turkey

Rest of Eastern Europe

Western Europe

Germany

France

UK

Italy

Spain

Netherlands

Switzerland

Austria

Rest of Western Europe
Asia Pacific
China

India

Japan

South Korea

Vietnam

Singapore

Australia

Rest of Asia Pacific
Middle East & Africa
Middle East

UAE

Egypt

Saudi Arabia

Qatar

Rest of the Middle East

Africa

Nigeria

South Africa

Rest of Africa
Latin America
Brazil

Argentina

Colombia

Rest of Latin America
Key Players
The major key players are SABIC, BASF, Sasol, The Andhra Petrochemicals Limited, Ecogreen Oleochemicals, KLK OLEO, Arkema, Axxence Aromatic GmbH, Liaoning Huaxing Group Chemical, BharatPetroleum, and other key players mentioned in the final report.
Sasol-Company Financial Analysis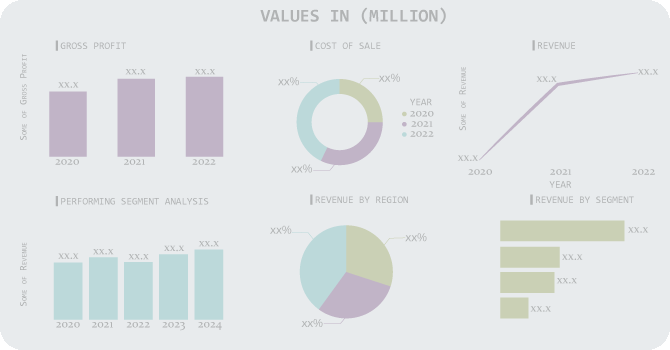 Get Customized Report as Per Your Business Requirement - Request For Customized Report
Recent Development:
In Sept 2023, BASF made an exciting announcement regarding the expansion of its bio-based monomers portfolio. They introduced a proprietary process for producing 2-octyl Acrylate (2-OA), showcasing their unwavering dedication to innovation for a sustainable future. This new product boasts an impressive 73% 14C-traceable bio-based content, aligning with the standards set by ISO 16620.

In March 2023, companies like Andhra Petrochemicals Ltd and Bharat Petroleum Corporation Limited raised the prices of 2-ethylhexanol in India. This surge in prices can be attributed to the rising costs of raw materials, as well as the robust demand for the product in the market.
Octyl Alcohol Market Report Scope
Report Attributes
Details
Market Size in 2022
US$ 6.52 Bn
Market Size by 2030
US$ 8.13 Bn
CAGR
CAGR of 2.8% From 2023 to 2030
Base Year
2022
Forecast Period
2023-2030
Historical Data
2019-2021
Report Scope & Coverage
Market Size, Segments Analysis, Competitive Landscape, Regional Analysis, DROC & SWOT Analysis, Forecast Outlook
Key Segments
• By Application (1-Octanol, 2-Octanol, and 2-Ethylhexanol)
Regional Analysis/Coverage
North America (US, Canada, Mexico), Europe (Eastern Europe [Poland, Romania, Hungary, Turkey, Rest of Eastern Europe] Western Europe] Germany, France, UK, Italy, Spain, Netherlands, Switzerland, Austria, Rest of Western Europe]), Asia Pacific (China, India, Japan, South Korea, Vietnam, Singapore, Australia, Rest of Asia Pacific), Middle East & Africa (Middle East [UAE, Egypt, Saudi Arabia, Qatar, Rest of Middle East], Africa [Nigeria, South Africa, Rest of Africa], Latin America (Brazil, Argentina, Colombia Rest of Latin America)
Company Profiles
SABIC, BASF, Sasol, The Andhra Petrochemicals Limited, Ecogreen Oleochemicals, KLK OLEO, Arkema, Axxence Aromatic GmbH, Liaoning Huaxing Group Chemical, BharatPetroleum
Key Drivers
• Growing demand for octyl alcohol from various end-use industries
• Rising awareness among consumers regarding personal grooming and hygiene
Market Restraints
• Availability of substitutes such as decyl alcohol and cetyl alcohol