REPORT SCOPE & OVERVIEW
The PET-CT Scanner Device Market size was estimated USD 2.3 billion in 2022 and is expected to reach USD 4.0 billion by 2030 at a CAGR of 7.2% during the forecast period of 2023-2030.
Positron emission tomography (PET) is a type of nuclear medicine imaging that is also known as PET imaging or a PET scan. It evaluates organ and tissue activities by using small amounts of radioactive materials known as radiotracers or radiopharmaceuticals, a specific camera, and a computer. It can detect disease at an early stage before conventional imaging tests by detecting alterations at the cellular level. It can detect heart disease, cancer, gastrointestinal, endocrine, and neurological issues, among others. Its radiotracers typically accumulate in tumors or areas of inflammation and bind to certain proteins in the body. F-18 fluorodeoxyglucose (FDG), for example, is a frequent radiotracer that cancer cells absorb. Furthermore, it might be noticed during imaging in the area of investigation. It offers several advantages, including better detail and a higher level of accuracy. Furthermore, it simplifies the PET-CT scan for the patient.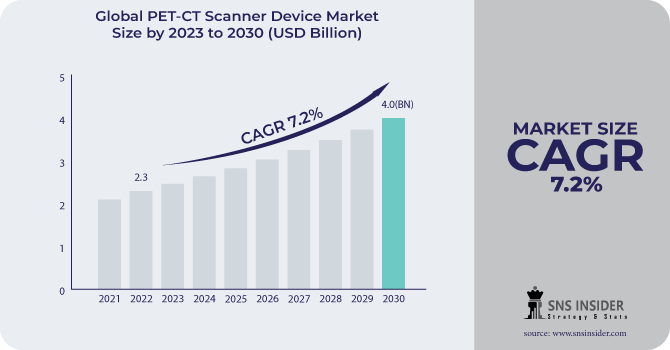 MARKET DYNAMICS
DRIVERS
One of the primary factors driving the global PET-CT scanner equipment market is the rising prevalence of cancer worldwide. The global cancer patient population is growing, increasing the demand for efficient detection and treatment options. PET CT scanning devices are a promising early cancer detection tool and are utilized in cancer diagnosis, staging, and treatment monitoring. PET-CT scanning equipment are used by healthcare experts to detect malignancies, measure their metabolic activity, and pinpoint their precise location. The scans obtained with these technologies provide crucial information to healthcare practitioners in order to plan treatment and monitor cancer growth. Due to the expanding cancer patient population, demand for PET-CT scanner equipment has expanded significantly in recent years, and this trend is projected to continue in the coming years, driving market expansion.
Favorable reimbursement policies for PET-CT scans, technological advancements that improve image quality and patient comfort, an increase in the number of applications of PET-CT scans outside of cancer, rising awareness about the benefits of PET-CT scans among physicians and patients, and an increase in the number of collaborations between medical imaging companies and research institutions all contribute to the market's rapid growth. The increasing number of R&D investments, the growing number of government programs to improve cancer care and detection, the growing geriatric population that is more susceptible to cancer, and developments in radiopharmaceuticals used in PET-CT imaging all contribute to market expansion.
RESTRAIN
Limited availability and accessibility of PET-CT scanners in certain countries, worries about potential radiation dangers connected with PET-CT scans, and a scarcity of experienced specialists to operate and interpret PET-CT scans all impede market expansion. Stringent regulatory requirements and approval processes for PET-CT scanner devices, a lack of awareness and understanding of PET-CT technology among healthcare providers and patients, competition from alternative imaging modalities budget limits in healthcare systems, as well as reimbursement limitations, all impede market expansion. Infrastructure constraints in emerging regions for PET-CT scan installations, limited availability and high cost of radiopharmaceuticals used in PET imaging, patient discomfort and claustrophobia during PET-CT scans, and patient discomfort and claustrophobia during PET-CT scans are all possible hurdles to the market's growth pace.
OPPORTUNITY
PET-CT scanners have become much more sophisticated as technology has advanced, enabling for crisper images and more exact cancer and other problem diagnosis. Market companies' rising attempts to produce technologically superior PET-CT scanner devices, as well as increased spending in R&D for the creation of new and enhanced technologies, promote market growth. The expanding global healthcare expenditure adds to the growth of the PET-CT scanner device market. The governments of several countries have been spending significant amounts on healthcare, with an emphasis on expanding people's access to preventative measures and advanced medical care. As a result, medical device markets such as PET-CT scanner equipment are predicted to prosper as medical facilities attempt to increase the quality and efficiency of patient treatment through technological advancements. PET-CT scanners are currently in high demand because to their effectiveness in identifying and monitoring cancer, as well as government initiatives to improve cancer care and reduce cancer mortality rates.
CHALLENGES
Infrastructure constraints in emerging regions for PET-CT scan installations, limited availability and high cost of radiopharmaceuticals used in PET imaging, patient discomfort and claustrophobia during PET-CT scans, and patient discomfort and claustrophobia during PET-CT scans are all possible hurdles to the market's growth pace.
IMPACT OF RUSSIAN UKRAINE WAR
Critical medical infrastructure damage will further delay basic cancer treatment delivery for patients returning home. Patients receiving treatment in host nations may confront additional difficulties. The unexpected influx of cancer patients from Ukraine may eventually exceed oncology capacity, limiting access to critical medicines. This is especially true for countries that already had minimal cancer care capacity prior to the war. Early statistics on Ukrainian patients treated at cancer centers in Poland since the beginning of the war suggest that the number of cases may be higher than officially stated. Furthermore, low- to middle-income nations with underdeveloped healthcare systems may struggle to provide adequate medical attention and resources to cancer patients. This, in turn, may have a long-term negative impact on the health outcomes of Ukrainian patients with acute and chronic needs.
IMPACT OF ONGOING RECESSION
Consumers with lower purchasing power are less inclined to pay for voluntary health services, which has an impact on hospitals. Even if they initially receive care, some people may choose not to pay for it later due to financial problems. Hospitals have no control over the underlying issue, which is the cost of products and services. For example, the United States experienced an average recession rate of 8% in 2022, the highest in nearly five decades. Furthermore, hospital services can be prohibitively expensive for many people. For example, over 30% of businesses provide high-deductible health-care plans, which discourage employees from seeking care since they must pay more out-of-pocket. Even if they have insurance, they may be apprehensive of spending.
KEY SEGMENTS
By Type
In 2022, digital segment is expected to dominate the global molecular quality controls due to Digital scanners have solid-state sensors that allow them to count individual scintillation photons during a scan. These scanners improve image quality, increasing the likelihood of detecting lesions while decreasing scan time.
By Modality
In 2022, fixed segment is expected to dominate the global molecular quality controls market due to Because of increased dependability and efficiency. The use of fixed PET-CT scanners improves the patient experience. The growing geriatric population, changing lifestyles, and increased occurrence of cancer and cardiological problems have raised hospital demand for fixed PET-CT scanning technologies.
By Slice Count
High Slice

Medium Slice

Low Slice
In 2022, medium Slice segment is expected to dominate the global molecular quality controls market owing to its capacity to provide an increased picture of the size, shape, and position of soft tissue structures. These scanners are also used to detect tumors and cysts, as well as disorders of the liver, lungs, and coronary arteries, among other things.
By Detector Type
Thallium

18 F Sodium Fluoride

Fluorodeoxyglucose

FMISO

62Cu ATSM

Gallium

Others
By Application
Cardiology

Oncology

Neurology

Others
In 2022, oncology segment is expected to dominate the global molecular quality controls market owing to deliver more accurate results, a PET-CT scan combines a CT scan and a PET scan. A moderately radioactive substance is used in the PET scan to show bodily locations with greater cell activity. PET-CT scanners are used to identify and diagnose cancer, as well as to determine the size of the tumor and the appropriate treatment.
PET scans use low-level radiation to create an image that reflects the body's metabolic and biochemical activity, whereas CT scans from devices provide specific information about the location, size, and shape of various lesions and create a 3D picture.
By End User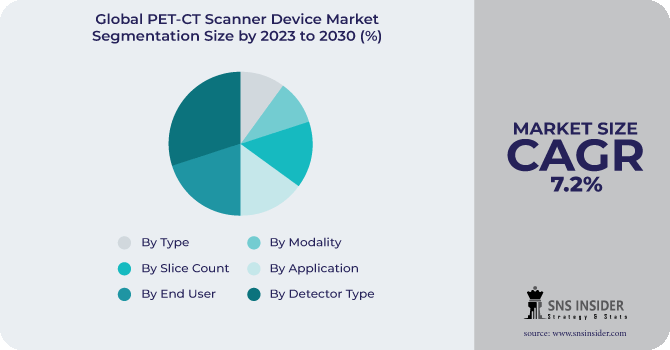 In 2022, hospital segment is expected to dominate the global molecular quality controls market due to the high traffic environment, advanced healthcare infrastructure, availability of innovative medical technologies, and increasing demand for diagnostic imaging treatments. Increasing investments in the development of technologically advanced healthcare equipment, a higher desire to deliver better patient care, and the increased use of minimally invasive procedures all contribute to the segment's growth.
REGIONAL COVERAGE
North America
Europe
Eastern Europe

Poland

Romania

Hungary

Turkey

Rest of Eastern Europe

Western Europe

Germany

France

UK

Italy

Spain

Netherlands

Switzerland

Austria

Rest of Western Europe
Asia Pacific
China

India

Japan

South Korea

Vietnam

Singapore

Australia

Rest of Asia Pacific
Middle East & Africa
Middle East

UAE

Egypt

Saudi Arabia

Qatar

Rest of Middle East

Africa

Nigeria

South Africa

Rest of Africa
Latin America
Brazil

Argentina

Colombia

Rest of Latin America
REGIONAL ANALYSES
North America held a significant market share in 2022 and is likely to maintain its dominance during the projection owing to some of the factors related to the growth of this regional segment include an expanding elderly population, increased research & development efforts, and technological developments. In the region, there has been an increase in the incidence of chronic diseases, which is fueling the region's growth. Rising health concerns have developed healthcare infrastructure, and expanding knowledge about preventative healthcare and early disease detection has increased demand for PET-CT scanning technologies in the region.
Europe is witness to increase at the highest rate during the forecast period the forecast period due to the growing emphasis on early diagnosis and preventative healthcare, increased collaboration among research institutes, hospitals, and market competitors, and quick adoption of hybrid imaging technologies, such as PET-CT, for optimal disease management all contribute significantly to European market growth. Growing awareness of the benefits of PET-CT imaging in oncology and cardiology, as well as the introduction of digital healthcare solutions and telemedicine, all contribute to the European market's rapid expansion.
Key Players
The major key players are Siemens Healthineers, GE Healthcare, Philips Healthcare, Canon Medical Systems Corporation, Hitachi, Ltd., Neusoft Medical, Systems Co., Ltd., Positron Corporation, Cubresa Inc., Shenzhen Anke High-tech Co., Ltd., Koninklijke Philips N.V., Mediso Medical Imaging, Systems., and others.
Siemens Healthineers-Company Financial Analysis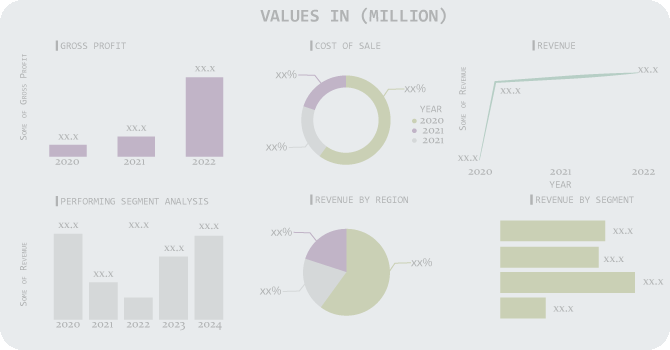 RECENT DEVELOPMENT
In November 2021, Siemens Healthineers' new Biograph Vision Quadra PET/CT scanner can image the entire body in a single scan. The technology is designed to accelerate operations and shorten scan times, both of which benefit the patient's experience.
In September 2021, GE Healthcare's Discovery MI PET/CT scanner's second generation has been released. The device's advanced imaging capabilities speed up scans and produce higher-quality images, increasing patient comfort and confidence in diagnoses.
PET-CT Scanner Device Market Report Scope:

| | |
| --- | --- |
| Report Attributes | Details |
| Market Size in 2022 | US$ 2.3 billion |
| Market Size by 2030 | US$ 4.0 billion |
| CAGR | CAGR of 7.2% From 2023 to 2030 |
| Base Year | 2022 |
| Forecast Period | 2023-2030 |
| Historical Data | 2019-2021 |
| Report Scope & Coverage | Market Size, Segments Analysis, Competitive Landscape, Regional Analysis, DROC & SWOT Analysis, Forecast Outlook |
| Key Segments | By Type (Digital, Analog), By Modality (Fixed, Mobile), By Slice Count (High Slice, Medium Slice, Low Slice), By Detector Type (Thallium, 18 F Sodium Fluoride, Fluorodeoxyglucose, FMISO, 62Cu ATSM, Gallium, Others), By Application (Cardiology, Oncology, Neurology, Others), By End User (Hospital, Research Institute, Diagnostic Center, Ambulatory Surgical Centers, Others) |
| Regional Analysis/Coverage | North America (US, Canada, Mexico), Europe (Eastern Europe [Poland, Romania, Hungary, Turkey, Rest of Eastern Europe] Western Europe] Germany, France, UK, Italy, Spain, Netherlands, Switzerland, Austria, Rest of Western Europe]), Asia Pacific (China, India, Japan, South Korea, Vietnam, Singapore, Australia, Rest of Asia Pacific), Middle East & Africa (Middle East [UAE, Egypt, Saudi Arabia, Qatar, Rest of Middle East], Africa [Nigeria, South Africa, Rest of Africa], Latin America (Brazil, Argentina, Colombia Rest of Latin America) |
| Company Profiles | Siemens Healthineers, GE Healthcare, Philips Healthcare, Canon Medical Systems Corporation, Hitachi, Ltd., Neusoft Medical, Systems Co., Ltd., Positron Corporation, Cubresa Inc., Shenzhen Anke High-tech Co., Ltd., Koninklijke Philips N.V., Mediso Medical Imaging, Systems. |
| Key Opportunities | • Technological advancements of the PET-CT scanner device market. |
| Market Restrains | • One of the primary restrain to market expansion is the high cost of PET-CT scanning instruments and associated maintenance. |