Report Scope & Overview:
The Polyethylene Wax Market size was valued at USD 1.91 billion in 2022. It is estimated to hit USD 2.67 billion by 2030 and grow at a CAGR of 4.3% over the forecast period of 2023-2030.
The polyethylene wax market is driven by the increasing demand for these applications across various industries. The packaging industry, in particular, is witnessing substantial growth due to the rising need for efficient and sustainable packaging solutions. Additionally, the growing construction and automotive industry are also contributing to the market's expansion. Polyethylene wax finds applications in various industries, including packaging, industrial coatings, adhesives, and rubber processing. Its unique properties, such as low viscosity, excellent lubrication, and high melting point, make it an ideal choice for these industries.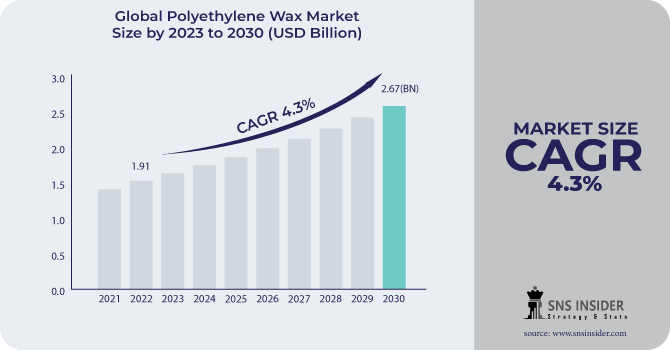 Get More Information on Polyethylene Wax Market - Request Free Sample Report
Geographically, Asia Pacific is the largest consumer of polyethylene wax, with China being the dominant market. The region's rapid industrialization, coupled with the presence of key end-use industries, has fueled the demand for polyethylene wax. North America and Europe also hold significant market shares, driven by the well-established packaging and coatings industries. The market is experiencing significant growth, primarily due to the increasing production of shale gas in China and North America. This, combined with the growing demand from the coatings and printing inks sectors, is expected to drive the market throughout the forecast period.
Polymerization technology dominated the polyethylene wax market in 2022 with the highest revenue share of about 48.5%. Recently, manufacturers have recently embraced metallocene, a refined form of polymerization technology, to enhance and elevate the performance of high-density polyethylene (HDP) and low-density polyethylene (LDP) production. This adoption is anticipated to further propel the growth of polymerization technology within the PE wax market.
Market Dynamics
Drivers
The versatility of polyethylene wax in these applications, due to its excellent lubrication and dispersing properties

Rising demand for polyethylene wax in the printing inks industry
Restraint
Environmental concerns associated with the production and disposal of polyethylene wax

Availability of substitute product of PE

Fluctuations in crude oil prices
The polyethylene wax market heavily relies on the availability and cost of raw materials. Fluctuations in the prices of crude oil, which is a key raw material for polyethylene wax production, can significantly impact the profitability of companies operating in this market.
Opportunities
Development of bio-based polyethylene wax

Increasing shale gas deposits in various regions
Challenges
Impact of Russia-Ukraine War:
The Russia-Ukraine war in 2022 had a significant impact on the global polyethylene wax market. Russia is a major producer of ethylene, a key feedstock for polyethylene wax, and Ukraine is a major exporter of sunflower oil, which is used in some polyethylene wax products. The war caused disruptions to the supply of both ethylene and sunflower oil, leading to higher prices for polyethylene wax. In addition, the war also caused increased uncertainty and volatility in the global economy, which led to some businesses delaying or canceling investments in new polyethylene wax production capacity. Based on our secondary research, global polyethylene wax prices experienced an average increase of 20% in 2022. During the first half of the same year, global polyethylene wax production witnessed a decline of 5%, while consumption dropped by 3%. Notably, the Asia-Pacific region stands as the largest consumer of polyethylene wax, making it particularly vulnerable to the ongoing conflict, given its heavy reliance on imports from Russia and Ukraine.
Impact of Recession:
Due to the ongoing recession, the global polyethylene wax market is expected to decline by 5% in 2023. The Asia-Pacific region is expected to be the most impacted region, due to its reliance on exports and its exposure to the Chinese economy, which is slowing. The packaging industry is expected to be the most impacted industry, due to the decline in demand for consumer goods. The Chinese economy is slowing, which could lead to a decrease in demand for polyethylene wax from China, a major consumer of the product.
Market Segmentation
By Product
Low-Density Polymerized PE Wax

High-Density Polymerized PE Wax

Micronized PE Wax

Oxidized PE Wax

Others
By Technology
Polymerization

Thermal Cracking

Micronization

Modification

Others
By Application
Woods & Fire Logs

Packaging

Plastic Additives

Candles

Cosmetics

Printing Inks

Rubber

Others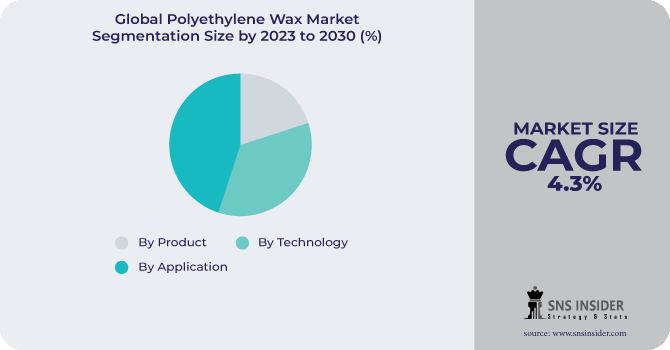 Get Customized Report as Per Your Business Requirement - Request For Customized Report
Regional Analysis
Asia-Pacific dominated the Polyethylene Wax Market with a revenue share of more than 29.5% in 2022. This dominance is attributed to the rapid industrialization and abundant supply of polyethylene from India and China, which have fueled the growth of the PE wax market in this region. China, in particular, boasts a well-established infrastructure for polyethylene wax production, coupled with the presence of key industry players, further solidifying Asia Pacific's dominance. The region is poised to witness a surge in demand for PE wax due to the rapid industrial growth experienced in countries like India and Vietnam. These nations, with their burgeoning industries, are expected to drive the demand for PE wax in the foreseeable future.
North America is expected to grow with a significant CAGR of about 4.5% during the forecast period due to the increasing demand for hot melt adhesives in various industries, including automotive, construction, and others. Furthermore, it is anticipated that the Polyethylene Wax Market will be driven by the rising investments in end-use industries. The consumption of magazines, catalogs, periodicals, and directories in end-use applications has played a significant role in propelling market growth in countries such as the U.S., Canada, and Mexico. These countries offer unique structural properties and high-performance standards, contributing to the remarkable expansion of the market.
REGIONAL COVERAGE:
North America
Europe
Eastern Europe

Poland

Romania

Hungary

Turkey

Rest of Eastern Europe

Western Europe

Germany

France

UK

Italy

Spain

Netherlands

Switzerland

Austria

Rest of Western Europe
Asia Pacific
China

India

Japan

South Korea

Vietnam

Singapore

Australia

Rest of Asia Pacific
Middle East & Africa
Middle East

UAE

Egypt

Saudi Arabia

Qatar

Rest of Middle East

Africa

Nigeria

South Africa

Rest of Africa
Latin America
Brazil

Argentina

Colombia

Rest of Latin America
Key Players
The major key players are Clariant, BASF SE, Baker Hughes, SCG Chemicals, Mitsui Chemicals, Honeywell International Inc., Trecora Chemical, Zellag, Marcus Oil & Chemicals Pvt. Ltd., Oxidized Polyethylene Innovations, and other key players are mentioned in the final report.
SCG Chemicals-Company Financial Analysis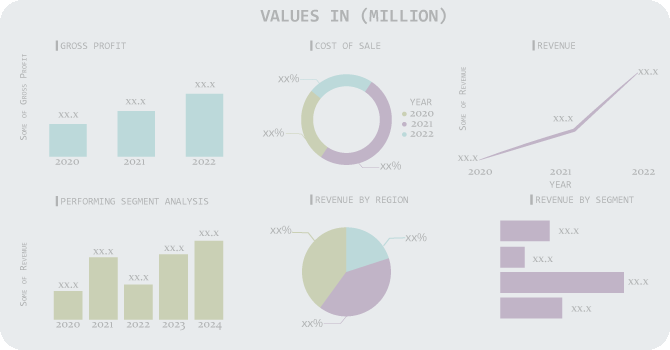 Recent Development:
In 2019, BASF SE announced an addition to the polyethylene wax market: Luwax A. This innovative product has been specifically engineered to enhance the slip properties of polymer materials, rendering it highly versatile for a wide range of applications such as films, coatings, and adhesives.
Polyethylene Wax Market Report Scope
Report Attributes
Details
Market Size in 2022
US$ 1.91 Bn
Market Size by 2030
US$ 2.67 Bn
CAGR
CAGR of 4.3% From 2023 to 2030
Base Year
2022
Forecast Period
2023-2030
Historical Data
2019-2021
Report Scope & Coverage
Market Size, Segments Analysis, Competitive Landscape, Regional Analysis, DROC & SWOT Analysis, Forecast Outlook
Key Segments
• By Product (Low-Density Polymerized PE Wax, High-Density Polymerized PE Wax, Micronized PE Wax, Oxidized PE Wax, and Others)
• By Technology (Polymerization, Thermal Cracking, Micronization, Modification, and Others)
• By Application (Woods & Fire Logs, Packaging, Plastic Additives, Lubricants, Candles, Cosmetics, Printing Inks, Rubber, and Others)
Regional Analysis/Coverage
North America (US, Canada, Mexico), Europe (Eastern Europe [Poland, Romania, Hungary, Turkey, Rest of Eastern Europe] Western Europe] Germany, France, UK, Italy, Spain, Netherlands, Switzerland, Austria, Rest of Western Europe]), Asia Pacific (China, India, Japan, South Korea, Vietnam, Singapore, Australia, Rest of Asia Pacific), Middle East & Africa (Middle East [UAE, Egypt, Saudi Arabia, Qatar, Rest of Middle East], Africa [Nigeria, South Africa, Rest of Africa], Latin America (Brazil, Argentina, Colombia Rest of Latin America)
Company Profiles
Clariant, BASF SE, Baker Hughes, SCG Chemicals, Mitsui Chemicals, Honeywell International Inc., Trecora Chemical, Zellag, Marcus Oil & Chemicals Pvt. Ltd., Oxidized Polyethylene Innovations
Key Drivers
• Versatility of polyethylene wax in these applications, due to its excellent lubrication and dispersing properties
• Rising demand for polyethylene wax in the printing inks industry
Market Restraints
• Environmental concerns associated with the production and disposal of polyethylene wax
• Availability of substitute product of PE
• Fluctuations in crude oil prices