Report Scope & Overview:
Reconciliation Software Market size was valued at USD 1128.3 million in 2022 and is expected to grow to USD 3333.25 million by 2030 and grow at a CAGR of 14.5 % over the forecast period of 2023-2030.
Reconciliation is a crucial process that requires comparing data from two systems (Intra and Inter) to one another. This vital task ensures the correctness of a company's assets and liabilities. In actuality, this action gives financial data control and enables businesses to manage financial risk effectively.
Any manager of a mutual fund, hedge fund, or alternative asset class must have data that has been reconciled between portfolio accounting systems and external counterparties, such as prime brokers, custodians, transfer agents, and fund administrators in terms of cash, positions, and transactions, as their first task of the day. Reconciling front-office data with middle-office and back-office data is a time-sensitive process for broker-dealers. Due to a variety of factors, including time-sensitive activities, poor data quality, and a lack of standardized and consistent data, the recon process is fundamentally complex. Clients anticipate that their reconciling partners will manage the aforementioned challenges and perform recons in real-time or very near to real-time in the fast-paced world of today.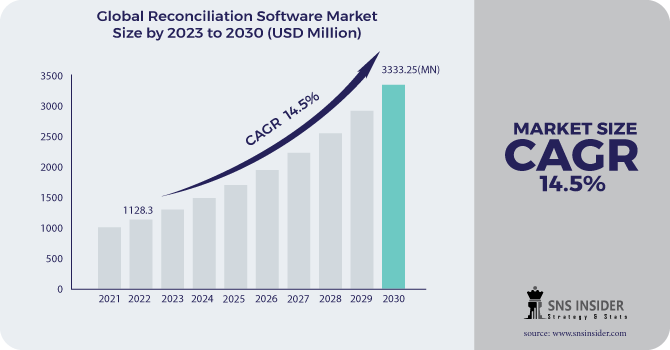 To get more information on Reconciliation Software Market - Request Sample Report
Market Dynamics
Drivers
The rising number of frauds and security breaches has decimated numerous firms across the globe. Financial sectors have seen more fintech-related fraud than other industries. Financial services saw many customer frauds, according to PwC's global study on economic crime and fraud. Reconciliation solutions are being adopted by banks and other financial institutions more frequently to reduce these security vulnerabilities. Incomplete and reversed transaction reconciliation can result in bank losses and disputes, which can be avoided with the use of reconciliation tools. Using an automated banking solution helps streamline processes, make it easier to spot and solve bottlenecks, and maximizes efforts. It enables the standardization of processes and the prioritization and control of key accounts, resulting in the transmission of information and analysis in real time and assisting in the making of strategic business decisions. Consequently, a rise in financial services fraud is likely to fuel market expansion in the upcoming years.
Restrains
The market is anticipated to be constrained by reconciliation software's cost. Additionally, the availability of free solutions tempts small businesses to perform their fundamental reconciliation procedures. Most small businesses cannot afford to purchase pricey software solutions. Instead, these companies frequently use solutions that are freely accessible. Therefore, the availability of free solutions and the higher premium cost of reconciliation solutions could constrain market growth over the course of the forecast period.
Opportunities
Challenges
Impact Of covid-19
Over the past few years, banks have benefited from automated banking software. The COVID-19 pandemic, however, brought about a steady increase in the market in 2020. The adoption of cashless transactions as a result of governments enforcing tighter restrictions globally is blamed for this increase. Additionally, the pandemic's increased e-commerce usage and the rise in global online transactions during the pandemic increased the need for reconciliation solutions. The capabilities of the solution have also been improved by incorporating cutting-edge technologies like Augmented and Virtual Reality and artificial intelligence, among others. As a result, it is projected that the market will prosper in the years to come once the world has recovered from the COVID-19 pandemic. thereby ensuring the market's healthy growth. Along with this, it is anticipated that the size of the global market will increase significantly over the coming years due to the rise in demand for e-commerce services and the early adoption of neo-banks throughout the BFSI sector.
Impact of Ongoing Recession
The global economy has been hit hard by the recent recession, and the reconciliation software market is no exception. This market, which provides software solutions for financial institutions to reconcile their accounts, has seen a significant decline in demand due to the economic downturn.
The recession has caused many financial institutions to cut back on their spending, including their investment in reconciliation software. As a result, the market has experienced a decrease in revenue and growth. However, some companies have been able to weather the storm by offering cost-effective solutions that meet the needs of their clients. Despite the challenges faced by the reconciliation software market, there is still potential for growth. As the economy recovers, financial institutions will once again have the resources to invest in software solutions that can help them streamline their operations and improve their bottom line.
Key Market Segmentation
The Reconciliation Software Market is segmented into four types on the basis of by Deployment, by Component, by Enterprise Size, and by End-use.
by Deployment:
by Component:
by Enterprise Size:
by End-use:
Financial Institutions

Banks

Insurance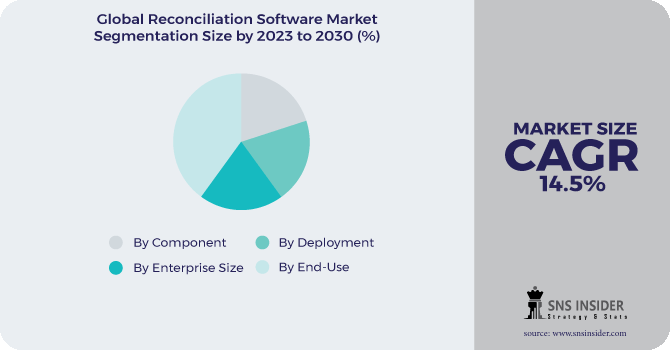 Need any customization research on Reconciliation Software Market - Enquiry Now
Regional Analysis
Due to the early adoption of cutting-edge technology and a highly competitive environment, the reconciliation industry in North America is predicted to grow strongly. The robust rate of cloud adoption and the end users' readiness to accept cutting-edge solutions are further factors contributing to regional growth. The market is continually being driven by the increased need for cloud-based reconciliation solutions in the area.
In the forecast period, Asia Pacific is anticipated to experience significant growth. The increase in the number of startups using sophisticated reconciliation solutions is responsible for this surge. Among other developed regions, the region is anticipated to increase at the fastest rate during the projection period. One of the main causes is that several regional governments actively encourage emerging countries to embrace solutions for reconciliation, which helps the APAC region to dominate the market in all areas.
Additionally, it is anticipated that Europe will continue to grow over the coming years. European organizations are moving their workloads to the cloud. In order to boost company efficiency, many of organizations have adopted a cloud-first strategy, which is primarily responsible for cost optimization owing to cloud utilization.
In the regional analysis study of the regions of North America, Europe, Asia Pacific middle east, and Africa.
REGIONAL COVERAGE:
North America
Europe
Germany

UK

France

Italy

Spain

The Netherlands

Rest of Europe
Asia-Pacific
Japan

South Korea

China

India

Australia

Rest of Asia-Pacific
The Middle East & Africa
Latin America
Brazil

Argentina

Rest of Latin America
Recent development
In March 2022, DimeTyd announced the addition of cash application and reconciliation consulting on their platform. This new system combines automation and machine learning to help online product merchants process through Amazon's Marketplace, check invoices, and guarantee payments.
BlackLine, Inc. purchased FourQ Systems, Inc. in January 2022 to improve its existing intercompany accounting automation capabilities. The company's long-term plan to modernize and modernize finance and accounting is further strengthened by this acquisition.
Key Players:
The major players in the market are ReconArt Inc., Oracle Corporation, BlackLine Inc., Broadridge Financial Solutions, Inc., SolveXia, Tata Consultancy Services Limited, Xero Limited, SmartStream Technologies Ltd., Gresham Technologies plc, DUCO, StatementMatching.com Limited, SAP SE, Fiserv Inc. and others in the final report.
Reconciliation Software Market Report Scope:
Report Attributes
Details
Market Size in 2022
US$ 1128.3 Mn
Market Size by 2030
US$ 3333.25 Mn
CAGR
CAGR of 14.5% From 2023 to 2030
Base Year
2022
Forecast Period
2023-2030
Historical Data
2020-2021
Report Scope & Coverage
Market Size, Segments Analysis, Competitive Landscape, Regional Analysis, DROC & SWOT Analysis, Forecast Outlook
Key Segments
• By Deployment (Cloud, On-premise)
• By Component (Software, Services)
• By Enterprise Size (Small and Medium-sized Enterprises, Large Enterprises)
• By End-use (Banks, Financial Institutions, Insurance)
Regional Analysis/Coverage
North America (USA, Canada, Mexico), Europe
(Germany, UK, France, Italy, Spain, Netherlands,
Rest of Europe), Asia-Pacific (Japan, South Korea,
China, India, Australia, Rest of Asia-Pacific), The
Middle East & Africa (Israel, UAE, South Africa,
Rest of Middle East & Africa), Latin America (Brazil, Argentina, Rest of Latin America)
Company Profiles
ReconArt Inc., Oracle Corporation, BlackLine Inc., Broadridge Financial Solutions, Inc., SolveXia, Tata Consultancy Services Limited, Xero Limited, SmartStream Technologies Ltd., Gresham Technologies plc, DUCO, StatementMatching.com Limited, SAP SE, Fiserv Inc. and others
Key Drivers
• Financial Service Frauds to Speed Reconciliation Solution Adoption
Market Opportunities
• Internet banking and mobile banking become more widely used by customers to conduct different financial transactions using tablets and smartphones creating opportunities.